Ovens
KitchenAid KERS306BSS Freestanding Electric Oven Review
No major weaknesses whatsoever for this high-performance KitchenAid.
Credit:
Introduction
At $1,350 (MSRP $1,500), the is one of the more expensive single oven electric ranges we've reviewed. With a heartier look than other electric ovens, this stainless steel beauty boasts a large 6.2 cubic feet convection oven, five burners, a warming drawer and the AquaLift Self-Cleaning technology.
Our testing process revealed the as an excellent performer in almost every area from the well-equipped rangetop—boiling water very quickly—to the gentle and precise oven temperatures and decent broiler. We found only one weakness each in the : low temperature operation in the oven keep-warm setting and simmering. Fortunately, the keep-warm deviation is very minor, and while the simmer temperatures we recorded were higher than most electric ranges, they were far from damning.
All in all, this is a high performance electric oven from the Whirlpool family.
Design Overview
The boasts a more sturdy design that we often see in electric ranges, perhaps living up to that "stainless" attitude—an attitude characterized by a spirit of industrial elegance and efficiency. With a square but not overly boxy design, the does appear to be without controls from afar. This peculiarity, which many other new ovens share, replaces the classic knobs with buttons, something that isn't always so welcome. Nevertheless, we think this is a handsome oven worthy of a place in any home.
Front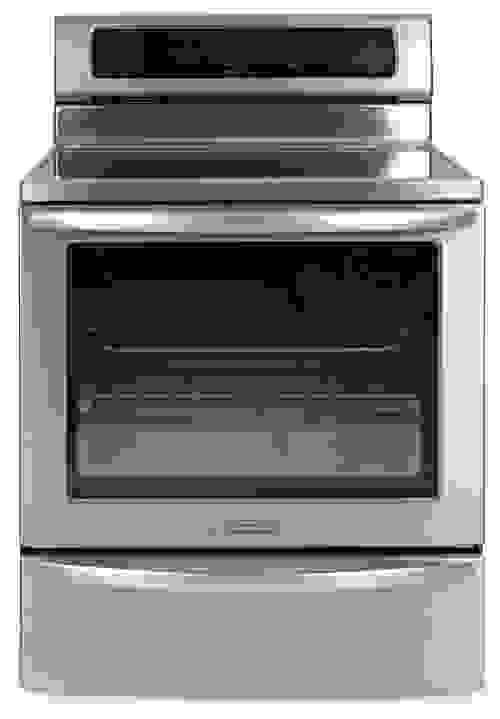 Range-top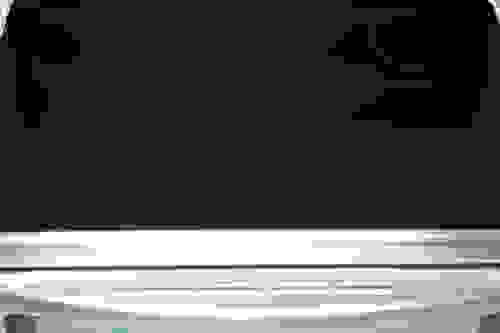 Upper Oven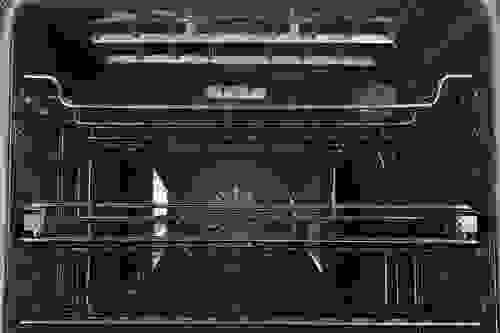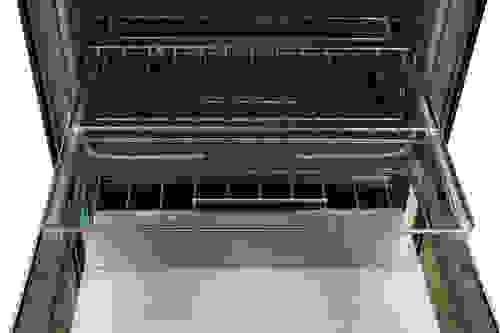 Broiler

Warming Drawer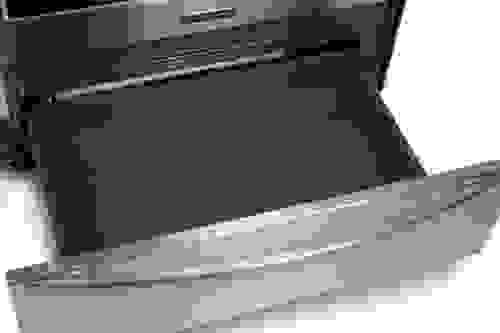 Cooking Performance
Equally strong in both the oven and on the rangetop, the seems poised to enter our pantheon of strong performers.
Interestingly, the machine's only weakness is in low temperatures: we found slight difficulties in searing and temperature accuracy with the oven's lowest setting.
Range Performance Overall
While gas certainly has the monopoly on rangetop control--think of the visual feedback of a flame—the electric advantage is improved temperature range, as there is a minimum temperature for combustion but not for electric elements. Interestingly, the failed to take advantage of this, exhibiting simmering temperatures that more akin to those of gas burners.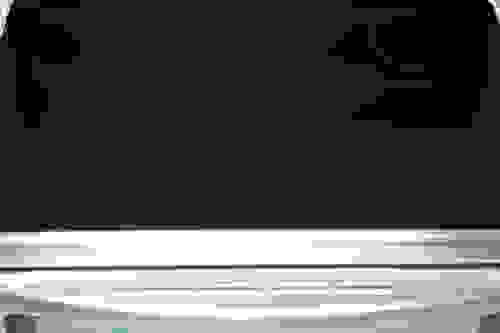 Water Boiling
The rangetop boasts a very strong power output. The front left and right burners managed to boil our six cups of water in five and six minutes respectively—incredibly fast results. With similar excellence, the rear two burners turned in solid B-squad results of thirteen minutes each. This kind of performance means having the shortest possible wait between a giant tepid pot of tap water and cooked pasta.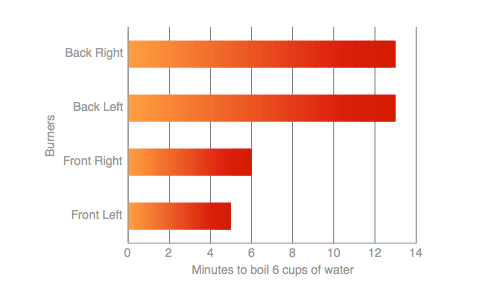 Low Temperature Cooking
This is the one of the only areas that wasn't really the 's forte. Though it performed better here than most gas ovens, the low temperatures were above what we typically see for electric ovens. While the front two burners were able to get down to 125°F and 138°F, the rear burners—including the simmering burner—came in around 190°F.
This is probably fine for almost all applications, but it certain things like simmering small quantities of liquids or delicate sauces—or melting chocolate sans double boiler—might be difficult to do.
Range-top Temperature Range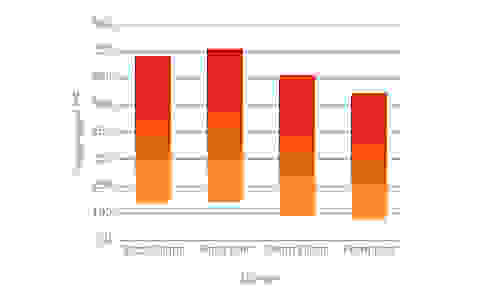 High Temperature Cooking
The uses its electric advantage to its fullest in its high temperature capabilities. Turning performances of 595°F to 759°F, this rangetop can easily handle all of your searing and other high temperature needs.
Overall Oven Performance
It took eleven minutes to preheat, a figure that we expected to be higher, considering the rest of the oven's performance. Still, this is hardly a long wait. Just know that if you are a frozen pizza connoisseur with little use for the rest, there are cheaper and quicker preheating ovens.
Target Temperature Accuracy
It's important for an oven to average the proper temperature so things don't get undercooked or overcooked. However, it's not horrible if it does, because the user can usually sense how it's working, especially when considering our data. Know thy oven.
With the exception of the keep-warm setting, the maintained its temperature accurately. At the 170°F mark of the keep-warm setting, the oven elected to disregard the target temperature and surge to 210°F—just a bit off the mark.
Despite that hiccup, the rest of the settings did exactly what it supposed to. The 350°F settings—conventional and convection—just about averaged what they were supposed to at 343°F and 345°F. The maximum setting hit the mark exactly, but that mark was 500°F and not 550°F, the industry standard for maximum settings.
Temperature Fluctuation
We found very little temperature fluctuation. At 350°F, we found a total fluctuation of 30°F, low by anyone's standards. The convection mode wasn't quite as good (surprising because convection is often better), but still quite acceptable with 39°F of fluctuation (we like to see the fluctuation under 40°F.) We similarly found excellent temperature control in the feverish keep-warm setting and the 500°F setting. All this solid temperature maintenance benefits all sorts of users, preventing the roast overcooking on the inside but remaining raw on the inside.
Broiler Performance
The 's broiler performed strongly in our broiler test, heating up to 603°F in just eight minutes. After seeing many electric broilers struggle and fail to 600°F before timing out at sixteen minutes, this is certainly a pleasure to see.

Broiler Features
The broiler has three settings: high (500°F), medium (450°F) and low (400°F), as well as a "convection broil" mode that adds the convection fan's use into the mix.
Overall Efficiency
Our test for judging how an oven uses its energy is simple: compare the power scores (boiling and preheating) to the power draw. While we saw phenomenal boiling results from the rangetop, we did measure its expense of 10,156 watts, 2,000 more than normal.
As for the oven and broiler, the 3,740 watts didn't preheat the oven that fast, and the broiler exhibited a moderate eight minute performance with its 3,970 watts.
Features
The front left burner features a triple-element with 12-inch, 9-inch, and 6-inch settings to accommodate all different sizes of stoveware. The range also features a 100W keep-warm element in the center as a useful intermediary between oven and table.


Most importantly, the oven features that heated convection fan that circulates the heat around the oven, providing even temperatures throughout the cavity and more efficient heat transfer. Additionally, the 6.2 cubic foot oven has three racks, one of which is a "SatinGlide" roll-out extension rack--making it easier to load food in and out—and the other a maximum capacity "U" style rack. It also has an especially large "ClearVue" oven window.
The oven also has the "EasyConvect" conversion system with presets for "MEATS, PIZZA, BAKED GOODS" and "OTHER." While we find the utility of this feature puzzling, it doesn't get in the way and might be useful to some.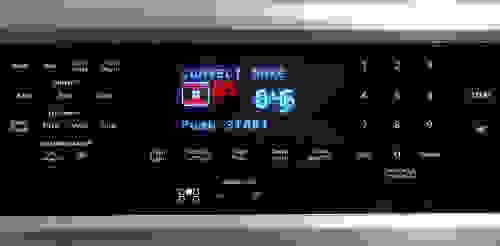 The timer is simple—a typical affair for an electric oven with features like cook time and delay bake.
Controls
The KitchenAid 's range controls are pretty bizarre. Instead of the traditional knobs, which make setting the burner temperature immediate and simple, there are buttons: on, off, +, and -. This seems ridiculous since one elegant knob can do the work of four buttons. Maybe no knobs looks cleaner, but we think it's at the expense of function.


The oven and broiler controls are buttons on the backsplash/control panel, which makes sense due to the amount of features. Despite the many buttons, oven operation is still quite simple and self-explanatory.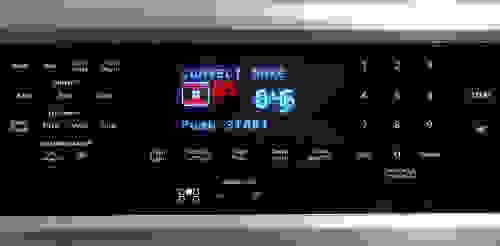 Cleaning
The rangetop is typical of its ceramic genre and is a delicate thing indeed. KitchenAid recommends a glass cleaner—of which they have a brand—and stress the need for a nonabrasive scrubbing pad. The manual also recommends their brand of stainless steel cleaner, though "all-purpose cleaner" will apparently suffice.
Eschewing the traditional pyrolitic cleaning method, the KitchenAid uses a water-based cleaning system called "AquaLift," that cleans in a far shorter time than the pyrolitic method and doesn't involve extremely hot temperatures.
Conclusion
This range gets us excited. Sure, it's a tier above the $1,000 mark of ranges at around $1,350 (MSRP $1,500) but we found every justification of the pricetag in its performance.
With excellent performance across almost all of our categories, there is nothing not to like. The rangetop's spectacular boiling and searing performances more than make up for one of the only two flaws we found: the above average minimum burner temperatures. (To clarify, above average temperatures = below average performance in the category.)
Below we found an oven that should satisfy any baker who just needs one oven. Excellent temperature control on all settings—save for the overheated keep-warm setting—and a decent eleven minute preheat makes this worth your strong consideration. Even the broiler gets our approval, a feature often neglected that fouls up a near-perfect scorecard.
It is hard to imagine a better electric rangetop than this, with its pleasant design—except for its lack of knobs—excellent performance, and relatively low price for the package.
Up next
Get Reviewed email alerts.
Sign up for our newsletter to get real advice from real experts.