Ovens
KitchenAid KGRS807SSS 30-Inch Gas Range Review
KitchenAid plays it cool with the KGRS807SSS gas range.
Credit:
Introduction
The KitchenAid KGRS807SSS is a stainless steel, mid-level gas range (MSRP $2199.00) that's set apart by its "frameless cooktop" design. It will seamlessly blend with your countertops and other high-end appliances, but its cooking performance is far less refined. In fact, our test results read as a comedy of errors.
That doesn't mean there weren't moments of true brilliance: Oven temperature precision was spot on, and the broiler was great. But at times, this KitchenAid was a moustache and a French accent short of Inspector Clouseau.
Design & Usability
The KGRS807SSS's design is suitably understated.
The KGRS807SSS follows the standard KitchenAid mid-range design language. Essentially, it's a mid-level range wearing a stainless steel skin, and surprisingly, this works. It wears that stainless suit well, and should look good in any kitchen, regardless of your budget.
The KGRS807SSS wears its stainless suit well.
The KGRS807SSS features five gas burners, including one TripleTier burner which encases a simmer burner in a larger high-heat burner. This may appeal to you if you hate the idea of moving your pans from a high temperature to a simmer burner. But considering that the KGRS807SSS already comes equipped with two simmer burners, the TripleTier is best for highly specific use cases.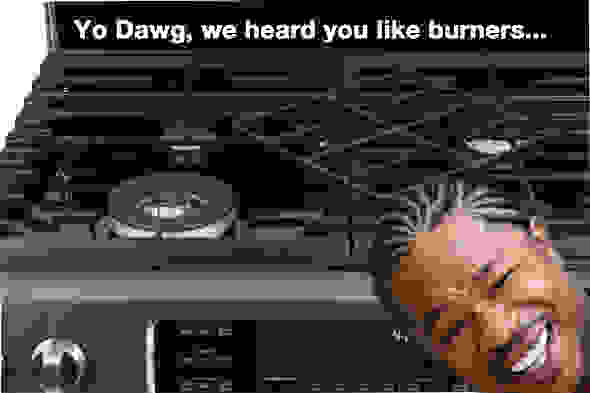 Burners aside, there's a lot to like about this KitchenAid's control setup. The oven's control panel is a bit too busy for our tastes, but we appreciate that the controls are on a slight upward slope, allowing easy access, without forcing the user to bend over.
Rangetop
"Slow and steady wins the race" doesn't apply to rangetops.
The performance of this rangetop left us cold. Only one out of five burners boiled water in less than 10 minutes, while the remainder took anywhere between 10 and 30 minutes. Equally disappointing is the narrow temperature range of this stovetop. At low temperatures, the burners were fine for simmering soup, but couldn't get low enough to properly melt chocolate without a double boiler. And high temperatures were no match for a chef with the desire to sear a steak.
Oven, Broiler, & Convection
A bumbling thermostat makes for a kitchen farce
One thing is certain: you won't find yourself humming a certain Cole Porter tune while using the KGRS807SSS. In fact in the case of the KGRS807SSS it's often "too darn cold." It's not that the oven is incapable of intense heat. Rather, it consistently undershot the temperatures we set it to.
We do admire its determination.
The KGRS807SSS did cling to those inaccurate temperatures, however, never straying too far from its beliefs. We do admire its determination, and suggest it join the Flat Earth Society.
Fortunately, the convection setting drastically improved oven accuracy. Unfortunately, it came at the cost of precision. So what does that mean for you? Well, when using the KGRS807SSS, you will need to adjust the target temperature by a set amount every time to compensate for the poor calibration, or you can choose to prepare food that's either cold or unevenly cooked. Choose wisely.
Despite some frustrating performance issues, the KGRS807SSS had a couple of things going for it in the oven department. It's got an amazingly fast preheat, reaching the target temperature in less than eight minutes. True, it was not the correct target temperature, but credit where credit is due. Even the broiler performed admirably.
Conclusion
Amazing accuracy and great precision, just not simultaneously
Forget about the Clouseau comparison. If this oven were a character in a play, it would be a distinguished English colonel thrust into a drawing room comedy, complete with mistaken identity and double entendres.
Maddeningly inconsistent oven performance aside, the KitchenAid KGRS807SSS does have some commendable features. The control scheme is comprehensive and user friendly, and we are big fans of the range's understated elegance. Unfortunately, when it comes to the rangetop, the KGRS807SSS fails to deliver low lows and high highs.
If you are looking for a gas range that sits flush with your countertops, and you find a great deal, you could do worse than the KGRS807SSS. But we also recommend you check out the KitchenAid KGRS308BSS It won our coveted Best of Year award and our Editors' Choice award. It's also $500 cheaper.
From the Lab
Frustratingly inconsistent results in both range and oven performance
The KitchenAid KGRS807SSS won't win any prizes for consistency. Despite some good results in broiler and preheat performance the KGRS807SSS failed to impress. Read on for a full breakdown of the KGRS807SSS's results.
Oven Performance
You mean you want accuracy and precision?
The KGRS807SSS's Keep Warm setting (170ºF) averaged an excellent 158.23ºF, but reached a low temperature of 141ºF—which is too far off the target.
As is usually the case, oven accuracy decreased at higher temperatures. The 350ºF setting averaged 329.70ºF and at no point did the oven even reach 350ºF. At this setting the oven was amazingly precise, straying less than 17ºF from 330F. It's just a pity that the target temperature was 350ºF. This trend continued with the KGRS807SSS's maximum setting of 500ºF, which, we should mention is 50 degrees lower than the industry standard. Even so, the KGRS807SSS only averaged 488.46ºF. As with the 350ºF test, the KGRS807SSS was incredibly precise at this setting.
We were happy to see accuracy improve dramatically when we turned on the KGRS807SSS's convection feature. The oven was able to average an impressive 349.86ºF for a target temperature of 350ºF, but at the expense of oven precision, with a temperature variance of ±36ºF.
Rangetop Performance
"Timid Freida?" More like "Timid Fry-da."
The KGRS807SSS's rangetop failed to impress with only two—of a total five—burners taking between 6-10 minutes to boil six cups of water. The KGRS807SSS burners also had temperature ranges of between 153ºF and 427ºF. Considering that the appeal of a gas range is the control it provides the user, the narrow range of temperatures provided by the KGRS807SSS renders that level of control moot.
Broiler Performance
Considering the inconsistencies found in this range the broilers mediocre performance was cause to celebrate.
The KGRS807SSS's broiler was able to reach a temperature of 611ºF in 7 minutes. This is a pretty good result–for a broiler–but nothing to shout about.
Up next
Get Reviewed email alerts.
Sign up for our newsletter to get real advice from real experts.