Ovens
LG LCG3011ST 30-Inch Gas Cooktop Review
Classy looks, mediocre performance.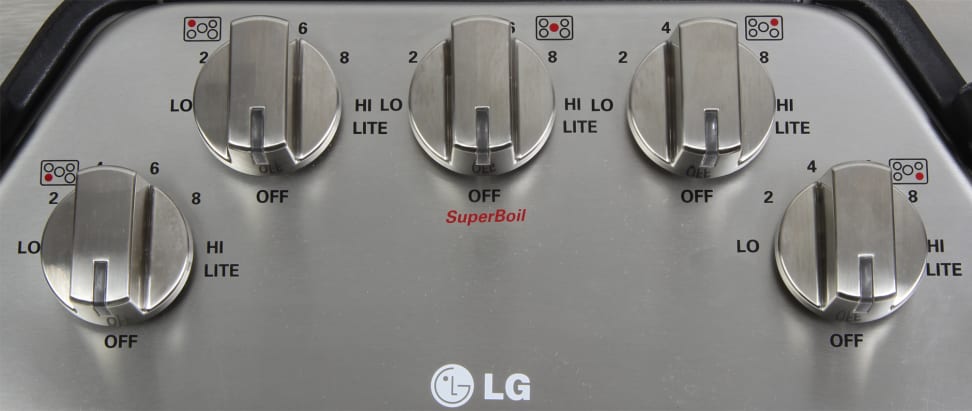 Credit:
The LG LCG3011ST ($1,099.99) 30-inch gas cooktop is a reasonably priced companion to a built-in wall oven, and one of only a few gas cooktops offered by LG in the U.S.
Despite its pleasant, transitional appearance, continuous grates, and easy-to-clean surface, we weren't impressed with this cooktop. In our tests, we measured slow boiling speeds from all but one burner, and found an extremely narrow range of temperatures. It simply doesn't have the breadth of abilities that serious cooks require.
Design & Usability
Easy to use, and easier to clean.
The LG LCG3011ST has a classically understated appearance. The unit is stainless steel and features blue lighting and a continuous cast iron grate. The grate itself separates into three sections for easy cleaning. It also forms a level surface across the cooktop to make moving pots from burner to burner with ease. The control knobs look sturdy, until you handle them and realize that they're nothing more than painted plastic. That's disappointing.
Performance
A standout performer, but needs a team effort
One of the joys of gas cooking is the ability to adjust temperatures at a moment's notice, but there's a tradeoff: Gas cooktops never reach the high or low temperatures achieved by electric and induction equivalents. We recorded a maximum temperature of just 404°F from the right front burner, while the center and left front burners trailed behind at 363°F and 361°F respectively. We like to see more heat for searing.
The center Superboil 17,000 BTU burner was appropriately named and managed to bring six cups of water to boil in only five minutes. That would be impressive for an electric burner, let alone gas. Sadly, the remaining four burners were severely lacking by comparison. The three standard burners took between 10 and 13 minutes to boil six cups of water (don't even think about using the simmer burner to boil water).
That doesn't cut it in our tests. We want at least two fast burners for recipes that require you boil two things at once—like lobster and water for pasta.
The LG fared even worse in our low temperature tests. We recorded a minimum of 165°F from the simmer burner, while the next closest was the front right burner at 192°F. If you spend about $350 more, you can get the GE Café CGP350SETSS, a gas cooktop that gets as low as 125ºF.
Conclusion
What's one good burner worth to you?
At just under $1,000 on sale, the LG LCG3011ST is a bit pricier than entry-level. Unfortunately, that's about where this cooktop's performance lies. While we were impressed with the boiling speeds of the Superboil burner, we were disappointed by the sluggish performance from the remaining four. You'll also have trouble simmering and warming, thanks to low temperatures that are just too high. All these drawbacks make for a cooktop that lacks versatility.
If you're looking for a gas cooktop in this price range, our money is on the Whirlpool G7CG3064XS. You could also spend a little bit more and get a GE Café CGP350SETSS, which has some of the best performance we've ever seen from a 30-inch gas cooktop.
Up next
Get Reviewed email alerts.
Sign up for our newsletter to get real advice from real experts.