Ovens
LG LRE3023ST Review
Amazing performance and value from this LG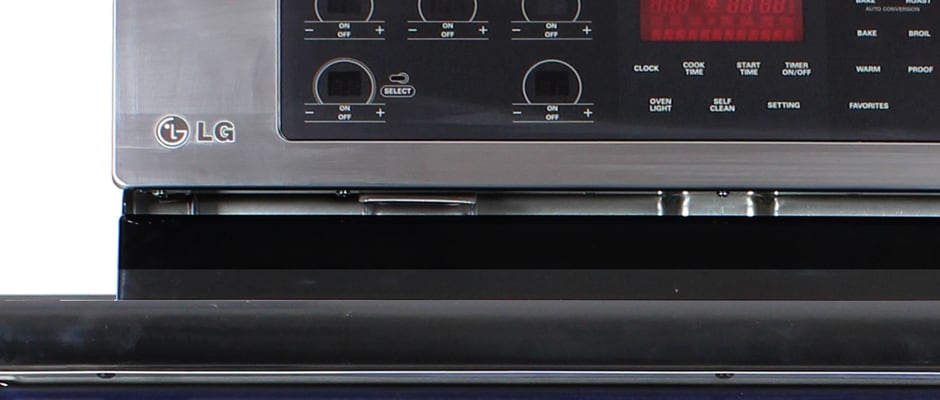 Credit:
Science Introduction
Obviously, serious prospective buyers are going to look at the details, and we've got them all, thanks to our thorough testing procedures. Here we discuss the finer points of the range's performance.
Introduction
It takes a lot to entice some American consumers away from the brands they've been devoted to since the 1950s. But sometimes, amazing performance and solid value from a relative newcomer makes a strong argument against years of brand loyalty. The LG LRE3023ST (MSRP $999) makes its case very well.
With a modern aesthetic and plenty of capacity, on the whole this range had some of the finest performance marks we've seen this year. Its spectacular oven temperature control, quick preheating, rangetop temperature spread, and convection oven characteristics left us thoroughly impressed. We were only slightly disappointed by boiling and broiling results.
The best part of all? The price. This electric LG is soon to be replaced by the LRE3083ST, an otherwise-identical range with LG's new self-cleaning technology. That means we've found sale prices lower than $700 on the this range.
Design & Usability
Stainless, but modern
The deep-blue oven cavity will at least temporarily distract from the vanilla exoskeleton.
The has a very square look—both in the Euclidean sense and in the Huey Lewis sense. Though its finish is shiny and silvery, it doesn't quite have that je ne sais quoi of a semi-professional Wolf or Viking.
Of course, it's entirely possible that electric ovens by definition struggle to live up to that classic stainless character. They all lack those robust, heavy grates that make ranges feel like they were made by Studebaker, not Foxconn. However sleek the outside may look, though, the deep-blue oven cavity will at least temporarily distract from the vanilla exoskeleton.
Besides the industry-standard four burners, the rangetop features a keep-warm element at the center of its ceramic surface. (Be sure to read the manual: Only certain cleaners can be used here!) In the oven, two standard racks traverse the 6.3-cubic-foot oven cavity. This oven's most important feature is a convection fan, which facilitates more heat transfer to the food, allowing you to cook it faster or at lower temperatures.
While the oven controls are fairly standard, the rangetop uses buttons instead of knobs. We found them less user-friendly than physical controls. And of course, they're on the backsplash... you know, the part that's behind the boiling and bubbling pans. Livin' on the edge!
Oven Performance
Simply one of the best ovens we've seen
Despite the relatively slow 11-minute preheat to 350°F, the oven did a decent job of averaging the proper temperature. Set to 350°F, the oven averaged 342°F—a reasonable deviation. Similarly, the maximum setting of 550°F averaged a cooler temperature (540°F) but at degrees that high, the percent difference is negligible. The keep-warm setting, however, ran ten degrees hotter than its displayed 180°F.
The convection fan worked well, circulating the hot air throughout the oven's cavity for more even cooking and improved heat transfer. The temperature accuracy we found was identical to the 350°F setting, averaging a slightly cool—but allowable—342°F.
The broiler ran out of time trying to achieve 600°F, only having reached 535°F after 16 minutes. While it almost passed our test (coming up just 65°F short) and might be alright for occasional user, its failure may be a dealbreaker for broiling enthusiast.
Rangetop Performance
Now here's a complicated boiling situation...
In some respects, the excels at boiling, exhibiting an excellent average of 9.5 minutes for six cups of water. But despite the strong team effort, individual element ability was quite poor: the fastest element could only boil six cups in seven minutes. Users don't usually need great average boiling times, but rather one excellent boiler to handle the big pasta pot; that, unfortunately, was somewhat lacking here.
In spite of the boiling peculiarities, the had an exceptionally strong temperature range. The simmering abilities impressed us thoroughly: every burner could maintain a temperature of 96°F or under—cool enough to melt chocolate without a double boiler. The elements were also quite capable of heating our test pans to scalding.
We give a slight scoring penalty to elements that run over 750°F, since they can be hazardous and are easily be left on (electrics, especially). Only one element ran slightly too hot at 775°F, which isn't a big deal whatsoever. The rest of the elements fell between 638°F and 702°F.
Rangetop
A great temperature range, but weak boiling performance.
With an electric rangetop, you don't quite have the control and precision of gas; you don't get the visual aid of a flame, and there's lag time between turning the dial and the temperature actually changing. But fortunately, there's an upside: Because electric ovens aren't bound by the minimum and maximum combustion temperatures of natural gas and propane, they often excel at extremely low and extremely high temperatures.
The is no exception when it comes to low-temp cooking, but unfortunately, high-temp wasn't quite as great. The fastest burner only boiled six cups of water in seven minutes. Sure, there aren't many weaknesses in this range, but fans of pasta and classic British cuisine may have to wait a bit longer.
Oven Broiler & Convection
The 's excellent oven performance won it our 2012 Award for Best Electric Range.
In addition to getting very close to the proper target temperatures set for our tests, this excellent oven had no trouble limiting variance. With even temperatures that were almost true to the dial's setting, this is most certainly a baker's oven. Activate the convection fan, and the oven delivers similarly stellar results but with the advantage of improved heat transfer for more efficient baking. The only place the oven didn't excel was the 11-minute preheat to 350°F—not a class-leading time, but not really that slow either.
This is most certainly a baker's oven.
Prospective users who rely on the broiler, be warned: We found it to be underpowered. Though it has "Hi" and "Lo" settings, they both seemed a bit "Lo." That said, this oven comes with a pyrolitic system, a feature that makes the dirty, onerous affair of cleaning an oven a little bit easier.
Conclusion
One of the best ranges we've tested
Without a doubt, the is one of the finest ovens we've seen.
Turning in phenomenal results in almost all of our tests, the exhibited the kind of breadth that ambitious chefs need in the kitchen. Bakers will delight in the delicate evenness it displayed, with temperatures barely fluctuating at every tested setting.
The only weaknesses we found were in broiling and boiling. A household broiler will never approach the range of an industrial kitchen's salamander, so we're happy to give the a pass there. But the boiling issue is important to note. Many people favor the rangetop and rarely use the oven at all, save for the occasional frozen pizza. So it's especially important to know thyself when considering this range.
If you're a lazy chef and habitual rangetop user, this many not be the range for you. Quicker boiling can be found on cheaper machines, albeit at the expense of the overall package. If you have a quick-draw cooking style that requires both a solid oven and a fast rangetop, keep in mind that the boiling results may be a bit slow with this one.
Let us be as clear as possible: this oven has almost no notable flaws. If you are fine with longer boiling times, this oven is an absolute steal if you can find it on clearance.
Up next
Get Reviewed email alerts.
Sign up for our newsletter to get real advice from real experts.