Ovens
LG LSRG309ST Freestanding Gas Range Review
Strong performance for a fair price. What more could you want?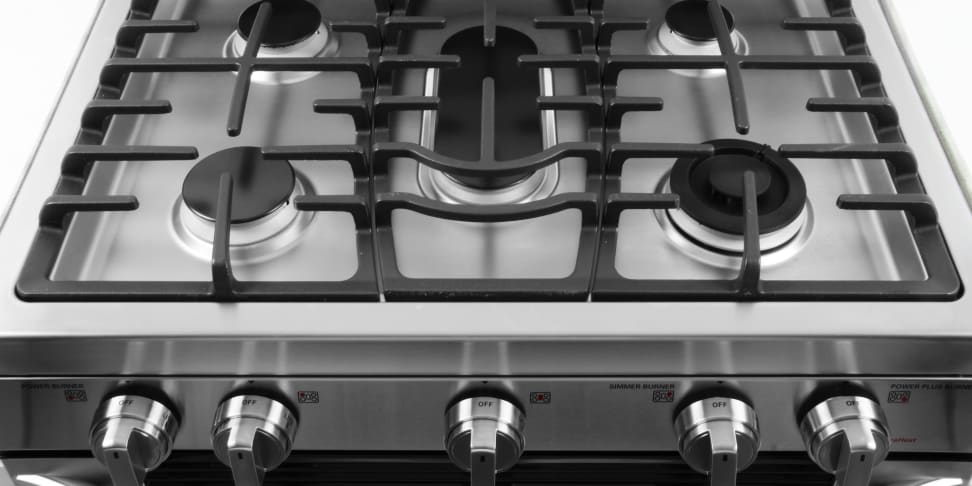 Credit: Reviewed.com
From the Lab
We ran the LG Studio LSRG309ST through a series of scientific tests, measuring everything from broiler speed to the evenness of cookies baked in the oven. The range, despite a few problems, earned itself a firmly high score for performance.
The LG LSRG309ST freestanding 30-inch gas range (MSRP $1,999) is part of the manufacturer's Studio series. From its attractive rangetop to its blue 5.4 cu. ft. oven, our rigorous lab tests proved that this range can sauté as well as it can sear, and broil as well as it bakes. It may be on the pricey side, but we think that a sale price of $1,799 is worth it for this LG's good looks, easy-to-use interface, and ability to master recipes.
We love the included griddle and straightforward controls. Our only qualm: The oven has some quirks, but if you take the time to learn its intricacies, you'll have no problem making great roasts and baked goods.
Design & Usability
Simple, but easy on the eyes
The stainless steel LG LSRG309ST will look at home in any kitchen, but three serious rangetop grates give the transitional style a slight industrial edge. The thick, black grates cover a five-burner rangetop, complete with a right front dual ring burner and a central oval-shaped burner. Fit the removable griddle over the center burner if you want to cook up a batch of pancakes.
Below the rangetop, the 5.4 cubic-foot oven isn't the largest we've seen, but it should suffice for most dinners. A gliding rack, split rack, and two regular oven racks give the bright blue cavity some nice versatility, and the recessed Flat-Broil Heater should save a little space if the oven gets crowded. Also included: a handy blue broiling pan.
The digital oven controls are behind SmoothTouch glass. They're pretty basic, but only a few useful settings are available. Along with the standards bake settings, the range features a Proof mode, Convection Bake, Convection Roast, and a Favorites option that lets you save your prized oven settings for later.
Rangetop controls, on the other hand, are standard knobs located on the front of the range. A warming drawer at the bottom of the range keeps dinner from going cold before you're ready to eat.
Oven & Broiler Performance
Our real world baking tests are an extremely important part of the evaluation process. The LSRG309ST didn't exactly wow us when we first tested the oven using standard settings, turning out dark-bottomed cookies and burnt-edged cakes, which were at least uniformly subpar from one baked good to the next.
The convection setting eliminated the issue of uneven browning—but just for the cakes. A good convection fan is able to circulate the air inside the oven cavity, evening out hot and cold spots. In this case, the thicker cakes with their longer bake times benefited from the air circulation. However, the thinner, more quickly baked cookies did not. Convection can cause food to bake more quickly, and when it came to the cookies, the results were slightly darker bottoms that were less uniform from one cookie to the next.
Our recommendation? Use the convection fan for thicker food with longer bake times, like cakes. Thinner food with quicker bake times is likely to do better in the standard setting, but you'll still have to keep an eye on your food to avoid burning the bottom. Try using parchment paper, higher oven racks, or shorter bake times to eliminate this issue.
We also test ovens to see how quickly they preheat to 350°F, as well as how quickly the broiler can reach its goal temperature—in this case, 606°F. The recessed broiler proved slow to heat up, requiring 6 minutes 29 seconds to heat the area below the broiler to its target temp. The oven was much more impressive speed-wise, with the standard settings taking just 6 minutes 20 seconds to heat the entire cavity, and convection taking 6 minutes 30 seocnds. The time may match up pretty closely with the broiler's heat time, but it tends to take longer to heat an entire oven cavity than just the area below the broiler, so the oven preheat earned the higher score.
Rangetop Performance
As is characteristic of gas rangetops, the LSRG309ST was unable to reach the kind of high temperatures achievable by electric and induction rangetops. However, this LG's maximum heat should have no problem cooking your food.
Maximum temperatures topped out at 419°F and 400°F for the left and right front burners, respectively, so searing is definitely still on the menu. The left rear burner managed to hit 377°F, but the right rear and central burners were unable to reach even 300°F. Bottom line? Any burners but those two will do just fine with high-heat tasks.
Boiling water won't be a problem either, since the right front burner managed to boil 6 cups of water in just 4 minutes 15 seconds, while the left front burner took 8 minutes 59 seconds. The left rear burner had an acceptable near-14-minute boil time, but the right rear and central burners are a no-go when it comes to boiling. But how many people need to boil more than three pots at once?
However, where this rangetop really shines is low-heat cooking. The LSRG309ST is able to dip as low as 129°F (center burner), with both the right rear and front burners following suit with minimum temps below 140°F. The left burners managed to make it below 160°F, but we'd recommend any of the other burners if you're melting chocolate or simmering sauce.
Rangetop
Good performance, but not great
The LSRG309ST's five burners did very well in our boil and simmer tests. With three burners dancing around 400°F—ideal for a gas range—you'll be able to sear meats or boil water easily.
The right front dual-ring burner brought six cups of water to a boil in just over four minutes, though the left front burner took twice as long (that's still relatively fast.) The other burners aren't worth boiling with at all. It's not often one has to boil more than two pots at once, so we don't consider this a significant problem.
This rangetop's greatest strength is its ability to reach low simmering temperatures, down to 129°F in this case. Even the large left front burner hit a balmy 155°F, so this rangetop should have no problem with gentle simmering or melting.
Oven, Broiler, & Convection
Quick to preheat, but not as even as we'd like
The LG LSRG309ST's oven isn't perfect—but it will get the job done. Just make sure you spend a little time getting used to its quirks, and use convection only when appropriate.
The recessed broiler takes just over six minutes to heat up—close to the 5 minutes we measured from LG's superb infrared broiler.
We also measured one of the fastest preheats we've ever seen on the LSRG309ST. The oven took just about six minutes to heat its entire 5.4 cu. ft. cavity to 350°F. That's astounding.
Preheat times are important, but the most vital aspect of an oven is how well it can actually cook your food. The LSRG309ST's oven performance varied, but test results were positive overall. Cakes and thicker foods with longer bake times should do best using the convection setting, which turned out evenly-browned cakes, while standard baking had a tendency to burn edges.
The good news is that this LG's oven tended to burn edges the same way in every test. That means you can adjust your recipe accordingly, and get consistently delicious baked goods.
Why We Love It
A bit pricey, but performs well
-->
If you shop around, you should be able to find the LG LSRG309ST for under $1,800. That's a little expensive for a freestanding gas range, but performance here is above average. The rangetop is near as good as it gets for gas, while the oven did quite well in our tests. Special features aren't abundant, but there are a few nice touches that elevate the LSRG309ST above some less expensive ranges. Plus, the sleek stainless design looks great.
That said, if the price tag has you balking, the Kenmore 75232 gas range offers great performance for almost $1,000 less, as does the Frigidaire FGGF3054MF gas range.
Up next
Get Reviewed email alerts.
Sign up for our newsletter to get real advice from real experts.