Ovens
LG Studio LSCG306ST 30-Inch Gas Cooktop Review
Not a lot of bang for your buck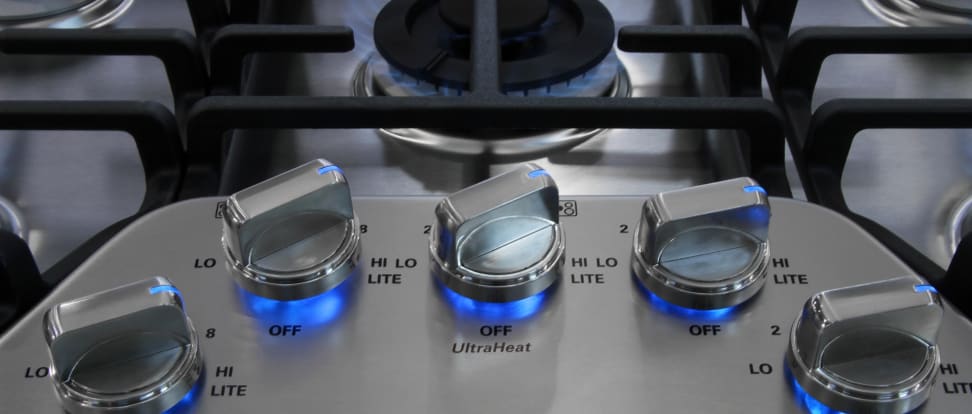 Credit:
The Studio Series marks LG's first foray into built-in appliances. Last month, we tested the LG Studio LSWS305ST wall oven and found it excellent, but unfortunately the LG Studio LSCG306ST (MSRP $1,199) 30-inch gas cooktop just doesn't measure up.
With pared down design, subpar temperature variance, and boil speeds on the slow side, it's hard to justify the steep price tag.
Design & Usability
Nice, but not new
The LSCG306ST's appearance is simple and pleasant, but it isn't groundbreaking. The stainless steel cooking surface and cast iron grates should match most kitchens. Controls take the form of simple knobs located at the front of the cooktop. If you're not looking for innovation, this cooktop's plain looks will suffice.
The three grates covering this LG are continuous, so you can slide pots and pans around without fear of tipping them. LG markets the right rear burner as a simmer burner, and the center UltraHeat burner has a dual-stacked design for optimal high- and low-temperature cooking.
When a burner's turned on, subtle blue LED lights glow under the corresponding control knob. You also get a nonstick griddle designed to sit on top of two burners.
Performance
Subpar temperatures and slow boiling
We had hoped simple design would mean a focus on cooking performance, but we were sorely disappointed. To put it plainly, The LSCG306ST can't reach particularly high or low temperatures and, in most cases, boiling takes too long.
A gas burner should be able to hit temperatures above 375°F. But most of the LSCG306ST's burners could only pass this threshold by a slim margin. If you want to sear, use the front burners, which reached an impressive 429°F on the right and 410°F on the left. The rear and center burners, however, couldn't break 400°F.
Burners should also be able to dip below 150°F to do an adequate job with tasks like simmering sauces or melting butter. None of the LSCG306ST's burners came close. The right rear simmer burner only made it as low as 190°F, which gives it a pretty dreadful overall temperature range. The lowest temperature on the cooktop was achieved by the left front burner, which only dipped down to 180°F, while the right front and center burners had abysmally hot minimum temps: 245°F and 236°F, respectively.
Boiling was actually what this cooktop did best. Unfortunately, only one burner did the job. The center UltraHeat burner can boil 6 cups of water in 4 minutes 22 seconds, but the next-fastest right front burner takes just under 9 minutes. The left front will get that water bubbling in a little over 10 minutes, while the left rear burner takes about a minute longer. Just avoid that simmer burner if you want to cook pasta.
Warranty
LG will cover any defects in material or workmanship for two years from the date of purchase. This includes both parts and labor.
Before You Buy
High and low temperatures are out of reach
-->
There's not a lot to be said for the LG LSCG306ST cooktop. It's nice enough to look at, and one burner did a great job boiling, but some burners simply couldn't sear or simmer. Users won't have access to the broad spectrum of temperatures that are necessary for many dishes.
For a retail price around $1,000, we'd expect better temperature range and quicker boiling speed. We recommend you take a look at other options before shelling out for this one.
Up next
Get Reviewed email alerts.
Sign up for our newsletter to get real advice from real experts.