Ovens
Maytag MET8775XS Review
We're less than impressed by this $1,200 (MSRP $1,599) oven.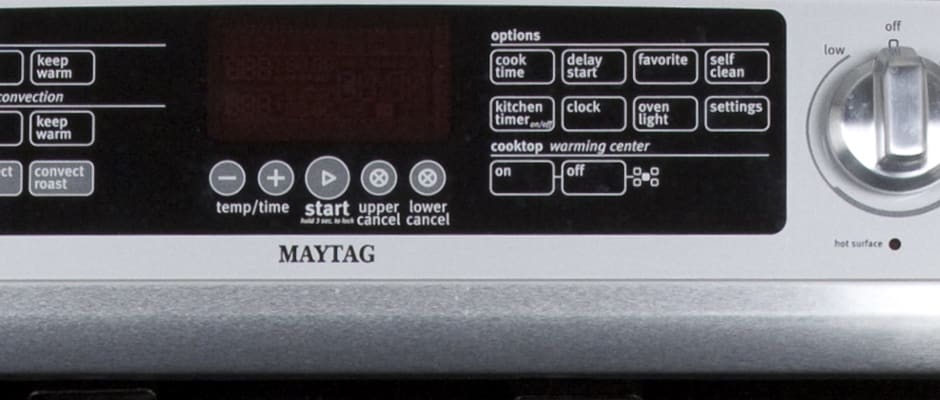 Credit:
Introduction
For around $1,200 (MSRP $1,599), the seems to offer quite a lot for its price tag: Loads of features, two ovens with 6.7 cubic feet capacity, six rangetop elements, and that stylish stainless steel finish. In our tests, this rangetop performed quite well, showing great temperature range and decent boiling times for each burner. The oven, on the other hand, was less impressive. Although the convection oven worked well, the conventional oven temperature showed a marked inability to use its thermostat, raising the internal temperature, and our eyebrows, way too high. Then it brought the temperatures—and our spirits—way too low.
Is it a deal-breaker? Well, it depends. Consider your cooking habits as you read the strengths and weaknesses of this dual oven range's performance and features. This oven might be right for you, or it might not.
Design & Usability
This Maytag's price tag seems incongruous with its looks.
The is a freestanding, 30-inch range with stainless trim and two ovens. Unfortunately, its looks seem better suited to a less expensive range. Porcelain enamel is visible everywhere, and though it has a substantial feel, it lacks the clean design language that other ranges offer for the same price. Although KitchenAid, for example, sits slightly higher in the Whirlpool brand hierarchy, just do some searching and you'll find KitchenAids with similar features to this Maytag selling for around the same price.
The impressive "Power Preheat" warms both oven cavities to 350°F in a lightning-fast five minutes.
The rangetop is set up with some extra features: a bridge element for griddles or oversized stoveware, and a keep-warm element. The self-cleaning ovens below feature the impressive "Power Preheat," which warms both oven cavities to 350°F in a lightning-fast five minutes. But of course the main features are the two ovens—one of which is a convection. Combined, these comprise a total of 6.7 cubic feet: 2.5 up top, and 4.2 below.
Rangetop
One very fast element impressed us with its quick boiling time, and our tests found a wide temperature range, as well.
Quick boiling is always appreciated, and this rangetop has an element that does just that. In this case, the front right burner is more than twice as fast as any of the other burners. However, this of course means that the rest of the burners aren't particularly powerful, though like your Buick-driving lawyer uncle, they do alright for themselves.
This Maytag is an electric model with a generally wide range of temperatures.
The 's rangetop excels by providing temperatures conducive to both high-heat cooking and simmering. This is expected, since this Maytag is an electric model with a generally wider range of temperatures. However, as an electric range, it doesn't have a great deal of control; it lacks the visual feedback of a flame and you can only watch the food's reaction after the fact.
Oven Broiler & Convection
It has more ovens, but not better ovens.
The is a double oven, and it has double the issues. The 350°F setting averaged well below 350ºF, even with the ridiculous temperature variance from Saharan to arctic. The keep-warm setting was smooth, but averaged around 45°F more than it should have. Only the maximum temperature setting hit its mark at 550°F, but even then there was some large variance.
The conventional oven abilities are impressively unimpressive.
Convection wise, things were a bit better, with more respect for the temperature on the dial—staying close to it as well as averaging it. The dual-setting broilers ("HI/LO") proved satisfactory, heating up to 600°F in only twelve minutes. This lower temperature option is convenient for handling thicker cuts of meat, as the outside won't get overcooked before the inside has a chance to get roast at all. This Maytag is supposed to be a baking range, but the conventional oven abilities are impressively unimpressive.
Conclusion
This range is flawed, but it might fit your needs.
This Maytag lacked adequate temperature control when used as a conventional oven.
For around $1,200 (MSRP $1,599), the offers quite a bit: oven space, rangetop elements, and features. Although not without flaws, this model may be a fine choice, depending on the user. The rangetop garnered our modest approval, and the caverns below certainly had some strengths, too. We were thoroughly impressed by the spectacular preheat time, yet this Maytag lacked adequate temperature control when used as a conventional oven. Considering that only the bottom oven has convection—which controlled temperature quite well—this might be a single oven range in practice. While some food can handle the intense fluctuation, anyone requiring two ovens will most likely prefer a single high-performance oven instead. With all the features, this range might be a case of quantity over quality.
Despite its shortcomings, this Maytag might be a solid value, as it is indeed a decent two-oven range for well under $1,500. But before buying, we do thoroughly recommend making sure this is the oven for you by closely comparing this review to your needs.
Science Introduction
When we run a range through our testing gauntlet, we come up with a great deal of data. For a full review of these results, see the science page below.
Oven Performance
The conventional oven raised our eyebrows.
The conventional upper cavity of the had some trouble regulating its temperature, running hotter than it should have. After the very short preheat to 350°F, the oven continued its way to 400°F, past the acceptable upper bound of temperature. From there, and until the end of our test, the oven kept cooling off from this maximum to a temperature far below the acceptable lower bound, ending up at 318°F by the time we concluded the test. It also averaged a temperature of 339°F on the 350° setting—not even close.
We found that the keep-warm temperature didn't fluctuate much, but we did see it miss 170°F by 45°F, averaging 215°F in our test. The averaged an almost perfect 549°F on its 550°F setting, but it showed a marked measure of variance, cruising between 570°F and 504°F.
The lower convection oven displayed excellent variance, never going below 332°F nor above 359°F, though it did average 342°F instead of 350°F
Rangetop Performance
Our tests revealed one strong boiler and some excellent temperature ranges, as well.
The proved a satisfactory boiler, although its results didn't blow us away. The front right burner worked the quickest, taking just under six minutes to boil six cups of water. The left elements boiled six cups of water in twelve and fifteen minutes. Remember, these numbers go down significantly if you boil with your pot covered.
The rear two burners go as low as 91°F and 93°F—certainly low enough for a gentle simmer.
The rear two burners go as low as 91°F and 93°F, and the front right made it to 109°F—certainly low enough to keep even a small amount of liquid at a gentle simmer. We imagine you could also even melt chocolate without a double boiler, as temperatures this low shouldn't burn anything.
The high temperatures are as effective as the low ones—maybe too effective, in fact. The two front power burners both heated up to over 700°F, easily hot enough to sear and char. We actually like to see temperatures a little cooler than this, as it's a fire hazard to run a burner that hot unless it's for a warm-up or a boil. It might be wise to make sure that users know not to put those burners on high. Finally, the left rear burner also managed impressive temperature range, attaining the ideal temperature of 620°F.
Up next
Get Reviewed email alerts.
Sign up for our newsletter to get real advice from real experts.