Ovens & Ranges
Maytag Gemini Series MET8885XSS Electric Dual Oven Range Review
A double oven range with only one good oven.
Credit:
Introduction
The territory between the normal range and the double wall-oven/free rangetop is filled by the double oven ranges, which combine the best of both worlds—usually.
For $1,600 (MSRP $1,750), the is supposed to occupy that no man's land between the machinery of the amateur caterer and the classic single oven setup, providing large families or active chefs with a bit more cooking power without getting too much. However, instead of providing high performance cooking abilities, it seems to be a middling performer with big dreams, if our tests are anything to go by—which they are.
The rangetop is okay, showing decent temperature range and an okay average boiling time, but no single element could boil six cups of water under ten minutes. We did like the lower oven's convection mode, as it could successfully keep the proper temperature, but we were bemused by the upper oven's temperature capriciousness. Instead of treating the target temperature as the injunction it is, the upper oven fickly ignored the 350°F mark, blasting past it to 391°F before changing its mind and falling to 310°F. When someone elects to purchase a dual oven range, they want two ovens that work well, not one.
Design Overview
The is a double oven with a five element electric rangetop. The styling follows Maytag's current design language rendering a look that seems like it's a classic white oven spray painted with a stainless steel finish. Part of this has to do with it being a freestanding range with a rear panel, but the stainlessness seems more like a finish than an attitude in this case. Not that it's necessarily a bad thing: on the contrary, it's a good look that's worked for years. It's just no one's going to confuse this for a Viking.
Front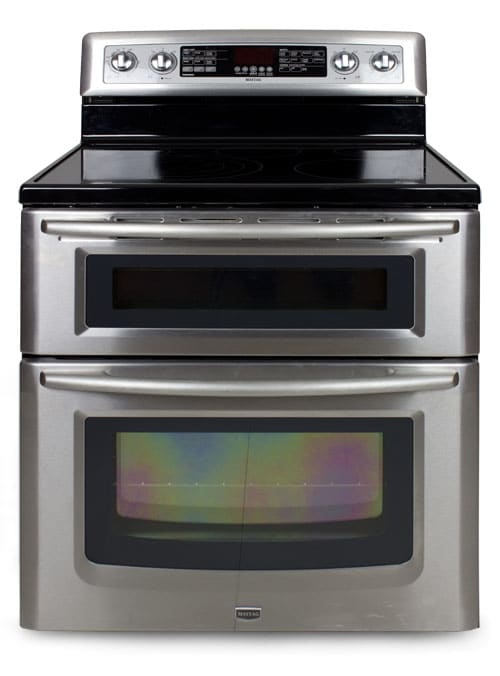 Range-top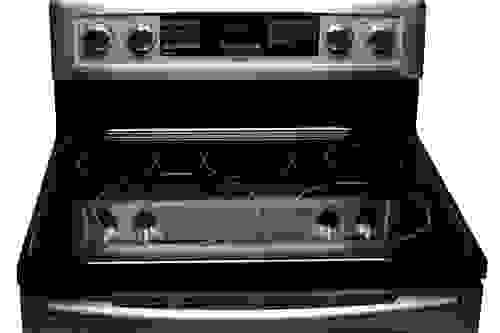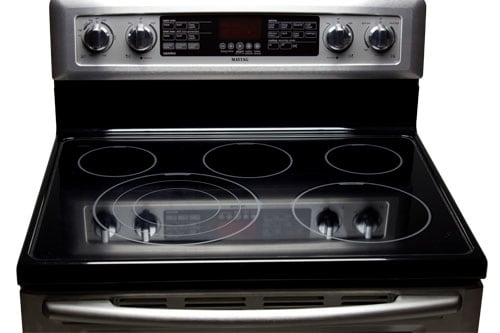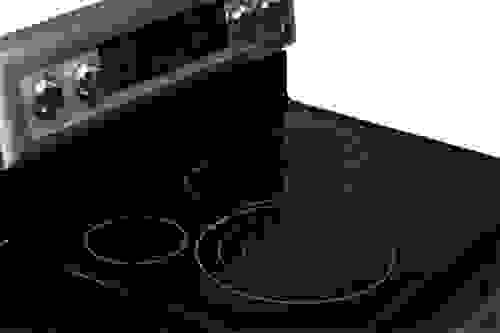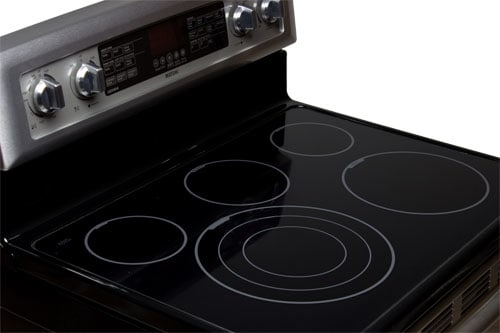 Upper Oven
Lower Oven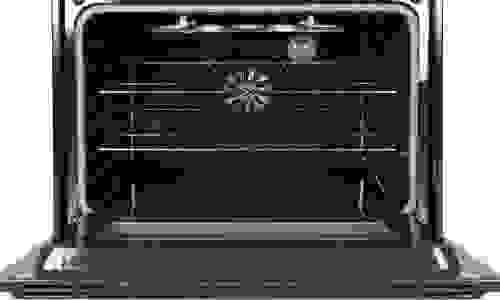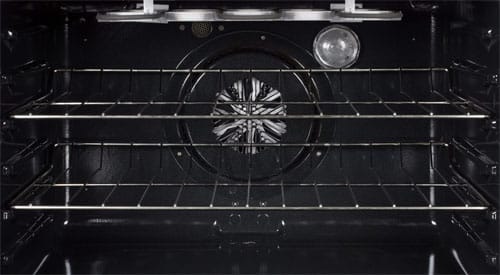 Broiler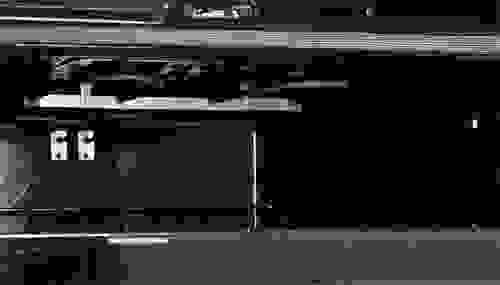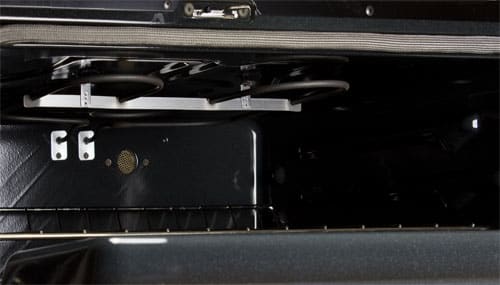 Cooking Performance
The 's performance. The rangetop did okay with good temperature range, but it could have been given a bit more power, as the boiling results weren't that impressive.
The ovens below had a few poor results (convection oven at 350°F? come on!), but also some decent ones, like the lower convection oven's variance test and the short preheating times across the board. If you never use the convection setting and you're not going to change now, you can stop reading and move on.
Range Performance Overall
The flat ceramic rangetop simmered and seared fine, but performance was middling in the boiling arena. When considering rangetops, it's important to know the differences between gas and electric performance. While electric rangetops can produce a wider temperature range, gas rangetops react far quicker to user input and are easier to control due to the visual representation of the heat produced: the flame.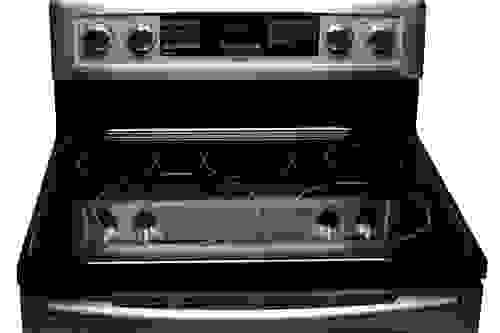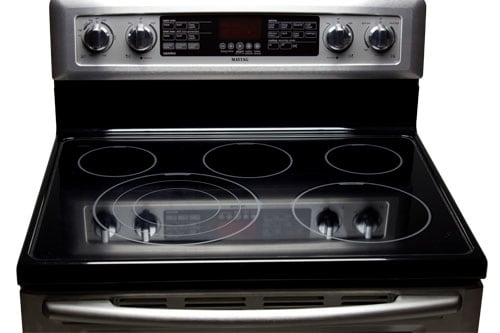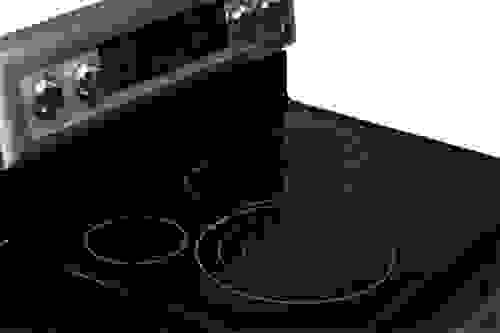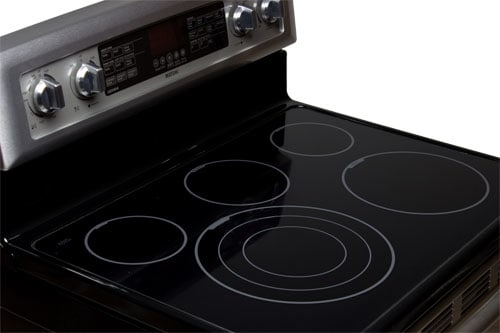 Water Boiling
The rangetop had a lot of good boilers, with the front elements boiling six cups of water in just under ten minutes and the rear non-simmer burner boiling in just thirteen. But while it's always nice to see a low average boiling time, someone who just wants to boil one big pot of water simply doesn't need a low average and would benefit more from a single extremely quick burner. Obviously, most people can handle waiting a few extra minutes, but it warrants mention, as it could be an important factor for some.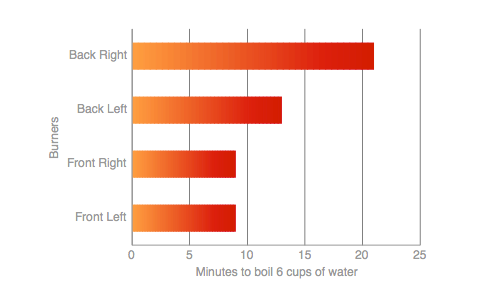 Low Temperature Cooking
The simmering abilities are exceptional. Electric rangetops usually can get the temperature down fairly low, but this range managed to get two elements to a very cool 81°F and the other two into double digits. Most gas rangetops cannot do this.
Range-top Temperature Range
High Temperature Cooking
The can go as high as it can low, but not so high that it's dangerous to the user. The front right burner managed to heat our pan to 724°F, certainly hot enough to sear any piece of meat., and the other two non-simmering burners hit 528°F and 682°F, commendable results. If you're curious about the simmering burner, it could only do 320°F. Save it for the low-power work.
Overall Oven Performance
The 's heated up to 350°F in just five minutes, a ridiculously fast time, considering most people are accustomed to twice that. Part of this is due to the small capacity of the top oven cavity, so if you can fit your food up there, you can take advantage of the sprint to the preheat.
Target Temperature Accuracy
The lowest echelon of temperature wasn't quite as low as we would have like. Set at 170°F, the traditional keep-warm temperature, the oven hit 215°F and was still at 187°F when we stopped our test after nineteen minutes.
The upper end of the temperature range pushed over 570°F, satisfying a chef's scorching needs.
Temperature Fluctuation
The temperature consistency was a significant point of contention. At the keep-warm setting of 170°F, the oven's 215°F to 187°F range just wasn't acceptable, a temperature we consider to be a bit higher than "keep-warm." When we set the temperature to the typical cook temperature of 350°F, we did not like what we saw. Not only did the temperature run over 390°F, we also saw it dip under 310°F. This eighty degree fluctuation is not good for the food, which could turn out burnt on the outside but raw on the inside if exposed to these slightly capricious temperatures. At the maximum setting, the oven did vary a bit from 514°F to 579°F, but at temperatures that high, the percent difference isn't so significant, so we weren't dissatisfied by that variance, unlike the 350°F performance.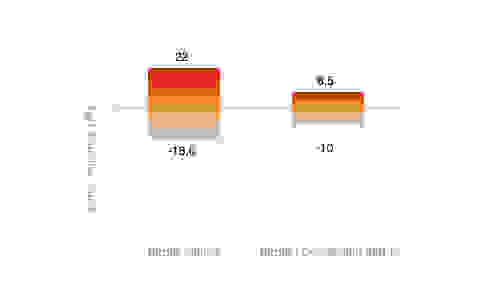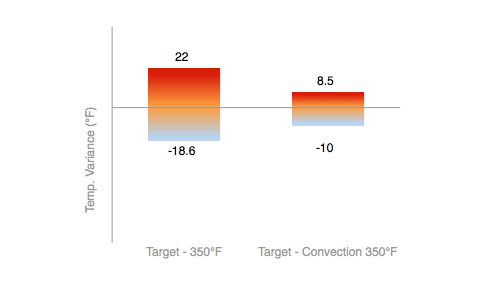 Secondary Oven Performance
As we often see, the convection mode here is far superior, as it provides a stable alternative to the mercurial temperatures of the conventional oven. Set to 350°F, we saw a maximum fluctuation of 7°F above and 30°F below, meaning that the oven most likely automatically adjusted for convection cooking by lowering the temperature. This is odd as the manual says the user must input a temperature 25°F lower. Since plenty of ovens adjust automatically and plenty that don't, we don't want to assume anything.
Those lower convection oven's temperature variance numbers of 37°F total fluctuation are commendable, especially in comparison to the huge variance we saw in the upper oven on the conventional setting. Some foods might be okay with that sort of treatment, but for high performance, use the lower oven on convection.
Broiler Performance
While the oven was able to reach extremely high temperatures over 570°F, the broiler put on a feeble display in our broiling test. After sixteen minutes, our thermocouples (temperature sensors) read 352°F, which is not even close to a broiling temperature. A broiler is supposed to be like a grill, so it's hard to believe anything good is going to come from these comparatively arctic temperatures.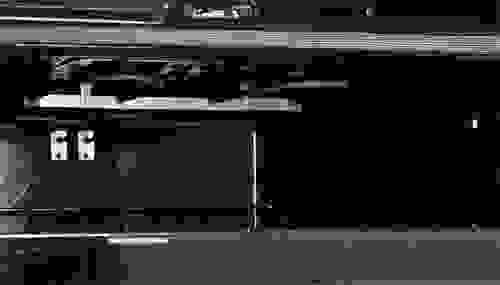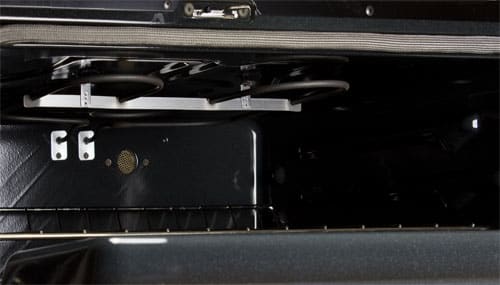 Broiler Features
Since the broiler couldn't perform, we don't think the feature of having high and low settings is particularly useful. However, there are two of them. While we only tested the upper 2 kW broiler, the lower oven cavity has a 3.6 kW broiler, which potentially has excellent abilities. We just don't know.
Overall Efficiency
It's hard to measure a rangetop's efficiency, especially as there is no Energy Star rating for consumer ranges. While we can say a bit about the 's efficiency, the practical use makes all the difference in how much energy it consumes.
Range Efficiency
The large rangetop elements drew 2.7 kW and 3.2 kW of power, while showing only decent performance. We've certainly seen better performance for similar energy draw, so we can infer that there are more efficient options. We did find all the elements' power outputs to be exactly where they should be according to the manufacturer's specifications.
Oven Efficiency
The upper oven, like most tiny ovens, proved to be efficient, as a much smaller cavity is easier to heat up than a large one. Taking just 2.1 kW and preheating to 350°F in around five minutes, this seems to be quite efficient. In the bottom, the convection element's 3.7 kW of power heat up that cavity in around seven minutes, so that seems to be not inefficient as well, although that power draw is certainly not insignificant.
Features
The rangetop has a few small features that may come in handy. The front left burner has a triple element accommodating different sized pots with 6-inch, 9-inch, and 12-inch rings. The back right burner is designated for simmering and is low-powered, and the extra low-powered 100W (seriously, like a light bulb) sit in the center as keep-warm feature.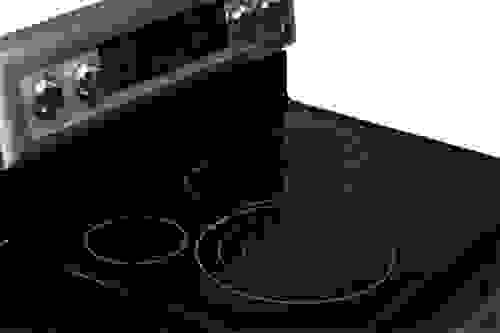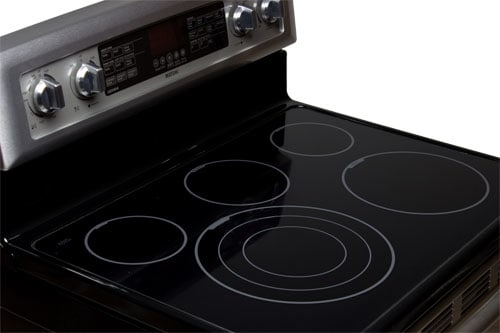 The main feature of the range is the fact that it has two ovens. The top 2.5 cubic foot oven holds one normal rack and the bottom 4.2 cubic foot oven has two racks for your cooking pleasure. The most important oven feature is definitely the "EvenAir" true convection fan that makes it possible to have good oven performance with consistent temperatures.



The timer can be used as a normal kitchen timer, but also as a delay bake setting. You can also do a timed cook, linking the timer to the oven so it shuts off at the end. However, it's important to remember the oven will continue to be hot for a while, so delicate food may continue to cook since the cavity will not instantaneously cool off to room temperature.
Controls
The range controls are relatively simple, but the front left element's triple configuration means the knob travel time between each high and low marking is smaller, making the knob more sensitive to each adjustment. For instance, moving the knob left one inch will change the temperature much more than moving a different knob one inch.
Unfortunately, the entire range control panel is located on the back side of the stove, so be careful not to burn yourself when adjusting the dial.



The oven controls are very simple. All you need to do is press "BAKE," scroll to your temperature, and hit start. However, use the caution during use as the buttons are placed on the stove's far side, over hot elements. The entire back control panel is laid out well, and doesn't have too many buttons to confuse its users.



The broiler controls are located on the main control panel with the oven, timer, and self-cleaning buttons. Choose which oven you wish to use, select temperature, and start it up.
Cleaning
This oven has a traditional pyrolitic cleaning system, which takes between two to four hours, depending on the amount of soiling within the cavity.
Conclusion
At around $1,600 (MSRP $1,750), the is not a cheap range. With two ovens and five elements on its rangetop, this oven clearly aims to be a machine used by those who mean business in the kitchen.
Despite our expectations, we weren't that pleased with the results. The rangetop wasn't bad, but if you're spending $1,600, you probably want something that can boil water a bit faster. The searing and simmering abilities were good, but we think boiling is more important.
In the ovens below, we noticed some big problems despite the very fast preheating times. Even though the upper oven reached 350°F in just five minutes, it displayed a variance of over 80°F, which is not what we expected from an oven at this price. Fortunately, the lower oven showed some skills with the convection fan, maintaining acceptable variance although the average temperature was lower than the 350°F setting we indicated (we remain confused on this point, as the manual says the convection conversion is not automatic, but the results may indicate that it is.)
This oven would work fine if you wouldn't use the top oven, but that defeats the whole purpose of having two ovens. For less money, you can buy a full size single oven range that works much better. Shelling out for the double oven is fine, but it better work well.