Ovens
Maytag MGR7685AB 30-Inch Gas Range Review
The MGR7685's rangetop performed well, but bakers won't like the oven.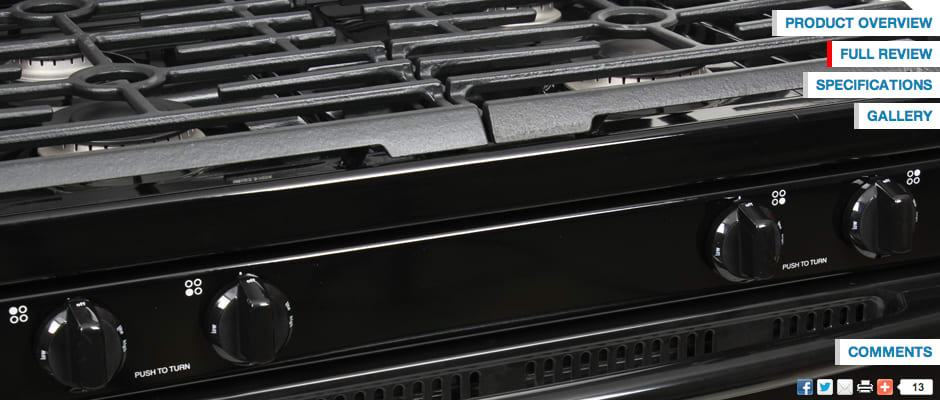 Credit:
Science Introduction
If you sensed our disappointment over the oven's performance, you probably wondered exactly how bad it was. To prove that we weren't exaggerating, we lay out the story in detail.
Introduction
The Maytag MGR7685AB left us both unfulfilled and confused. Its $749 MSRP was a tenth the cost of some pro ranges, but its gas rangetop was an exceptional performer. Down below, however, the oven was a disappointment. If you exclusively sauté and boil, this might be the range for you. But if you're into cupcakes and casseroles, look elsewhere. As for our tastes, we prefer a range with a more balanced portfolio.
Design & Usability
We can't quite figure out whether this blends in or stands out.
Sitting on the lower end of the oven price spectrum, the MGR7685AB doesn't have too many features. No convection, two simple racks, and a simple pyrolitic self-cleaning mode, plus the standard delay and time bake. But while a lack of extras may sound negative to some, this oven is extremely easy to use. There are no funky convection options to worry about, no warming drawer buttons, or other distractions to convolute the easy operation.
Oven Performance
None of the tests showed the oven having any semblance of control over its cavity.
Sure the oven preheated to 350°F in a shockingly quick five minutes and 45 seconds, but set to the keep-warm temperature of 170°F, the oven went up to 326°F, ironically sending chills down our spines. During the 350°F temperature test, the oven surged well past its target to 475°F, before plummeting to 319°F. Its second peak wasn't quite as bad, but still had a horrible temperature of 403°F. The maximum setting of 525°F was a bit better, but still patrolled the large window between 482°F and 556°F.
Interestingly though the 350°F and 525°F settings sent the mercury up and down to a ludicrous degree, they both managed to average the proper temperatures, earning a golf clap.
Rangetop
This range may be inexpensive, but you wouldn't know it from the rangetop.
If we had only tested the rangetop, this Maytag would have scored really well.
If we only had scored the range's four burners, the Maytag MGR7685AB would have done quite well. On two of the standard-sized burners, the rangetop brought six cups of water to a boil in just five and a half minutes, with the other non-simmering burner taking a respectable nine minutes for the job.
This rangetop's ability to produce a variety of temperatures may not be quite as good as stoves that cost thousands more, but the Maytag can compete with all but the best of 'em. Gas ranges usually struggle to hold low temperatures, but the MGR7685AB's smaller simmer burner did a exemplary job keeping things just warm enough.
Rangetop Performance
The rangetop scored well in the two most important categories.
The boiled six cups of water extremely fast. The two front burners did it in under six minutes, and the other workhorse burner did it in under nine—an impressive time for a number three performer. Even the simmer burner, which isn't expected to do well, performed this task in 25 minutes.
The upper bounds of the temperature range were about par for the course as far as gas ranges go. Electric ranges can often hit temperatures far above and below their gas counterparts, much to the chagrin of gas range owners. But the 's simmer burner actually did its job, reaching a cool 113°F and earning our respect. Even the back left burner almost passed the test, hitting 135°F.
Other Tests
The broiler worked!
The broiler heated our sensors to 600°F in 13 minutes, making it the only oven function that didn't fail our test.
Oven, Broiler, & Convection
If the range is an overachiever, the oven is a loafer
There is almost nothing good to say about this oven's performance.
There is almost nothing good to say about the Maytag MGR7687AB's oven performance. In all of our tests, the oven struggled to regulate even temperatures. Even though the oven averaged exactly 350°F in our 350°F test, its peaks and valleys were extreme, shooting past 400°F twice. The maximum temperature setting was about the same, and the keep-warm setting reached a new low.
Unfortunately there isn't a convection fan to provide another chance for competence, but the broiler did pass our test—though not by that much.
Conclusion
Only buy this if you rarely use an oven.
Hopefully we'll see an updated version of this range with better oven temperature control
The blends a near-professional rangetop with an oven that wouldn't even satisfy an amateur.
Hopefully we'll see an updated version of this range with better oven temperature control. With its excellent rangetop, this Maytag has got potential, but its lackluster oven means we can't offer it our stamp of approval.
Up next
Get Reviewed email alerts.
Sign up for our newsletter to get real advice from real experts.