Ovens
Thermador MED301JS 30-Inch Electric Wall Oven Review
Solid performance and classy appearance makes a wall oven that's hard to beat.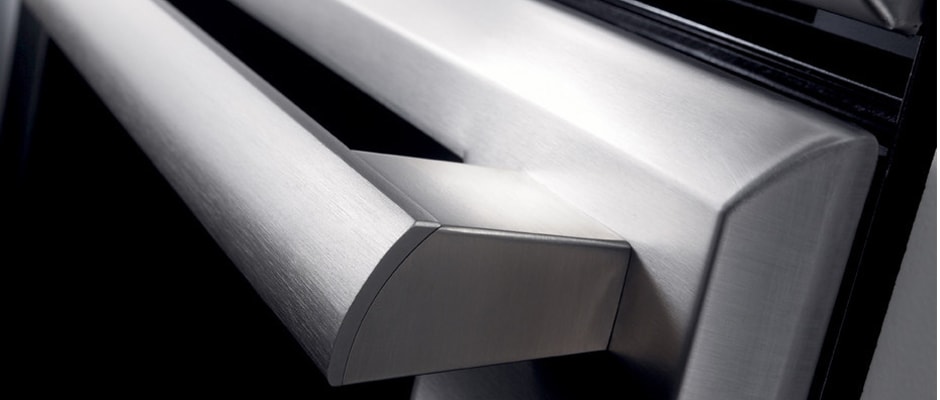 Credit:
Introduction
The MED301JS ($3,099) is a high-end electric wall oven from the very company that is credited with inventing the wall oven back in 1947: Thermador. Of course, that ignores the wood-fueled wall ovens of olden days, but this oven is far from primitive.
In fact, the MED301JS is categorized as a "luxury oven." That allows Thermador to state that, at 4.7 cubic feet, the MED301JS has the largest oven capacity and the fastest preheat of any luxury oven. While it's certainly large, other ovens may be larger or faster. They're just not as luxurious.
Categorization aside, the MED301JS shouldn't feel the need to pad its resume. In our tests, it proved to be an superb performer. And that's the greatest luxury of all.
Design & Usability
Thermador shows the kids how it's done.
The touch control panel is the only obvious nod towards modernity.
Thermador—the company that introduced the first residential pro-style range in 1948—has been selling high-end home appliances since well before they became trendy. The MED301JS does the family proud with its aggressively angular profile, sharp edges and brushed stainless exterior. The touch control panel is the only obvious nod towards modernity.
The oven also features what Thermador refers to as a SoftClose oven door. This prevents the oven door from slamming shut regardless of the amount of force used, and is ideal if you've got your arms full with a roast or a lasagna. Thermador claims that the MED301JS also boasts two-hour self-clean cycle. It's important to note, however, that two hours can increase depending on the level of oven dirt, so take this estimate with a pinch of salt.
Oven, Broiler, & Convection
So, what does three grand get you exactly? High precision and accuracy, that's what.
The MED301JS did well in our performance tests. Well enough, in fact, that folks already in the market for a high-end oven would be pleased if they purchased it. Thermador's promotional material proudly proclaims a seven-minute preheat, but it requires a press of the "Fast Preheat" button. Our tests work a little differently. Since we try to keep all ovens on a level playing field—even luxury ovens—we gave the MED301JS a standard preheat and found that it took just under 15 minutes.
The MED301JS proved impressive throughout its stay in the lab.
The MED301JS proved impressive throughout its stay in the lab. The Keep Warm setting—which can be set as low as 150ºF—offered an excellent balance of accuracy and precision with an average temperature of 161ºF. The Maximum Setting, while less accurate, was remarkably precise and had an average temperature of 540ºF. The 350ºF setting averaged 338ºF, and turning convection on brought the average up to 361ºF. This setting was also remarkably precise, with a total temperature variance of just 2ºF, and 3ºF in the convection setting. That's really impressive.
Finally, the broiler continued the positive trend, taking a pretty spiffy five minutes to reach the target temperature of 604ºF. You'll have steak tips in no time.
Conclusion
Sometimes you DO get what you pay for.
Even if you're outfitting a high-end kitchen, $3,099 is a sizable investment as far as wall ovens go. That's why it's refreshing to find that the Thermador MED301JS justifies that high price tag with spot-on temperatures and some innovative features, plus thoughtful touches like a soft-close door and a no-nonsense control panel. More than 66 years after the company debuted its first wall oven, our tests of the MED301JS show that Thermador's still got it.
Up next
Get Reviewed email alerts.
Sign up for our newsletter to get real advice from real experts.