Ovens
Thermador Pro Harmony PRG304GH 30-Inch Gas Range Review
While "pro range" usually means "semi-pro range," this all-business Thermador made a good case for dropping the prefix.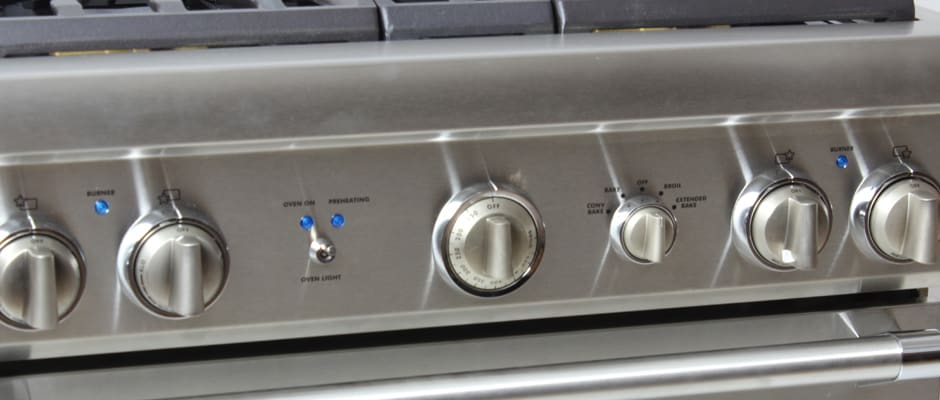 Credit:
Introduction
The Thermador Pro Harmony PRG304GH's $4,599 MSRP puts it in a rarefied class of ranges alongside its patrician peers from Viking and Wolf. It's a strong performer with the build-quality of an early-'80s Mercedes S-Class, and an industrial design aesthetic.
Though this Thermador has the word "pro" in its name, don't assume it's straight out of a restaurant kitchen. Put in a non-commercial kitchen, a restaurant-ready range would require enough modifications that you'd be on a first-name basis with your local fire marshal. The Pro Harmony range is detuned for home use, like a street-legal car that you can also bring to the track.
Whether any semi-pro range is worth it is a complicated question, however. This Thermador excelled in our cooking tests. But you know what else did a great job? A ton of other ranges, most of which cost less than half as much. Buyers of a semi-pro range are also spending money for acres of stainless, thick grates and—being perfectly honest—bragging rights. You may think it's hard to put a price on prestige, but according to Thermador, it's about $4,599.
Design & Usability
This is the classic, industrial stainless look of a pro range.
The beauty of this range lies in the details.
Way back in the mid-80s, semi-pro ranges started gaining in popularity. Though they were originally installed under Reagan-era copper hoods, with tile countertops and whitewashed oak cabinets to match, the ranges themselves have remained largely unchanged—the timeless mark of a patrician kitchen.
More than 25 years later, the solid, boxy follows this design tradition. While it does look quite industrial with its small oven window, sturdy grates, and almost complete stainless steel finish, it does have some interesting design touches. Take Thermador's trademark star-shaped burners (perhaps the inspiration for a certain character on Community?) which force flames towards the center of a burner. A continuous system of cast iron grates are on top, designed to accommodate large stoveware.
For all that metal, however, there's a curious lack of features. Want a timer? Sorry. A fifth burner and a self-cleaning function are among the other features that the Thermador lacks but some $1,200 ranges have standard. It's like a race car without airbags or traction control: a precision tool for a truly competent user.
Rangetop
If you've got the cash, this is one impressive rangetop.
This rangetop is superlative.
In general, gas ranges provide better rangetop temperature control than electric ranges, but lack performance at the margins of simmering and searing. Not so for this Thermador.
First, there's an ExtraLow setting on two burners, which effortlessly kept the steady, moderate heat necessary for heating up sauces and soups. But this range is downright dynamic: On all burners, it took just five minutes to boil six cups of water, and it had no problems searing at high temperatures, either.
When you consider that this rangetop can boil powerfully, simmer like an electric range, and effortlessly dance from temperature to temperature, this rangetop is superlative.
Oven, Broiler, & Convection
Excellent overall operation, but a sluggish preheat.
Though it's small, this oven delivers a strong performance.
The 's oven performed quite well. It hit the proper temperatures and managed to stick to them on most settings including convection.
This oven particularly excelled at the all-important 350ºF setting, displaying accuracy and lacking variance. Other temperature settings weren't quite as satisfactory, as we found the keep-warm setting too cool and the maximum setting below the industry standard, but at least it steadily held those slightly inaccurate temperatures. In convection mode, the oven performed similarly well, keeping temperatures smooth.
Despite the excellent overall operation, we were a little disappointed by a sluggish, ten minute preheat—disappointing for a small 4.4 cubic foot cavity with a powerful 23,500 BTU/hr element. Cheaper, larger ovens routinely take less time. Similarly, the infrared broiler seemed innovative, but also proved to be a disappointment. Too cool for school and too cool for steak tips, it failed to reach a high enough temperature in our tests.
Conclusion
If any semi-pro range is worth the money, it's this one.
If you've got your heart set on a kitchen that could double for the set of a cooking show, allow us to recommend the Thermador Pro Harmony PRG304GH. Though its $4,599 MSRP is certainly steep, this range delivers performance worthy of its price. On the rangetop and in the oven, it demonstrated such accuracy and consistency in our tests that you'll have no one but yourself to blame if the braised short ribs come out overdone.
Therein lies the problem with dropping such a large sum of money on such an appliance: You likely lack the Michelin stars necessary to get the most out of it. Cooking everyday meals with this Thermador is a little like owning a BMW M3 and using it only to commute in stop-and-go traffic. Both the Bimmer and the Pro Harmony have something else in common: they look so good.
Do you really need the Thermador Pro Harmony? Only you — and those for whom you cook—can honestly answer that question.
Science Introduction
For you range gurus out there, we like to go a bit more in depth. We base our reviews off the data from our lab tests, so why not show you the results from the tests? If you really know what you want, you can look right at the data and analyze it yourself.
Oven Performance
Big things come in this small oven, although the small oven is surrounded by a big frame.
The 350°F setting did in fact average a temperature of 350°F, something that didn't quite happen with the convection fan activated—the oven overshot a bit with an average of 358°F. On both convection and conventional modes, the oven kept within a commendable 32°F temperature window.
Despite the success at a typical oven operating temperature, the keep-warm and maximum temperature settings were a bit off. The 150°F keep-warm temperature we saw on the dial turned out to be more like 178*F. This is a more acceptable (read: bacteria safe) keep-warm temperature than 150°F, but we don't like discrepancies between dial and oven. The maximum setting of 525°F was below the industry standard for maximum temperature of 550°F, and it averaged 538°F. A missed mark at such high temperatures isn't a big deal due to the comparatively small percent error, but it's still a missed mark.
Rangetop Performance
All burners exhibited equal power, but two were a bit more sensitive.
The rangetop performance is the 's forte. With quadruple 18,000 BTU/hr burners—most ranges only have one power burner—they each managed to boil six cups of water in just over five minutes. This is where it earns "pro range."
But it's the searing and simmering abilities of its temperature range that sets this apart from most of the non-pro (amateur?) ranges. Two of the burners had an "ExtraLow" feature that fixes the classic gas range issue of not quite being cool enough. We recorded the two standard burner simmers at an unimpressive 165°F and the "ExtraLow" versions at 90°F—a fantastic low for a gas range.
Other Tests
The broiler failed to heat up to our desired temperature of 600°F in sixteen minutes, timing out at 451°F. This broiler is designed to be used with the oven door closed. When the oven cavity reaches 425°F a cooling blower activates to dissipate temperature, ostensibly so the food doesn't bake. Still, our thermocouples (sensors) under the broiler should reach the proper temperature.
Up next
Get Reviewed email alerts.
Sign up for our newsletter to get real advice from real experts.