Ovens
Whirlpool WFC310S0AW Freestanding Electric Range Review
Surprisingly good results from such an inexpensive range.
Credit:
Introduction
For those who don't want to take another mortgage out to pay for a new cooking appliance, or for those who simply don't want to burn their money, it can be difficult to find options for smaller budgets. Many people don't need a $1,700 stainless steel monolith, and can do just fine with a utilitarian range that just gets it done, without standing on ceremony. We usually test more expensive and "higher-end" ovens than this , so the experience was an enlightening opportunity to discover something about this sort of classic rangetop technology.
The results were a bit shocking: we found superb performance from the rangetop, and adequate to middling performance in the oven--but we've found this in ovens three times the price. If you haven't got any aesthetic issues or anything against electric coils, you may be interested. Leave your preconceptions of electric coil performance behind and read on for more.
Design Overview
The is a simple and affordable single oven range with electric coils. To some, the range may exude a "budget" look, but that's probably due to the white finish as well as coils. While it's not stainless (though a stainless model can be purchased for around $90 more), and it's not fancy, people considering this oven will likely care more about its low pricetag than lament its lack of an upscale design. However, it's not a bad design, a traditional setup that's worked for years and won't draw attention to itself.
Front
Range-top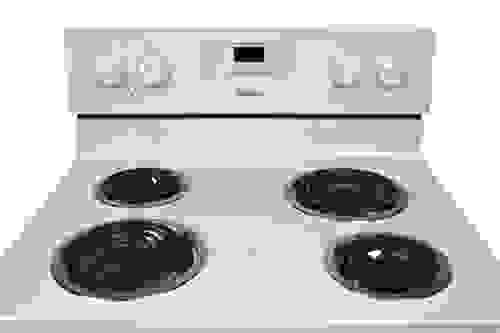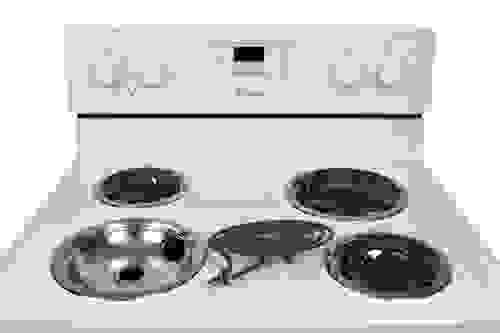 Upper Oven
Broiler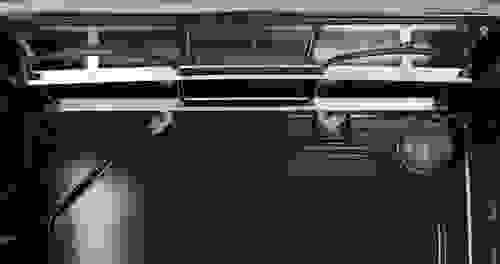 Warming Drawer
Cooking Performance
The 's performance was as high as the price tag is low, producing competing results with ranges five times its price. The electric coil rangetop wowed us with incredible boiling scores, high temperatures perfect for searing, and some extremely low temperatures.
While oven performance wasn't quite as good as the rangetop's and had some flaws, we've also seen these flaws in ovens over there times price. The most marked weakness proved to be the broiler, which we found underpowered and unimpressive.
Range Performance Overall
The antiquated electric coil rangetop has all but been replaced by the ceramic flat top on all ranges above $600. However, the 's testing results showed some spectacular performance as the first coil rangetop we've tested. We know that electric coils are a horrible to clean, ugly, and take a while to change temperature—hence the shift to ceramic flattop—but it's hard to argue with this performance.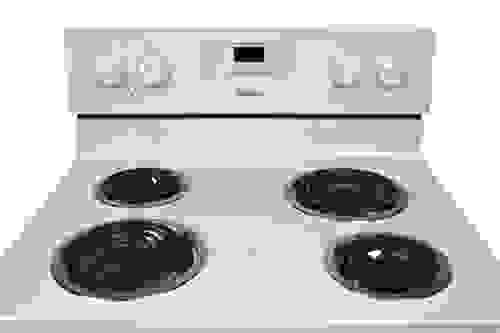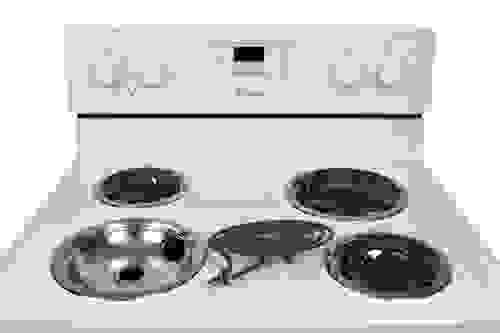 Water Boiling
The water boiling results are among the best we've ever seen. The power burners in the front left and rear right positions boiled six cups of water in just four and a half minutes. Usually, if we do see a heating element that can boil that quickly, there's just one of them. Here there are two. The two other elements both boiled six cups in under eight and a half minutes—incredible results compared to gas and ceramic. This is most impressive.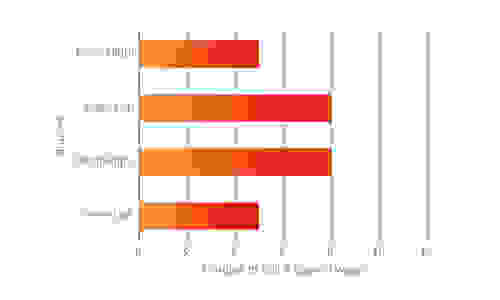 Low Temperature Cooking
While we imagined that the incredible boiling speeds might mean shoddy performance on the lower temperature settings, we were surprised to find the best simmering results we've seen yet. All of the heating elements kept our pans under 82°F, and one even reached the 70s.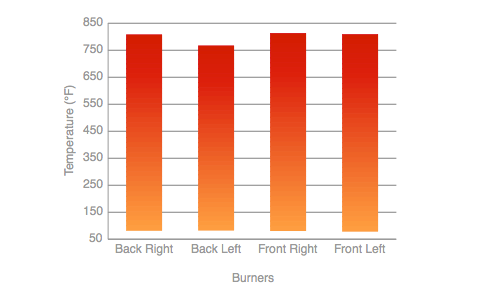 High Temperature Cooking
The searing abilities for this rangetop can easily become charring abilities as the cements itself as the most incredible heat range we've ever tested. Three of the four burners broke 800°F and the fourth wasn't far behind in the high 700s. This is actually hotter than we'd like to see stoveware get, so exercise caution with their use. A small sacrifice for the incredible performance.
Overall Oven Performance
To start it off, 's wasted no time preheating, arriving at 350°F in just eight and a half minutes. Unfortunately, there isn't a convection mode for this oven, as it's a budget model. The downside of this means that the oven doesn't have another mode to fall back on if it isn't delivering satisfactory performance. Considering the benefits of a convection oven—shorter cooking times, lower temperatures, better heat transfer, more even cooking—this is the major drawback of this oven, especially since there weren't spectacular results from the oven.
Target Temperature Accuracy
While the keep-warm setting and the maximum settings did average the 170°F and 525°F as they were supposed to, the 350°F setting ran 10°F too hot.
Temperature Fluctuation
The 's consistency has room for improvement. On the keep-warm setting, the temperature fluctuated between a high of 225°F and 149°F, a larger range than we'd like to see. When we tested the oven at 350°F, things were going great for the first cycle—the oven cycles above and then below the target temperature to average it. While first temperature peak was only 18°F above 350°F, the second peak cracked 400°F, fifty degrees hotter than it was supposed to be. This fluctuation is bad, but we do still see it on ovens three times as expensive. At the maximum setting, we observed a more regular pattern of variance, which was much more satisfactory.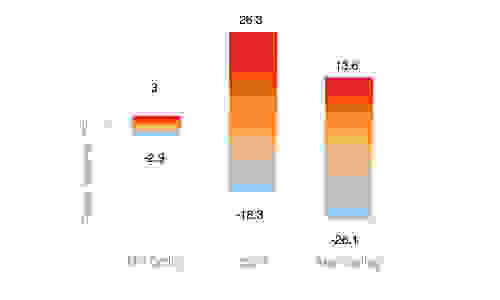 Broiler Performance
Unfortunately, the failed our broiling test, timing out at sixteen minutes before reaching 600°F. It was at 419°F when it we stopped the test. For those who think you could turn on the oven to the maximum setting for a bit to help the broiler, this won't actually work, as the broiler uses radiant heat, not the convection—heat transfer by hot air to food—cooking that ovens use. There are other ways to broil and grill, and we recommend you use them instead of this broiler.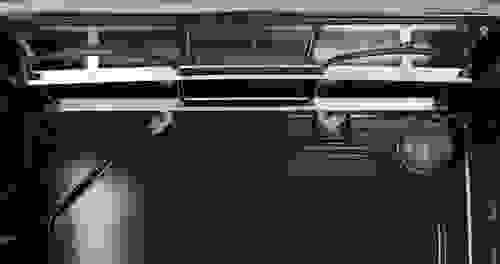 Broiler Features
The 's broiler is a simple broiler with just one temperature setting.
Overall Efficiency
There is no standard way of measuring oven efficiency—and Energy Star does not certify residential ovens and ranges—but we can get a decent idea by examining the relationship between performance and energy usage, which is how we get our score.
Range Efficiency
The have one of the most efficient rangetops we've seen, as it performed the best and took an average amount of power. This is interesting, as ceramic rangetops provide more surface area for heat transfer, and heat is wasted by the amount of time it takes to cool off the element. But somehow, it did perform quite well with the average amount of power of 8390 watts (2610W and 2670 W for the power burners, 1550kW and 1560W for the others).
Oven Efficiency
The oven's power can be measured by the maximum temperature as well as the preheat temperature. Both of them were quite good, and we measured the oven's energy usage at 2490 watts. This is excellent performance for this few watts, and thus this is an efficient oven.
Features
The rangetop's coil design is very simple, and its major feature is that all four burners performed exceptionally well. You'll find no frills here, so if you're looking for a griddle, keep warm burner, or whatever else, you'd better move on or live without.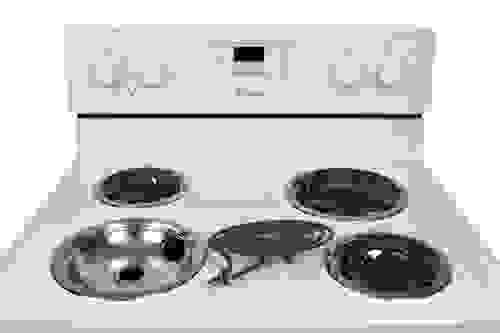 The oven's a basic machine with 4.8 cubic feet of space divided by two racks. One marked feature this oven doesn't have is something to protect the lower oven element, which can be a nice thing to guard against spills. It's not a big deal, but the user should realize it's not there to prevent damage.


Besides the intuitive timer, there's a timed cook option that shuts off the oven, as well as delayed bake. A common feature on most ovens, but due to the overall lack of features, any feature seems noteworthy here.
Controls
The straightforward range is so simple even a baby could operate it--though it most certainly should not. Seriously though, the manual is sixteen pages. While something like this is simple enough to intuitively know how to use it, there's no excuse not to read a manual that short. Unfortunately, despite the simplicity of the range controls, they are located on the rear of the range, so you'll have to reach over whatever hot liquids you're working with to adjust the temperature. Additionally, being an electric coil range, there will be lower response time when changing temperatures in comparison to a gas range, so you may need more adjusting of the range controls to target the desired temperature.



The simple oven controls are also located to the rear of the oven. Press bake, select your temperature with the up and down buttons, and start the oven.


The broiler works just like the oven, though due to the performance results, we doubt it'll get a lot of use.
Cleaning
While you don't need special cleaners to clean the coils like like you do with a ceramic rangetop, the electric coil presents its own set of issues. It's a pretty involved process to clean that requires remove the coils, something many people won't do. This causes gunk to build up underneath and can stain the rangetop. Many people line the burner cavities with tin foil to protect it, but make sure you still clean. Additionally, try to keep the coils clean from food splatter because food baked onto the coils will put up a huge fight to stay on.
Below, the oven is a traditional pyrolitic self-cleaning oven. You can set the range for two to four hours to determine exactly how clean it gets.
Conclusion
At $445 (on sale, MSRP $549), the is the most inexpensive oven we've reviewed thus far, as well as being the only range with electric coils we've put through our testing gauntlet. While it doesn't have the stainless look of the elite kitchen, it's a classic, utilitarian machine meant to be used, not to be posed. In effect, it is a sort of people's oven.
As far as the utilitarian aspect goes, the rangetop impressed us greatly, exhibiting some of the best results we've ever seen: speedy boiling, McQueen-cool simmer temperatures, and McEnroe-hot searing temperatures across every element. The only performance disadvantage we can think of is the fact the rangetop stays hot for a while after shutoff and the temperature doesn't adjust as fast as a gas rangetop does, nor can you control it precisely, as you lack the visual feedback from a flame. Besides performance disadvantages, the other main issue with the coils is cleaning them, which is a most unenjoyable experience.
The oven performance wasn't particularly impressive, but it wasn't remarkably unimpressive either. It exhibited the kind of temperature variance that we see in many ovens three times its price, but did manage to average the target temperatures, even if it strayed (not all ovens do this). Additionally, the fantastic preheat time of just eight and a half minutes was a plus.
The major downside of this oven is the lack of features. The main absence from this oven is a convection fan, which would provide more even even cooking as well as more cooking efficiency. Other little features, such as a griddle, will likely not matter to someone interested in this oven. After all, if you're looking into this oven, you're probably doing so because you don't want to spend $1,000 if you don't need to. To that, we can say that if you don't need the looks of the features, we think this would be a solid choice.
Up next
Get Reviewed email alerts.
Sign up for our newsletter to get real advice from real experts.