Ovens
Whirlpool WFE720H0AS 30-Inch Electric Range Review
Whirlpool gets it right with the WFE720H0AS.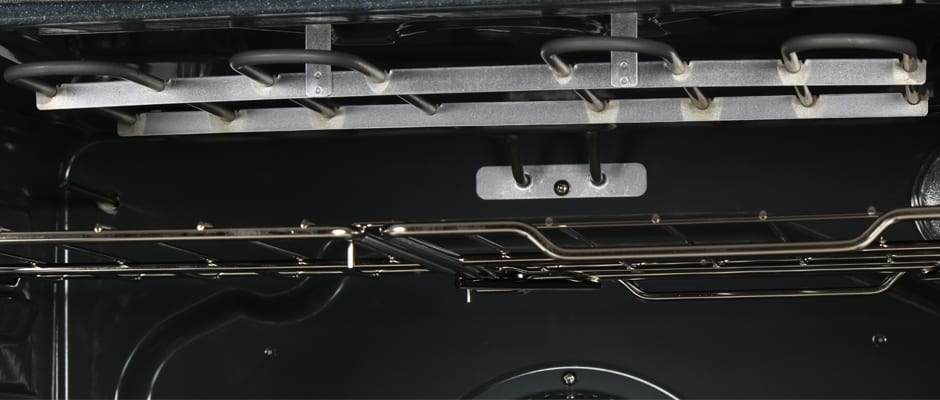 Credit:
Introduction
Whirlpool's WFE720H0AS ($1,249 MSRP) is an excellent representative of a modern electric range. It's moderately priced, has a sleek design, and did quite well in most of our tests. It's so impressively average that if the Cold War were still on, we'd be sending it to trade fairs in Moscow to show off how lucky an average American consumer can be. Of course, some Soviet apparatchik would invariably criticize the Whirlpool's weak temperature consistency, and he'd be right: This middle-of-the-road oven fell short in our 350ºF test. While this fault would be cause for glee in Red Square, we were disappointed to see a tear in this Whirlpool's stainless curtain.
Design & Usability
"Slightly stainless" comes to mind.
The WFE720H0AS isn't an ugly design by any means, but don't be fooled into thinking some stainless trim makes it a semi-pro range. This is a clean, modern look — not an industrial one.
Even if you aren't wowed by its exterior, this Whirlpool does a lot right. Though it has many features like a triple-element burner for different-sized pots, AquaLift water-based self-cleaning, and many different convection options, it's easy to use and doesn't try to replace a user-friendly dial with an annoying touch screen.
Rangetop
The WFE720H0AS simmers, sears, and boils with the best.
This rangetop's setup is a little bit different. Instead of the normal four-burners-in-four-quadrants system, a giant adjustable-size burner dominates the rangetop with twelve-, nine-, and six-inch elements to accommodate a wide range of pan sizes. Like most electric ranges in this price range, a keep-warm burner adds more heating options to this rangetop.
The WFE720H0AS performs well in simmering, searing and boiling, with the front left burner boiling six cups of water in under four minutes. But while this rangetop aced those tests, it's still electric, and lacks the precise control and instant adjustment of gas or induction ranges.
Oven, Broiler, & Convection
We liked this feature-laden oven better in convection mode.
Convection cooking has many advantages—more even baking, faster cooking—but in this case its most important advantage is that it outperforms the conventional oven. While the Whirlpool's 350°F conventional setting was disappointing, the convection oven blew us away with spot-on accuracy and even heat throughout the entire test. Interestingly the 350°F test was the only one that disappointed, as the keep-warm and maximum settings showed little deviation from set temperatures.
This Whirlpool also has a split-rack, maximum-capacity rack, and a standard rack to accommodate various oven configurations. Though the range claims to have a "Rapid Preheat," it zoomed to 350°F in a very standard ten-and-a-half minute jaunt. The broiler had the real preheating power, however, and we think that's thanks to the eight-pass broiler element which doubles back on itself eight times like a snake for maximum coverage. Below the 6.2 cubic foot cavity, there's also a keep-warm drawer.
Conclusion
There is very little to critique about the Whirlpool WFE720H0AS. Aside from the middling 350°F performance, the range scored well in most of our tests, and comes in slightly ahead of its peers with a sleek exterior, plus features like AquaLift and an adjustable-size burner. Perhaps a dictator could find greater fault with it, but the average American consumer should have few complaints.
Science Introduction
Want to know more about how this Whirlpool fared? Check out how much better the convection oven performed against its conventional counterpart below.
Oven Performance
Convection trumps convention, again.
Set to 350°F the WFE720H0AS vaults past 350°F up to 407°F, a temperature that is entirely unacceptable. At the end of the test, it had averaged 365°F, 15°F above the dial's temperature setting. However with the convection fan on, the oven was far better regulated, exhibiting a better average of 359F and operating in a tight 32°F temperature window.
Rangetop Performance
No problems anywhere.
The two most powerful elements boiled six cups of water in just three-and-a-half and five-and-a-half minutes. The two workhorse burners to the rear also performed incredibly, accomplishing the task in just twelve and thirteen minutes each.
As in most electric ranges, we found a broad temperature range. Every element managed to hit temperatures under 120°F (two under 100°F) and reach over 600°F. All the single-element burners—except for the keep-warm burner—reached over 700°F, so users should take care to make sure they're turned off when done.
Other Tests
The broiler rocketed to 600°F in just six and a half minutes, thanks to a powerful 8-pass element.
Up next
Get Reviewed email alerts.
Sign up for our newsletter to get real advice from real experts.