Ovens
Whirlpool WFG720H0AS 30-Inch Gas Range Review
Loaded with an impressive rangetop, an Aqualift cleaning system, and a stylish look, this Whirlpool only falls far short in oven performance.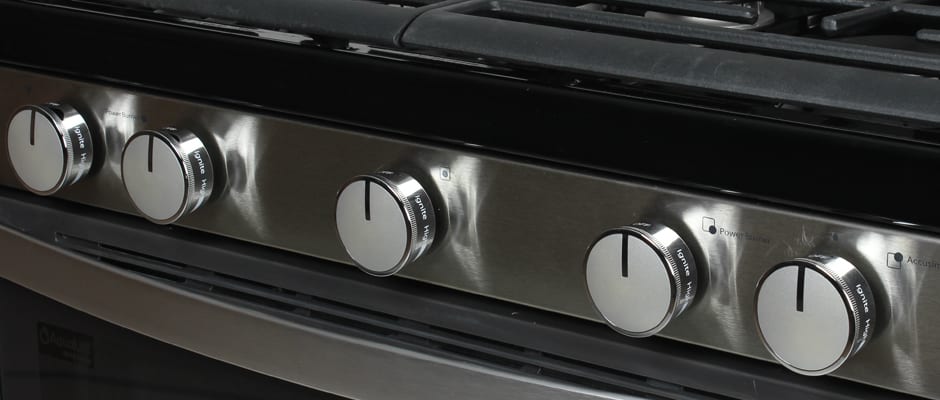 Credit:
Introduction
The Whirlpool Corporation sure has its hands full, juggling Amana, Maytag, KitchenAid and Jenn-Air. And the ($1,349 MSRP, $1,150 on sale) is evidence that Whirlpool needs to carve out some me time — get a pedicure, throw on Love, Actually, and give that thermostat a rest for a day. Despite the handsome stainless steel exterior and strong rangetop performance, the rocky oven sure seemed to need a vacation.
Design & Usability
Whirlpool presents some stylish design elements in the grates and knobs.
This Whirlpool exemplifies a new design language that's aimed at style-conscious buyers
In the past, shoppers may have looked to the Whirlpool Corporation's more bougie brands like KitchenAid or Jenn-Air for more attractive or spiffy designs, but the exemplifies a new design language that's aimed at style-conscious buyers. We especially appreciated the attention to the knobs, which wouldn't look out of place in a sea of Poggenpohl or SieMatic.
On the rangetop, the impressive-looking continuous grates can accommodate a griddle or oversized stoveware, and come away in two pieces for easy cleaning. To the rear, the backsplash protects walls from edible shrapnel. Unfortunately, it also houses the oven controls, which means you'll be reaching over pots and pans to adjust temperatures.
Rangetop
The 's simmer burner can actually simmer.
The three main burners are as good as some pro range burners we've seen.
Whirlpool may have not got the oven right with the , but they sure made an impressive rangetop. The three main burners were are as good as some pro ranges we've seen, and the two front power burners could boil six cups of water in under six minutes. In this price range, these numbers definitely appeal not only to serious cooks, but to impatient people who hate waiting years for their pasta pot to be ready.
As people often lament, gas rangetops don't always simmer small quantities of liquid very well, often making users turn the burner off and on again in an effort to balance a temperature just short of a boil. That's true for most of the burners on this rangetop, but the right rear "AccuSimmer" burner can handle the challenge.
Oven, Broiler, & Convection
Poor performance, fast preheating.
The oven overshot the target temperatures and wandered up and down the mercury.
Two standard racks and one maximum-capacity rack divide the 5.8 cubic foot oven, which features the water-based Aqualift cleaning system, an alternative to the typical fire and brimstone self-clean. Unfortunately, the oven's performance didn't match its feature set.
First, the good news: it preheated to 350°F in under nine minutes. Instead of stopping there, however, this one didn't know when to quit and repeatedly overshot target temperatures. Then, things got really bad: While the temperature display on the oven remained constant, actual temperatures moved up and down the mercury like Jimmy Page's fingers on the neck of a Les Paul.
Conclusion
The 's Achilles' heel of an oven brings this down.
This handsome, yet over-eager, range fails when it comes to baking.
Sure, Whirlpool gave this range a clean, modern exterior and its burner performance was superb for a gas range in this price range. But like a guy who calls an hour after a first date, this oven loses its appeal fast because it can't keep its cool. We suggest the folks responsible for the WFG720H0AS's thermostat take advantage of the range's nine-minute boil, brew up a cup of chamomile tea, take a deep breath, and head back to the lab.
Science Introduction
From the rangetop's impressiveness, it's hard to believe the oven is part of the same machine. Take a look at our charts and data to see the performance issues in detail.
Oven Performance
A new thermostat please?
The oven struggled to maintain 350°F on all settings
The keep-warm setting of 170°F averaged a temperature of 200°F, 30°F warmer than we'd have liked. This may not be a huge deal—neither 170°F nor 200°F are that hot—but it may dry out the food and it's still disregard for the dial's setting. In both the convection and conventional modes, the struggled to maintain 350°F, averaging 378°F and 363°F respectively. Unfortunately, you can't just set those settings lower for actual 350°F results. For the conventional and convection modes, the oven operated in enormous temperature windows of 54°F and 51°F respectively, well over the 40°F window that we deem acceptable.
Unfortunately, there was a shortage of good news in the oven, but there was some. The maximum setting of 500°F averaged a very acceptable 508°F and didn't stray as far as the other settings. And to please the impatient, the leaped to 350°F in just 8:45 (8:30 convection), erasing the annoying wait between frozen pizza and satisfaction.
Rangetop Performance
Whirlpool shows that non-pro gas ranges can handle the simmer on at least one burner.
The rangetop's performance was very good, though by no means on the level of some pro ranges that we've seen. The main issue gas ranges often have is the minimum temperatures they can deliver, a problem that often makes if difficult or impossible for some gas rangetops to properly simmer. Fortunately, the at least has one burner that can properly handle low-temperature cooking, as the rear right simmer burner reached a low of 132°F. The other rear burner hit 168°F and the two front burners were around 240°F. This is nowhere near as good as most electric ranges, but when you consider the benefit of instant adjustment and precise control, this does quite well.
In the boiling arena, the rangetop brought the six cups of water quickly to a boil in just five and six minutes for the front left and right burners. Even the rear non-simmer burner could perform that task in under ten minutes, giving the user tons of flexibility in performing boiling-heavy tasks on the stove.
Other Tests
Broiler
The broiler managed to reach 600°F in a leisurely 14 minutes, and has three settings of low, medium, and high. It should get the job done, but may not be the right tool to replace a gas grill.
Up next
Get Reviewed email alerts.
Sign up for our newsletter to get real advice from real experts.