Ovens
Whirlpool WFI910H0AS 30-Inch Induction Range Review
Despite a few flaws, Whirlpool has delivered an relatively inexpensive introduction to induction.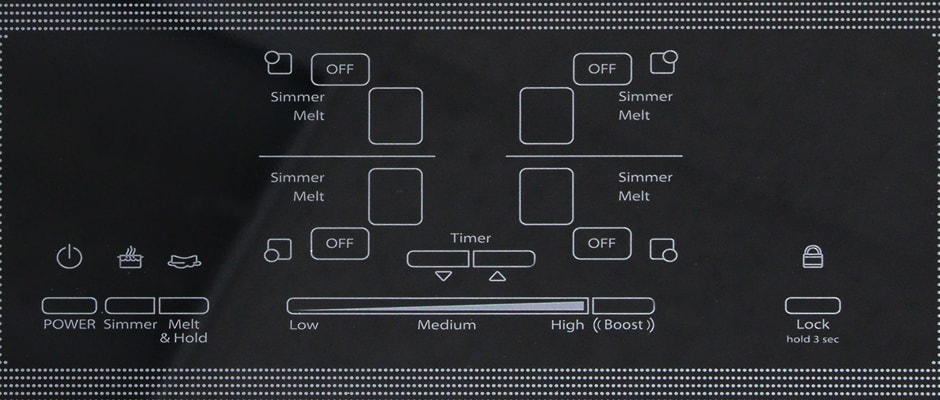 Credit:
Introduction
One of the reasons induction cooking hasn't caught on in the US is price. Many induction ranges cost well over $2,000, putting them out of the general public's reach. With its slightly more reasonable $1,849 MSRP, the has the price to attract more buyers, but does it have the performance?
Almost. As expected, the rangetop is nearly flawless, but the oven had a few issues. If you sauté and boil more than you bake and broil, this might be a good buy. Otherwise, keep saving your pennies for a more well-rounded offering.
Design & Usability
Whirlpool mixes it up with new rangetop controls.
At first glance, this appears to be a typical mid-level range. But, taking cues from high-end induction cooktops, Whirlpool moved the burner controls onto the rangetop itself.
It's probably the safest-looking rangetop we've seen.
In addition to the aesthetic benefits, it's probably the safest-looking rangetop we've seen: Users don't have to reach through scalding steam to calm a runaway boil, the burners automatically shut off when a pot is removed, there aren't any open flames, there's overheating prevention, and the placement of the controls essentially childproof this range.
Besides the unique rangetop operation, expect everything you're used to in a mid-level range: convection, a keep-warm drawer, a powerful 8-pass broiler and Whirlpool's special AquaLift water-based self-cleaning.
Rangetop
This induction rangetop is both a power and control freak.
Any induction rangetop combines instantaneous response with a superior temperature range, and this Whirlpool was no exception. After the burners flaunted their lightning fast boiling abilities (2.5 minutes for six cups!) the same burners had no problem playing it cool around 100°F. The equally impressive upper temperature ranges—protected by the overheat-prevention system—were in a perfect position to get those Maillard reactions for that satisfying hiss of a good sear.
Oven, Broiler, & Convection
The oven's 350°F setting posed a big problem.
Despite the masterpiece that was the rangetop, the oven's performance disappointed. A mediocre keep-warm setting isn't great, but when we turned the dial to 350ºF, we found a lack of temperature accuracy and consistency. Though turning on convection helped, that inconsistency is a big con for most recipes. Toward the upper end of the temperature range, the oven did a much better job.
Conclusion
It's a tossup whether the middling oven performance is worth the amazing rangetop.
It's great to see a relatively affordable induction range, especially one whose design takes advantage of induction technology, but this one is less than perfect. Many chefs are undoubtably going to love the WFI910H0AS's rangetop, but more pedestrian users might rather have a better oven setup—especially if they do a lot of baking or roasting. If you want the benefits of induction for an $1,849 MSRP, this one may do the trick. Just be prepared to compromise.
Science Introduction
Interested in specifics? You've come to the right place. Check our our graphs and analysis below.
Oven Performance
After a 10 minute preheat, the 350°F test averaged 370°F, a temperature significantly higher than the target. This alone can ruin a recipe, but we found the oven had fluctuated 59°F during the test, a bit outside the satisfactory window of 40°F. The high setting did hit 506°F, so it's possible that the performance improves with higher temperatures. The 500°F setting did correct itself more than the 350°F setting—which was in a cool-off stage for most of the test—contributing to the improved performance.
The convection oven did a adequate job hitting its mark, averaging 357°F and varying 42°F. It's not ideal, but it's acceptable enough. We definitely recommend using convection over convention if you're baking.
Rangetop Performance
We give Whirlpool a round of applause for this rangetop.
The top two burners managed to boil six cups of water in just 2.2 and 2.7 minutes, which is probably fast enough to watch the pot boil without getting bored. The third and fourth place finishers didn't disappoint either, getting the job done in just five minutes each. There will be no waiting around for the big pasta pot to boil with this rangetop.
All burners except the rear left got down to 100°F, with the straggler hitting 179°F. The good low-power burners can easily handle low-temperature tasks like melting chocolate or butter. The 's searing temperatures were 671°F to 759°F. Temperatures over 750°F often raise our eyebrows, but we do feel much safer due to the overheating prevention feature.
Other Tests
Broiler
The broiler did an excellent job jumping to 600°F, finishing our test in just six and a half minutes.
Up next
Get Reviewed email alerts.
Sign up for our newsletter to get real advice from real experts.