Ovens
Whirlpool WGG755S0BS Double Oven Gas Range
Better features than performance.
Credit:
Some really great things come in doubles. Double cheeseburgers. Double Stuf Oreos. "Double, double toil and trouble." (The line from Macbeth, not the 1993 Mary-Kate and Ashley made-for-TV movie.)
After looking at its long list of included features, we thought we might add the Whirlpool WGG755S0BS Double Oven Gas Range (MSRP $1,849) to this list. Unfortunately, it fell short of greatness in our tests.
Yes, double ovens will make complex dinner parties a snap, and the five-burner rangetop has lots of custom applications. But both ovens had issues with consistency, and burners all had issues with high heat. Considering how high our hopes were for this range, we came away from our tests doubly disappointed.
From the Lab
We put the Whirlpool WGG755S0BS through a series of rigorous tests. It did better on some tests than others.
Design & Usability
Clean styling without sacrifices
On paper, the WGG755S0BS sounds like a lot: Two ovens, five burners, plus convection baking. In person, however, it appears decidedly minimalist, and that's a good thing.
There's an old rule in the fashion world that one should always remove an extra adornment prior to leaving the house. Most ranges break this code, but the WGG755S0BS keeps fussiness down to a minimum.
The twin ovens are neither too large nor too flashy. Together, they share a total of six cubic-feet. The smaller upper oven won't fit your Thanksgiving turkey, but it does house a handy broiler. The larger oven below is where you'll find most of the cavity space, along with that great equalizer—the convection fan.
The gas rangetop is awfully good looking by our standards. It features five burners, including a central oval fish burner. A continuous smooth, black, cast iron grate provides a sturdy surface for your pots and pans.
Oven & Broiler Performance
We test ovens for accuracy and precision. Accuracy is determined by noting how often the oven's actual temperature matches the intended temperature, while precision is measured by looking at the degree to which the actual temperature varies from the intended temperature.
The WGG755S0BS's upper oven earned excellent scores for accuracy, but precision proved to be a major issue.
In our test of the Keep Warm setting, the oven averaged around 166°F, only 4°F away from our target temperature. In our 350°F test, the average temp was off by only 6°F. Unfortunately, despite these promising averages, precision wavered.
The lower oven let us down with the convection setting, hitting the target temp of 350°F reasonably often, but also hitting temperatures much further away.
We prefer inaccuracy to imprecision, as it's much easier to adjust cooking times or temps when the oven is consistently too hot or too cold than it is to work with temperatures that tend to shoot up or down by significant amounts.
Still, numbers matter less than actual baking performance, so we baked some desserts.
The upper oven produced cookies that were neither uniform nor consistent, sporting darker bottoms than tops to very variable degrees. Cake uniformity was just as poor, but the consistency was surprisingly excellent.
Cookies baked in the lower oven flunked the test on both counts, but in this case the cakes displayed even browning all across the board.
A quick 7:40 preheat time during the 350°F test proved the upper oven is good at more than just accuracy. The broiler, however, didn't seem to get the memo when it came to speed, taking just over ten minutes to reach 604°F.
Rangetop Performance
We wanted to love this rangetop. The front left burner boiled six cups of water in an impressive 4:42, while the title of second-fastest went to the front right burner with a perfectly respectable time of 11:40.
Sadly, the rear burners boiled water painfully slowly, requiring wait times of 27:47 and 36:08, with the central fish burner failing to boil water at any point during testing. It's true that the front burners should be enough to serve your boiling needs, but with such a huge jump in boiling time between the two, this discrepancy may prove to be inconvenient.
As is the norm with gas rangetops, maximum temperatures were relatively low, falling in a range between 337°F and 386°F for the round burners. The oval fish burner was unable to climb above 182°F. Low-temp cooking tests saw the rangetop fairing significantly better, dipping to temperatures from 101°F to 131°F. It's a respectable gas rangetop overall, but performance was pretty uneven.
Rangetop
It can simmer, but can it sear?
A gas flame may be pretty, but gas rangetops tend to perform very differently from electric and induction models. Considering its fuel type, the WGG755S0BS more or less met our expectations. Like all gas ranges, it provided that helpful visual feedback you won't find on other types of cooking surfaces, but it struggled with our higher heat tests.
For instance, not a single burner hit temperatures above 389°F. While the front left burner boiled six cups of water in just under five minutes, the front right burner took twice as long. The rear burners and center fish burner lacked the heat to boil anything at all. In other words: Boil that lobster and corn side-by-side on the front of the stove, but keep in mind that one will boil much faster.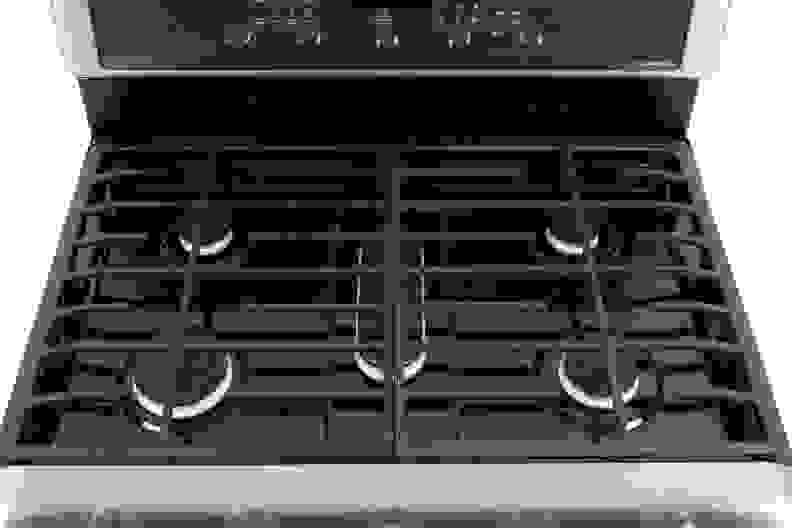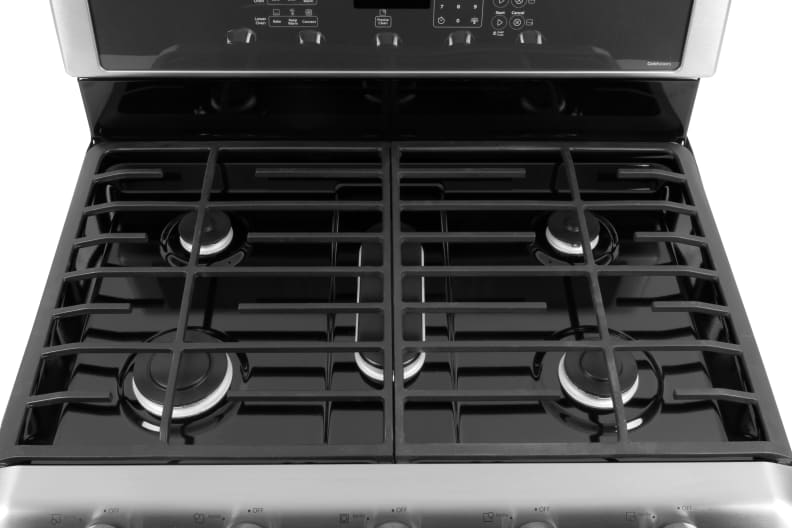 Simmering, on the other hand, was no problem. Burners dropped to 105°F without complaint. Theoretically, you could make five soups at once with that kind of performance.
The central oval-shaped fish burner specifically perplexed us. Sure, it's a handy shape for longer dishes, but in our tests it only got our test pan as hot as 182°F. We like to see fish burners that can bring more heat.
Oven, Broiler, & Convection
These temperatures will keep you guessing.
The top oven has 2.1 cubic feet of space, but it's small enough to have some of us fondly remembering our childhood Easy-Bake Ovens.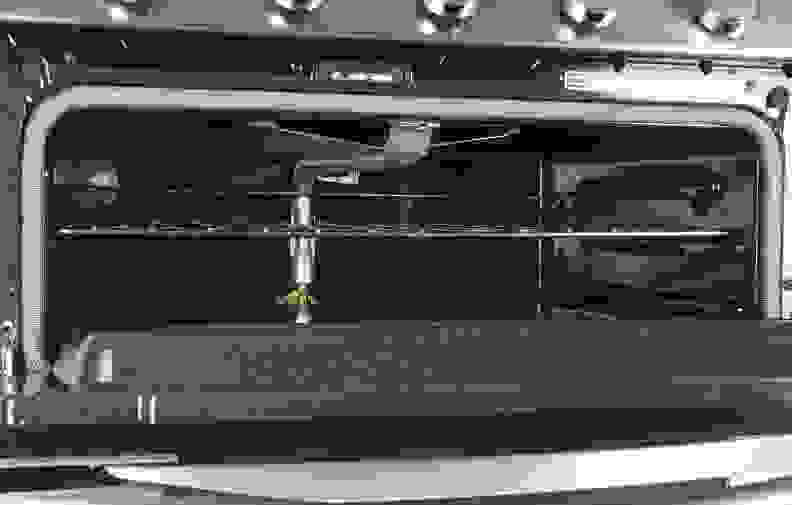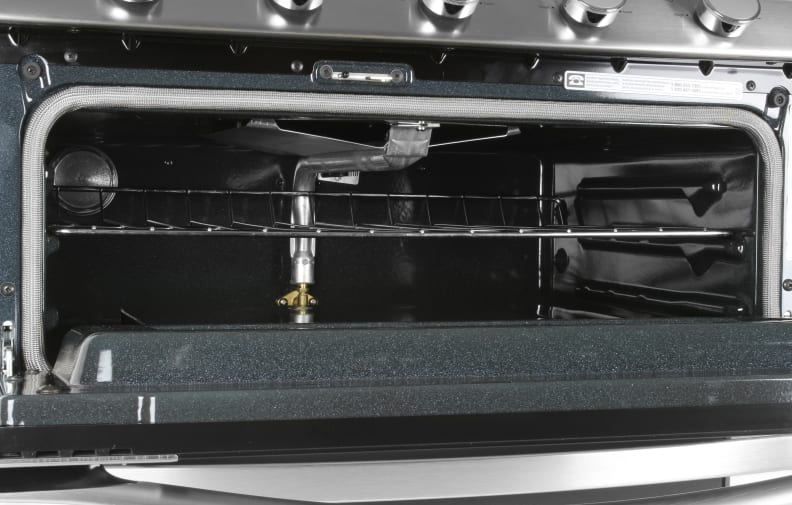 Luckily, it performed better than an oven with a lightbulb heating element. The top oven's small size meant it preheated very quickly, and took just under 8 minutes to reach 350°F. Unfortunately, the broiler took much longer.
When it came to baking, we measured temperatures that swung high and low. The cookies we baked were neither uniform nor consistent, indicating uneven heat distribution. Cakes were at least consistent, although they lacked uniformity. We've seen worse, but we've also seen much better.
We had high hopes for the larger, 3.9 cubic foot lower oven, but unfortunately, temperatures swung as low as 307°F and as high as 394°F in an eight-minute period. Using the lower oven did nothing to improve the uniformity of the cookies we baked, though it did make for more consistent cakes.
This Whirlpool was at least consistent, so paying attention to what you're baking and making the necessary adjustments will go a long way. Still, at this high price point, we'd prefer an oven that doesn't turn the cooking process into a guessing game.
At least the self cleaning process is foolproof. The WGG755S0BS also has a smart self clean system that tracks the time between self clean cycles to calculate how much dirt has to be burnt off.
Conclusion
Impressive recipe, but missing a key ingredient.
The draw of this range is its double oven, plain and simple.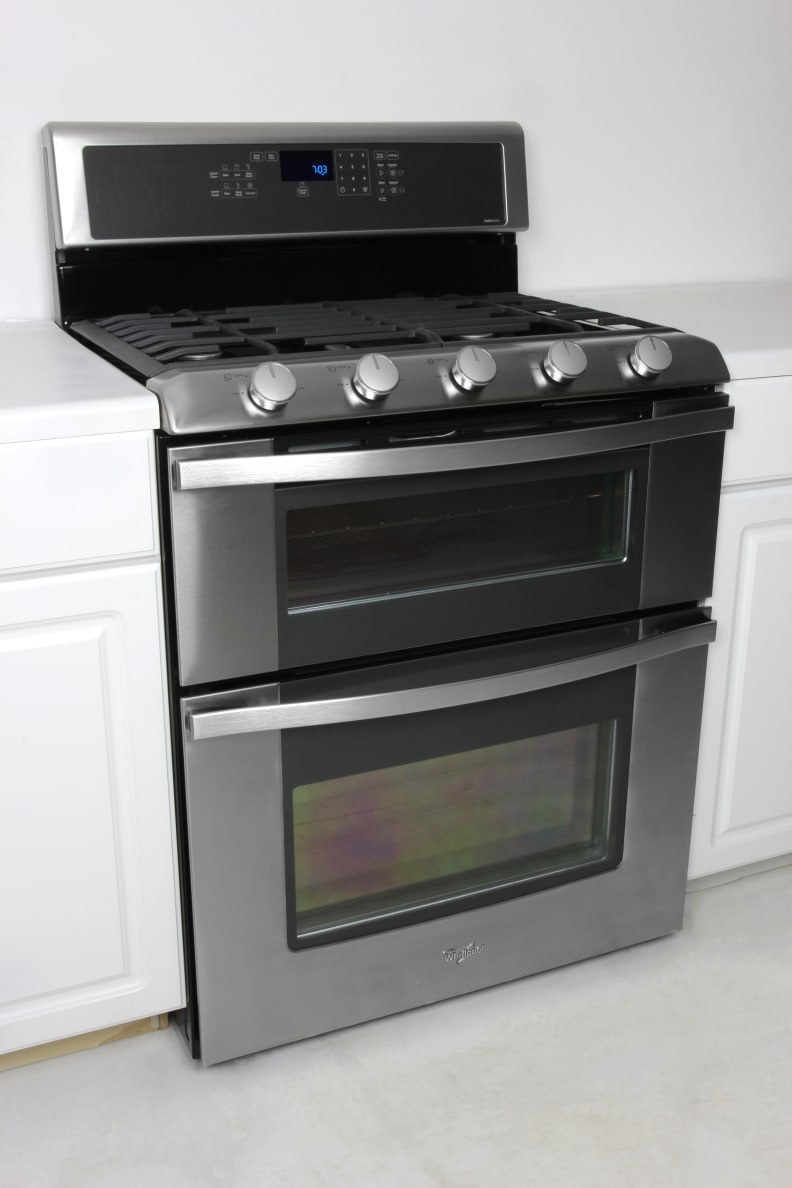 Need to broil scallops and bake blueberry muffins at the same time? Keep the fishy flavors out of your breakfast treats by using two different ovens! Preparing a lot of different dishes for a large crowd? Two ovens will speed up the cooking process! Two ovens can sure come in handy.
But with an MSRP of $1,849 and sale prices that still hover north of $1,600, the Whirlpool WGG755S0BS is closer to two for the price of two than two for the price of one. Some mediocre results in our performance tests don't help its case.
Yes, it's an attractive range that should for the most part give you decent results, but we can't recommend it as a great value.
Up next
Get Reviewed email alerts.
Sign up for our newsletter to get real advice from real experts.