Your baby's high chair has the power to dramatically affect your parenting experience. If you choose one that is difficult to use, clashes with your decor, is uncomfortable for your baby, or is impossible to move to another room, mealtimes can become a hassle. A poorly-designed high chair can be really irritating to deal with, but a great one will get out of the way and allow you to focus on your baby.
That's why after testing 10 of the most popular and beloved high chairs, we concluded the Fisher Price 4-in-1 Total Clean (available at Amazon) is the best for mealtime (and cleanup!) ease.
I've been through a few high chairs in my eight years of parenting, and now on baby number three, I've found that parents want a chair that's a non-issue: It shouldn't be fussy or require special treatment, and it should do what you need it to do. Fun prints and fancy accessories are a plus, but a high chair's main responsibility is to get the job done without creating extra work for parents.
Here are the best high chairs, in order:
Fisher-Price Total Clean
Stokke Tripp Trapp
Graco Blossom
Peg Perego Siesta
BabyBjorn
4Moms
IKEA Antilop
Fisher-Price SpaceSaver
Ingenuity Trio
Cosco Simple Fold
Updated January 02, 2019
Advertisement - Continue Reading Below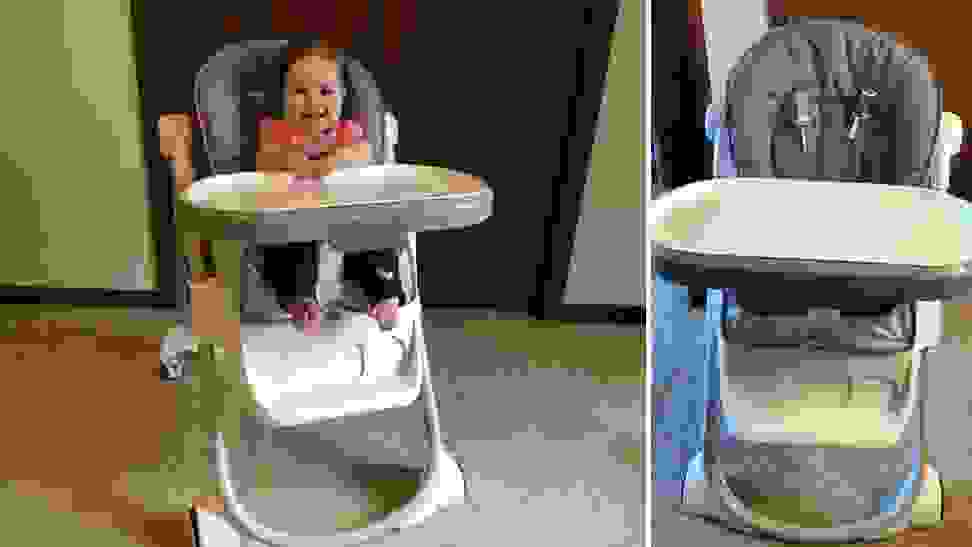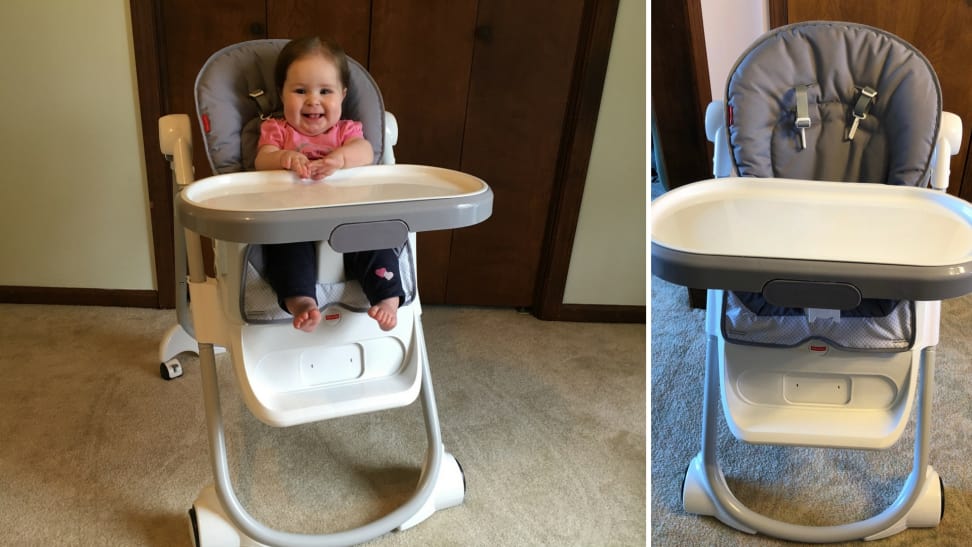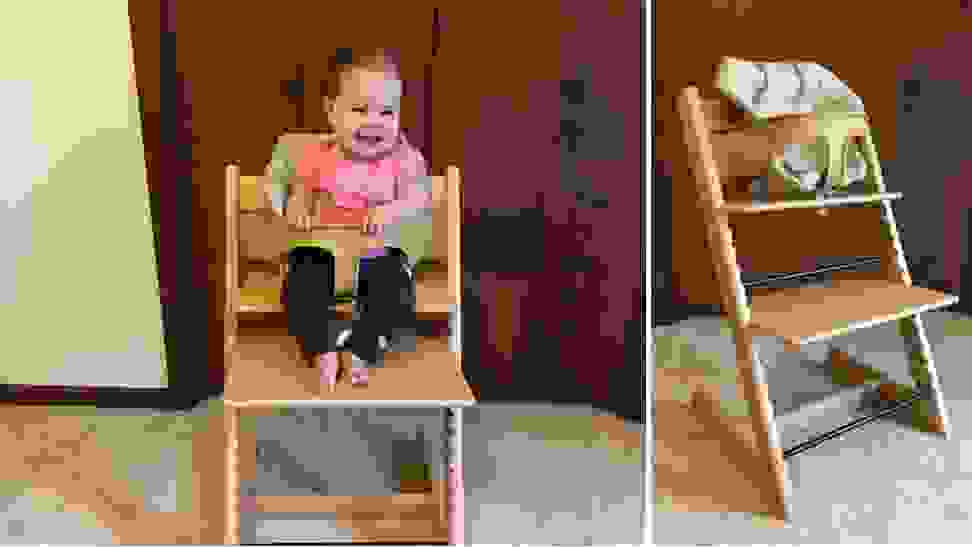 How We Tested
The Tester:
Hi, I'm Sarah Kovac. As a parent of three, I've had a high chair at my dinner table for the past eight years. I've always been interested in the latest parenting gear, and over the years my kids have helped me review more baby products than I can count.
The Tests:
I spent several weeks using these high chairs to feed and entertain my 9-month-old so I could experience first hand how easy they are to clean and use. We came up with 15 different testing criteria, such as ease of use, cleaning, build quality, ease of storage, and versatility. Each chair was used multiple times and in different locations throughout my home—at the dinner table, in the living room, and a few on the patio. I also had my 4-year-old try the chairs that could hold older kids. I tried removing each tray one-handed, adjusted them in every which way, stuck every dishwasher-safe tray in a standard dishwasher to see if they fit, and examined every seat and harness to see if food would get stuck in any crevices.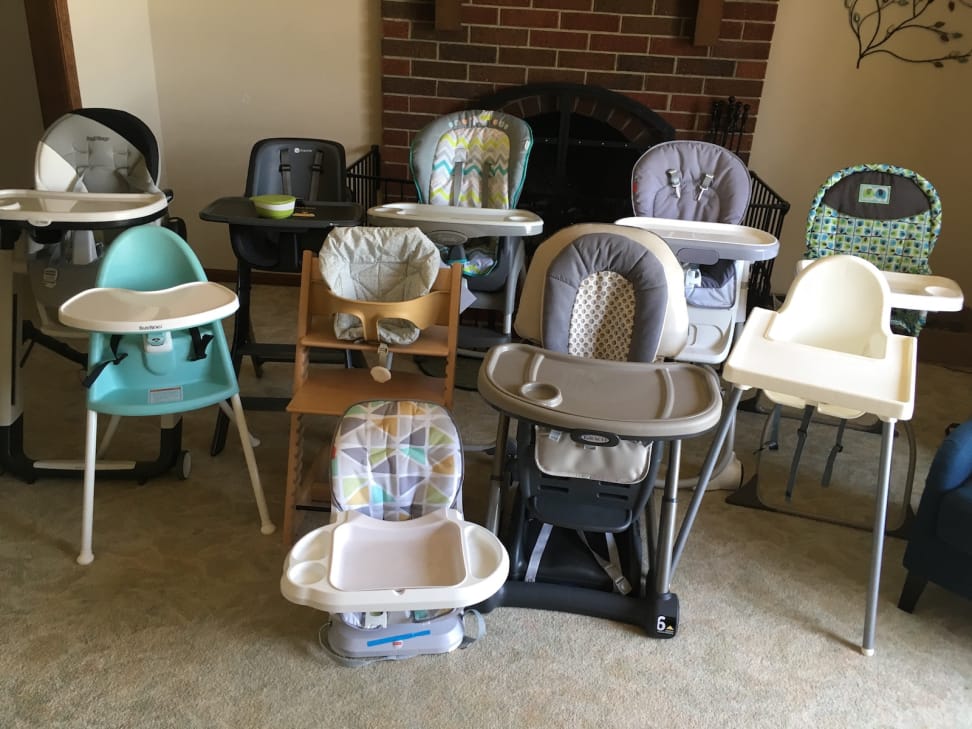 Things to Know When Buying a High Chair:
Here are a few tips for finding the right high chair for your family:
Just because a tray is billed as "dishwasher safe" doesn't mean you'll be able to put it in your dishwasher. Many of the trays won't fit in either shelf of a standard-sized dishwasher.

Wheels don't always roll on carpet. A couple of high chairs we tested had frames so low to the ground that they couldn't quite clear low-pile carpet without dragging. If you have thick carpet, you'll need more clearance.

A squirmy toddler might mean an uncomfortable seat. A high chair that promotes good posture will help your child to be calm and focused during mealtime. Look for a chair that can adjust as your little one grows.

Not all high chairs will work with every table. If you use a tall table (or a shorter-than-average one) you'll want to measure from the bottom of your table to the floor and check the high chair's seat and tray height before ordering.
---
Other High Chairs We Tested
Advertisement - Continue Reading Below