The Best Bibs for Babies and Toddlers of 2019
By Susie Mendoza, June 27, 2019
Not all bibs are created equal. Just like children. I would know, I have two. Children, that is. I have as many bibs as I have broken sippy cups, mismatched infant socks, and rejected teethers. I have tried many models in search of the right bib: thin ones, fat ones, roll-able ones, and the one that became my red wine bib.
When infants are in the high-chair stage, the forecast is: hurricane cottage cheese imminent. The bib that we found most effective at keeping the baby clean and catching food before it hit the floor was the OXO Tot Roll-Up Bib (available at Amazon for $12.40)
A great bib can be the difference between 1 and 20 outfits a day. I was eager to find something that could salvage food before it hits the floor, keep my baby clean, and be easier than stripping him naked for every meal. I'm happy to report that I found a cover that passed the gauntlet laid by my wee food wolf, with flying colors.
Here are the best baby bibs we tested ranked, in order.
OXO Tot Roll-Up Bib
Skip-Hop Fold and Go Silicone Bib
Happy Healthy Parent Silicone Bib
Tommee Tippee Easy Roll-Up Bib
BabyBjorn Soft Bib
Bumkins SuperBib
Baby to Love Waterproof Smock
Bumkins Sleeved Bib
Green Sprouts Stay Dry Bib
Advertisement - Continue Reading Below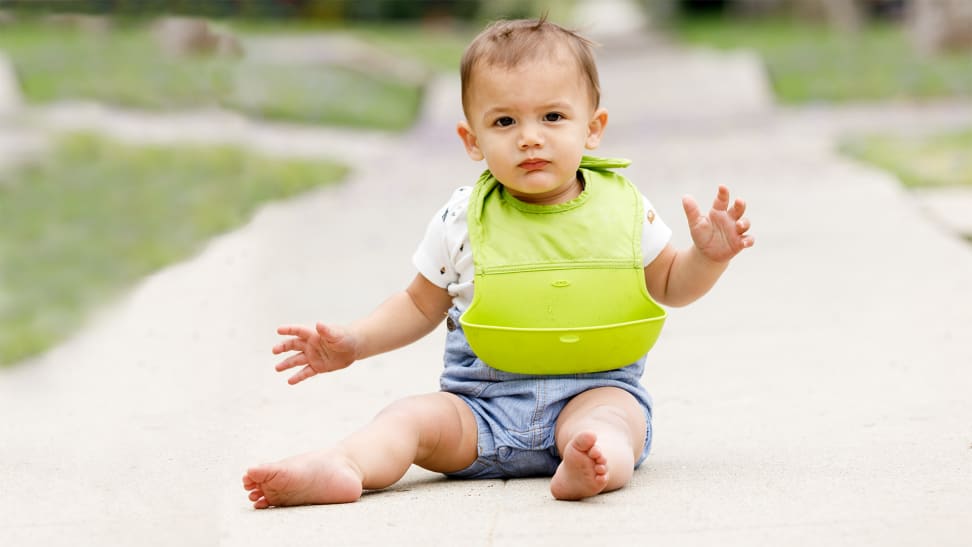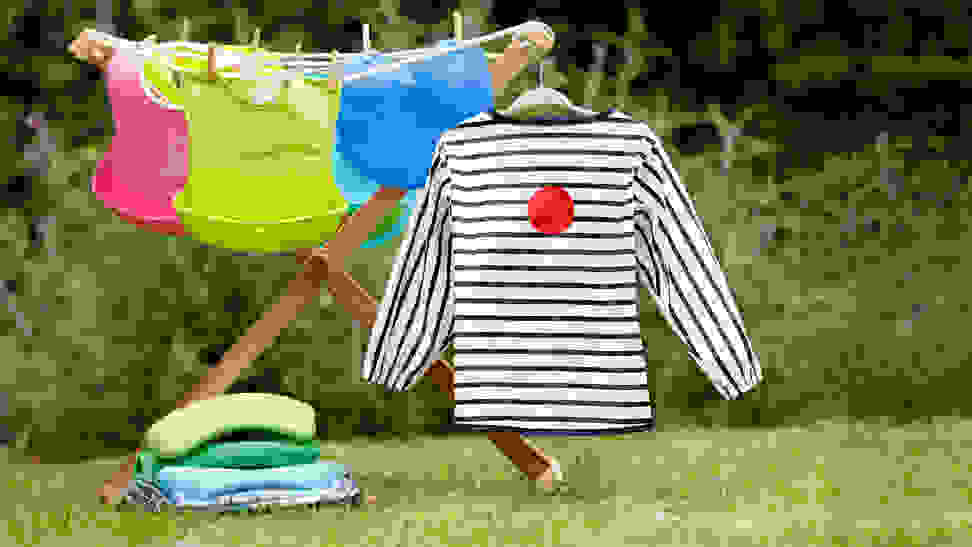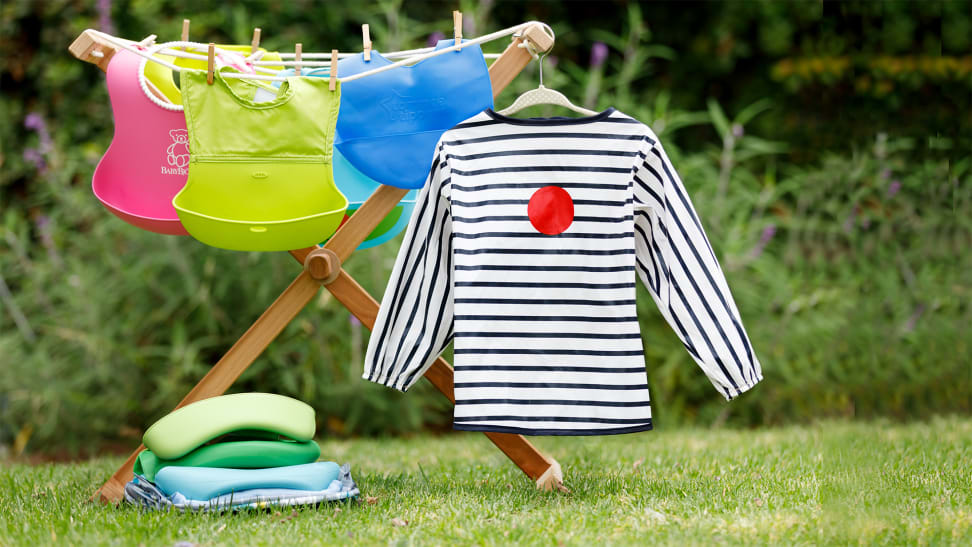 How We Tested
The Tester
Hi, I'm Susie Mendoza. As a freelance writer, I have written for multiple parenting sites including: Ravishly, Mom.Me, The Pregnant Chicken, and more. In most cases, necessity has driven me to explore the parenting realm to find solutions for my two boys, aged 1 and 5 years. I have been in the trenches, cleaning up messes and coming to the realization that I'm never going use that $500 jogging stroller. It's not that I don't enjoy jogging to a soundtrack of human baby screaming, it's just that now I have drawstring pants. Or both. Regardless, my reviews are informed by my mom lifestyle. I have a vested interest in finding solutions to parenting issues, including something to replace that Baby Shark song forever.
The Tests
There is so much trial and error that goes into finding the perfect product for each child. And rarely does each child mesh with the same thing. My first child was a delicate eater and barely needed a bib. My second is the human equivalent of an octopus sprinkler. Naturally, I enlisted him to help me test bibs. In the search for the perfect bib, I found that the most important factors were: coverage and ease of use.
We spent three weeks testing multiple bibs for a variety of important factors. A few new factors even popped up after adding the baby variable, such as his ability to Houdini out of the bib. If you can't even keep the kid in the bib, then the whole establishment goes down. We tested the latch function—was it easy to take on and off? What if you had to do it in a hurry? Could you adjust it easily or was it just one size, take it or leave it? I watched for signs of discomfort. If my baby was constantly tugging or trying to get out, I made a note of it.
Part of the ease of use is the cleanup. Is this a product I can just throw in the washing machine, or is it something that has extra-hard-to-clean crevices? We tested for these variables as well as just general workability of the bib. We tested the overall durability by using them for multiple meals with a very strong baby who bent and pulled each one. Finally, we tested each bib for its effectiveness against staining agents and blocking/absorbing messes. By testing on a real baby, the true ability to provide coverage was revealed.
What to Consider When Buying a Bib
If your baby can get out of the bib then it defeats the purpose. When I was testing different latches, I found that some Velcro is great for me, but not great for restraint. My tiny guy is the type of baby to try and get out of his onesie, so if you have a baby that is agreeable to things like hats, it may not be an issue. The most impenetrable latches were the string ties. The happy medium ended up being the button-and-hole types that were easy enough for me, but not so easy that the baby can do it. Some were too easy like the Happy Healthy Parent bib, which otherwise would be a contender for best overall. The Velcro in the OXO Tot stayed put.
You might want more than one bib. When testing, I found that I wanted three to five bibs, just so that I didn't have to clean them every time. I preferred a clean one for each meal, and to just wash them all together at night. I also realized that I wanted a couple different kinds for different purposes. The smocks, while hard to clean, provided the most coverage. I wanted to have at least one on hand for extra messy meals. They also double as the perfect cover for finger painting. I also found that there were some meals that I didn't mind picking up off the floor, but other carefully prepared meals that I wanted to recycle. For this, I would opt to purchase one of the stiffer, deep billed, versions to supplement.
Be on the safe side when it comes to harmful chemical exposure. While we don't know everything about the effects of certain chemicals, The US Consumer Product Safety Commission voted in 2013 to ban five kinds of phthalates in children's products. Although phthalates can be found in multiple products as they make plastic more flexible, there is some evidence that exposure to young children can be potentially harmful. These, along with BPA, Lead, and PVC, have been deemed risky, so why not just stay on the safe side when choosing a bib for your baby?
The shape is important. When testing for which bibs kept food away from my baby's clothes, I noticed that certain shapes were better. If there was even an inch of fabric in the spray zone, my tiny Shamu would find it. It is important for the edges to either go to the edge of their body or past their shoulders. Cut out shapes, while cute, only served as a landing pad for rogue strawberry pulp. With each wardrobe change, the mountain of laundry grows. Do your best to find a shield that covers.
Do you want to recycle the food or just block it from clothes? As we tested, we discovered that the bigger and more structured the pouch at the bottom was, the more food could be captured. This food could, in turn, be recycled back onto the tray for my unsuspecting infant. At this stage, much of the food goes to waste, so it's important to get a good "catcher".
---
Other Bibs We Tested
More Articles You Might Enjoy
Advertisement - Continue Reading Below