The Best Pack 'n Plays and Playards of 2019
By Matthew DeLauder, September 28, 2018, Updated April 19, 2019
Whether you call it a pack 'n play, a playard, or a travel crib, a portable play area that can double as a place to nap is an essential piece of gear for every parent. But which one should you buy? Do you need a bassinet, a changer, or a napper? It's easy to get overwhelmed (we've been there).
After researching all the most popular models on the market, we tested six finalists alongside real parents and their kids. After all that, we think that the Chicco FastAsleep Playard (available at Amazon for $179.99) excels at everything most people need. It's lightweight, it folds easily, and it includes several thoughtful standard accessories that competitors charge extra for. If your budget is tighter still, we think the Graco Pack n' Play On the Go (available at Amazon) is an exceptional backup choice—and it's the lightest model we tested, too.
While some might find an extra place for the baby to sleep to be—well, extra—every parent on our staff owns and uses some sort of pack 'n play or playard. Whether as a travel crib, a place for your baby to sleep outside the nursery, or just a small play area that you can safely leave your suddenly-mobile little one, we believe just about everyone can benefit from one of these. Here are the finalists we tested, in the order they finished:
Chicco FastAsleep
Nuna Sena Aire
Graco Pack 'n Play On the Go
Chicco Lullaby Dream
4Moms Breeze GO
Graco Pack 'n Play Quick Connect
Updated April 19, 2019
Advertisement - Continue Reading Below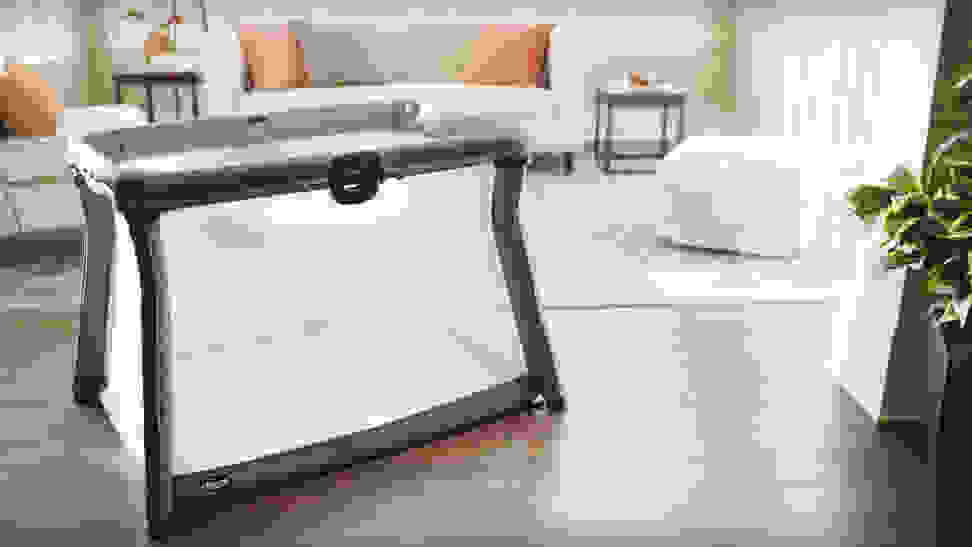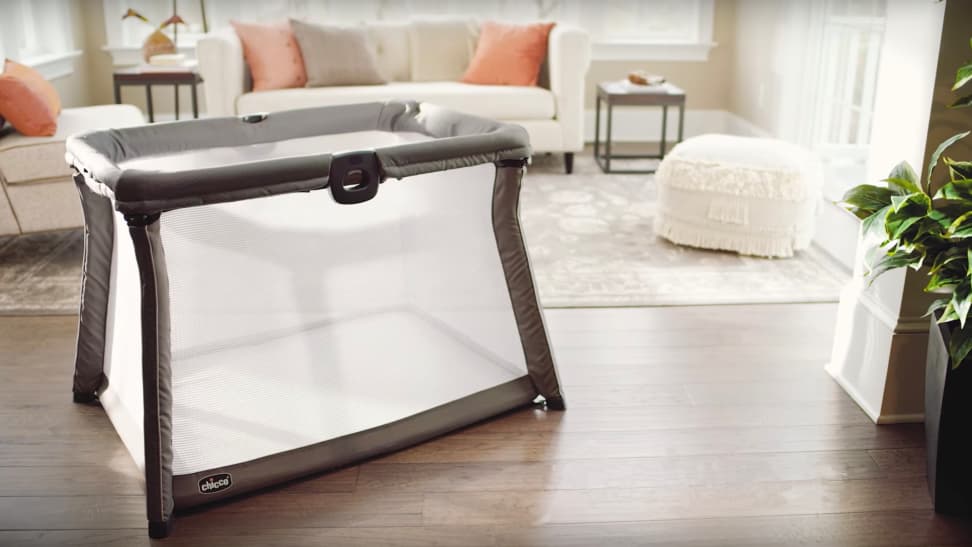 Chicco FastAsleep Full-Size Travel Playard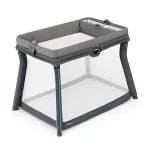 Chicco FastAsleep Full-Size Travel Playard
Best Overall
The Chicco FastAsleep is our top pick thanks to its simple operation and generous standard features. Every part of this model felt durable and well-thought out. One of our testers' favorite features was the audible "click" that engaged when you switched between the included changer and napper. Most models require you undo a pinch clip, snap or system of buttons, but our pick just simply folds over when you lift up on the conveniently-located latch.
In addition to being well-designed and easy-to-use, we felt that the quality here would be most likely to hold up in the long run, perhaps even through multiple children. The fabrics were durable (but not rough), water-resistant, and easy to clean. We also liked that the Chicco FastAsleep was easy to pack up, lightweight when you needed to carry it around, but still provided a generous sleeping area.
The main drawback here is its high price, with basic playards—like our Best Value pick below—starting at well under $100. However, our testers preferred the FastAsleep's ease-of-use and simple operation, as well as the nicer fabrics and compact design.
And while it is more expensive than those entry-level models, it's cheaper than comparable playards like the relentlessly popular Lotus travel playard. If both of these are too rich for your blood, you can opt for the FastAsleep Go, which is virtually identical, costs less but doesn't come with the changer/napper accessory.
Graco Pack 'n Play On the Go Playard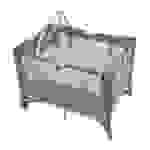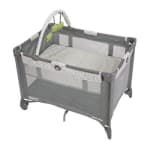 Graco Pack 'n Play On the Go Playard
Best Value
If you think of a basic Pack 'n Play, the Graco Pack 'n Play On The Go is almost certainly what comes to mind. At less than $70 on sale, i t's a classic, well-rounded alternative to our top pick that works well for just about everything: travel, trips to the grandparents' house, or just as an alternative to a crib or bassinet—the Graco Pack 'n Play On The Go can do it all on a budget.
This is essentially a stripped-down version of the more full-featured Graco models (such as the Graco Pack 'n Play Quick Connect Portable Bouncer with Bassinet). You won't get some of the fancier features—such as a napping station or changer—but it can be a bassinet, playard, or crib and it weighs in at just 22 pounds.
With thousands of 4- and 5-star reviews across the web, this classic model has more than proved its mettle over time. Though not as simple to fold or compact as some of the competition, it's the best model under $100 we tested. And though the lack of extras like a changer and napper is a bummer, your child should outgrow those extras inside of a year anyway, making this an excellent long-term solution that happens to cost much less than the competition.
How We Tested
The Tester
My name is Matt DeLauder and I have been working with parents to find the best baby gear for almost 10 years. During that time, I've helped countless numbers of parents navigate the vast array of products on the market, making sure that they got the right gear for their situation.
The Tests
When it comes to playards, in my experience, most parents have the same set of requirements: they want something lightweight, easy to fold, and durable.
Most parents want the same things in a playard: something lightweight, easy to fold, and durable.
I started by compiling a list of the most popular and well-reviewed models from the most well-known brands, and whittled that list down after reading reviews, and by analyzing top-selling products across major websites.
After settling on our six finalists, we established our test procedures and gave every model the same thorough examination. We wanted to see which playards had the highest concentration of the attributes parents find most important. Our testers spent time with each model, using them as they would in a real-world situation, including packing, unpacking, and setting each model up. Once testing was completed, each parent filled out a detailed questionnaire, and their answers were aggregated to give us our final ranks.
What You Should Know About Buying a Playard
Playards—often known by Graco's trademark name, the Pack 'n Play—come in all different shapes and sizes, with a myriad of options to choose from. Though there are hundreds of models to choose from, we found that the things that parents want are straightforward and attainable if you know where to look.
Nearly all playards include the same basics: a frame that will fold up, a mattress pad, and a bag to keep everything together.
Nearly all playards include the same basic features: a frame that will fold up when not in use, a mattress pad, and a bag to keep everything together when on the move. Designs can vary wildly from one manufacturer to the next, but they all function in this basic way. From there, higher-end models often include extras like a changer/napper.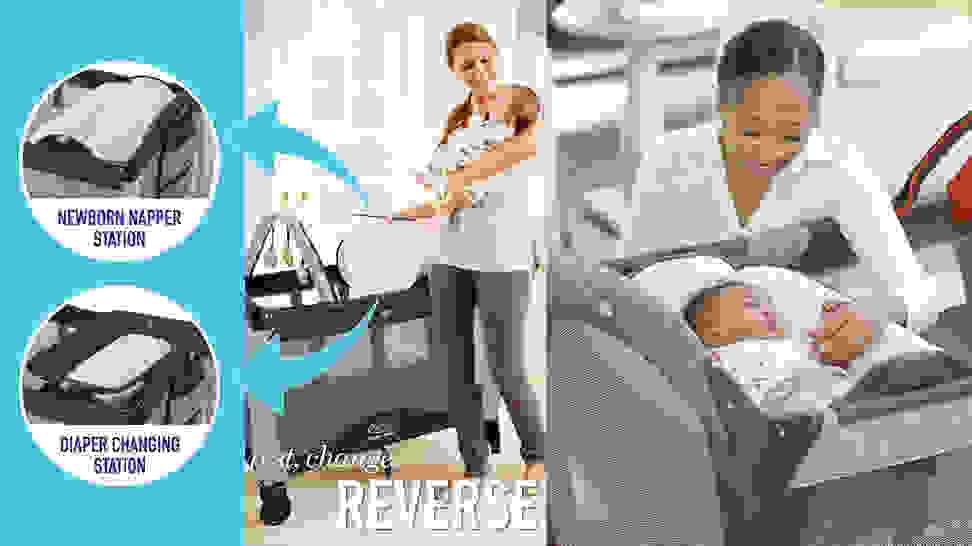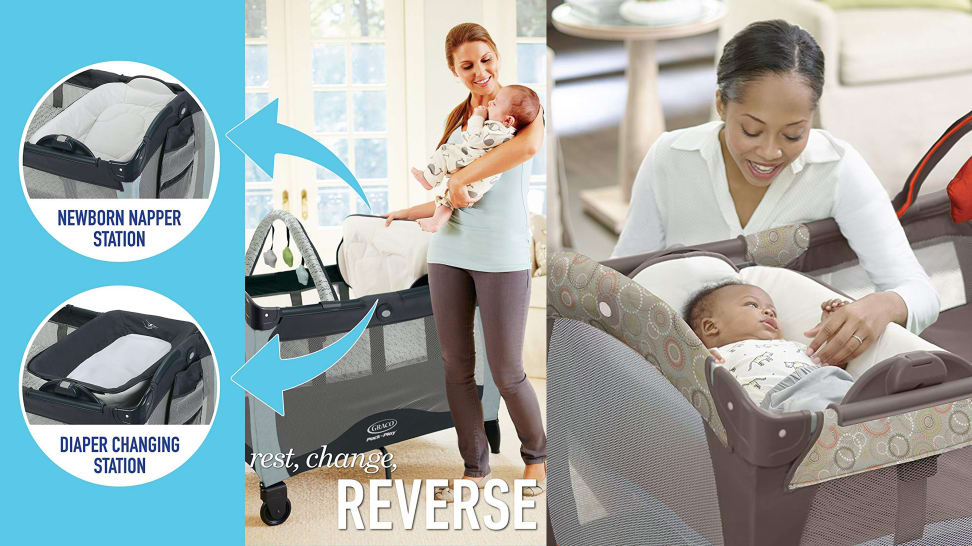 Many of these changer/napper stations are a single, reversible piece that snaps onto the top of the playard. One side is usually waterproof (for changing the baby) while the other is a little more padded and cozy, ideal for a newborn baby to nap in. These accessories can be handy, but most of them are only suitable for babies that can't roll over and weigh 15 lbs or less—meaning they are only good for the first 6 months or so.
Following these instructions is critical for making sure your baby is safe, so make sure you know what your model's limits are. This also extends to mattresses and sheets, which many parents want to use with their playard but most manufacturers sharply recommend against. Thousands of babies die in the U.S. in their sleep, every year, so setting up a safe sleep environment is crucial.
Though portable crib mattresses are very popular, buyer beware.
Both the CPSC and the American Acadamy of Pediatrics specify that you should only use the included mattress with your playard, because there's just no guarantee a third-party product will fit safely. Though portable crib mattresses are very popular, buyer beware.
There are a lot of products that parents are looking for when they're preparing for a new member of the family. While a playard might not be the first thing to come to mind, it's a piece of gear that can make your life easier, while not breaking the bank. It especially helps fill in the blanks in those tough times when more dedicated long-term solutions, like a crib, or a baby-safe play room, or a changing table, just aren't available.
---
Other Playards We Tested
Though these models didn't do quite enough to make it among our top two, they were still finalists for a reason: nearly each of them is a compelling product in its own right. If our top picks don't quite work for you, these are worth checking out.
Nuna Sena Aire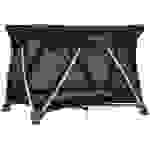 Nuna Sena Aire
The Sena Aire (also available in mini form) is a premium playard that was among our highest-scoring models. However, the price is likely more than most will want to pay and we didn't like that it lacked a waterproof pad or sheet option. The "Aire" in Sena Aire means that the mattress is fully breathable, composed of mesh netting surrounding a perforated plastic pad.
This also meant that the Sena Aire was less comfortable when judged by our parents, and for the price that seemed like a deal-breaker to us. Although a bassinet is included in the package, the changer pad is an add-on ($59.95), which makes this already-pricey model significantly more expensive than the comparable Graco or Chicco models.
Chicco Lullaby Dream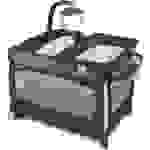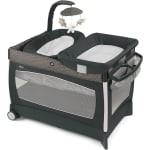 Chicco Lullaby Dream
At nearly 40 lbs, the Chicco Lullaby Dream is one of the heaviest models we've seen on the market. It's a good all-around playard, but a lot of the useful components on the Lullaby are also available on the FastAsleep, which we liked better.
It's bigger, bulkier, and more expensive than the FastAsleep, while also being more of a hassle to fold and transport. It has good user reviews and didn't do that poorly in our own testing, but it just didn't do enough to justify a spot among our top picks.
4Moms Breeze Go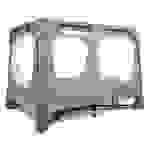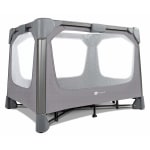 4Moms Breeze Go
We decided to test this new 4moms product because of its promise of being lighter and simpler than the original Breeze Playard. Setup is indeed easy, as you just need to push up or down the central column to fold and unfold the playard. That's a lot better than the traditional Pack 'n Play design, which involves locking and unlocking hinges on all four sides first.
We could definitely tell that the new Breeze Go was lightweight (only 23 lbs) and that it was well-made, but the updated Go does not have a changer or a bassinet accessory available (only the classic 4Moms Breeze and Breeze Plus offer that). If you don't need those options, the Go is worth checking out. It isn't quite enough for our top pick, but it's a high-end product at a mid-range price point.
Graco Pack 'n Play Quick Connect Portable Bouncer Playard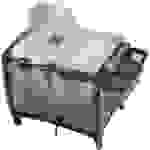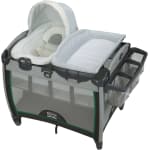 Graco Pack 'n Play Quick Connect Portable Bouncer Playard
The Graco Pack 'n Play Quick Connect is what most parents think of when looking for a "Pack 'n Play". An all-in-one baby station that services your baby in the same way that an aircraft carrier services a fleet, the Quick Connect is large, imposing, and over 35 pounds.
The Quick Connect was difficult to pack up and move around. Like the Lullaby Dream, a lot of pieces have to be removed for folding, so this one is best left as a stationary crib. That may be fine if that's what you need, but our top picks can do that and much more, for right around the same money.
The included bouncer is a nice touch, but standalone options do a better job and cost around $50 or less. You could easily get one of those and the standard Graco (our Best Value pick, above) and save some money.
Overall, this is still a great option if you can find a discount, but our testers preferred the competition and we have to agree.
Advertisement - Continue Reading Below