Parenting
Are kids' clothing subscription boxes as great as they look online?
We tested them to find out.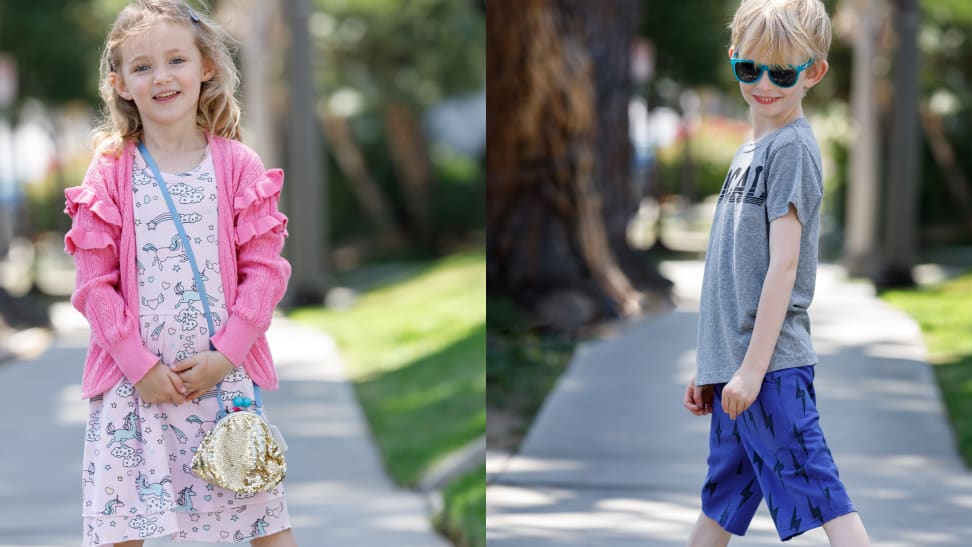 Credit: Reviewed / Lisa Lawrence
Back to school shopping—especially in the midst of an ongoing pandemic—can be stressful. If you're dreading the annual trip to the mall, or you just want to avoid having to mask up and be around a lot of people, a clothing subscription box designed just for your kids could be the answer to your prayers.
If you're asking yourself, "which subscription box should I chose?", I've got you covered. I roped my kids into trying five different clothing subscription boxes to see which ones really delivered on convenience, style, and value.
My ground rules for testing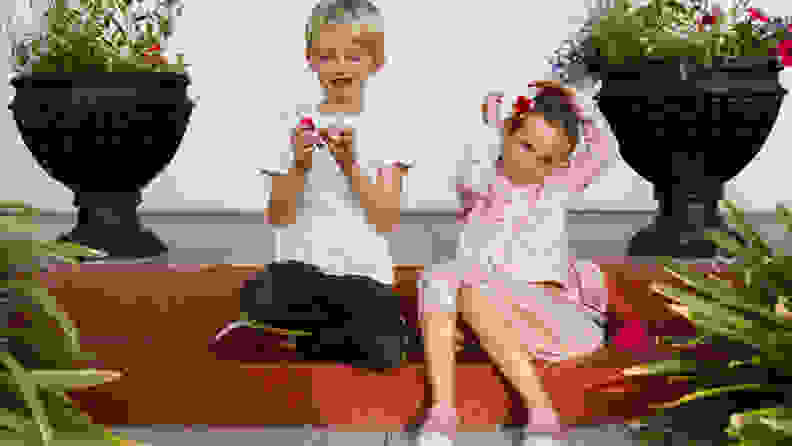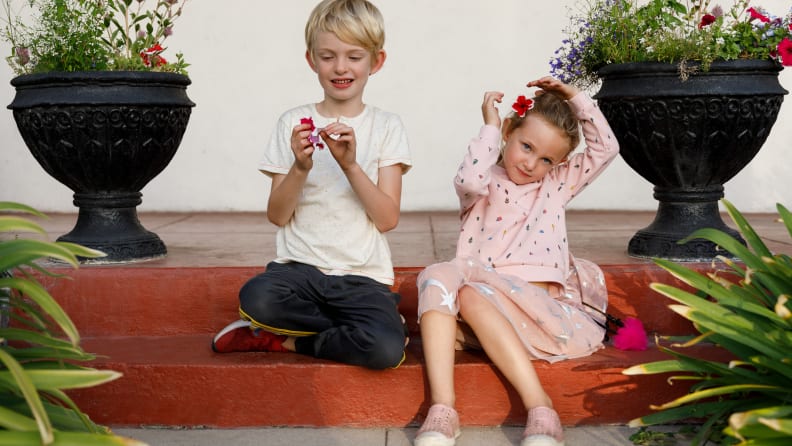 I have a son, Noah, who is 6, and a daughter, Rose, who is 5. I tried both the "boys" and "girls" boxes from each brand (except for one that is only for girls).

I am frugal. I love beautiful, high-end clothes (both for my kids and myself), but paying full price for designer duds is not practical when we're talking about a piece of clothing that your kid is going to grow out of—or get paint on—in a matter of weeks.

I'm picky about the clothing I buy for my kids. I'm all about giving my kids autonomy when it comes to deciding what to wear every day, but I prefer to stock their closets with good-quality pieces that can be mixed and matched. I'm also a "hard pass" on any shirts that turn my kids into walking billboards—plus cartoon characters and super heroes aren't allowed at some schools.
The basics
When you sign up for a kids' clothing subscription box, you'll be asked to put together a "style profile" for each of your kids. Let me point out that you can't be in a rush when you first sign up, because you'll be asked a lot of questions about your child's height, weight, sizes, and favorite colors. You'll also be presented with a selection of sample outfits and asked to rate how likely your child would be to wear each one.
Some of the companies also ask you to select how much you prefer to spend on various types of apparel. It would follow that the more specific you are about your child's distinct likes and dislikes will result in a clothing box tailored to their particular tastes, but I found that this was not always the case.
A number of the companies are actual subscriptions—meaning that unless you cancel, they'll send you a box every one to three months, and charge you accordingly. Others offer both one-time-only boxes and subscriptions, but you'll need to be on top of it when you order, because some of the one-off boxes are not easily returnable.
1. Stitch Fix Kids
Stitch Fix is one of the original clothing subscription boxes—they started out just styling women—and they introduced kids' boxes a few years ago. I used Stitch Fix for myself a few times when they first launched, but I ended up canceling my subscription because the overall quality of the clothes they sent wasn't very good.
I was really interested to see what Stitch Fix sent for my kids, especially because the initial "style profile" that they ask you to fill out is pretty in-depth. I tried to be really specific about Noah and Rose's likes and dislikes, and chose "cool" styles over those that were sporty or character-driven.
How it works
Stitch Fix is a subscription service, so once you register, you'll be automatically signed-up to the service. You can cancel (or skip) anytime, but if you don't remember to do either of those, you'll regularly be sent a box—and charged for it. You have three days after you receive your box to try on everything before you're expected to send back what you don't want, but it's incredibly easy to extend the try-on period. Stitch Fix sends a reminder email when it's time to return the pieces you don't want, and shipping is free both ways. The Stitch Fix site is really easy to navigate, and it's simple to skip or cancel upcoming fixes.
What it costs
There's a $20 styling fee for each box—or "fix," in Stitch Fix parlance—but the fee will be credited towards anything you decide to keep. If you don't keep anything, you forfeit the $20. If you keep every item from your fix, you receive an additional 25% discount.
Noah's Stitch Fix box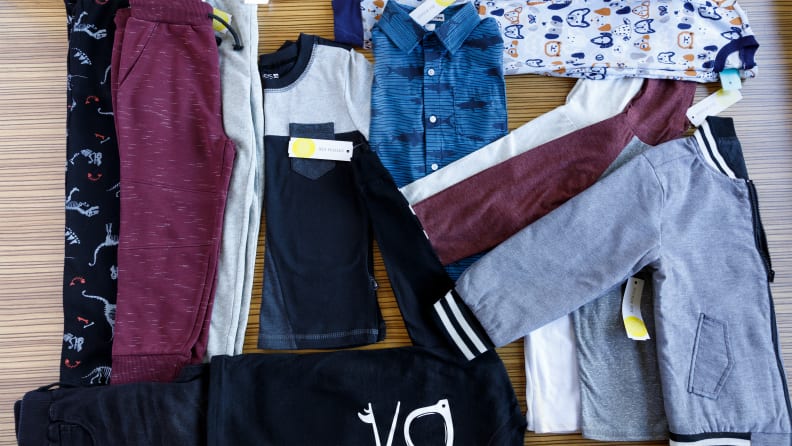 Flapdoodles pull-on denim pants: $24
Sovereign Code burgundy knit jogger pants: $22
Threads 4 Thought burgundy and grey pull-over hoodie: $22
Joe's Jeans Kids color-blocked T-shirt: $18
Capsule long-sleeved graphic T-shirt: $16
Hollywood the Jean People hooded tiger print shirt: $18
Mini Series shark print button-down: $22
Flapdoodles two-pack jogger pants: $28
Sovereign Code varsity jacket: $30
Rumi + Ryder pajamas: $24
Overall, Noah and I both liked the items in his Stitch Fix box. Other than one white shirt with a tiger image on the front, everything else was in his preferred color palette of gray, blue, red and black, which meant that Noah was excited to try on the clothes. The fits varied widely, despite everything being labeled a size 6, but I did appreciate that Noah's stylist included pants that ran long and were somewhat narrow around the waist.
My biggest complaint about the box is that I felt the puppy dog pajamas were too juvenile for an almost-7-year-old, and my husband (and Noah) both agreed. In the end, the pieces that fit and looked the best were the two pairs of jogging pants and the tiger-print hoodie, both of which I felt were decently priced and would likely be worn often.
Rose's Stitch Fix box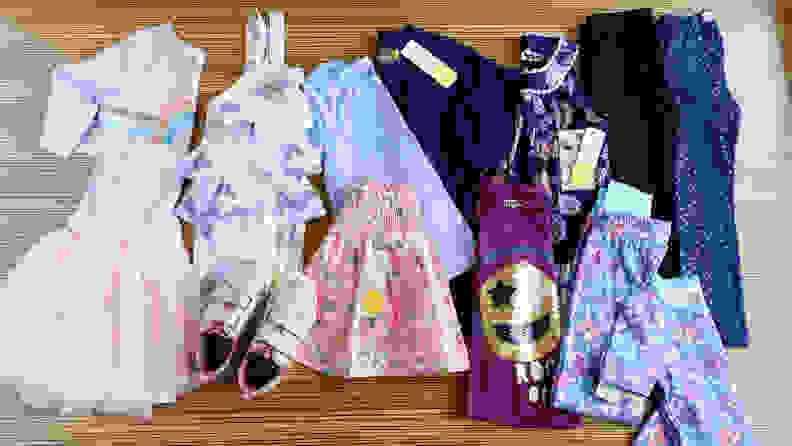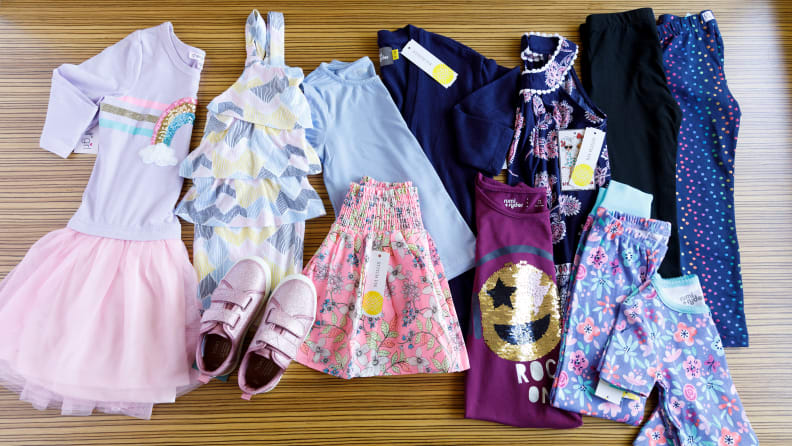 Toms pink sparkly sneakers: $38
Rumi + Ryder navy cardigan: $20
Rumi + Ryder sequin emoji T-shirt: $18
Chenault Girl tutu dress: $30
Flapdoodles two-pack leggings: $18
Stella & Sienna halter dress: $26
Cotton On pink smocked skirt: $22
Rumi + Ryder pajamas: $24
Flapdoodles ruffled romper: $28
Rumi + Ryder periwinkle twist-sleeve top: $16
Rose's box seemed to be a strange mixture of items for both summer and fall. Granted, we don't have a lot of cool weather here in Los Angeles, but it did feel a bit like a random jumble of different pieces.
I wasn't thrilled with the sequined emoji shirt, specifically because I had given the "thumbs down" to shirts sporting annoying sayings in her style profile, but I think Rose's stylist was trying to fulfill her sequin requirement, so I'll give her the benefit of the doubt. Regardless, Rose hated that shirt and refused to try it on, so no harm, no foul.
The biggest loser of Rose's box was the halter swing dress: Not only was the style more "muumuu" than Missoni, but the fabric was thin and cheap and definitely not worth $26.
On the positive side, I felt that a number of the pieces in Rose's fix were great dupes for more expensive brands. The romper looked and felt just like a piece from Splendid, but with a price tag of $28, it costs about half. So, too, with the tutu dress when compared to similar pieces by Egg.
The verdict
While the prices for many of the items that Stitch Fix sent were slightly more than I usually like to pay, I think it's worth it simply for the convenience. I liked that the stylists really tried to hew to my children's specific style requirements, especially with regards to the softness of the clothing.
2. The Collective Child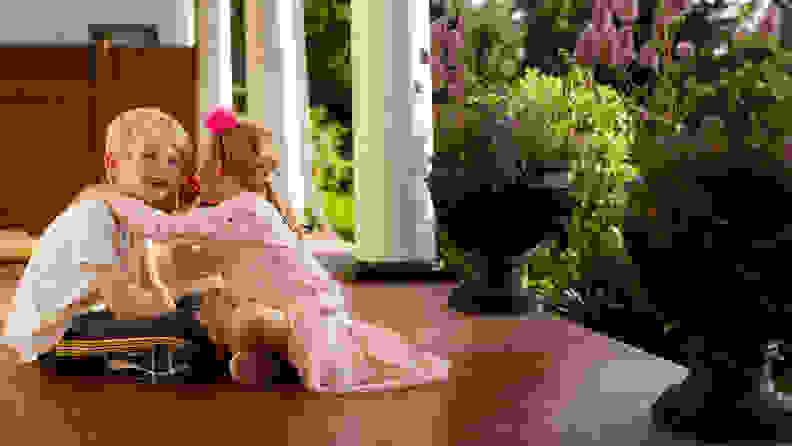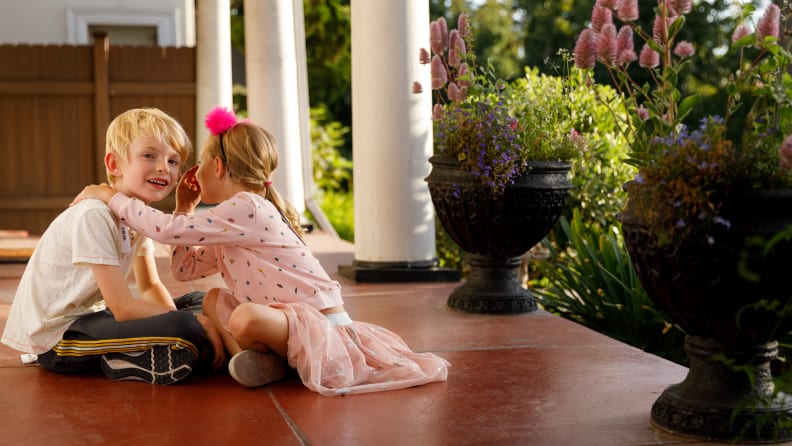 For truly unusual items that you're not likely to find in an average kids' clothing store, look no further than The Collective Child. Started in 2015 by a former Vogue staffer, this subscription bills itself as the choice for "contemporary parents" who want "unique pieces from the most coveted designer brands and emerging vanguard labels." This is definitely not the right choice for parents who want functional, affordable clothes for everyday wear, but if you're committed to dressing your child like a page out of Kinfolk, you won't be disappointed.
How it works
The Collective Child deems itself a membership service, so once you become a member you can select whether you want to receive monthly, quarterly, or just on-demand boxes. When you sign up, your membership has to be approved—which felt oddly exclusive and takes about three business days. Once my membership got approved, it took another two-and-a-half weeks to receive the box, which was exceptionally slow, so if you're planning to order a Collective Child box in advance of a specific event, plan accordingly and allow plenty of time.
One of the aspects I liked best about The Collective Child is that they sent both Noah's and Rose's fashion picks in the same box. Each of their selections was wrapped in separate bundles that were tied with bows, but I appreciated that less garbage was generated by their combining the two orders into one.
What it costs
The Collective Child charges a $20 styling fee for each box, the cost of which is then credited towards any clothes that you keep over $20. Shipping is free both ways.
Noah's Collective Child Box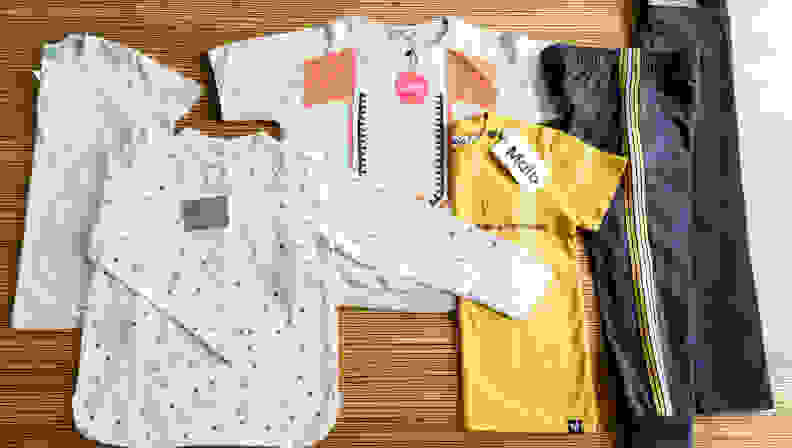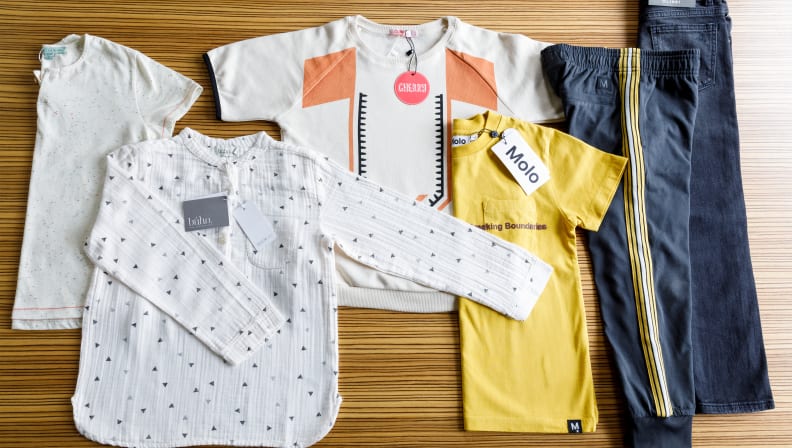 Molo sweatpants: $56
Molo "Breaking Boundaries" T-shirt: $47
Cherry Papaya short-sleeved sweatshirt: $44
DL 1961 jeans: $55
Grace funfetti T-shirt: $28
Buho long-sleeved henley: $75
Overall, Noah was not a fan of the items he received from The Collective Child. I can't say that I blame him—the mustard yellow and white theme wasn't especially appealing—and other than the one pair of Molo track pants, there was little to love in his half of the box.
On a whole, the quality of the clothing was excellent, and the higher pricing didn't seem completely out of line when I took into account the caliber of the fabrics. Everything fit Noah well, but the styles were strange, and not pieces that I could see appealing to the average kid's tastes.
I can absolutely understand fashion-forward parents dressing their babies and toddlers in these sorts of quirky styles, but now that my son is old enough to be conscious of—and picky about—what he wears, there was no way he would go for these sorts of not-seen-on-the-playground togs.
Rose's Collective Child box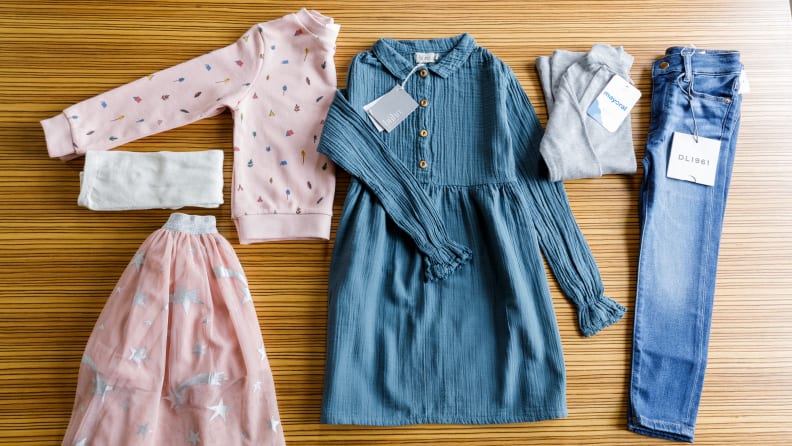 Stella McCartney skirt: $108
Mayoral turtleneck: $18
Grace T-shirt: $28
Buho Milena dress: $79
Cyrillus Paris pink sweatshirt: $55
Mayoral off-white knit tights: $12
DL 1961 jeans: $55
I have a very expensive obsession with European children's clothing, so Rose's Collective Child selections were right up my alley. I don't think that she was as in love with all the pieces as I was, but on a whole she was very pleased with what was included. Her favorite item—not surprisingly—was the Stella McCartney tutu skirt with silver stars, but it was way too expensive at $108.
The clothing choices for Rose seemed much more appealing for kids than Noah's did, and I felt that she would have gotten a lot of use out of almost everything had we decided to keep the items.
The verdict
The Collective Child is definitely not the type of kids' clothing subscription box that will have wide appeal, but if you're interested in discovering new-to-you brands and truly unique clothing pieces, you won't be disappointed. One of the best things about The Collective Child box is that it introduced me to a number of under-the-radar European brands that I would otherwise never have known about.
3. Rockets of Awesome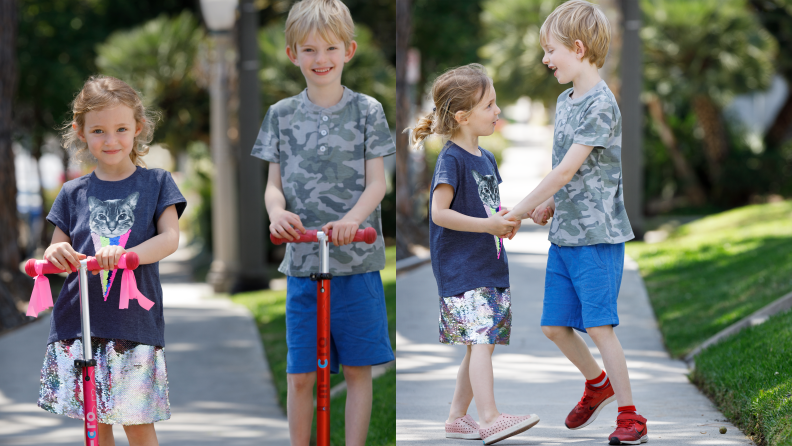 Rockets of Awesome does a lot of social media advertising, which is how I heard about it initially. The company was started by a mom of two kids, and is the only subscription clothing box that manufactures their own private-label garments. According to their site, all of the clothes are designed in-house, so you won't receive any recognizable brands in your box, though the clothes on the whole were nice quality.
Worth noting: Rockets of Awesome sizing runs really big, so definitely size down when you input your child's style profile.
How it works
If you sign-up for the Rockets of Awesome subscription, you'll receive a new box every season, or four times per year.
They also offer the option to preview what they've selected for your box, so that you can say "no thanks" to anything that you or your kids don't particularly like. I loved that we had a chance to get a sneak peek at what they planned to send, because there were a few items that both I and my kids didn't like, and we were given the opportunity to swap those out for similar pieces that were more in line with our tastes.
What it costs
Rockets of Awesome charges a $5 styling fee for each box, the cost of which is then credited towards any clothes that you keep. You also get a $20 discount if you keep everything from your box.
Noah's Rockets of Awesome box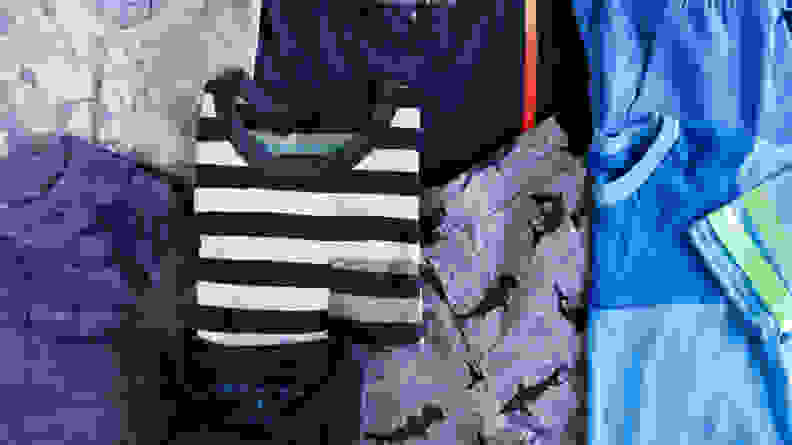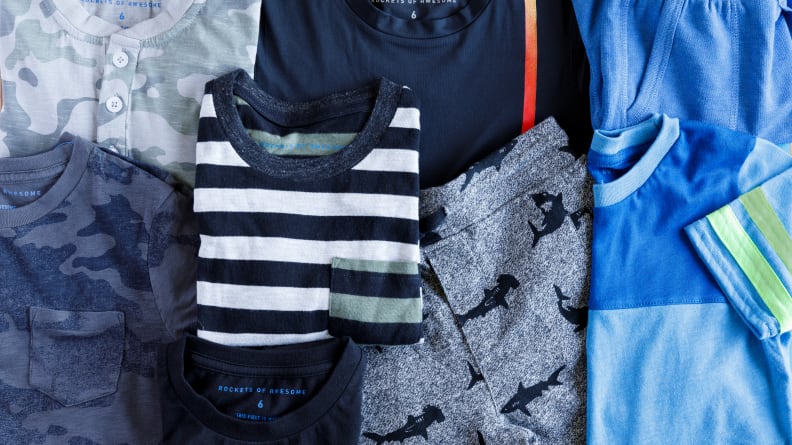 Shark shorts: $22.50
Ombre black T-shirt: $22.50
Heather blue shorts: $19.50
Colorblock T-shirt: $19.50
Camo henley: $24.50
Jet ski black T-shirt: $19.50
Stripe on stripe T-shirt: $22.50
Blue camo T-shirt: $19.50
Noah liked his Rockets of Awesome box the best of all the clothing subscription boxes we received. I was really pleased that Rockets of Awesome actually tried to send items that aligned with the detailed style profile I filled out upon signing up. Noah's box did not include any sports-themed clothing or any track shorts, and almost everything was soft and to his liking.
The one issue that we encountered had to do with their generous sizing—some of the shorts were simply too big around the waist, and they didn't have functional draw strings. That was a relatively minor complaint overall, especially since Rockets of Awesome offers the ability to exchange items for alternative sizes.
Rose's Rockets of Awesome box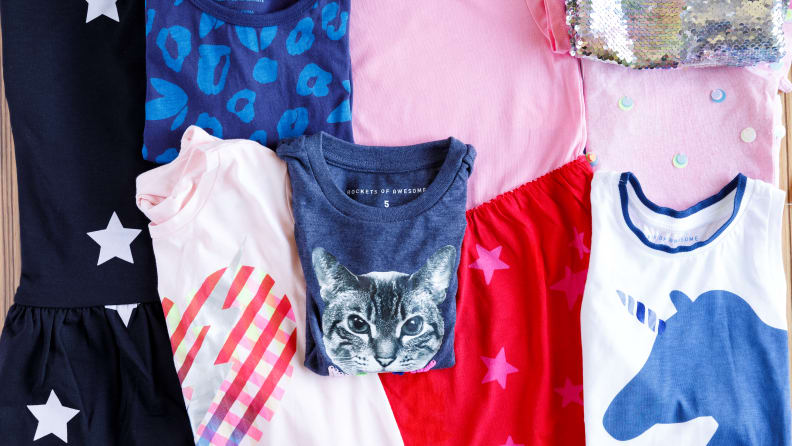 Black dress with stars: $29.50
Pink and red star dress: $29.50
Blue leopard print dress: $29.50
Sequin flip skirt: $34.50
Unicorn tank top: $22.50
Heart T-shirt: $24.50
Kitty cat sequin T-shirt: $22.50
Pink top with embellishments: $24.50
Any apparel with sequins—especially if they flip—is a hit with Rose, so she was a big fan of the contents of her Rockets of Awesome box. Right off the bat I was excited about the three dresses that were included in her box, because they were soft (one of Rose's requirements) but also nice enough quality that they could be worn for both every day and more dressy occasions.
Unfortunately, the sizing runs so big in the girls clothing that everything Rose tried on looked baggy and unflattering. When I entered her sizing into her style profile, I requested size 5, but kids clothing sizes tend to be brand-specific, so a 5 in one can run like a 7 in another. Now that I know how roomy the Rockets of Awesome cuts tend to be, for future orders I'll adjust Rose's sizes to reflect that.
The verdict
I found the pricing of Rockets of Awesome a bit high. The price point of the dresses is in line with what one would pay at Gap, but spending more than $20 for a T-shirt isn't practical—or affordable—for many families. I didn't feel that the pieces were unique and special enough to warrant blowing out the monthly clothing budget, but I did appreciate that the Rockets of Awesome boxes were well-styled and carefully honed to the guidelines of each child's specific tastes.
4. Kidbox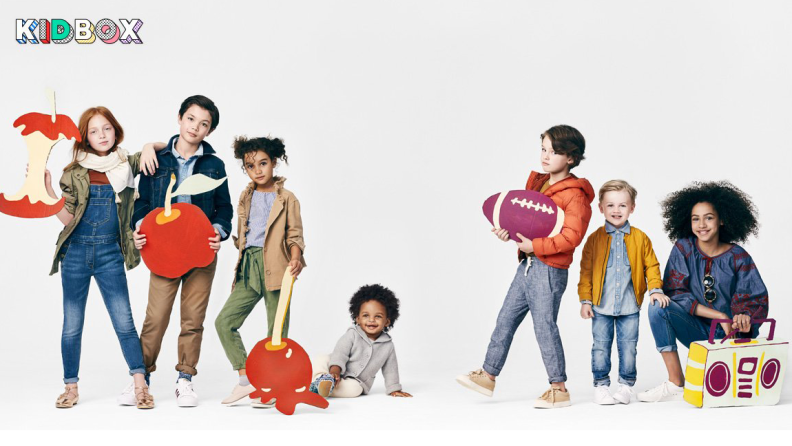 If you need a reason to subscribe to Kidbox, let it be this: The company has partnered with Delivering Good, a nonprofit dedicated to providing new clothing to children in need. Each time a customer purchases an entire Kidbox, a new clothing item is given to a child in need through a charity of the the customer's choice. With a goal of providing clothes to over one million needy kids, this is shopping you can actually feel good about.
How it works
Kidbox offers two different box options: a seasonal box that you can try on and send back, and a pick your own box for which you pre-pay and keep every item. I accidentally signed up for one seasonal box and one pick your own box, because the Kidbox site isn't super easy to navigate, which made it difficult to tell exactly what I was signing up for. Thankfully, the Kidbox Customer Service department let me return the items from the pick your own box once I explained that I had ordered it in error.
What it costs
There's no styling fee with Kidbox, and all of the seasonal boxes cost $98 (plus applicable tax) if you decide to keep every item. Shipping is free both ways.
Noah's Kidbox
Penguin red drawstring shorts: $27
Silver Jeans hashtag button-down shirt: $27
Joe's Jeans green twill short: $19
Hudson denim shorts: $27
Splendid camo T-shirt: $21
French Toast striped tank top: $6
The pieces included in Noah's Kidbox were from well-known, quality brands. Overall, the styles were slightly on the preppy side, but the camo T-shirt from Splendid is something that Noah likely would've picked out himself.
I thought the pieces were well-priced for brands that tend to be more high-end, but Noah wasn't thrilled with anything from this box. Fit was an issue with both the jean shorts and the twill shorts—they were too big in the waist—and the fabrics weren't soft enough for my finicky child.
Rose's Kidbox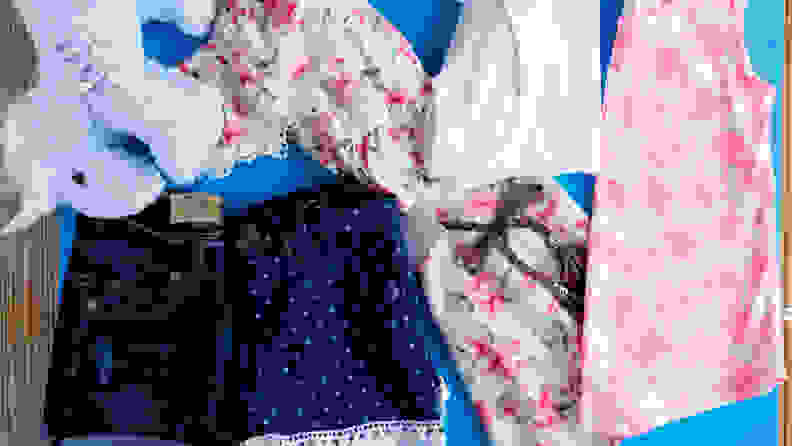 Silver Jeans denim shorts: $25
Appaman pink palm tree tank: $27
Vigoss polka dot lace short: $18
Toby & Company unicorn purse: $13
Lavender belted floral dress: $40
French Toast ruffle sleeve tank: $7
The first thing Rose saw when she opened her box was the unicorn purse, so right away she was a big fan of Kidbox. I liked that they included an accessory, because it's not the type of item I would normally remember to shop for, but is likely something I would need at the last minute before some sort of event.
In general, I didn't think that the items in Rose's box were all that unique or fashion-forward, and only one of the brand names was recognizable. Rose vetoed all of the shorts due to the stiff fabrics, and while she liked the floral dress, I thought the fabric looked cheap and that it was overpriced.
The verdict
I love the mission of Kidbox, but the items we received didn't really align with the kids' style profiles. The price for the seasonal box—six new items of clothing, all from recognizable brands—for under $100 is a good deal. The added convenience of not having to go shopping with children makes Kidbox a sanity and time saver, especially for those whose kids prefer more tailored looks.
5. Kidpik
When we tested, Kidpik only offered clothing subscription boxes for girls, which resulted in a lot of whining from Noah about things "not being fair." Kidpik now offers boxes for both girls and boys, and offers clothes in sizes toddler to tween.
How it works
Kidpik is a subscription service that offers subscribers the choice of receiving a box every one, two, or three months. The website says that you can "pause, skip, or cancel at any time," but it was very difficult to figure out how to cancel my subscription. I spent no less than 20 minutes searching through the Kidpik site before finally giving up and emailing customer service.
What it costs
There is no styling fee, and shipping is free both ways. Once you receive your box, you have seven days to try it on before it needs to be returned. Each Kidpik box includes five pieces of clothing, a pair of shoes, and an accessory. If you keep everything from the box you get a 30% discount, and each Kidpik comes with a free gift in a cute fabric bag—Rose received a beaded bracelet.
Rose's Kidpik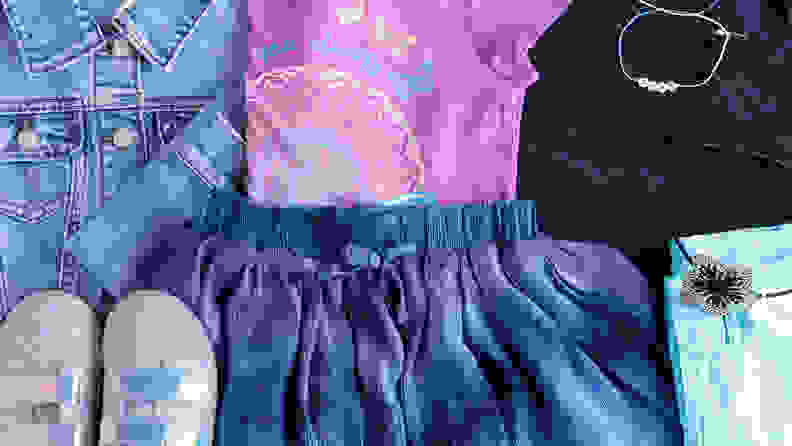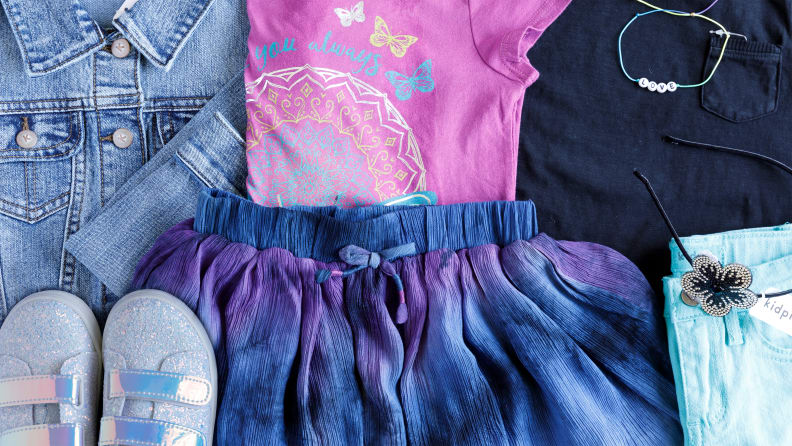 Jean jacket: $29.50
Butterfly T-shirt: $12.50
Black tank top: $9.50
Tie-dye skirt: $25.50
Blue Bermuda shorts: $19.50
Rhinestone flower headband: $6.50
Glitter sneakers: $36.50
If I were to describe the style of Rose's Kidpik box, I would call it "Jojo Siwa with a sprinkle of Justice." Naturally, this was very appealing to my sparkle-loving 7-year-old, less so to yours truly. While I didn't love the general style of Rose's Kidpik box—I didn't feel that it hewed very closely to the guidelines I took the time to input—the pieces on the whole were of decent quality and the tie-dye skirt was really cute. The jean jacket and Bermuda shorts seemed like odd choices given that I clearly stated that Rose only likes soft clothes, but the glitter sneakers were a good price, though way too big.
The verdict
I wish that Kidpik didn't send a pair of shoes and an accessory in each box, because shoes tend to be hard to fit, and kids don't really need monthly shipments of headbands. However, if you have a tween girl, and you want to maintain some control over her sartorial choices, Kidpik is a reasonably-priced and practical option.
The product experts at Reviewed have all your shopping needs covered. Follow Reviewed on Facebook, Twitter, and Instagram for the latest deals, product reviews, and more.
Prices were accurate at the time this article was published but may change over time.