The company's new marketing campaign for American consumers is leaning into that unfamiliarity: Hisense is introducing itself as "the biggest company you've never heard of."
While its TVs have been on sale in the U.S. for a few years, Americans now get to try out home appliances—starting with the Hisense RF20N6ASE (MSRP $1,099). It's a stainless steel, counter-depth, French door fridge, and it costs far less less than every other comparable model we've tested.
Although it has limited availability and feels cheaper than a lot of its competitors, established appliance manufacturers should dismiss this fridge at their own peril. Just as LG and Samsung's brands grew from sparks to flames over the last ten years, we suspect the first refrigerator Hisense sells in the U.S. won't be its last.
Since the RF20N6ASE (MSRP $1,099) is the first Hisense large appliance being sold in the United States, we wanted to give it the full scientific treatment. After a week in our labs, we've come to the conclusions that—at least from a data-driven standpoint—it's actually pretty darn good.
There's no question: This Hisense nails fresh food preservation. Our sensors recorded average fridge temperatures of 36.72°F at the top, 37°F exactly in the center, and 38.05°F down by the crisper. Throw in an average fluctuation of just ±0.13°F over time, and you've got truly amazing performance.
The freezer was almost as good. Deviation over time was similarly positive at just ±0.1°F. However, it ran a bit warm: We had it set to 0°F, but our sensors recorded average temperatures of 2.65°F and 3.67°F at the top and bottom, respectively. Turn the freezer down about three degrees for optimal performance. Additionally, it took 1 hour and 31 minutes for our sensors to go from room temperature to 32°F—solidly average.

Hisense has been selling products here for years, but usually under another name: the Best Buy-specific Dynex and Insignia brands, for instance, were made by Hisense. As of 2015, Sharp-branded TVs are now Hisense products.
Still, it wasn't until 2013 that Hisense-branded TVs started popping up in American stores. They usually feature forward-facing tech like 4K streaming and built-in Roku, matched with low, low prices.
Hisense is taking aim at the American appliance market, and if this fridge is any indication, it's using a similar strategy.
Hisense is just one of many Chinese appliance companies aggressively pursuing the U.S. market.
Hisense is just one of many Chinese appliance companies aggressively pursuing the U.S. market. Haier bought its way in to American homes and retailers by acquiring GE Appliances. Midea is going the stealth route, building a few products for other manufacturers while beefing up its own American R&D centers. It remains to be seen which strategy will pay off.
On the flip side of things are the Hisense's two crisper drawers. Over the course of three days, our test materials lost an average of 0.26 grams of moisture per hour. That's definitely on the worse end of the spectrum, and not a great sign for salad lovers.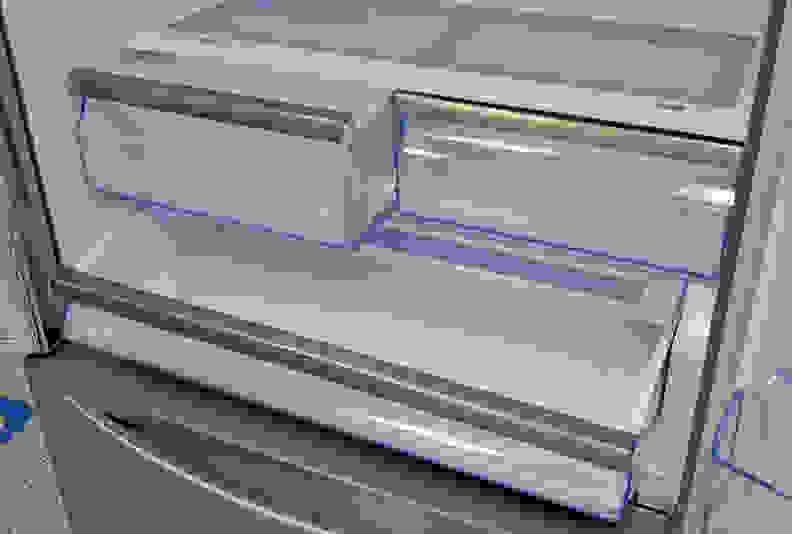 At first glance, you might mistake the RF20N6ASE for a run-of-the-mill Frigidaire or Whirlpool. The stainless steel finish is pretty conventional, and the French door design is attractive even without a through-the-door dispenser.
The control panel looks like any other fridge touchscreen, but it's substantially less responsive. It felt frustratingly hit or miss in terms of how much pressure needed to be applied. Sometimes it would respond, and sometimes we wanted to punch the console right in its shiny LEDs because it just wouldn't register.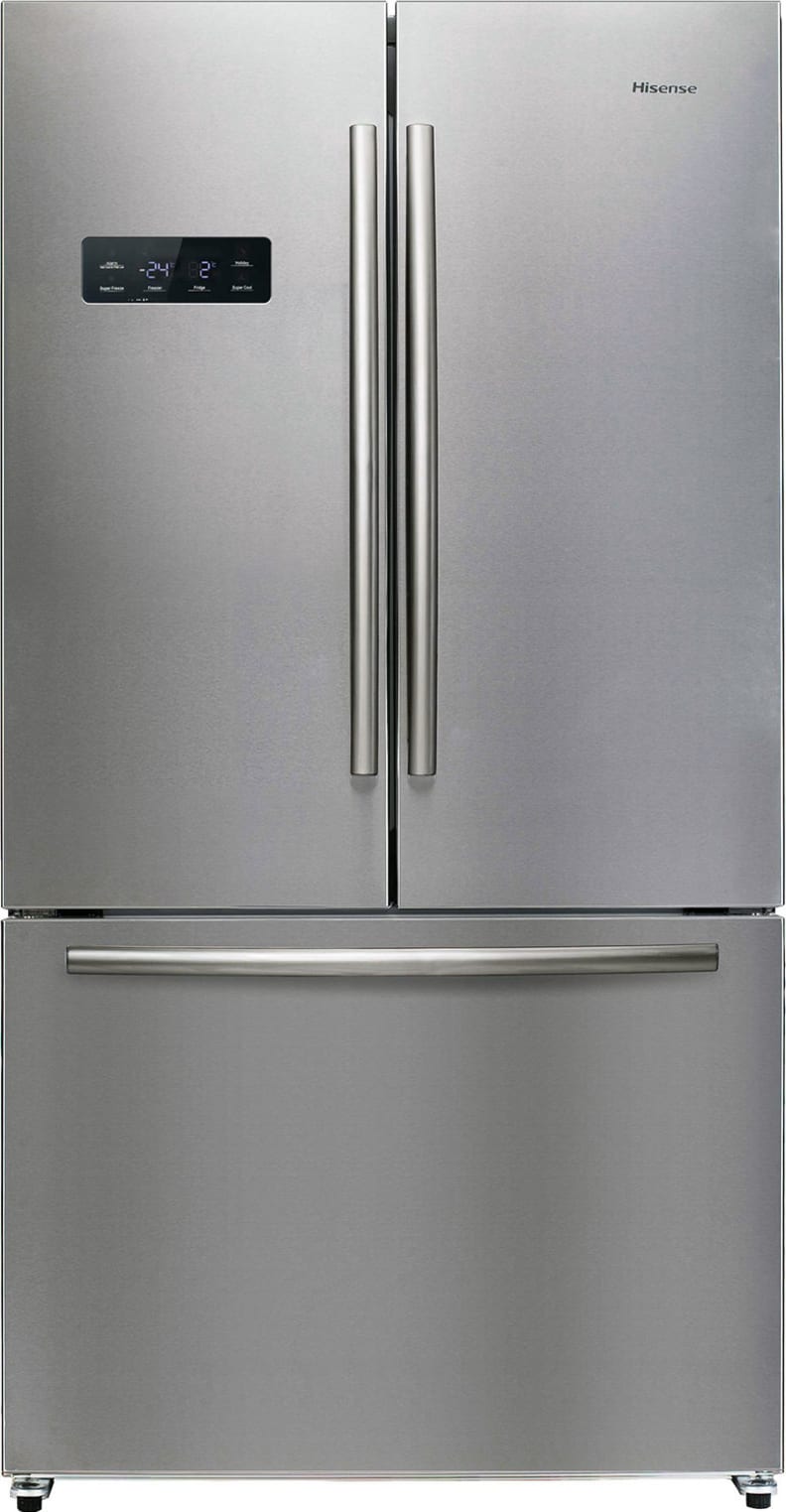 ×
Design
Inside, silvery shelf trim and blue-tinted plastic actually give this product an upscale sheen. Full-width shelves don't offer as much customizability as we're used to seeing in a counter-depth fridge, but then we're also not used to seeing one that costs so little.
The pullout freezer keeps things organized with three separate drawers. However, we found that those drawers felt loose and often shimmied while closing, eventually getting stuck on one side. This was also true of the drawers in the upper compartment.
There's no ice maker in this model, but it does feature an awkward plastic box with two built-in ice trays. You fill them with water, then twist to release the cubes. It's a common design in Europe and Asia, and we've actually seen it before. But its location at the bottom of a pullout freezer is awkward, with the bin either blocking or being blocked by food.
As with every counter depth fridge, there's not a ton of space inside this Hisense. However, it uses what it has well: The upper section offers 11.48 usable cubic feet of space, while the three freezer drawers serve up 4.03 usable cubic feet. That second measurement was calculated without the ice bin; if you want to use it, keep in mind that it does take up a fair amount of space.
Since there's no ice or water dispenser on this model, we weren't surprised that it used minimal amounts of energy. We were surprised, however, that it only need 0.05 kWh to cool each usable cubic foot, making this one of the most efficient fridges we've tested. At a fixed rate of $0.09 per kWh, that comes out to roughly $26.21 a year.
×
Storage
For all its hands-on hiccups, the RF20N6ASE actually performed really well. Temperatures were stable, energy consumption was low, and the fresh food section more or less nailed a perfect 37°F. The crisper drawers barely retained
any
moisture, though… and unfortunately there's nothing you can do about that.
Should anything go wrong, you're covered by a two-part warranty: The entire fridge gets one year parts-and-labor coverage, while the sealed cooling system gets it for five. If user reviews from Canada (where this fridge is already for sale) are any guide, there's a chance you might need it—five out of six reviewers claimed their fridge broke within the first year of ownership.
Since this is the first Hisense appliance in America, it's hard to say what kind of support network will be in place.
Of course, since this is the first Hisense appliance in America, it's hard to say what kind of support network will be in place to remedy any complaints—and that's important. Most appliances need some repair, and long-established companies like Whirlpool and GE or retailers like Sears and Best Buy pride themselves in rapid, in-home repairs.
That's why Hisense's fridge will initially only be on sale at dealers in the Southeastern states—close to Hisense's U.S. headquarters in Suwanee, GA. We suspect that authorized retailers have be carefully selected for their ability to repair the product should something go wrong, and early adopters may double as beta testers.
For in-depth performance information, please visit the Science Page.
In the end, we don't think Electrolux and LG should be quaking in fear over the RF20N6ASE. A price tag of $1,099 for a stainless steel counter depth French door is amazing, but a fridge with limited distribution and a cheap-feeling interior might not be a worthwhile tradeoff for consumers.
We think most Americans will stick with more established brands for now. That said, it seems likely that some budget remodelers will be willing to take a risk. After all, $1,099 is a shockingly low price for a conventional and attractive appliance. If Hisense can figure out ways to improve quality and expand distribution, the company's TV success story may just repeat itself in the kitchen.
Meet the tester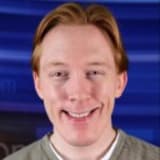 Matthew Zahnzinger
Logistics Manager & Staff Writer
@ReviewedHome
Matthew is a native of Brockton, MA and a graduate of Northeastern, where he earned a degree in English and Theatre. He has also studied at the Gaiety School of Acting in Dublin and spends most of his free time pursuing a performance career in the greater Boston area.
Checking our work.
Our team is here for one purpose: to help you buy the best stuff and love what you own. Our writers, editors, and lab technicians obsess over the products we cover to make sure you're confident and satisfied. Have a different opinion about something we recommend? Email us and we'll compare notes.
Shoot us an email