We have Keurig for coffee and Sodastream for carbonated beverages—we even have a different Keurig for cocktails—so why not automate the beer brewing process too?
Well, that's exactly what PicoBrew is doing. The company has spent the last few years perfecting a line of beer-making home appliances, and its latest iteration—simply dubbed the "Pico"—may be one of the most innovative home appliances we've ever seen. No surprise it won one of our CES Editors' Choice Awards.
The idea of the automatic home brewing appliance is not exactly new. PicoBrew released a pricey, all-grain brewing device in 2013 (the Zymatic), and the Brewie offers a similar experience at a similar price point. But the Pico is the most fully realized version of the concept—a versatile, affordable brewing appliance that serves the educational interests of beginners and the practical interests of experts. And that's not the only bridge it builds: the Pico also features an online marketplace and social network that connects home brewers with craft breweries, allowing the two to exchange ideas and even collaborate on recipes.
Design
The Pico is swathed in sheets of stainless steel and looks sort of like an oven or countertop dishwasher. It's definitely an appliance. The center bin rolls out to reveal a slot for PicoPaks—the pre-packaged ingredients used for brew recipes. PicoPaks are purchased separately and can be ordered from Pico's BrewMarketplace.
PicoBrew casually points out the Pico is also a sous-vide cooker.
PicoBrew casually points out the device is also a sous-vide cooker—a point that, if you were't yet sure, may help you realize this is a pretty awesome product.
The front of the machine features a monochrome LCD used to control the parameters for each brew and to indicate the various temperature readouts for the brewing process. It uses a heat exchanger to regulate temperatures, which is actually a pretty nifty feature to help ensure precision heating. This is critical during the mash (the stage when the sugars in the grain are separated prior to boiling). Variables of just a single degree can affect the efficiency of the fermentation process, so it's essential that any kind of home brewing appliance is able to reach and maintain precise temperatures.
At 32 pounds, it's not exactly a portable appliance, but it will fit into any basement brew lair and maybe even your kitchen itself. After all, you won't have to worry about the mess of a traditional home brewing setup.
The overall footprint of the device isn't very big either, which may surprise homebrew nerds who are used to working with steel kettles and glass carboys. But it's only small because the batches involved are a mere five liters—perfect for experimenting and testing out new ideas, which brings us to the most important question: Who exactly is supposed to use this thing?
Who is this for?
Given the fully automatic nature of the Pico, you'd think the machine is targeted at beginners—people who want to brew their own beer but don't really know where to start. After all, it's quick, clean, and compact—characteristics rarely found in the world of home brewing. However, it's for those very reasons we think this machine would best suit an experienced brewer.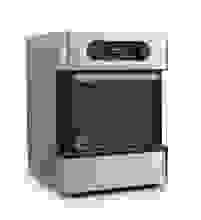 Because the actual brewing process is shielded behind a frame of plastic and stainless steel, you're not likely to learn as much as you would with a home brew starter kit, which will take you through mashing, boiling, hopping, chilling, pitching, fermenting, and bottling—as opposed to the Pico, which does all this for you.
So why would an experienced brewer, who likely owns all manner of brewing equipment, want the Pico? Because it allows them to test and tweak their recipes, and to quickly produce small batches in preparation for larger ones. In essence, it provides a valuable tool for scaling up operations.
Brewmasters at small and large commercial breweries are known to break out their home brewing equipment as a means of testing or experimenting with new recipes that may not be ready for large-scale production. The Pico can serve the same purpose, as it produces even smaller batches than the five-gallon yields produced by most home brew recipes.
To be clear, that doesn't mean novice or amateur brewers won't appreciate the Pico. It can be a vital tool for parties and supplying your home with a constant supply of fresh beer.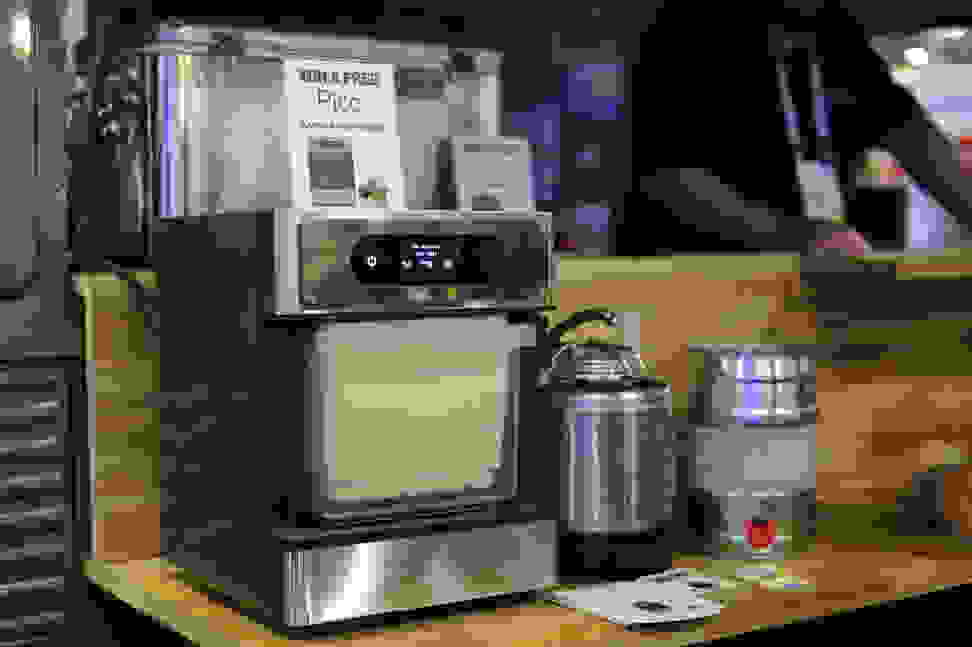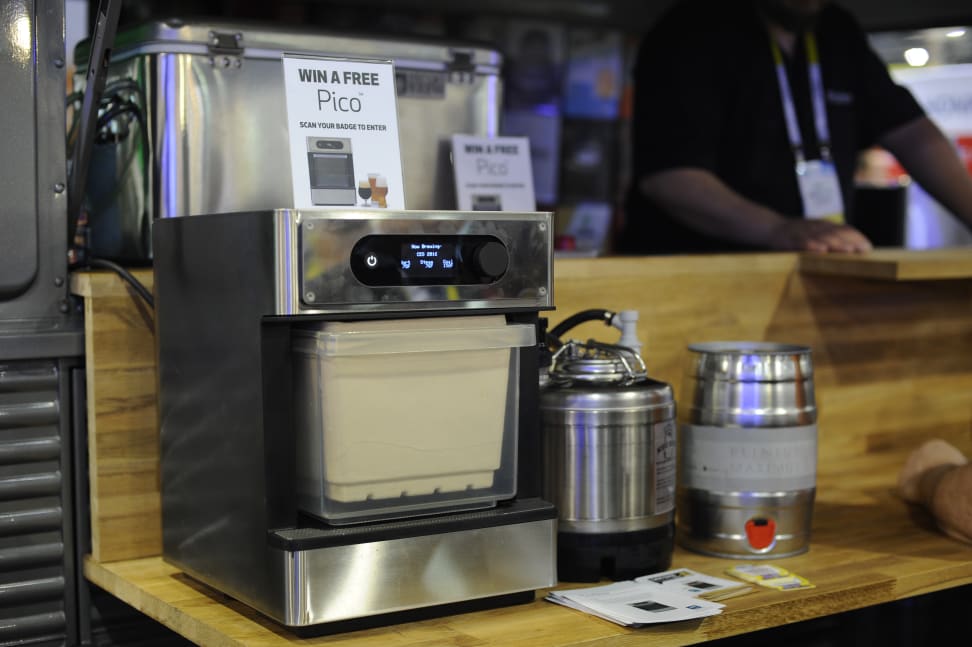 How it works
Just like a Kuerig machine, the brewing process is completely autonomous. You can use the controls to fine-tune each brew and even create your own recipes with Pico's online recipe crafter. And that's really where the comparisons to Keurig machines end. Because the recipes can be tweaked and customized, the amount of creativity involved is almost on par with a standard home-brew operation. WiFi compatibility means you can download new recipes directly onto the machine and that, hopefully, the software will be periodically updated.
So how does it work? Users simply place the PicoPak into the bin, tweak their preferences (hop bitterness, mash characteristics, etc.) and hit the PicoBrew button. Two hours later, out comes freshly brewed wort (the term used to describe pre-fermented beer). The wort is then transferred from the brewing keg to the dispensing keg and cooled. After the yeast is pitched, the wort requires about a week or so to ferment. A small, recyclable CO2 cylinder is included to carbonate the beer after all is said and done. Congratulations, you now have beer.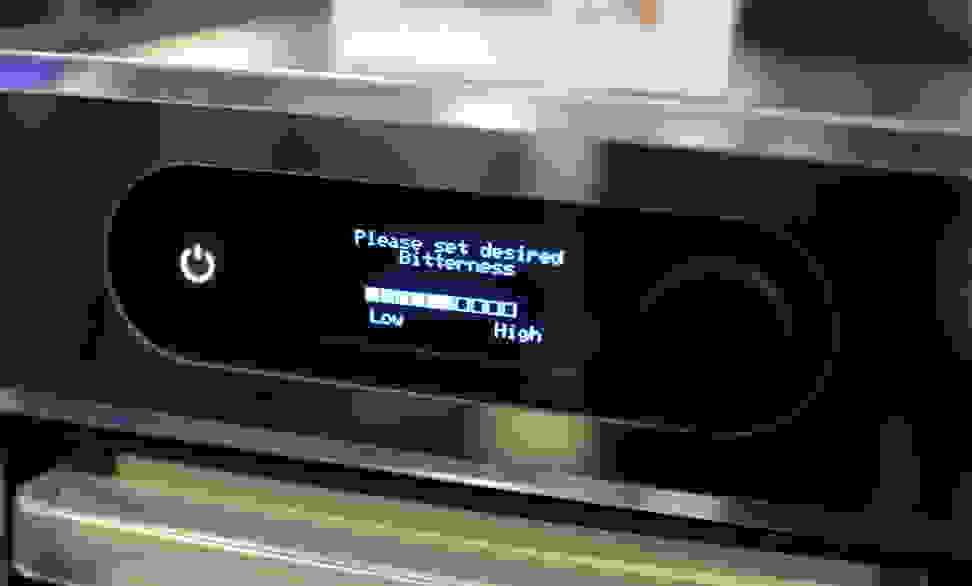 The BrewMarketplace
This is one of our favorite things about the Pico. The BrewMarketplace is the main resource for purchasing PicoPaks and other Pico-related products (kegs, fermenters, CO2 regulators, tubes, etc.). It's also a sort of social network for brewers. Pico owners can use the forum to exchange and download new recipes and offer feedback on each one. Essentially, that means professional brewers can use it to crowdsource ideas and even collaborate with their fans on new recipes. This changes the game entirely.

Who knows if the Pico will reach the critical mass necessary for such a community, but the company claims there are already more than 80 craft breweries involved. Familiar brands like 21st Amendment, Rogue, and Abita are all selling PicoPak recipes for some of their most famous brews as well as new ones. That alone seems worth the price of admission. The ability to brew up your very own Dead Guy Ale, and to tweak it as you see fit? Sign us up.
PicoBrew is currently taking pre-orders for its fully automatic brewing appliance and expects the first wave of orders to ship this May. It will retail for $699.
Related Video
Our editors review and recommend products to help you buy the stuff you need. If you make a purchase by clicking one of our links, we may earn a small share of the revenue. Our picks and opinions are independent from any business incentives.