Refrigerators
These are the best refrigerators of 2017
Looking for a new refrigerator? These are the very best we tested this year.
You might assume that all refrigerators are the same—boring boxes that keep food cold. But there are big differences between these similar-looking appliances.
How do we know? Well, we've tested over 200 fridges in our labs in Cambridge, MA. We evaluate how evenly they cool, whether they keep food at safe temperatures, and how much food they actually fit—not just what the manufacturers say.
Along with user reports of reliability, we used that data to pick the best fridges for your hard-earned money. Here they are.
Best Refrigerator: GE Appliances Café CFE28TSHSS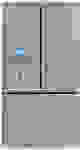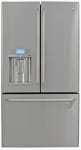 This is the fifth year we've given our top award to a GE Appliances French door refrigerator. The CFE28TSHSS once again earns our praise thanks to even cooling and superior food preservation. That's the longest streak of any product we've ever tested.
We like that this GE comes with a built-in hot water dispenser, and how its dual-evaporator design keeps food fresh in both the fridge and the freezer.
Owners speak highly of the temperature-controlled deli drawer and bright LED lighting. And if you like to see a Made in USA label, this fridge is built at GE's Appliance Park factory in Louisville, KY. Read our full review.
Best Fridge for the Money: Samsung RF260BEAESR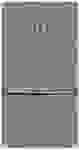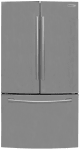 You don't have to spend a lot to get a great French door refrigerator. This affordable Samsung costs less than half what our winner does, and also does a great job preserving fresh and frozen foods alike.
No, it doesn't come with adjustable temperature compartments or a through-the-door ice and water dispenser—features reserved for pricier models. But this affordable Samsung does keep fresh food at eye level and give your kitchen an updated look. Read our full review.
Best Basic Refrigerator: Samsung RT18M6215SG/AA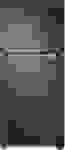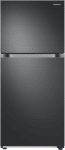 If you're looking to replace your basic fridge—freezer on top, fridge below—this Samsung is the best value out there by far.
Most top-freezer fridges look and feel cheap, and struggle to keep consistent temperatures. But the RT18M6215SG/AA has dual evaporators, a feature usually found in fridges that cost three times the price. That means fresh foods stay fresh, and frozen foods don't get freezer burn.
In addition to the classy exterior design that comes in both traditional stainless and black stainless, the freezer can convert into additional fridge space—which makes it great for a garage or game room. Read our full review.
Best Best Counter-Depth Fridge: GE Appliances GYE22HSKSS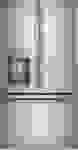 As the name suggests, counter-depth refrigerators are designed not to stand out as far from cabinets and counters. They save space in cramped kitchens, and offer a more integrated look.
It's no surprise this GE is our top-rated counter-depth model. That's because it's identical to our top-ranked French door—just not as deep. It's made in the same factory in Louisville, KY and it comes in a unique Black Slate finish, too.
Basic models have plain doors, while others offer hot water dispensers with a K-Cup coffee maker built in. Read our full review.
Best Refrigerator Innovation: LG InstaView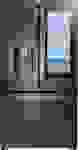 If your kid or significant other ever leaves the fridge door open just to see what's inside, you'll appreciate this energy-saving innovation from LG.
Called InstaView, it's a pane of glass on the refrigerator door that turns transparent when you knock on it. Unlike other glass-front fridges, it's only see-through when you want it to be—so nobody else has to know what's in there, or how messy it is. Read our full review.