Refrigerators
Ask the Experts: Why can't I buy a colorful fridge?
This week: Exact dimensions, new colors, and third racks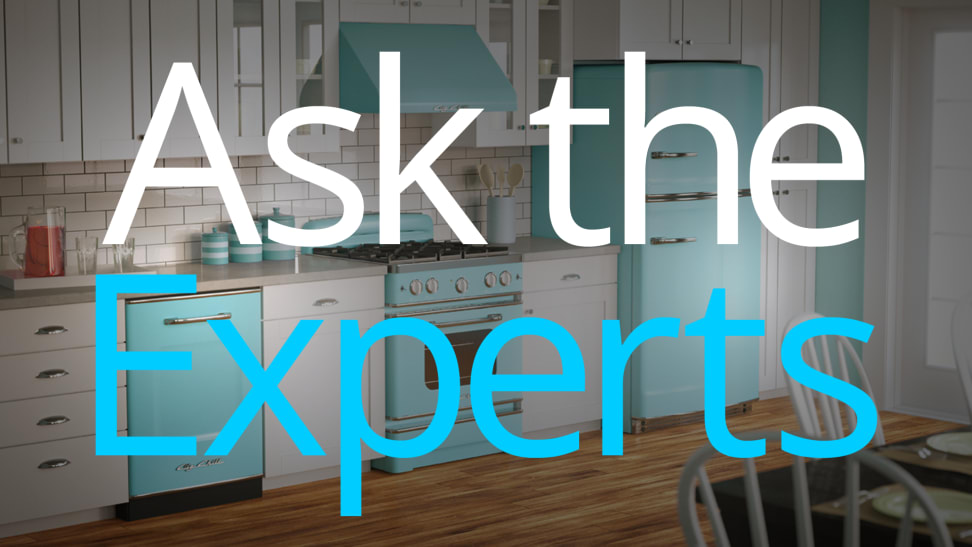 Credit: Big Chill
At Reviewed.com, our team of expert reviewers has a wealth of knowledge that you can lean on. If you have a question about electronics, appliances, or virtually anything else you can buy, send an email to asktheexperts@reviewed.com. We can't answer your etiquette questions or help you find love, but we can make you a more educated consumer.
This week's questions are all about new products—from specs and sizes to pricing and availability. We had to do a little research to dig up some answers, but we hope that sharing our results can help more consumers.
The measure of an Electrolux washing machine
Deb asks:
"I am waiting anxiously for the new Electrolux laundry line to debut. Do you by any chance have the exact measurements for the new models?"
Well, Deb, we've been excited to test them ever since we got our hands on a pre-production unit ahead of Design and Construction Week and came away impressed.
Now we've spent some time with them in our labs and can confidently say the new products not only look great, but they also get our full recommendation. In fact, the Electrolux EFLS617SIW is one of our top-rated washing machines, with the best heavy duty stain removal we've ever found.
Depending on what you're looking for, LG front loaders and Kenmore Elite front-load machines (they're made by LG) can still have a slight edge on capacity and cycle time. For instance, the Electrolux took just over 50 minutes to wash an 8 lb. load on the Normal cycle, while LG's Turbo Wash/Kenmore's Accela-Wash can deliver the same clean in just 30 minutes.
On the other hand, the Electrolux has a great 15-minute Fast cycle for small loads, and you may prefer how the Electrolux premixes detergent and additives with an initial spray for more even coverage. It also makes a great pair: Our full review of the matching dryer is coming soon, and I can assure you it won't disappoint.
And, yes, the new laundry pairs are built to the same size as the previous models. The all-new Electrolux EFLS617SIW front-loader with steam is 27 inches wide, 32 inches deep, and 38 inches high—only a half inch deeper than its predecessor. To open the door, it requires a depth clearance of 50 3/5 inches—1/40th of an inch less than its predecessor.
You should get some help moving it, however: The unit weighs 237 lbs, plus an extra ten pounds of packaging.
Where can I find colorful refrigerators?
Like a lot of our readers, both Vivian and Jennifer want colorful refrigerators. Vivian asks:
"I have read your review about GE Blue and Red Artistry refrigerators. I am wondering if any store carries that color line. Where can I find one?"
We were excited to hear that the retro Artistry series might be getting blue and red color options. After all, there's more to the color spectrum than black, white, or stainless.
But we hadn't heard much about the new colors over the past year, so we reached out to GE. According to GE spokesperson Kim Freeman, interest didn't translate into sales. "Unfortunately, they did not do well in the trial so we are not moving forward with the colors," she said. "Consumers can still buy black and white."
So, no colorful GE fridges for the masses. But if you do want a bright splash in your kitchen, you still have options. Just be prepared to spend extra on a custom-made model from Northstar or Big Chill, or downsize to a Smeg FAB32.
Is there a dishwasher with a window and a third rack?
Angie e-mailed to ask about the new KitchenAid and Kenmore dishwashers that sport a window on the front panel.
She had heard rumors of one with a third rack, but came up empty-handed.
"Tried to find it, and got conflicting reports that the KDTM384ESS (the one we can afford) does NOT have the third silverware/utensil rack. Some say YES, some say NO."
Sorry, Angie—we got the '384 in for testing, and have to report that it doesn't have a third rack. However, there is a windowed dishwasher with a third rack. It's the KitchenAid KDTM804ESS, which retails for about $1,799 on sale—over $700 more than the otherwise-identical '384.
Third racks are great, and a windowed dishwasher certainly looks cool, but unless the price on the '804 drops dramatically we'd recommend choosing one or the other instead of both. After all, you can get a darn good dishwasher for well under $700.