Laundry
Ask the Experts: Why won't my washer fill to the top?
Our experts answer questions about washing machines.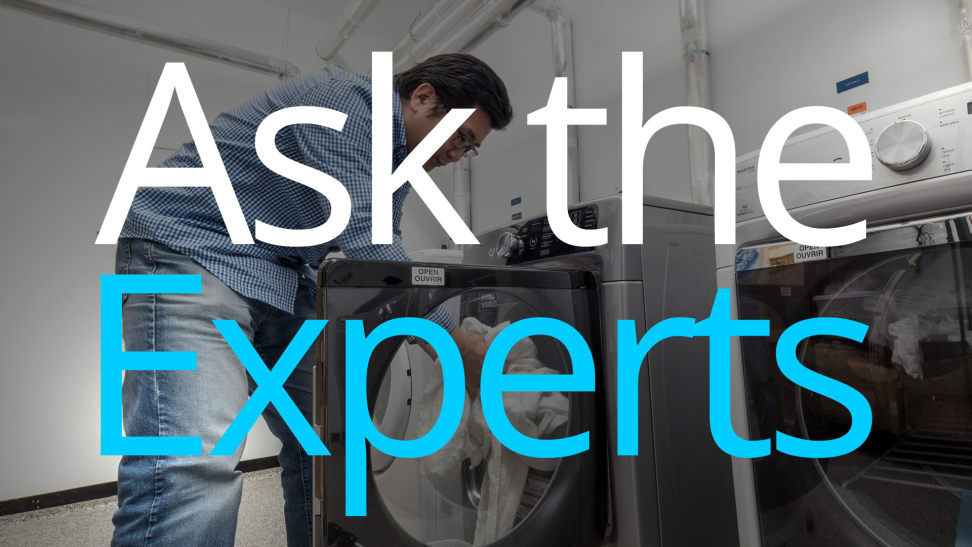 Credit: Reviewed.com / Kyle Looney
At Reviewed.com, our team of expert reviewers has a wealth of knowledge that you can lean on. If you have a question about electronics, appliances, or virtually anything else you can buy, send an email to asktheexperts@reviewed.com. We can't answer your etiquette questions or help you find love, but we can make you a more educated consumer.
This week, we've got a bunch of questions about washing machines. We're here to cut through the spin and get you some fresh, clean answers.
Washing machine advice for a growing family
Deanna's washer is having issues, so she asked us what she should replace it with.
"I was sold on the Samsung 9100AG, but keep waffling between it and the LG WM9500HVA. What would you recommend for a family of three (two adults and a stain-prone 1-year-old boy)? Should we try to wait a few months for the newer models?"
Spring is when cleaning happens, and it's also when appliance manufacturers debut new laundry machines. You can expect to see some new models from LG, Samsung (including AddWash machines), and Electrolux.
We've always liked LG front-load laundry, and other review organizations tend to agree. If you're looking for a big washer and don't want to spent $1,700 for the LG WM9500HVA, check out its predecessor, the LG WM8000HVA. It's still on sale in stores and has a 5.2-cu.-ft. capacity.
Additionally, the new Electrolux models are hitting stores now, and are actually less expensive than their predecessors. The range-topping EFLS617SIW, for instance, sells for just under $900.
If it's features you want, check out our always-updated picks for the best washers for large families. Lots of them may have the time-savers that make your life a little easier.
Will the laundry room ever smarten up?
David wants smart laundry.
"I'm looking for a front-load washer. As a tech geek, I'd really like it to be 'smart,' ideally with away from home wifi connectivity. I'd appreciate your views on whether there'll be more in the pipeline (and thus whether I should wait a little while before buying), or whether I should just get in now. If the latter, which machine?"
Aside from some Nest connectivity, we aren't seeing much development when it comes to smart washers and dryers. Those that we've tested tend to have glaring flaws—stuff like repeatedly losing connection to a WiFi network or requiring that users manually engage remote control before each cycle.
There are basically two competing machines out there. Whirlpool's WFL98HEBU has been on the market for three years—it's a lot pricier than its conventional counterparts, and it gets lousy user reviews online. Samsung's WF457ARGSWR/A2 is slightly newer, gets better user reviews, and sells for about the same price.
If you're willing to bet on a startup, it might be worth checking out Marathon Laundry. The small company makes a unique smart machine that's a combination washer/dryer, so the clothes that come out will be clean and dry.
Why won't my washer fill to the top?
Lou bought the GE GTW485ASJWS washer—a machine our reviewers highly recommended—but has some reservations.
"I am hoping the reviewer can help me. Although I have tried every which way (holding down the Deep Fill button until it beeps, or incrementally hitting the Deep Fill button), unlike what is described in this review, I can NOT get the tub to fill up to more than half-way with water."
Lou, we reached out to GE to find out what was going on. Unlike many high efficiency washers, the new GE GTW485ASJWS has a unique feature called Deep Fill that lets users fill it up with a lot of water, like older washing machines used to do. Whether that's necessary is a question for another column—we're here to make sure you got what you paid for.
Here's what GE told us:
First, make sure you have not selected Precise Fill, which automatically chooses the level of water a cycle needs. To test your washer, set the cycle to Colors Normal, then select the Tap Cold temperature selection.
Press the Deep Fill button once before starting the cycle to add 3 gallons of water at a time to the wash load. Holding the Deep Fill button for 3 seconds will sound a different tone, and fill the washer with 26 gallons of water over the course of about 8 minutes. When filled, GE says the fill line for the '485 should be 12.5"—any higher, and water would splash out of the machine.
If none of those work, you may have an issue with your water pressure, fill hoses, or washer. Contact the retailer where you purchased it or GE directly at 1-800-432-2737 for service.
Related Video