If you have a large family, then you know what you need in a washing machine—high capacity, fast cycles, and great cleaning performance. In addition to those basics, the washers we recommend here also have great features that are aimed at making the laundry doers in a big household breathe a sigh of relief. Whether it's a wash that sanitizes clothes in addition to cleaning them, or a second, smaller washer that allows you to do two loads of laundry simultaneously, we can help you to find the right washing machine for your bustling home.
Our team of laundry experts have lab-tested over 300 washers and dryers; after all those tests (and all of that laundry), our favorite washer for families like yours is the LG WM9000HVA (available at AppliancesConnection for $1,294.70). Our other picks cover a wide variety of price points and features.
(If you need a dryer that can deal with similar laundry loads as these high-capacity washers, be sure to check out The Best Dryers for Large Families.)
Want to know more about a washing machine? Just click on the product's link to read the full review.
Updated January 17, 2019
Advertisement - Continue Reading Below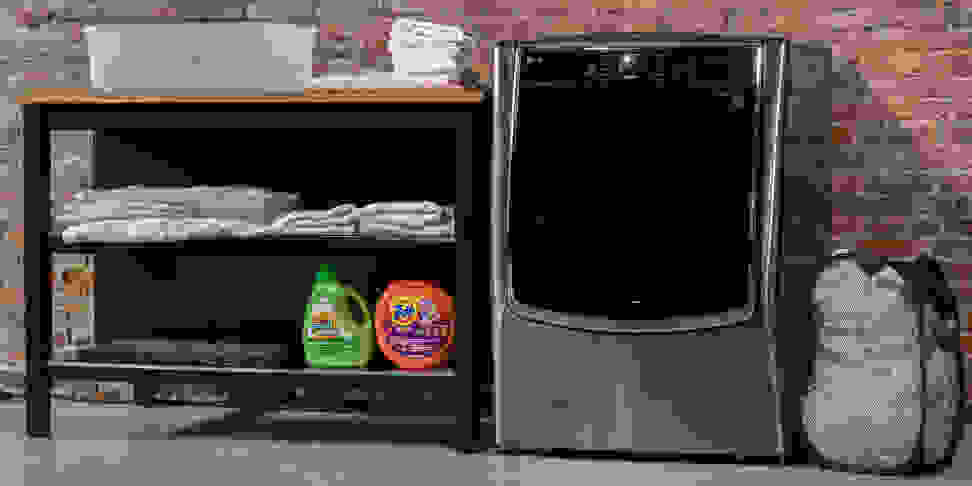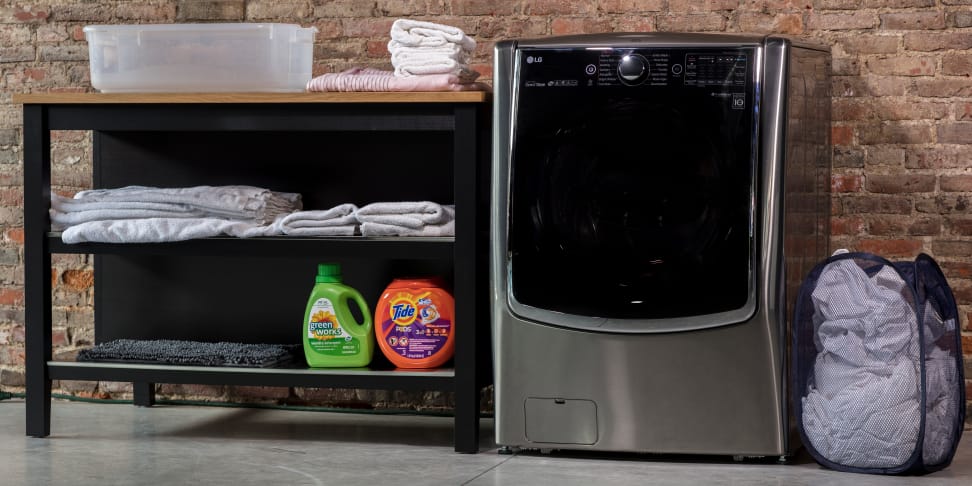 What makes a washer good for a large family?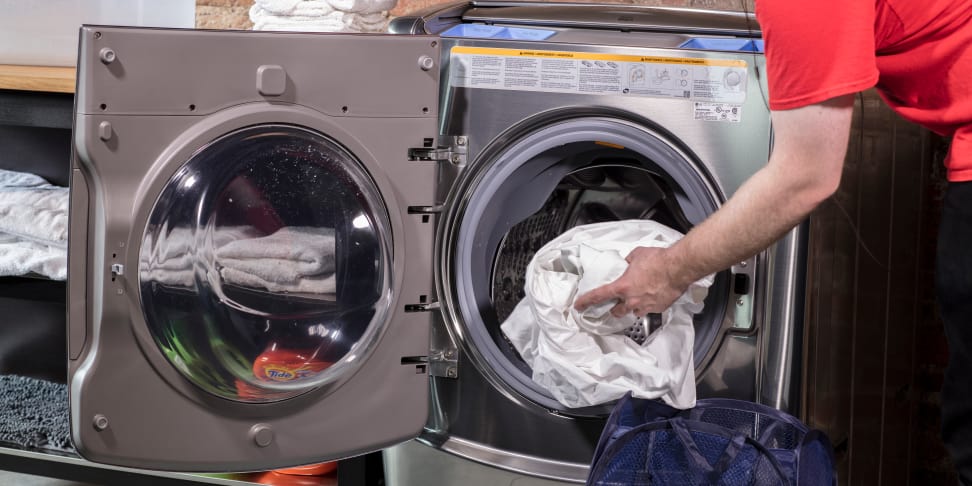 Capacity
When we recommend a washer as one that's good for large families, we're mostly looking at that washer's capacity. A washer's drum is rated in cubic feet, and the higher the number is, the more laundry you can fit into the washing machine for a given cycle.
The average washing machine has a drum capacity between 4.2 cu. ft. to 4.5 cu. ft. With this drum size, you can fit a family of four's weekly laundry load. When you have a larger family, however, chances are that you'll have bigger and more frequent laundry loads; in this case, we look for washing machines that have capacities with a minimum of 5.0 cu. ft.
According to the Spruce, a 5.0 cu. ft. capacity drum translates into roughly 20-22 lbs. of laundry, which is nearly 1.5 times more laundry than you can fit into a normal-sized top- or front-load washer.
The largest washer on our list, the Kenmore Elite 31633, boasts a capacity of 6.2 cu. ft., and claims to be able to fit over 30 bath towels into a single load. Clearly, if you have lots of kids and adults in a single household, the more space you have in your washer, the better.
Speed
Another spec that makes a washer good for large families is cycle time. Sometimes, even with large capacity washers like the ones listed here, you're still going to be running multiple cycles of laundry in a given day; it's best for everyone if those cycles don't take too long.
You'd think that more laundry in a load would automatically translate into longer cycle times, since, you know, there's more laundry to clean. However, some brands have come up with ways to efficiently disperse detergent and rinse it out fairly quickly, which cuts down on the time you're standing around waiting to put laundry into the dryer. LG's TurboWash, for example, can reduce wash time by 20-30 minutes by spraying detergent directly onto clothes, and then removing that detergent with a high-powered rinse.
Performance
Lastly, the washer has to be able to get even your dirtiest clothes clean in a single cycle. With more people in the house, there's a lot going on, and you don't have time to assess every item of clothing to see that it's clean; it just has to get done right the first time.
So for the best washers for large families, our list has washing machines that have a large capacity, quick cycles, and great stain removal.
---
How We Test
Every washing machine that comes into Reviewed's labs gets put through the same testing regime, which addresses both performance and user-friendliness. Performance tests include:
• Stain removal – on a strip of AHAM-approved stains (which includes cocoa, sweat, pig's blood, red wine, and oil), how much of each stain can this washing machine remove?
• Wear and tear – during a given cycle, how hard is the mechanical action of the washing machine on your clothes?
• Water retention – how much water does your washing machine spin out at the end of the cycle?
• Cycle time – how long is each washing machine cycle?
The best washing machines have solid stain removal abilities, do not damage your clothes, retain little water, and have short cycle times.
Beyond these performance tests, we also assess the usability of each washing machine, based on our experience, both during testing and during more casual use (one perk of working at Reviewed is that there is plenty of laundry machines on premises!). Our main goal is to get the answer to one question: how easy is it to actually use this washing machine? This involves cumulatively assessing the control panel, the door, the detergent dispenser, and any smart features that are included.
By combining the performance data with our own observations, we can make the solid recommendations for someone looking for any type of washing machine at any price point.
---
Related articles
• The Best Front-Load Washers Under $1000
Advertisement - Continue Reading Below