UPDATE: July 3, 2019
We've updated this roundup to include the Samsung WF45R6300AV. We're testing lots of front load washers right now, so stay tuned for more updates!
Over the years at our testing labs, we've proven that front-load washers are superior to top-loading washers. They remove stains better, their high-efficiency designs use less water, and are they're gentler on clothes. However, front-load washers are not perfect and one of their major drawbacks is that they're expensive.
We've spent hundreds of hours testing dozens of front loaders at every price point. After analyzing all the data, we picked out the top budget performers. In this roundup, the top metric was the price-to-performance ratio, or how well the washer moved stains versus how much it cost. The secondary metric revolved around useful features. Expensive washers tend to have a lot of luxury features like automatic detergent-dispensing and super-fast cycles.
The Electrolux EFLS627UTT (available at AppliancesConnection for $1,073.00) came out on top for its one-of-a-kind features, excellent stain removal, and a 15-minute Fast cycle. Good, fast, and affordable, the EFLS627UTT has it all.
While Electrolux took two of the top spots, Whirlpool, Samsung, and LG also had a good showing.
Here are all the washers that we think are the best, in ranked order:
Electrolux EFLS627UTT
Electrolux EFLS527UTT
LG WM3700HWA
LG WM3500CW
Samsung WF45R6300AV
Samsung WF42H5000AW
Samsung WF50K7500AW
GE GFW450SPMDG
Kenmore 41262
Advertisement - Continue Reading Below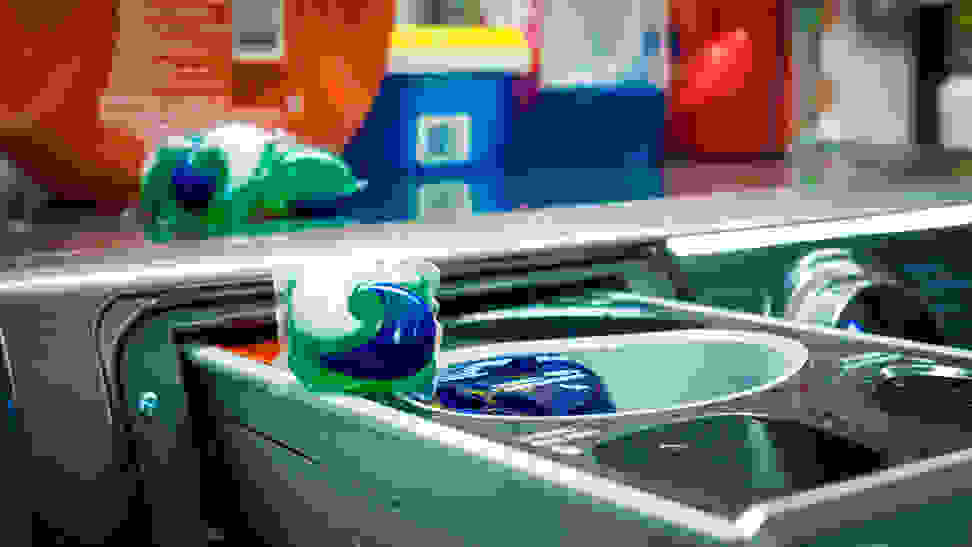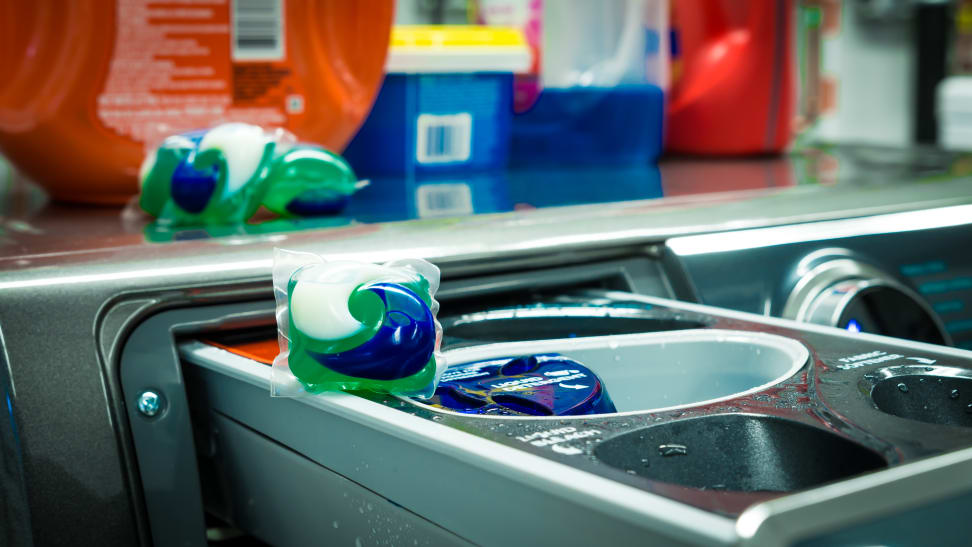 How We Test
The Testers
Hi there! We're Reviewed's appliance testing team. Between the three of us (Jon Chan, Kyle Hamilton, and Julia MacDougall), we've spent many years testing major appliances including washers, dryers, refrigerators, dishwashers, vacuum cleaners, and robot vacuum cleaners.
We have plenty of experience testing these products in the lab, but we've also used them like normal people would in the course of their daily lives, which means that we have a great sense for what appliances are bargains at their price points, and which appliances have really useful extra features (as opposed to the kitchen-sink approach to features).
With all this in mind, you can feel confident that when we recommend a product, we're giving it our Reviewed stamp of approval, which means two things: firstly, this appliance performs well, and secondly, this appliance is easy to use. We're always reviewing new products, so stay tuned for our reviews and roundups of the latest products in laundry, refrigerators, dishwashers, and vacuum cleaners.
The Tests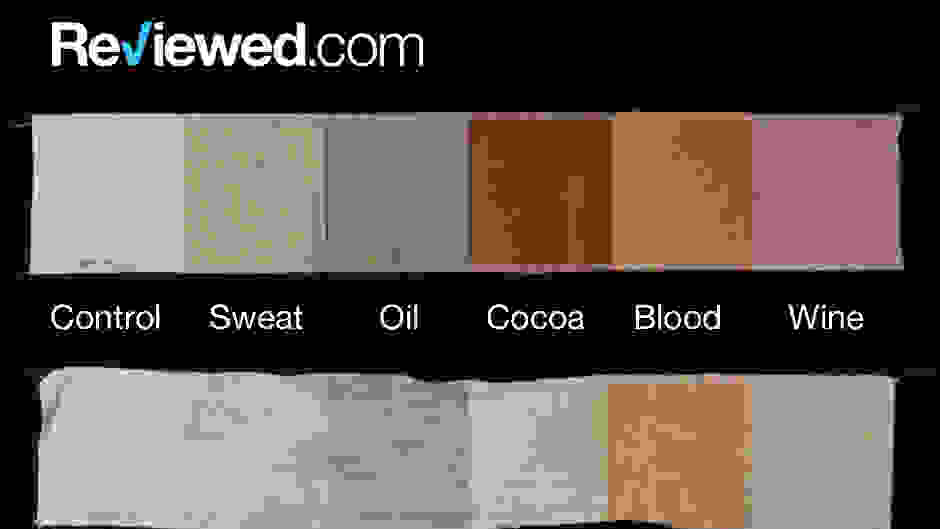 Every washing machine that comes into Reviewed's labs gets put through the same testing regime, which addresses both performance and user-friendliness. Performance tests include:
• Stain removal – Using a strip of AHAM-approved stains (which includes cocoa, sweat, pig's blood, red wine, and oil), how much of each stain can this washing machine remove?
• Wear and tear – During a given cycle, how hard is the mechanical action of the washing machine on your clothes?
• Water retention – How much water does your washing machine spin out at the end of the cycle?
• Cycle time – How long is each washing machine cycle?
The best washers have solid stain removal abilities, do not damage your clothes, retain little water, and have short cycle times.
Beyond these performance tests, we also assess the usability of each washing machine, based on our experience, both during testing and during more casual use (one perk of working at Reviewed is that there are plenty of laundry machines on premises!). Our main goal is to get the answer to one question: How easy is it to actually use this washing machine? This involves cumulatively assessing the control panel, the door, the detergent dispenser, and any smart features that are included.
By combining the performance data with our own observations, we can make solid recommendations for someone looking for any type of washing machine at any price point.
---
Why Would I Want a Front-Load Washing Machine?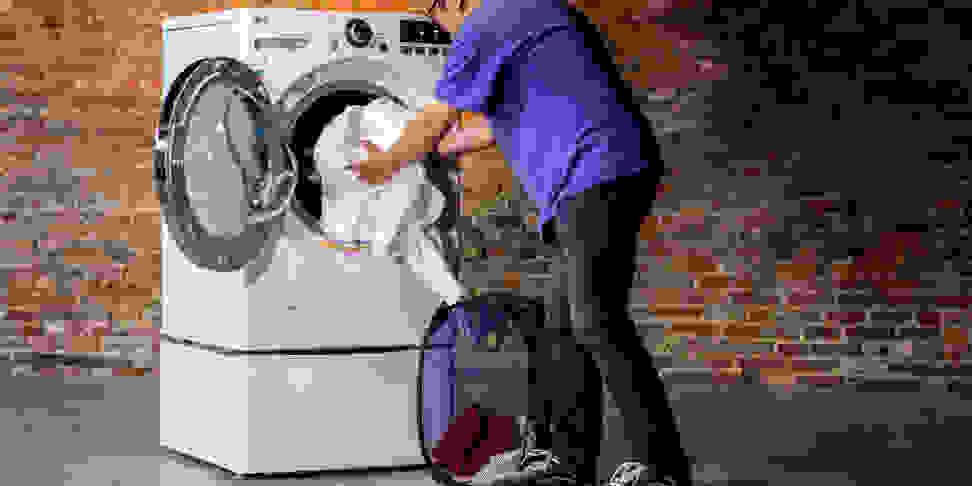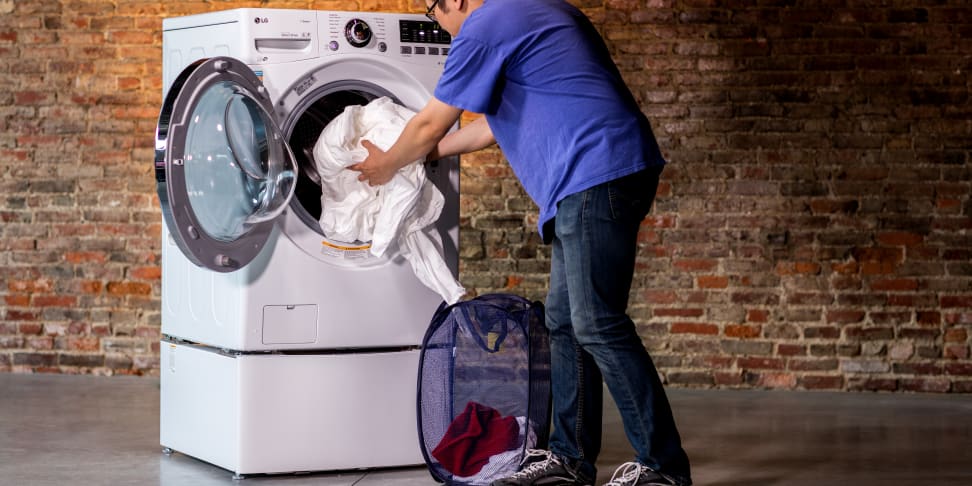 Front-loading washers are a relatively new addition to the laundry pantheon. While previously found only in laundromats, residential front-loader popularity is on the rise. Front-load washers are exactly what they sound like—instead of lifting up your washer's lid and arranging your clothes in a circle around a pole agitator or impeller, the door opens from the front, and you put your laundry in from the side of the machine.
Some studies, including our own, indicate that front-loaders may be slightly better at stain removal, more efficient, and cost less to operate per year. Also, most appliance brands seem to be creating more front-load models, so if you do decide to embrace a front-loader lifestyle, it should be fairly easy to find a model that matches your size constraints, preferred style and feature set, and budget.
---
Related articles
• The Best LG Front-Load Washing Machines
Advertisement - Continue Reading Below