If you're willing to spend $1,000, you could easily get a high tech top-load or front-load washing machine with all of the latest features. But what if your budget is only half that? Happily, you can buy many washers for around $500, and their matching dryers won't put too much of a dent in your bank account.
Even though machines at this price generally look the same on the outside, it's what you can't see that matters. The wrong laundry set can cost extra in lifetime utility consumption, the cost of replacing damaged clothes, or—worst of all—wasted time spent dealing with repairs or waiting around for cycles to finish.
That's why we brought a half dozen of the most popular low-cost washer/dryer sets into our state-of-the-art labs and tested them: to find out exactly how well they remove stains and how gentle they are on your clothes.
While the following washers won't remove stains, protect gentle fabrics, or save water as well as the best washing machines we've tested, they are basic washers that come with basic dryers; they will give you clean, dry clothes at an affordable price.
Here are our rankings of the best washers under $500 (and their matching dryers), in order:
Kenmore 20232 washer & Kenmore 60222 washer
Roper RTW4516FW Washer & Roper RED4516FW Dryer
Amana NTW4516FW Washer & Amana NED4655EW Dryer
Hotpoint HTW240ASK1WS Washer & Hotpoint HTX21EASKWW Dryer
Advertisement - Continue Reading Below
---
Kenmore 20232 Washer & Kenmore 60222 Dryer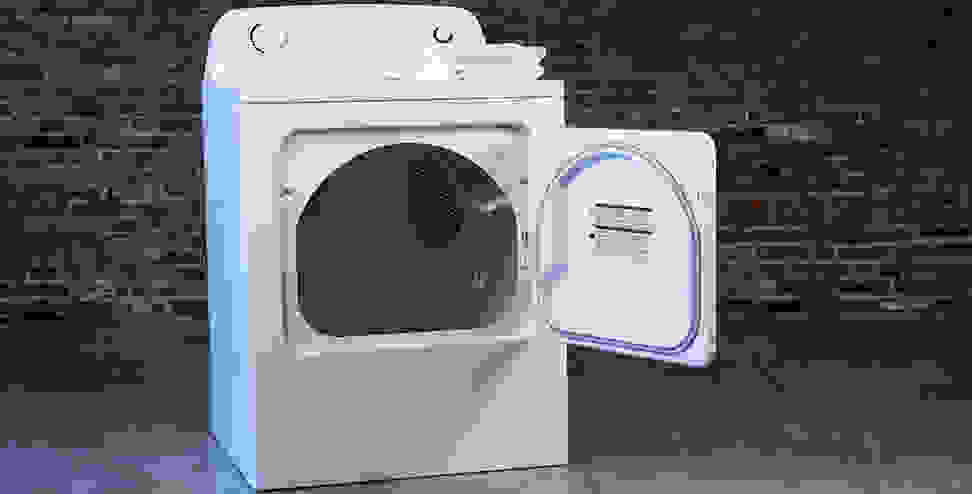 What To Consider When Purchasing A Washing Machine
Whether it's an emergency replacement, or you're just looking to class up your laundry room, there are a few things you should consider when you go to purchase a new washing machine.
Space
Before you head out to the stores, be sure you know the size constraints needed for your washer. We're not just talking about the width of the space you have in your laundry room for the washer itself (although that's definitely important). Are the doorways in your home wide enough to actually allow the washer to fit through them during delivery? Will it be able to fit in narrow/tight stair cases? Take a tape measure and check the doorway width against the washer's specs, and make sure you have a few inches of clearance.
Capacity
Most washers have capacities ranging from 4.2 to 4.5 cu. ft. However, if you have a large family, or especially large laundry loads, you may want a high-capacity washing machine, which is typically a capacity of 5.0 cu. ft. or greater. At that capacity, you can fit nearly 1.5 times the amount of laundry that you could fit in a regular capacity washing machine, which means you get to run fewer washer cycles and finish your laundry in a shorter period of time. However, if you have fewer people in the house, you may just want a normal capacity washer; you don't want to pay for extra capacity you'll never use.
Customization/Extra Cycles
How picky are you about your washer cycles? Do you want to be able to set specific cycle temperatures, soil levels, and cycle duration, or would you prefer to just hit two buttons and start washing? Do you want a cycle just for jeans? Really consider how you do laundry on a day-to-day basis; if you prefer a straightforward washing process, you'll probably want to buy a lower-tech dryer. Even if that extra customization seems very appealing, it may not make sense for you to buy that kind of washer if you're not going to actually use those extra features regularly.
---
How We Test
The Testers
Hi there! We're Reviewed's appliance testing team. Between the three of us (Jon Chan, Kyle Hamilton, and Julia MacDougall), we've spent many years testing major appliances including washers, dryers, refrigerators, dishwashers, vacuum cleaners, and robot vacuum cleaners.
We have plenty of experience testing these products in the lab, but we've also used them like normal people would in the course of their daily lives, which means that we have a great sense for what appliances are bargains at their price points, and which appliances have really useful extra features (as opposed to the kitchen-sink approach to features).
With all this in mind, you can feel confident that when we recommend a product, we're giving it our Reviewed stamp of approval, which means two things: firstly, this appliance performs well, and secondly, this appliance is easy to use. We're always reviewing new products, so stay tuned for our reviews and roundups of the latest products in laundry, refrigerators, dishwashers, and vacuum cleaners.
The Tests
Every washing machine that comes into Reviewed's labs gets put through the same testing regime, which addresses both performance and user-friendliness. Performance tests include:
• Stain removal – on a strip of AHAM-approved stains (which includes cocoa, sweat, pig's blood, red wine, and oil), how much of each stain can this washing machine remove?
• Wear and tear – during a given cycle, how hard is the mechanical action of the washing machine on your clothes?
• Water retention – how much water does your washing machine spin out at the end of the cycle?
• Cycle time – how long is each washing machine cycle?
The best washing machines have solid stain removal abilities, do not damage your clothes, retain little water, and have short cycle times.
Beyond these performance tests, we also assess the usability of each washing machine, based on our experience, both during testing and during more casual use (one perk of working at Reviewed is that there is plenty of laundry machines on premises!). Our main goal is to get the answer to one question: how easy is it to actually use this washing machine? This involves cumulatively assessing the control panel, the door, the detergent dispenser, and any smart features that are included.
By combining the performance data with our own observations, we can make the solid recommendations for someone looking for any type of washing machine at any price point.
---
Roper RTW4516FW Washer & Roper RED4516FW Dryer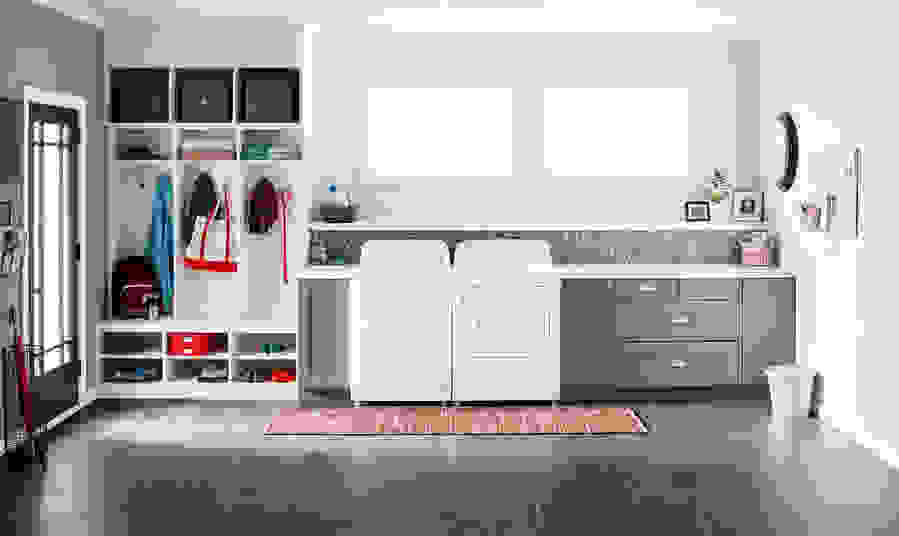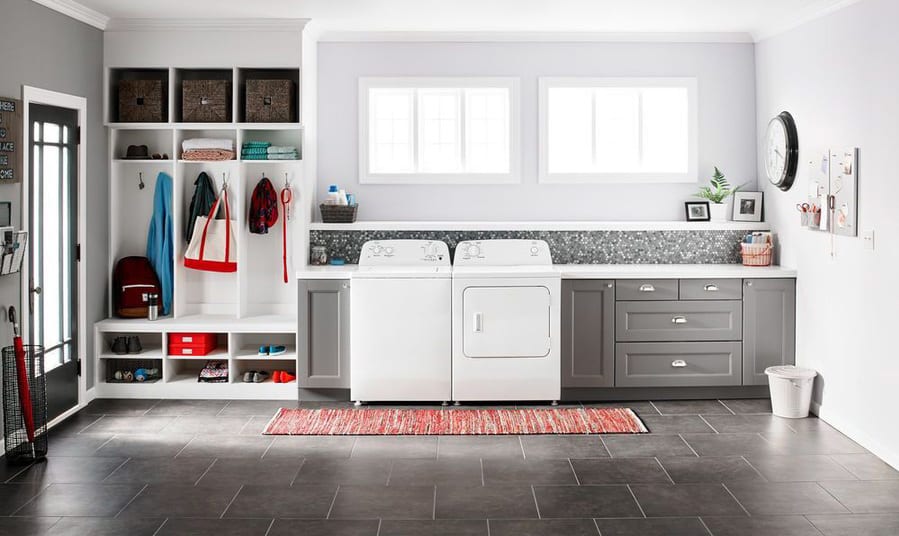 Amana NTW4516FW Washer & Amana NED4655EW Dryer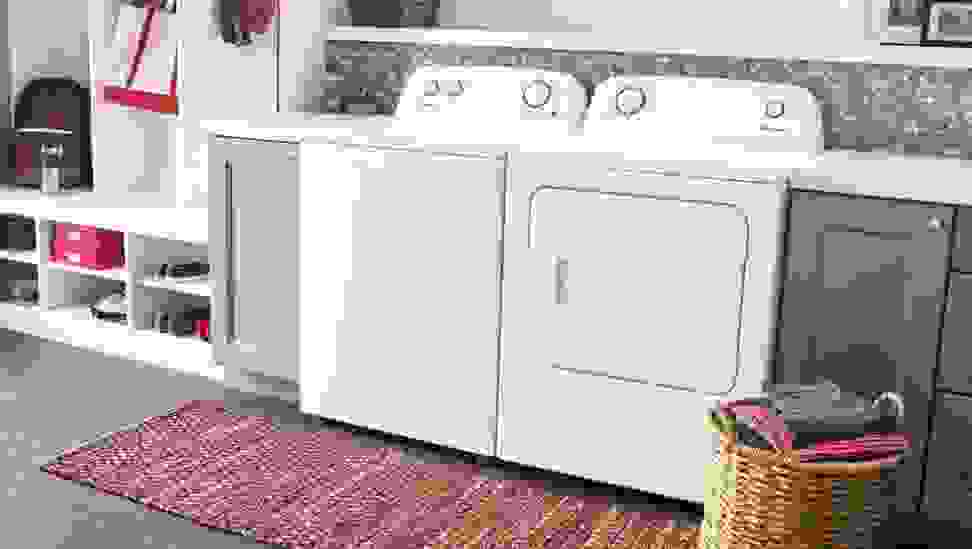 Hotpoint HTW240ASK1WS Washer & Hotpoint HTX21EASKWW Dryer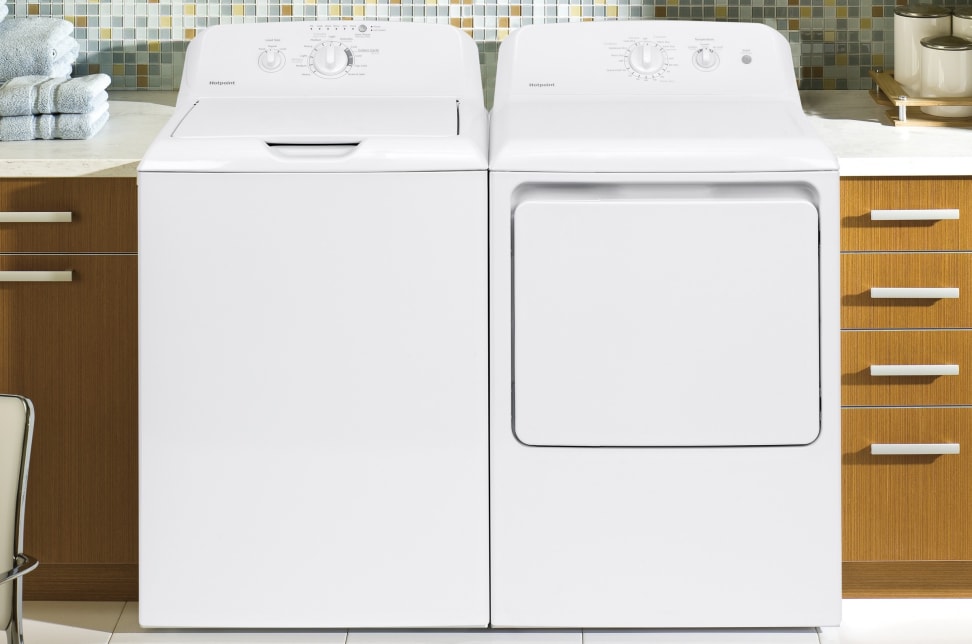 More Articles You Might Enjoy
• The Best Washers for Large Families
• The Best Traditional Top-Load Agitator Washers
Advertisement - Continue Reading Below