Laundry
7 things that will make doing laundry so much easier
You're an adult now—stop doing bad laundry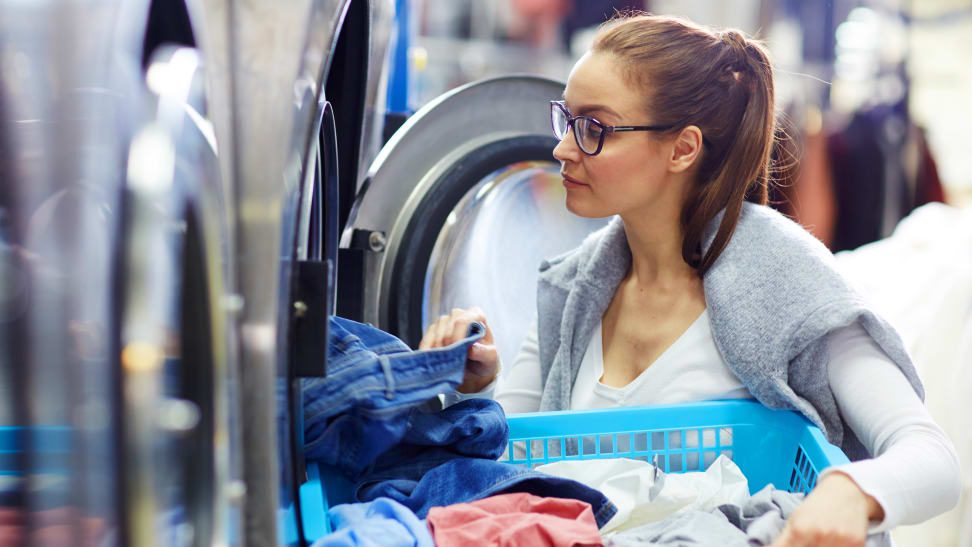 Credit: Getty Images / "shironosov"
I want you to visualize your hamper.
Be honest: Is it a Matterhorn mountain of socks and sweaters? Do you find yourself waiting until your last pair of clean underwear is discarded before finally, begrudgingly, lugging your laundry to the washroom in the basement, or worse—down the street to the laundromat?
Now I want you to visualize your clothes after a round of laundry. Are they faded and covered in spots? Did they even manage to dry fully, or are they wet and wrinkled?
It's hard enough to motivate yourself to do a load of laundry, but when you're limited to the not-so-great washers and dryers of your apartment or local laundromat, you might be left with not-so-great results.
I've been using laundromats and apartment building laundry units for years, and I've gotten pretty good at managing and cleaning my clothes despite not having decent washing appliances within reach. Here's a quick survival guide for getting the most out of your sub-optimal laundry situation.
1. Buy a better hamper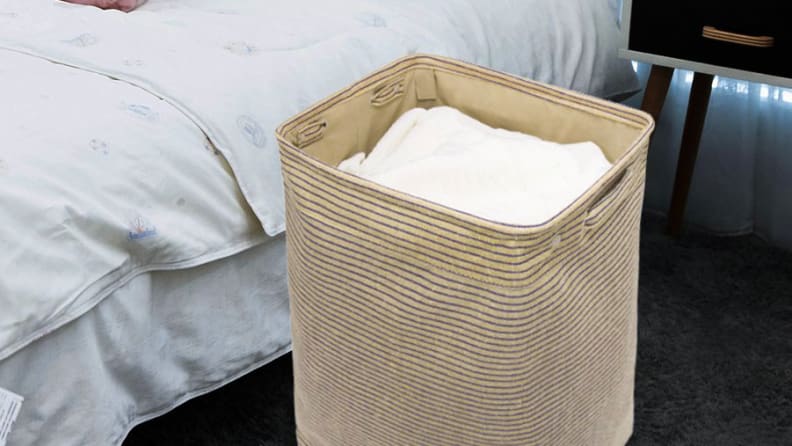 Laundry is a chore that asks us to clear the decks for a couple of hours, especially when you're using public washers and dryers, where you can't really leave your clothes behind and dilly-dally for a while. If you ever feel like beating yourself up over your laundry procrastination, please don't—because you're not alone. We all do it, to some degree.
My laundry hamper is the overflowing beast that lives in my closet and no one should ever look at it. I put it out of mind by putting it, quite literally, out of sight. If you're like me, buying a new hamper—one that actually looks nice—will compel you to engage with your laundry more often.
Buying a new hamper will compel you to engage with your laundry more often.
Amazon's a good resource for affordable, decent-looking hampers, and being able to read customer testimonials is a great way to weed out lousier products.
For my money, this $30 hamper from BirdRock Home falls in the middle of the venn diagram between "aesthetically pleasing" and "not expensive whatsoever." The bamboo design is lightweight and fits the vibe of my bedroom (which I guess you could describe as "wood and plants everywhere"). The lining on the inside can be removed and tossed in with the rest of your laundry.
I also like the look of this $27 striped hamper from Chrislley, whose minimal design folds up for easy transport.
If you've got a messy job, hobby, or you simply get your clothes sweaty and gross with relative frequency, you may want to consider a hamper with holes, since that sort of design offers more airflow. The $30 Rubbermaid Flex 'n Carry hamper is tall enough to hold a week's worth of clothing, but slim enough to stow away if need be.
2. If you have to schlepp, make it easy on yourself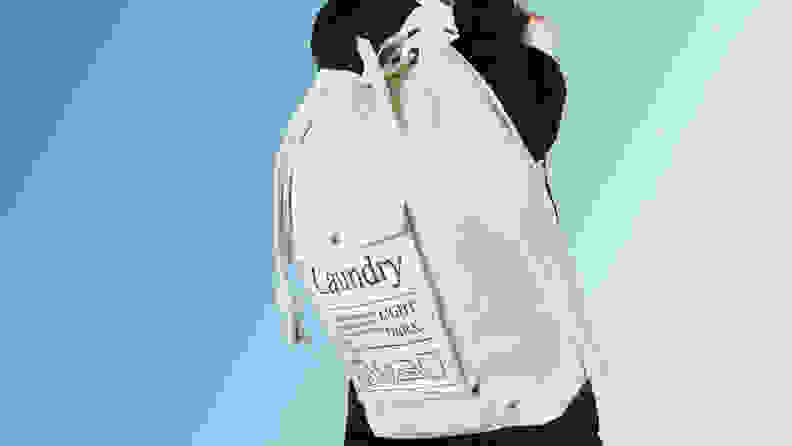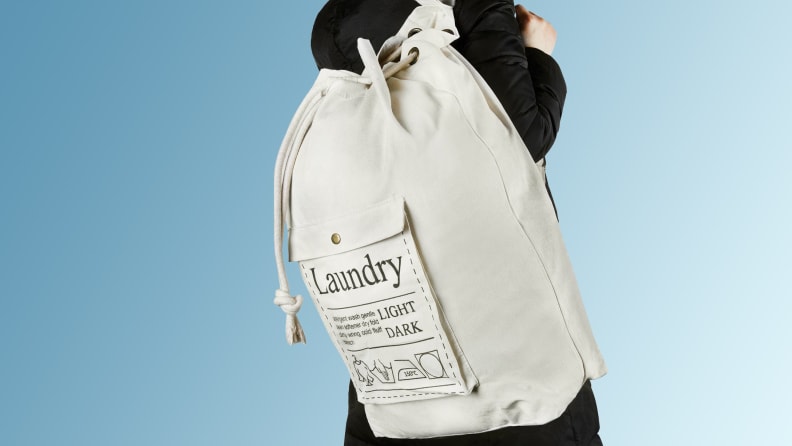 If your apartment building has laundry units, you'll probably be able to carry your hamper up and down the stairs with relative ease. If you need to travel to the nearest laundromat, the hamper probably isn't your best option.
I frequently see people walking to the laundromat with a garbage bag full of clothes, and while I respect the simplicity and to-hell-with-it nature of this move, I really can't express just how easier laundromat trips can be with a reliable laundry bag.
I really can't express just how easier laundromat trips can be with a reliable laundry bag.
You could keep it simple and grab this $13 backpack-style laundry bag, but admittedly, it does scream "dorm life," and maybe that's not your speed anymore.
These cotton laundry bags are only $9 for a two-pack, and it's hard to think of something more classic. They're what Don Draper takes to the dry cleaning (or Patrick Bateman).
This drawstring canvas laundry bag is somewhere in between the basic cotton bag and the backpack-style bag, features fantastic customer feedback, and is only $14 on Amazon.
3. Get your quarters in order ahead of time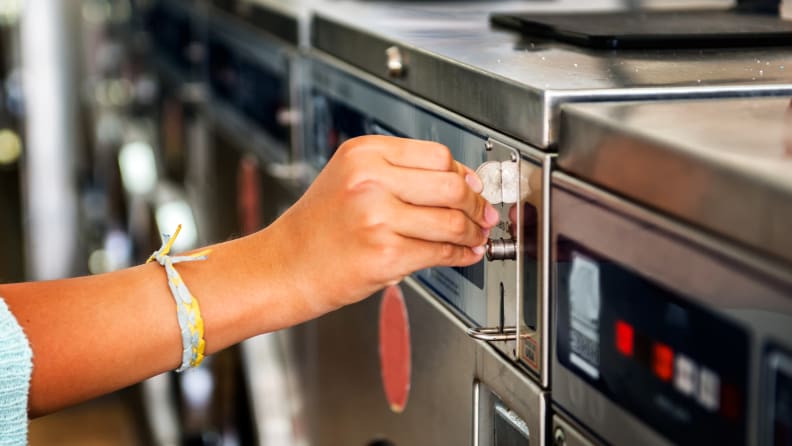 Look, I don't know a whole bunch. But nobody's ever looked at me and said, "I bet that guy doesn't know the location of every ATM in the city that dispenses $10 bills." That's where I'm a viking.
I go through about two rolls of quarters a month, and when I forget to go to the bank to exchange my ten dollar bill for a roll, I usually end up visiting the customer service desk of my local grocery store. They usually don't mind trading away a roll of quarters, but it really doesn't hurt to be extra polite and charming about the whole deal.
If you frequent a laundromat that has a change machine, you probably don't need this sage advice. A stylish coin purse, though? That is something everyone needs.
This leather coin purse is only $10 and comes in four different shades of convenience. This coin purse looks a corgi butt. These ones kind of look like they fell out of a Wes Anderson movie.
I mean, I guess you could just keep carrying your coins around in a plastic sandwich bag, but that's not exactly living your best laundry life.
4. Pick an affordable, dependable detergent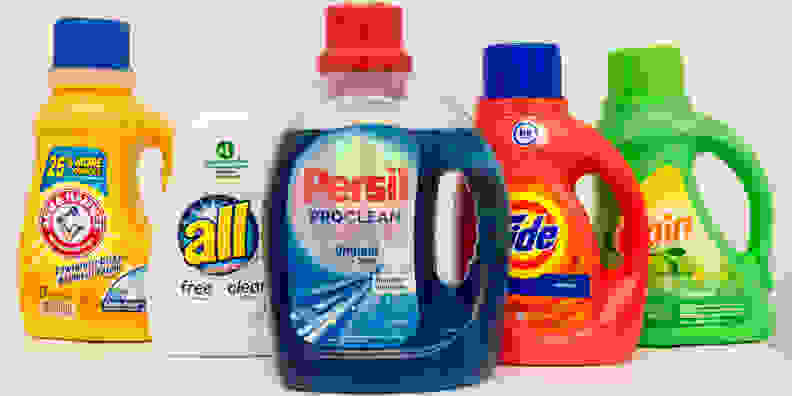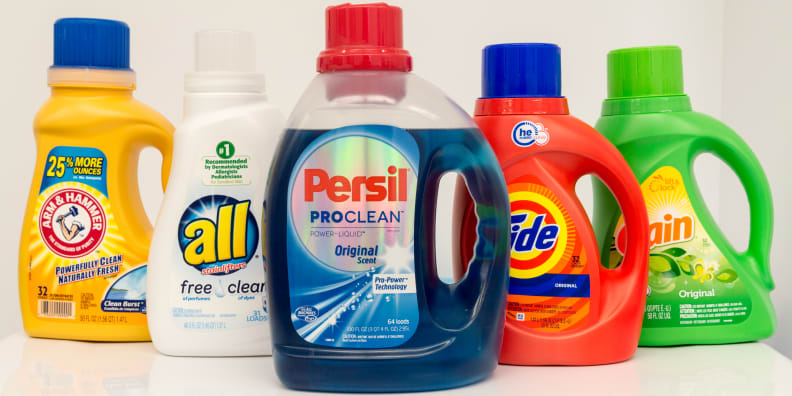 Laundry detergent doesn't usually come cheap, and even when it does, there's no guarantee that it'll get the job done effectively. If you're already spending upwards of $20 a month on laundry machine money, you're going to want to invest a bit. Luckily for you, we've already rounded up some of the best laundry detergent you can buy in 2018, testing each one in our appliance lab and choosing winners based on performance and price.
At just 8 to 10 cents per load, we found that Arm & Hammer Clean Burst offers the most bang for your buck. It doesn't lift stains as well as some of its competitors, but for around $4 a bottle, it'll keep your clothes clean without costing you an arm and a hammer.
For people in search of the best stain-fighting power, we recommend either Persil ProClean or good ol' fashioned Tide Original, both of which offer top-tier stain-lifting performance.
We found that Arm & Hammer Clean Burst offers the most bang for your buck.
Want to be a little friendlier to the environment? Of course you do. After testing the effectiveness of some of the best eco-friendly laundry detergents you can buy, we concluded that Mrs. Meyer's Clean Day Laundry Detergent is the overall best option for cost- and environment-conscious shoppers.
What we don't recommend, however, are unusual and/or do-it-yourself laundry detergents. For more on that, check out our research into alternative laundry detergents.
5. Don't overload the washing machine and stop using too much detergent
Laundry costs add up quickly, and it's always tempting to wring the most out of every load. But please, don't overload your washing machine—and definitely don't compensate for this by adding more detergent to the mix.
Too much detergent isn't just a waste of money, it's also a good way to ruin the look of your clothes.
We tested the effect of using too much detergent, and, spoiler alert: The results were not good. Adding too much detergent isn't just a waste of money, it's also a good way to ruin the look of your favorite slacks.
And although you might be tempted to cram a few extra sweaters into the washing machine to get them clean in time for the weekend, doing so could mess with your machine's ability to properly agitate and rinse your clothes.
6. Get the most out of your drying cycle
The types of dryers you can expect to find in an apartment building or laundromat are usually the type that forgo a wide array of settings in favor of basic "high," "medium," and "low" heat options. Because I really care about the longevity of my clothes, I usually dry everything on the lowest heat setting that'll still get the job done.
Laundromat dryers don't have a wide array of settings.
This can be a fine line to walk, however, because sometimes it's not enough heat to dry my clothes thoroughly. In order to boost the overall effectiveness of the dryers I use, I've started using wool dryer balls, which reduce drying time, fluff and soften fabrics, and are better for your skin (and the environment).
My go-to brand is Molly's Suds, whose dryer balls come in a pack of 3 for $16. These adorable little helpers are 100% wool and last a hell of a long time. I've even started experimenting with adding a few drops of essential oils to the balls' surfaces, which liven up my clothes with a wonderful, natural-smelling scent.
At this point, I'm ready to file wool dryer balls under "total game-changers."
7. Keep yourself entertained while you wait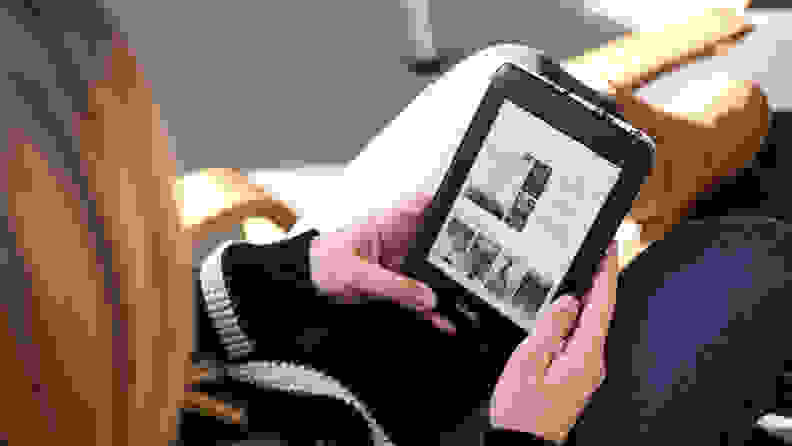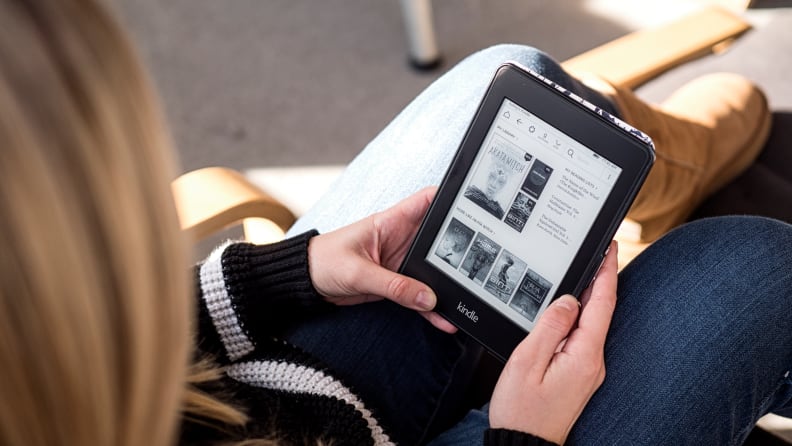 Depending on your circumstances, it might not sense to leave the laundromat and go back home once you've started a load of laundry. If you've ever found yourself staring down the barrel of a two-hour laundromat visit, you know full well the boredom that awaits.
An e-reader isn't just a laundromat companion—it's an everyday companion. Having a collection of books within reach at all times is the lifestyle you deserve, so it's time to stop beating around the bush and upgrade your reading game.
We took a good, hard look at every Amazon Kindle you can buy in our Best Kindle Right Now round-up, and our pick for the overall best is the Kindle Paperwhite. Its elegant, minimal design and friendly price makes it a great option for just about everyone, and it's only around $100 on Amazon right now.
You might want to consider picking up a portable battery pack.
If your smartphone is all you need to keep yourself occupied for hours at a time, you might want to consider picking up a portable battery pack. Our in-depth look at the best USB battery packs led us to conclude that the $50 RavPower Turbo Series is the best battery pack for most people.
Looking for something small you can slip in your laundry bag or Corgi butt coin purse? We really loved the lipstick-sized Anker PowerCore+ Mini, which has enough capacity to charge most smartphones once and only costs about $20 on Amazon.
Related Video: The washing machine of the future doesn't use water