Refrigerators
Does Your Fridge Need a Wine Cooler?
Several European manufacturers have added wine coolers into their fridge and freezer combos. Will the design catch on?

Credit:
Lots of old fridges are kicking around, and once they've aged out of the kitchen, they often find a second life out in the garage as a beer and wine cooler. But new designs could make this two-fridge setup redundant.
Several European manufacturers, including AEG and ATAG, have released refrigerators with wine coolers built into their upper-left quadrants—and they're quite impressive. AEG's Santo 75598 KG is about as sleek as a European appliance can get, complete with an LED temperature display, a UV protected glass door, and a 39-bottle wine cooler. ATAG's KA2411DW features similar components, including a smaller 36-bottle cooler and an alarm system that triggers when the door is left open, or when the temperature gets too warm and threatens the quality of the wine.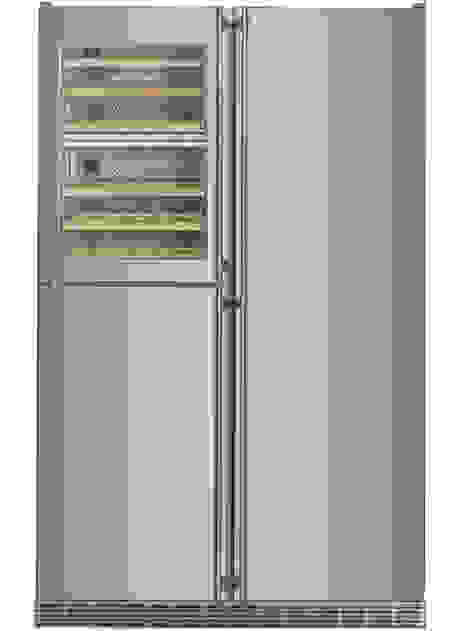 However, both of these fridges are only available in Europe, and even there they cost upwards of €4,000—about $5,200 at the time of writing.
A few models are testing the market state-side. Last year, German manufacturer Liebherr released the first 5-zone fridge-freezer-wine-cooler combo unit available in the U.S. Similar in design to the AEG and ATAG models, the Liebherr SBS 246 side-by-side includes many of the same features, plus 5 distinct temperature zones and a slightly cozier 34-bottle wine cooler.
The biggest downside? The MSRP is a whopping $8,500, although it can be found for less than $7,000.
Given the price tag, the Liebharr fridge/wine cooler combo is more nifty than it is practical. After all, you can get a decent, well-designed wine cooler for less than $500. And you can even put it somewhere equally visible and accessible as a unit built into the front of your fridge. So no, we don't envision this design catching on, but it's certainly cool to look at.
[Via: Appliancist]
Up next
Get Reviewed email alerts.
Sign up for our newsletter to get real advice from real experts.