Refrigerators
Hands On with Hisense's Android Fridge
Hisense brings a novel approach to the smart fridge.

Credit:
Between covering the major trend in wireless appliances at this year's CES and the pending rise of the already-substantial Hisense brand in American markets, it only made sense that we pop over and check out the company's new Smart Fridge. Despite the fact that we have no information on the actual fridge in terms of release dates or price points—it's set to come out in China this year, but Hisense hasn't yet sold a fridge in the US market—the whole product looks quite promising.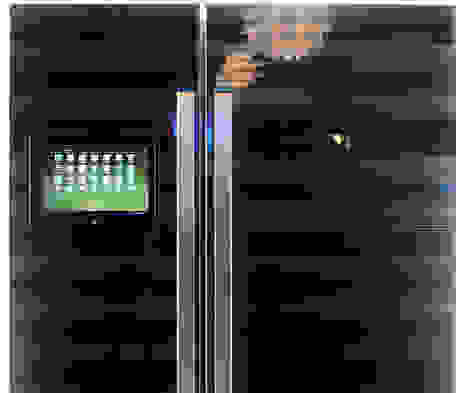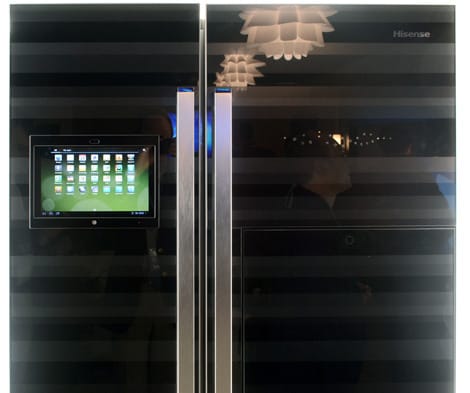 A Chinese Fridge for American Sensibilities
With its smooth, shiny black finish, steel handles, and a sparkly snowflake burst on the fridge door, we were definitely impressed with this fridge's unusual design. As is often the case, though, fancy finishes usually don't make the transition to the American marketplace, so we'll have to wait to see how the finished product looks. In terms of handling, well... It's hard to get a really good feel from a show floor model, but we hope things improve if/when the product comes to the States: drawers were a bit shaky, more appropriate for entry-level than high-end.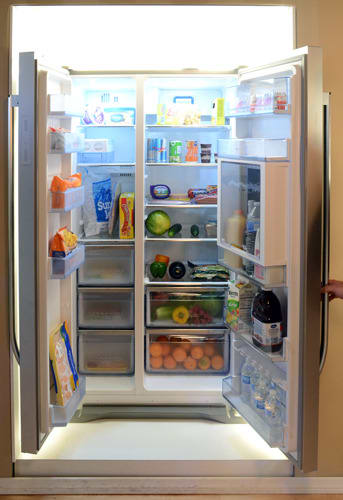 One unusual thing that we'd really like to see more often is the door-in-door feature that seems to have taken Asian refrigerators by storm. The fridge half of Hisense's side-by-side features a little panel that drops down, much like a drawbridge, allowing you access to a really chilly castle. The idea behind the concept is this: opening the large fridge door allows cold air to escape, causing your fridge to work harder to maintain a cold temperature. The small door allows you to get at commonly used items while letting out less cold air, saving energy and preventing the spoilage rate of produce or other sensitive items.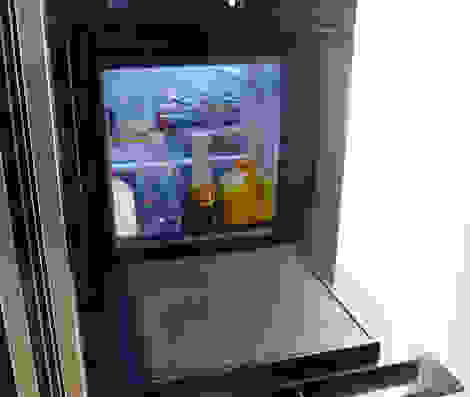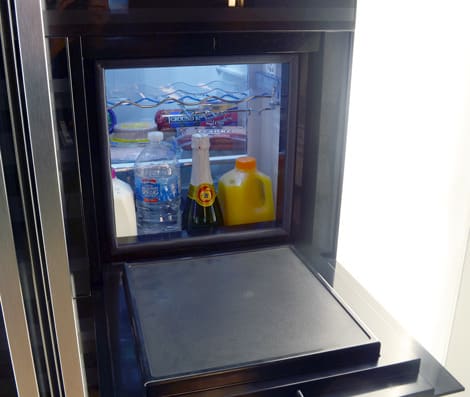 2013: A Kitchen Odyssey, or The Ever-Evolving Refrigerator
Aside from the refrigerator itself, Hisense's approach to smart appliances is deceptively simple: Write some apps that can monitor and control a fridge, install those apps on an Android tablet, and slap that tablet on the front of a fridge, leaving all its other functionality intact. In this case, Android aficionados may be disappointed to learn the fridge on the show floor was only running Honeycomb. Regardless, the advantage of this approach over the closed format seen on LG and Samsung products is that users can access all the features of any Android tablet.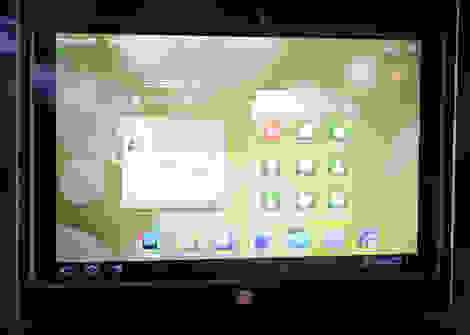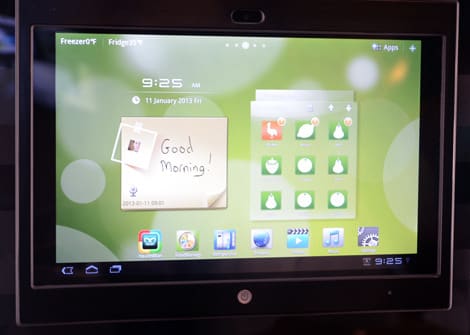 While all basic tablet functions are there, such as a music player, internet browser, Twitter and Facebook clients, and even a front-facing camera, Hisense did add some fridge-specific apps. The HealthMan app, a highlight of the booth demonstration, lets you create diet plans, search for recipes, and create customized profiles. When throwing a dinner party, for example, it will combine the information stored in a food manager app with any allergies that your guests may have to generate a list of potential recipes. The tablet also controls the fridge's thermostat and can connect to a smart grid-equipped electrical meter.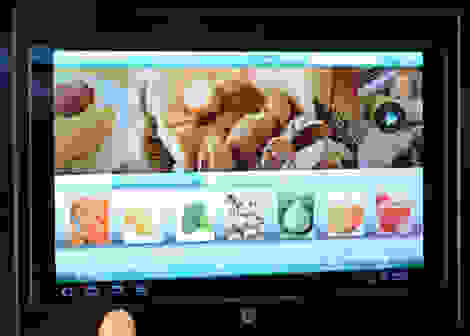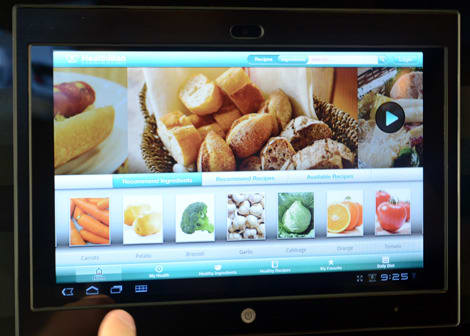 One of the most exciting features we heard about that was, unfortunately, absent from the display model is a barcode scanner. It will be located on the inside of the fridge door, and will automatically add scanned items into the fridge's food manager app. You can also manually input items which don't have barcodes and adjust expiration dates. Unfortunately, the system lacks the ability to communicate with your smart phone at this time. While the booth representative said Hisense's R&D team is working on it, for now, you'll have to use the tablet's ability to send e-mail or texts to get information from the fridge onto your smart phone. Some wireless apps, such as Evernote, may be able to circumvent this issue, but it's something that we'll have to wait until the fridge is released to explore further.
A Broader Approach for an Adaptable Market
Hisense's smart fridge may not have been aimed at the US market, but its built-in Android tablet may interest American consumers. By installing fridge-specific apps and leaving the tablet's functionality otherwise intact, Hisense quickly and easily created an open, innovative and easy to use smart fridge.
---
Up next
Get Reviewed email alerts.
Sign up for our newsletter to get real advice from real experts.