Refrigerators
The 10 most popular summer recipes on Pinterest
Pinterest has you covered with these top ideas for summer cooking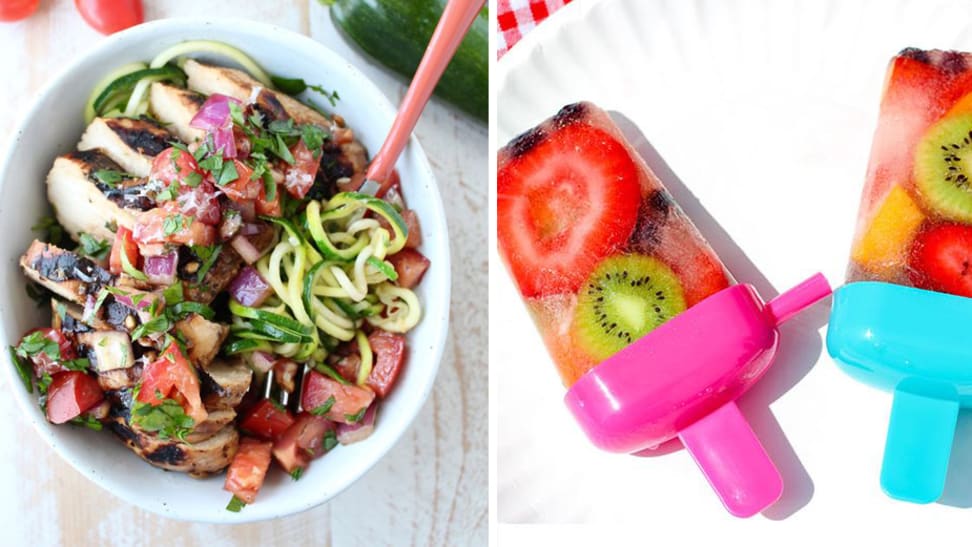 Credit: Pinterest
With the summer solstice upon us and Fourth of July right around the corner, now's the moment to enjoy hotter days, dreamy nights, and sweet, sweet vacation time. And what better way to celebrate your free time this season than by trying new recipes?
We rounded up the best of Pinterest's top trending recipes for summer. Whether you're entertaining for a crowd in your backyard or preparing an intimate family dinner, these Pinterest-approved ideas will make your summer one to remember. They'll still be fashionable after Labor Day, too.
1. A sophisticated four-ingredient appetizer to premiere at your next party
As pretty and colorful as a petit-four, these watermelon, feta, and mint skewers are an easy way to impress your guests. Their summery simplicity will make planning a breeze, too.
Popularity: 64k+ repins
2. A corn on the cob hack that everyone should know
Nothing says summer as much as corn on the cob—and this simple, butter-while-you-boil trick will help you make the classic the best it can be. Need a sturdy and stylish vessel to prepare this summer side? The Lodge 4.5 quart dutch oven, our top affordable pick for 2018, is on sale for just $41.38.
Popularity: 74k+ repins
3. A hearty zoodle bowl to feed the whole family
Bruschetta, grilled chicken, and zucchini are all warm-weather favorites—why not combine them into one big meal? This gluten-free bruschetta zoodle bowl can easily feed a crowd in a pinch. Rather than buying pre-cut zoodles, pick up our favorite Veggetti spiralizer for $10 and make your own—they're fresher and cheaper!
Popularity: 31k+ repins
4. Caribbean-inspired skewers to brighten up your next BBQ
Your grill is good for a lot more than burgers and hotdogs. These sweet-and-spicy jerk chicken and pineapple skewers are a no-brainer—and you'll want to save the marinade to put on everything.
Popularity: 175k+ repins
5. A "fried" chicken option for those who fear the fryer
If you're beset by fried chicken cravings but can't be bothered with the time, mess, and calories that go into deep-frying, this baked take on the classic is sure to satisfy.
Popularity: 67k+ repins
6. Veggie-filled summer rolls to add some crunch to your weeknight routine
Vietnamese spring rolls (also called summer rolls) are a go-to appetizer at our favorite sushi joints, but they're super easy to make as a meal at home, too. All those fresh, crunchy veggies paired with a delicious peanut sauce will put a spring in your step.
Popularity: 6k+ repins
7. A fresh take on classic potato salad
As much as we love our traditional cookout sides, sometimes you want to ditch the mayo for something fresh and flavorful. This one-pan southwest potato salad, packed with roasted veggies and tossed with olive oil, is a lovely vegan alternative and a surefire crowd-pleaser.
Popularity: 166k+ repins
8. An inventive salsa that gives you another reason to eat fresh berries
As perfect as they are dipped in chocolate or served with whipped cream, fresh summer strawberries don't have to be reserved for dessert. This strawberry salsa with jalapeños and lime is a fun twist on our favorite dip, which you can present and store in style in classic mason jars.
Popularity: 7k+ repins
9. Steak kebabs that are as colorful as they are easy
Classic flavors and quality meat and produce make these kebabs stand out. You probably have everything for the garlic-soy marinade in your kitchen already!
Popularity: 97k+ repins
10. Fresh fruit popsicles that kids—and their parents—will love
These popsicles are jam-packed with fresh fruit, and not the added sugar you get in popsicles from the grocery store. Grab some molds—like the colorful, highly-rated Ozera set on Amazon that I've been using since last summer—and get going on your next favorite treat!
Popularity: 6k+ repins