Refrigerators
GE Working on Fridge to Replace All Fridges
The mystical voodoo of magnets… powering the 21st century fridge.
Since the invention of the refrigerator we've relied on gas compressors and refrigerants to keep our food cool. But new technology may allow future fridges to operate more efficiently and without compressors or toxic refrigerants.
The secret? Magnets…
Scientists at GE have developed a breakthrough magnetic material that creates a heat pump effect powerful enough to freeze water. More importantly, the researchers estimate the technology is 20 percent more efficient than existing refrigeration technology. That translates to billions of dollars in reduced energy costs for consumers, and a much small carbon footprint for the industry.
The system is similar to a standard gas compressor in that it creates a heat pump, but the parallels end there. Unlike a compressor, GE's prototype fridge uses the magnetocaloric effect—which was first observed more than 130 years ago—to gradually shed heat over a cascade of precisely aligned magnets. As a water-based fluid passes through them it heats up, only to drastically cool when taken away, thereby lowering ambient temperatures.
"We are taking a chunk of heat and pushing it down the ladder, from the cold insides of the refrigerator to the warm room outside," explained lead researcher Venkat Venkatakrishnan in a press release.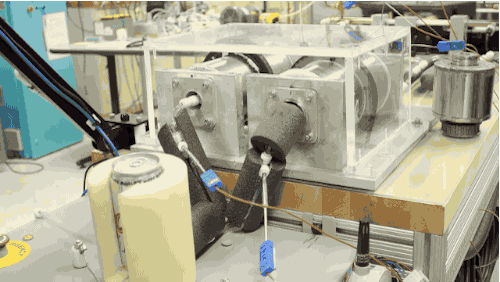 Not only does this drastically reduce harm to the environment—by virtue of using clean materials—it is far more efficient than compressor technology, and allows for simpler recycling of old refrigerators.
Magnetic refrigeration could be the technology that replaces standard compressor fridges.
The prototype developed by GE is far from commercial applicability, but the team behind the design believes magnetic fridges could be in peoples' homes by the end of the decade. Michael Benedict, a design engineer at GE Appliances, says magnetic refrigeration could be the technology that replaces standard compressor fridges… for good.
"We've spent the last 100 years to make the current refrigeration technology more efficient," Venkatakrishnan added. "Now we are working on technology for the next 100 years."