Smart Home
10 fun games kids can play with Amazon Alexa or Google Assistant
Parents and caregivers can get in on the games, too.
Credit: Amazon / Getty / kate_sept2004
If you're working from home with kids due to coronavirus quarantine, you're probably looking for ways to keep them occupied while you're on the job. Family-friendly board games and puzzles are a good start, but what happens when your kids run through them? As with so many things in life, Google Assistant and Amazon Alexa can help with a healthy list of fun games for your kids (and even for you).
To get started, simply download the Amazon Alexa app or Google Assistant app to an iOS or Android device. Alternatively, you can play using a smart speaker like the Echo (third-generation), Google's Nest Mini or other Amazon or Google smart speakers. Below, are 10 of the best games for kids to play with Google Assistant and Alexa.
1. Magic tricks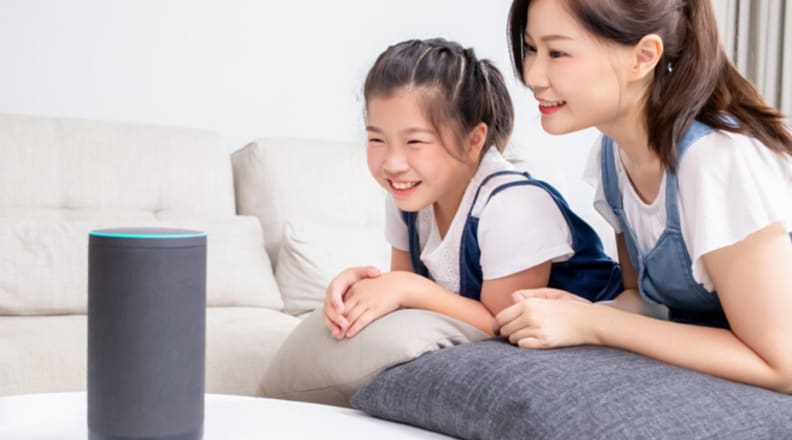 Alexa and Google Assistant can't pull a rabbit out of their speakers, but they can keep your kids entertained for a while with the Magic Tricks skill. Your children likely won't know it, but the magic trick game encourages them to use their math skills along the way through counting, multiplication, and more. The game includes tricks like guessing birthdays, favorite numbers, age, and more.
To play Magic Tricks with Alexa say, "Alexa, open Magic Tricks." To open the Magic Tricks game with Google Assistant, say, "OK, Google, launch Magic Tricks."
Get the Magic Tricks skill on Amazon
Get the Magic Tricks action on Google
2. Kid-friendly trivia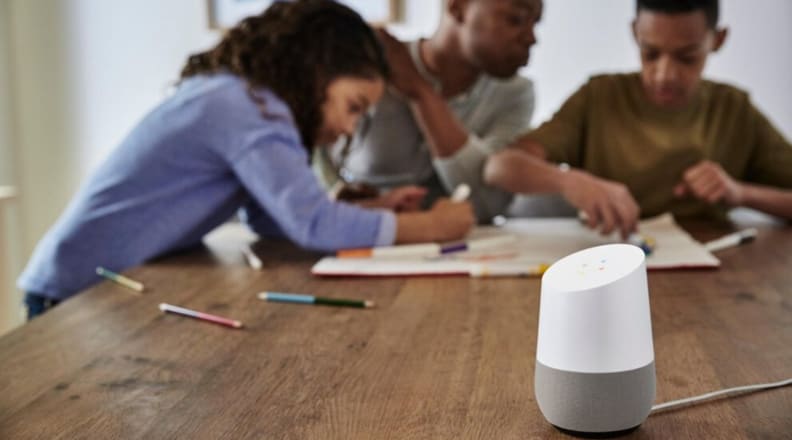 With many kids out of the classroom for the foreseeable future, there's no better time to get them playing a few educational brain games like the highly rated Kids Quiz skill on Amazon.
Kids Quiz, which has a 4.5 star-rating from 1,858 reviews, asks engaging and entertaining brain-teasers for kids about animals, science, and more. Simply say, "Alexa, play Kids Quiz" to get started.
Have a Google Nest Mini or other Google speaker instead? Your kids can try out other quiz games like Animal Trivia, which is full of fun facts about gorillas' noses, lions' roars, and more. To start the game say, "Hey Google, I want to play Animal Trivia," or, "Hey Google, let's play Animal Trivia."
Get the Kids Quiz skill on Amazon
Get the Animal Trivia action on Google
3. Freeze dance
Social distancing means more time at home, and therefore, less playtime outside. But your kids can still get some good exercise indoors with the Animal Workout skill for Alexa. The kids will love transforming into different animals like bugs, farm animals, make-believe creatures, and more—all while getting in plenty of movement like they'd usually get at recess. To play, say, "Alexa, open Animal Workout."
Google is also full of fun games to keep your kids moving like Toy Story Freeze Dance. The game can be played on a Google Home speaker or smart display like the Google Nest Hub. This game is great for days when the kids are stuck indoors because it encourages them to move and let out all of their pent-up energy in a fun way. To play, say, "Hey Google, play Toy Story Freeze Dance."
Get the Animal Workout skill on Amazon
Get the Toy Story Freeze Dance action on Google
4. Rock, paper, scissors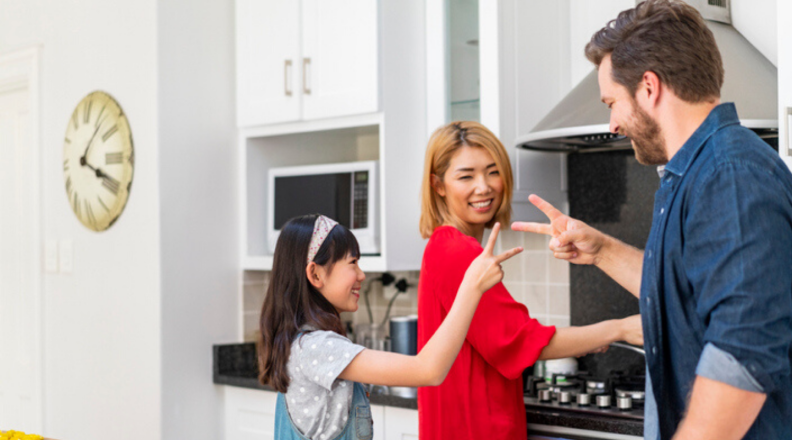 "Rock, Paper, Scissors: shoot!" We've all played this game before, and now Alexa and Google Assistant are getting in on the fun. To start a game with Alexa say, "Alexa, open Rock Paper Scissors" and she'll respond with her answer. Playing with Google Assistant? Say, "Hey Google, talk to Simple Rock Paper Scissors," to begin the game.
Get Rock Paper Scissors Game for Kids on Amazon
Get Simple Rock Paper Scissors on Google
5. Tic Tac Toe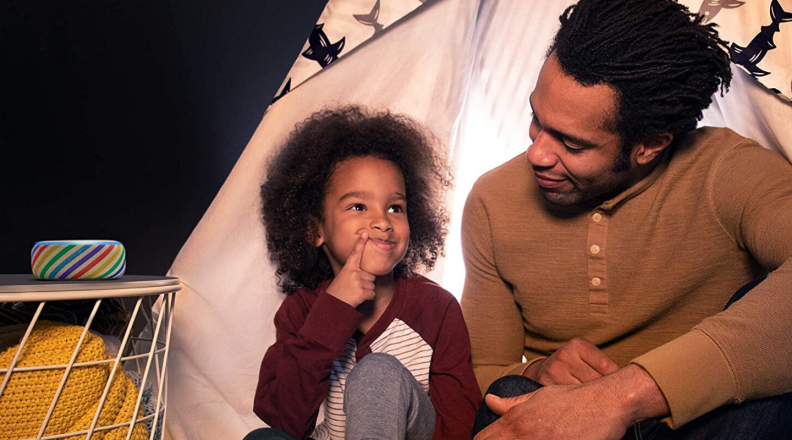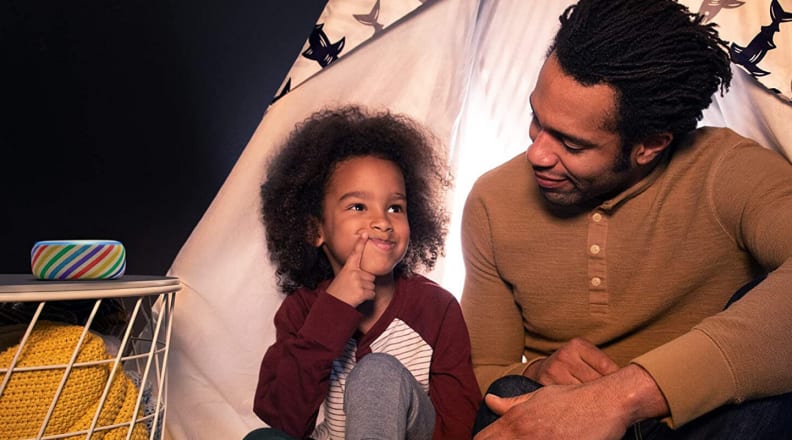 Tic Tac Toe is a game that's usually reserved for pen and paper. Why not switch it up a bit for a virtual game? Using the Memory Tic Tac Toe action for Google or the Tic Tac Toe skill for Alexa, your child can go toe-to-toe with either smart assistant. This game is better for older children who can rely on memorization to play, but there's no harm in bringing a pencil and paper to the match if your child needs to visualize the Tic Tac Toe board.
Get the Tic Tac Toe skill on Amazon
Get Memory Tic Tac Toe on Google
6. Guess animal sounds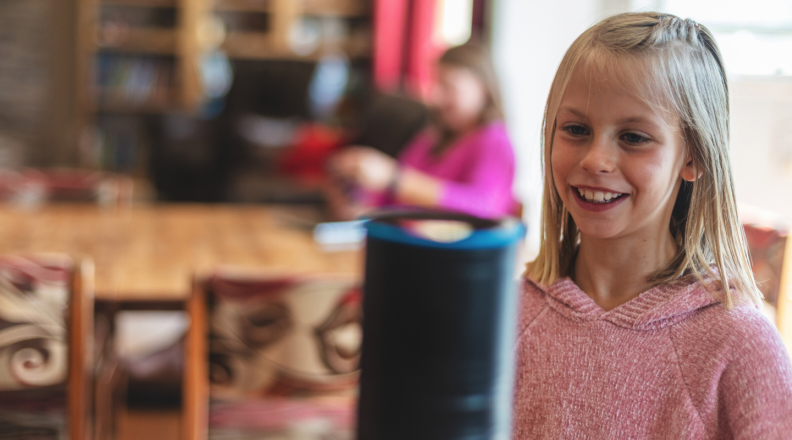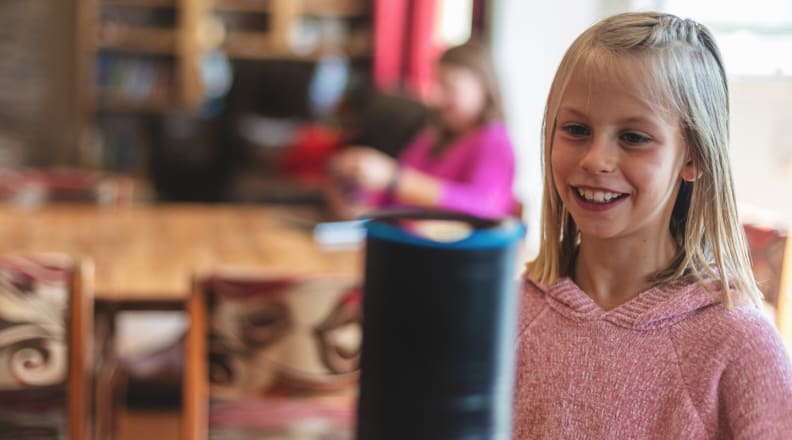 Is it a cow mooing? A lion roaring? Younger children will enjoy trying to guess which animal sound Alexa or Google Assistant is playing. The skill encourages little ones to listen to the animal sound carefully before telling Alexa or Google Assistant which animal they think it is.
Ready to get started? For Google Assistant say, "Hey Google, talk to Animo Soundzz." To play with Alexa say, "Hey Alexa, open Animal Sounds Quiz."
Get the Guess The Name: Animal Sounds Quiz skill on Amazon
7. Interactive adventures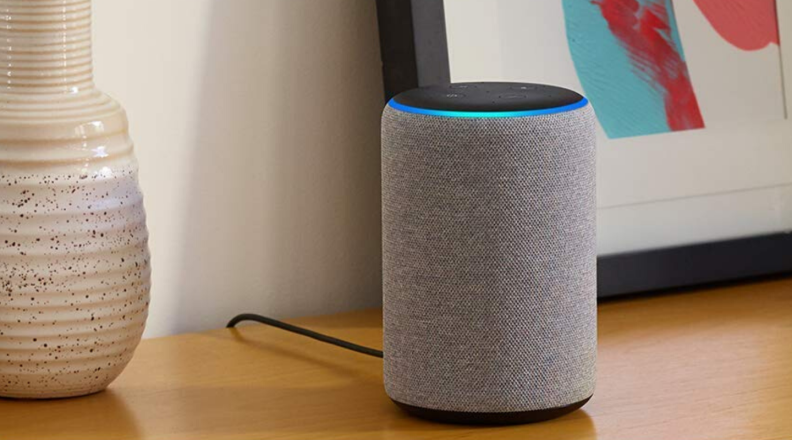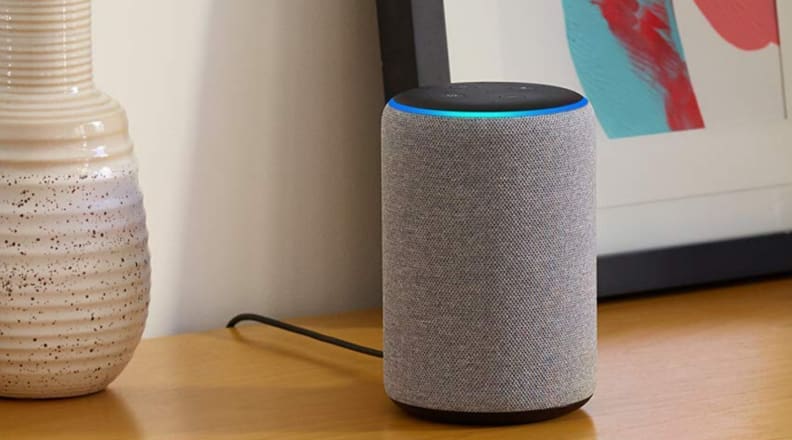 It's inevitable that at some point during the quarantine, your kids are going to get bored. To keep them occupied, have them play adventure games like the Kiwi Monsters for Alexa or Jungle Adventure for Google Assistant.
In Kiwi Monsters, your child can set out on a pretend mission to planet Fruit-O to learn more about monsters. To start, say, "Alexa, open Kiwi Monsters."
Exploring caves, climbing trees, and rafting down rivers are all a part of the fun with Jungle Adventures for Google Assistant. To try it out, say, "Hey Google, let's play Jungle Adventure."
No matter which game your kids play, the narrative will be up to them to decide. Alexa or Google Assistant will present them with a series of choices and questions throughout the interactive story.
Get the Kiwi Monsters skill on Amazon
Get Jungle Adventure on Google
8. Teen Jeopardy!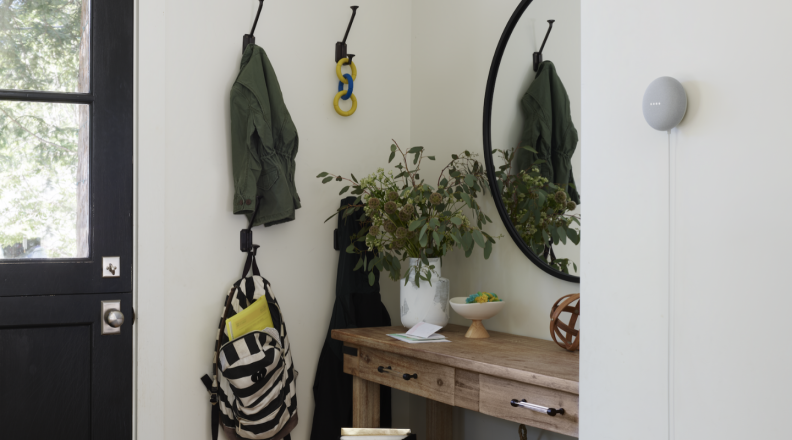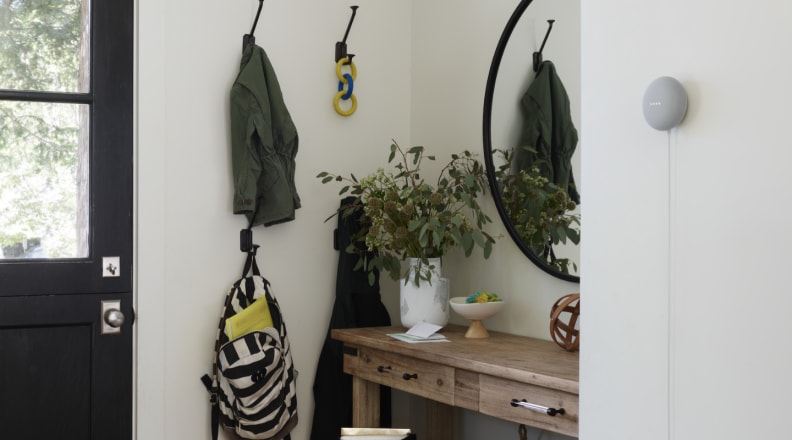 Alex Trebeck has nothing on Alexa and Google Assistant when it comes to trivia questions. High school aged students can play Teen Jeopardy! using Alexa and Google Assistant. Teen Jeopardy! is only available on Sundays when using Alexa and Google Assistant. (Your teen can play a regular round of Jeopardy! any day of the week.) Ask Alexa to "open Jeopardy!" or say, "Hey Google, I want to play Jeopardy!" to start a new game.
Get the Jeopardy! skill on Amazon
9. Disney games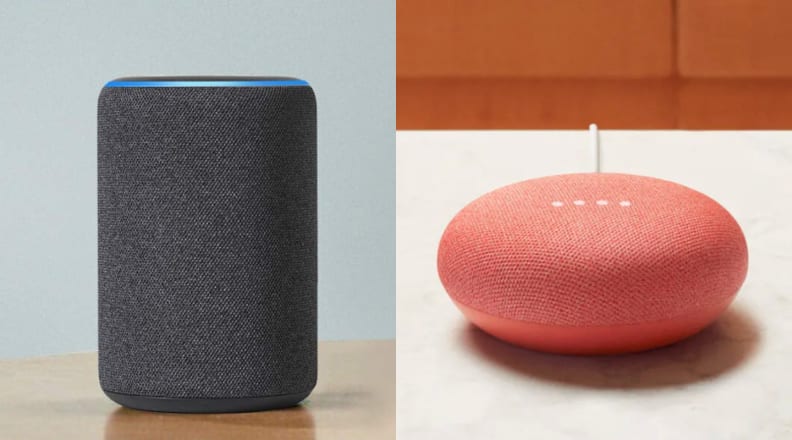 There are plenty of fun Disney games to be played using Google Assistant or Alexa.
With Google Assistant, your offspring can play a game of hide-and-seek "driving" around Radiator Springs with Mater and Lightning McQueen from Disney's "Cars." Ready to ride? To get started say, "Hey Google, play Cars Adventure." Google Assistant also offers family-friendly rounds of Star Wars Trivia Challenge when you say, "Hey Google, play Star Wars Trivia Challenge."
With Alexa, kids can play the Descendants Challenge hosted by Evie, one of the main characters of the popular Disney film franchise, played by actress Sofia Carson. Ready to play? Ask Alexa to "open Descendants Challenge."
The "Disney Hits Challenge" will test your kids' knowledge of popular Disney songs when you say, "Alexa, start Disney Hits Challenge." And, thanks to Disney+, your kids are probably more familiar than ever with Disney movies, characters, and song lyrics.
Get the Descendants Challenge skill on Amazon
Get the Disney Hits Challenge skill on Amazon
Get Star Wars Trivia Challenge on Google
10. Ding Dong Coconut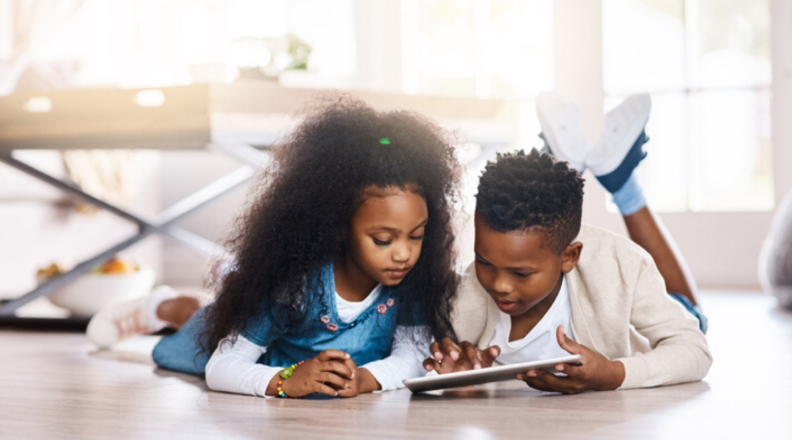 Ding Dong Coconut, a memory game for kids, is available for Alexa and Google Assistant. Here's how it works.
The speaker or device makes a sound and Google Assistant or Alexa will ask you to say a word that is unrelated to the sound that's being played. The random words and sounds continue as the game goes on and your kids can put their memory to the test by trying to keep track of it all. It's crazy, a little foolish, and you'll have oodles of fun playing along with your kids.
Google users can say, "OK Google, let's play Ding Dong Coconut" to start things up or, if playing with Alexa, say, "Alexa, open Ding Dong Coconut."
Get the Ding Dong Coconut skill on Amazon
Get Ding Dong Coconut on Google
The product experts at Reviewed have all your shopping needs covered. Follow Reviewed on Facebook, Twitter, and Instagram for the latest deals, product reviews, and more.