Smart Home
8 smart home gadgets that will make you more productive this year
New year, busier you.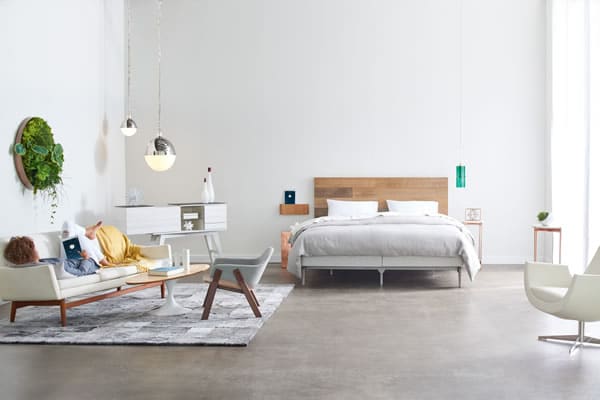 Credit: Sleep Number
Many people strive for simplicity — whether that means refusing to use social media before bedtime, meditating in the morning, or not scheduling themselves so tightly they can't actually enjoy their lives. But simplicity isn't just a mindset anymore. Technology now allows us to control certain aspects of our lives from our smartphones.
From cameras that let you watch your pet from afar to beds that can analyze your sleep style and improve your health, smart home technology has become an inevitable part of our lives. Especially if you have kids, a 9-5 job, and countless responsibilities…if you can make things easier, why not?
With these smart home gadgets, you can control what matters the most to you. Maybe you prefer to change the thermostat of your home from your office, or maybe you want to have your daily to-dos read out loud to you by a friendly little device. Whatever it is, we live in the future, and it's possible! Here are 10 smart home gadgets that will make you more productive this year.
If you don't think Amazon Echo can help you, think again: this gadget (whose "Siri"-like robot is named Alexa) can play your music just by hearing your voice! It's a speaker, of course — and a good one at that. Plus, it can answer your questions, provide scheduling assistance, provide any sort of information you need, and it can control lights, temperature, and other smart gadgets. With apps that connect to Echo, you'll be able to do just about anything. All you have to say is "Alexa!"
Buy the Echo on Amazon for $179
This bed is the holy grail of smart gadgets. There's nothing more important than getting a good night's sleep — and with a bed that can actually track your sleeping habits (and help you improve on them), you can't go wrong. It connects to other apps (and Fitbit!) and can be customized per side of the bed.
Shop for a Sleep Number bed here.
To new parents everywhere, you're welcome! This device (which is fairly affordable) has been shown to seriously garner thousands of positive reviews. Look, raising a baby is hard. Anything that can make it a little easier can be a good thing. With this device, you can control the incline or decline of the seat for daytime play or sleepy time naps. And, the best part, it can be controlled via your phone — songs, vibrations, sounds. Best bet? it doesn't interrupt baby's sleep or comfort.
Buy the Smart Connect Sleeper from Walmart for $99
This gadget senses the weather and how much energy your home uses and will automatically shift your home's temperature based on what it finds. It can tell which room you're in, which means you waste less money heating or cooling certain parts of your home. And if you have an Amazon Echo, this device connects to Alexa.
Buy the Ecobee3 from Amazon for $247.89
If you're not mechanically inclined, the Automatic Pro can demystify car ownership. The small device plugs into a port on your car and is connected to an app on your phone. You can use it to find out why that Check Engine light went on, what needs routine maintenance, when you'll need gas, and what sort of diagnostic responses you should be getting from your mechanic. It can also communicate with other smart home technology, so your thermostat will adjust and your favorite music will start playing as soon as you get home.
Buy the Automatic from Amazon for $129.99
Controlled from an app on your phone, the Withings smart body analyzer is way more than just a Bluetooth scale. It can tell you precise details about your weight, body fat, heart rate, calorie intake, air quality, and more. If you want to learn more about how your environment is affecting your health — and how you can get fit (since it connects with apps like MyFitnessPal), this is your best bet.
If you want to spend a little less, check out the Weight Gurus smart scale. It gets great user reviews and can securely connect to your FitBit, Google Fit, and Apple Health.
Buy the Withings WS-50 Smart Body Analyzer from Amazon for $134.99
Buy the Weight Gurus Bluetooth Smart Connected Body Fat Scale for $69.99
The NestCam Outdoor (and Indoor) cameras are essential for the homeowner who wants to know that their property is always safe. It sends a clear video to your phone using wifi, it alerts you to any sound or movement (if you ask it to), and it can store clips (at another cost).
Buy a Nest Cam from Amazon for $199.00
At work on a Friday when you have a big family dinner later that night? Easy! Cook from your office. Sous vide cooking heats food to an exact temperature for a long time, so your food is tender—and ready when you are.
This precision cooker uses wifi (we know how strange it sounds) so that you can control it from afar. The app will keep you updated on how your food is cooking, and you can make any sort of minute adjustments with the click of a button.