Smart Home
Apple Music vs. Spotify—Which music streaming service is right for you?
We compared the two platforms to help you decide for yourself.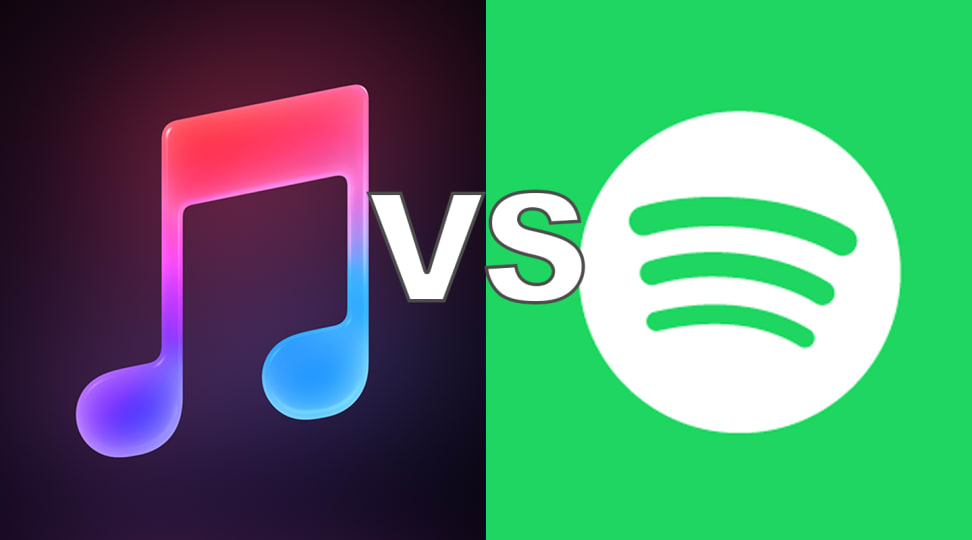 Credit: Reviewed / Apple / Spotify
Grab your headphones and get ready to rock, because we are pitting two of the most popular music streaming services against one another to figure out what sets each one apart. In the U.S., more than 51 million people subscribe to a monthly music streaming service, according to research MusicWatch provided to Billboard. You've probably heard of the big names like Spotify, Apple Music, Google Play Music, and Amazon Music. And, chances are you subscribe to at least one of those services. But, how do you ultimately know which one is right for you? To help you figure it out, we took a look at Apple Music and Spotify—two of the biggest platforms out there—to see how the two stack up against one another.
From robust song catalogs to varying subscription plans and prices, both music streaming services are fairly similar in terms of what they offer. However, there are a few distinctions you should know.
1. What are Spotify and Apple Music?
Spotify and Apple Music are digital music streaming services that give you access to millions of songs from popular artists and bands. In addition to music, subscribers can listen to podcasts, check out exclusive content from musical entertainers on both platforms, and listen to the radio.
2. Catalog size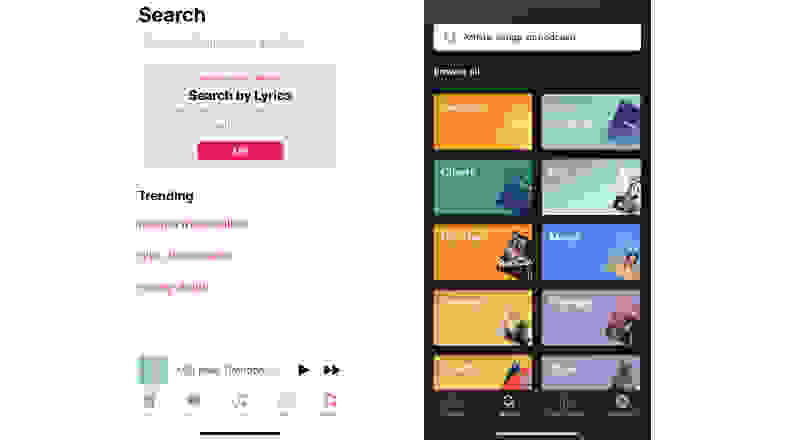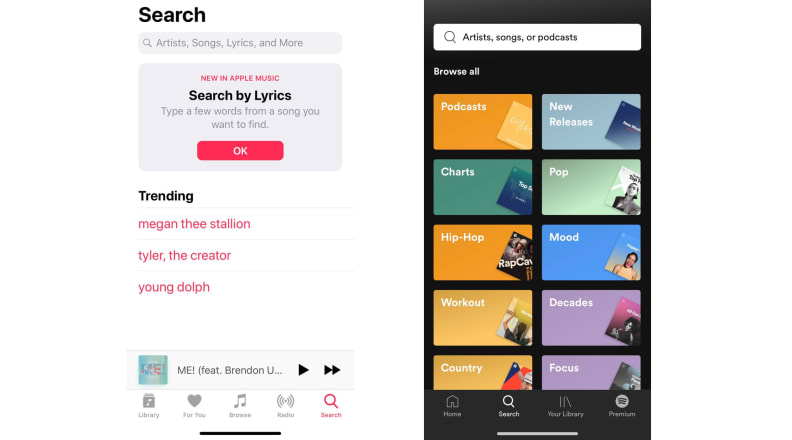 When it comes to the amount of music that's available, one service stands out. Apple Music touts a total of 50 million available songs for subscribers. That's more than Spotify offers. However, Spotify still delivers an abundance of music with more than 40 million songs to choose from.
To figure out which one is right for you, try signing up for a free trial of Apple Music and Spotify Free. (More on that below.) Doing so can help you determine if the songs you want to hear are available on one or both of the platforms. However, with so many songs to choose from on each streaming service, you really shouldn't have much of a problem filling your music library either way.
3. Free trial
Unlike Spotify, Apple Music offers a free, three-month trial period for users. It's worth noting that Apple Music requires a valid credit card number to sign up for the trial, and your subscription will automatically renew after the trial period ends.
Read more: The Best Wireless Headphones of 2019
In lieu of a free trial period, Spotify is currently running a promotion that grants you three months of Premium access for $0.99. After that, you'll be on the hook for $9.99 a month for a Premium account subscription if you want to continue listening without ads. The current promotion is valid until June 30, but Spotify has been known to bring this offer around from time to time. If you miss out this time, keep your eyes peeled for a similar deal later this year. You can also sign up for Spotify Free, but expect to hear ads. Oh, and per the terms and conditions of both deals, only new subscribers are eligible to enroll.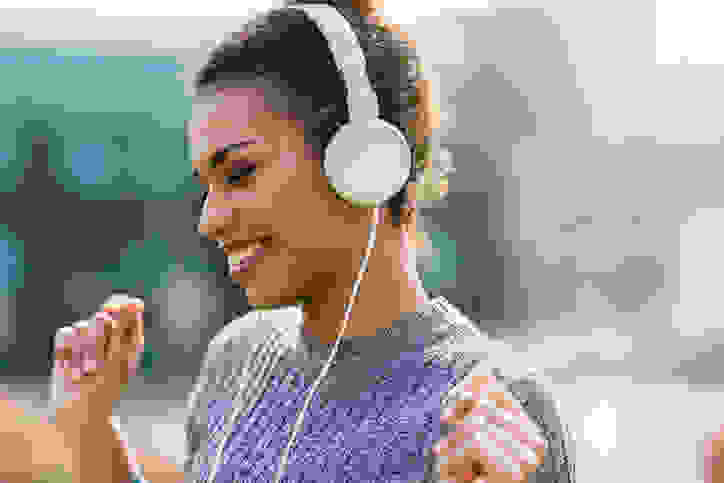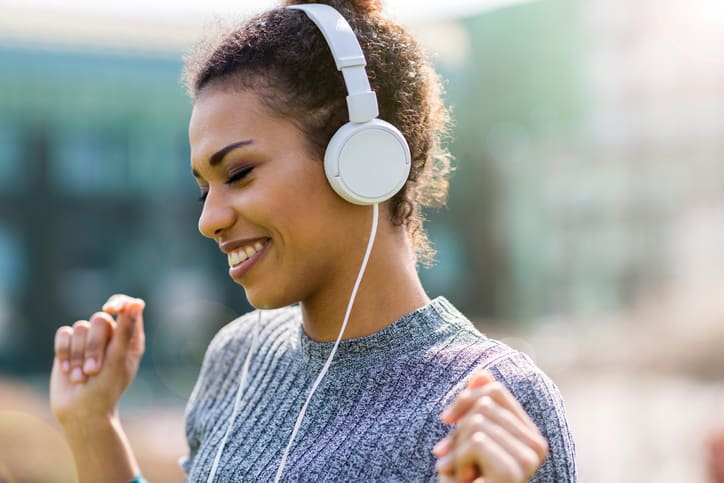 Not sure you want to commit to Apple Music or Spotify? Do yourself a favor and set a reminder in your phone to cancel your plan before the three-month subscription or trial period ends.
4. Ad-supported, free plans
Apple Music doesn't include an unlimited free music plan, but Spotify does. While Spotify offers paid subscription plans, the site also offers a free plan for those who don't want to fork over any money. With Spotify Free, you get access to more than 35 million songs, podcasts, and audiobooks. The one drawback is that this particular plan includes ads and does not let you download music to listen without an internet connection.
5. Streaming quality
Turning up the sound quality can help you listen to music the way it's meant to be heard. However, if the quality is set too high, it can be a real drain on your data plan. Basically, the higher the sound quality, the more data it uses. So, what does it mean when it comes to selecting a music streaming service?
Both Apple Music and Spotify allow you to toggle between the sound quality, but it varies by platform.
For example, when accessing Spotify from a free account on the web, you can expect an AAC rate of 128 kbps. For Premium accounts, the quality is AAC 256 kbps. Spotify automatically adjusts the sound quality based on your network connection. However, within the desktop, mobile, and tablet app, you can select low, normal, high, and very high (only offered with Premium accounts).
To adjust the quality on a mobile or tablet device, open the Spotify app and navigate to Home, Settings, and then Music Quality. From there, you can modify the audio quality. This function is not available in Spotify's web player.
Apple Music streams at a rate of 256 kbps AAC, the same rate as Spotify Premium accounts. To adjust the streaming quality of Apple Music, head to the Settings folder on your iOS device and select "Music" and then "Cellular Data." Make sure Streaming is set to on. Directly underneath, you will see an option to turn on High Quality Streaming. There's a note from Apple directly below this option that advises listeners to "always stream music at the highest quality," but that doing so will use more cellular data and may also cause a delay when you press play on a song.
You can avoid using up your data on high-quality streaming by making sure your device is connected to WiFi.
6. Subscription plans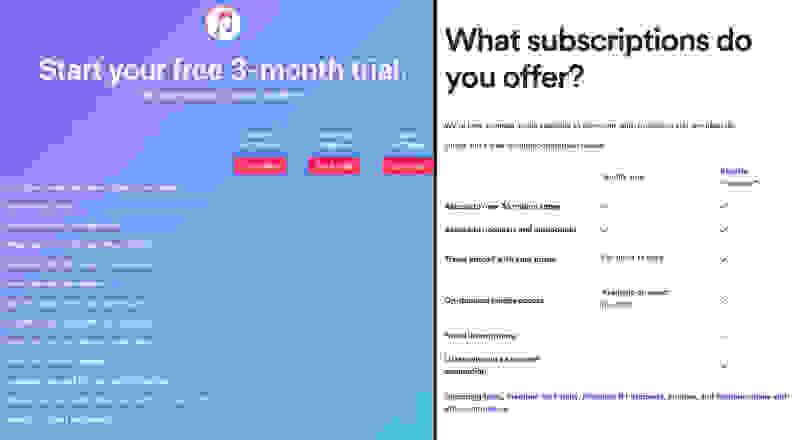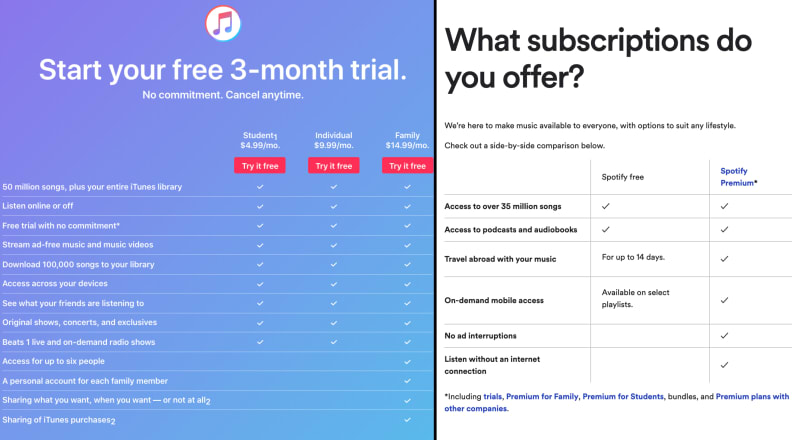 Apple Music has three monthly subscription tiers: Student ($4.99), Individual ($9.99), and Family ($14.99). All of the plans allow you to listen online or offline without any ads. You can also download up to 100,000 songs to your library, access Apple Music across your devices, see what your friends are listening to, and gain access to original shows, concerts, and Apple Music exclusives. In addition to these features, the Family plan includes access for up to six people with a personal account for each family member and the ability to share iTunes purchases.
Spotify offers similar plans at the same price points: Student ($4.99), Individual ($9.99), and Family ($14.99). However, unlike Apple music's student subscription, Spotify's student plan also comes with Hulu's ad-supported TV plan and unlimited access Showtime. A basic Hulu subscription costs $5.99. Factoring in that cost and the overall value of the subscription, Spotify's Student plan is a more cost-effective option over Apple Music's subscription for college students. The Spotify Family plan isn't all that different from Apple Music's multi-user plan. The account can be used by up to six family members who reside at the same address and each user will have access to their own account.
Don't like these options? Then you may want to consider Spotify Premium. The ad-free service gives you unlimited skips, high-quality audio, and the ability to play any track offline.
7. Look and feel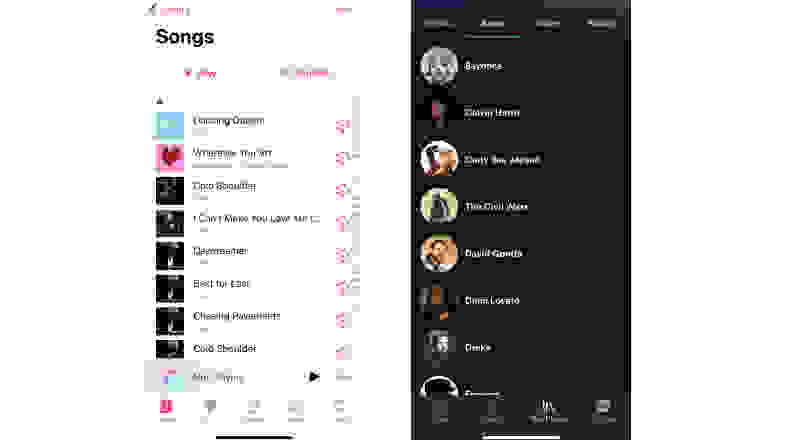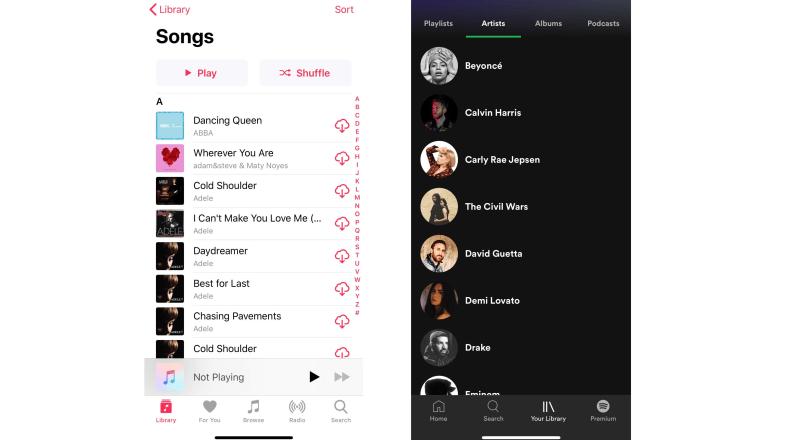 If by this point, you still haven't decided which music streaming service to choose, then maybe the design will be the deciding factor for you.
For the most part, the Apple Music app offers a clean, white aesthetic that's light and modern. Compare that to Spotify's overall dark theme that primarily showcases a black background and the brand's signature green color splashed throughout—two are complete opposites when it comes to appearance.
8. Spotify Web Player vs. Apple Music Web Player
Apple Music does not offer an official web player for music. However, Spotify does.
Within the Spotify web player, you can view a particular artist's page and access and edit your music library. You can also search for artists, songs, albums, new releases, and more. Spotify's web player is supported by the following browsers: Chrome, Firefox, Edge, and Opera. If you're having trouble running the web player, it's possible that your browser may be out of date. Installing the latest rendition should fix any problems. Still not working? You can also try opening the web player in a private or incognito tab. Spotify may be restricted at certain locations like schools, work, and other offices. Follow @SpotifyStatus to track outages or report any issues.
9. How to cancel Apple Music and Spotify
Another important factor to consider is the cancellation process for both Apple Music and Spotify. It's actually a lot easier than you might think.
To cancel your Apple Music subscription, open the Settings folder on your smartphone. Navigate to and open iTunes & App Store. At the top of the screen, click on your Apple ID and then select View Apple ID. Scroll down toward the bottom of the page and select Subscriptions. If you have a current Apple Music subscription, you should see it at the top of the page under the Active category. Tap on your Apple Music Membership to view more details. Click on Cancel Subscription (in red letters) to end your subscription. The app will prompt you to confirm you want to cancel. All you have to do is select Confirm and you're all done.
Ready to cancel your Spotify subscription? If you signed up via the website or the app, simply login to your account page. In the menu on the left side of the page, click on Subscription. Next, select Cancel and then Cancel Premium. Like Apple Music, Spotify asks you to confirm that you do indeed want to cancel your membership. So, go ahead and click Yes, Cancel. There is one thing to note. If you signed up with a student discount and then cancel your plan, you will not be able to apply it to another account until the year-long verification period is through. You can also log in to your account and fill out this form to submit to Spotify to cancel your membership.
Up next
Get Reviewed email alerts.
Sign up for our newsletter to get real advice from real experts.