Smart Home
How to manage your Alexa-enabled devices
Here's how to manage dozens of devices quickly and easily
Credit: Amazon
If you recently purchased an Amazon Echo, Echo Dot, or Amazon Tap you might be left wondering "Well, now what?" Nothing to fear, my friend.
There's a lot to get through in order to get a smart assistant to do the heavy lifting of your home automation. And while we've gone over the seemingly endless list of everything that works with Alexa, there are some fundamental settings you might want to familiarize yourself with first. Below you'll find a step-by-step guide on how to manage your new Alexa-enabled device.
How to get started
The first thing you'll see when you get into the Settings tab of the Alexa mobile app or at alexa.amazon.com is a list of some pretty generic settings. It's from here that you'll be able to manage: your Wi-Fi, Bluetooth connection, pair an Alexa remote, sounds and notifications, your device name, and device location. It's all pretty straightforward stuff here, so I'll spare you the details.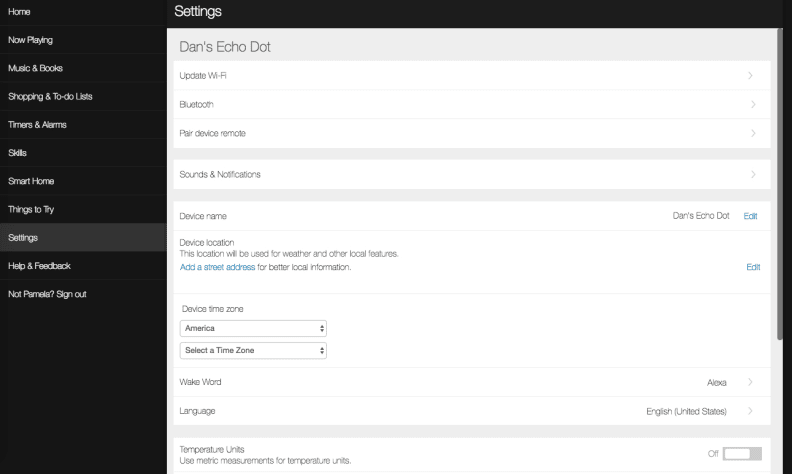 How to set wake words for Alexa
Much like anyone in your life, if you want to interact with Alexa, first you need to get its attention. While the default is your new assistant's name, there are actually a couple of other options to choose from. Whether you like the familiarity of a name or the cold-blooded distance of a brand, there's something here for you.
Alexa
Amazon
Echo
Computer
How to change measurement units
Go to the Alexa mobile app or go to alexa.amazon.com
Scroll down to the bottom until you see "Temperature Units" and "Distance Units"
Slide the toggle to the On position for metric measurements
How to remove official devices from Alexa
Go to the Alexa mobile app or go to alexa.amazon.com
Click on Settings
Click on the name of the device
You should see a Deregister button near your name. Click that and confirm
How to remove unofficial devices from Alexa
It's a little bit trickier to remove DIY products or other unofficial hardware. Luckily, thanks to our friends at CNET, it actually seems to be a pretty simple process.
Login to amazon.com
Hover over Accounts & Lists and click Manage Your Content and Devices
Click to open the "Your Devices" tab
Click on the ...* button to the left of the device you want to remove and click Deregister
Click that again to confirm
Related Video