Smart Home
How to keep Amazon's Alexa from spoiling your holiday surprises
Don't let Alexa give away what's under the tree.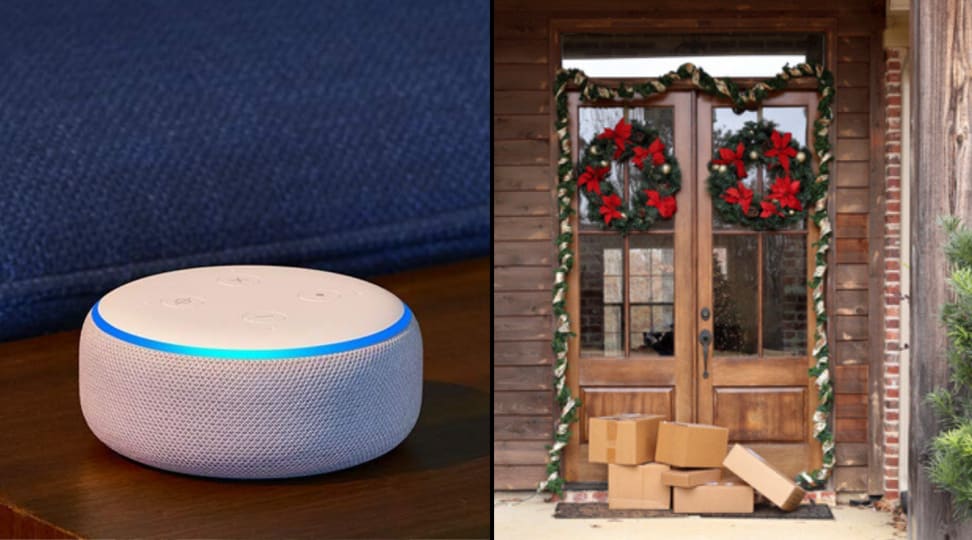 Credit: Amazon / Getty / C5Media
It's that time of year when what feels like a bazillion Amazon packages start arriving at your door—especially on the heels of Black Friday and Cyber Monday. If you have an Amazon Echo speaker in your home, you may have noticed that Alexa announces when a delivery arrives (including what's inside).
This can totally ruin the surprise if the present is for someone within earshot of your Echo speaker. To make sure this doesn't spoil what's under the tree for your friends and family members, you'll need to turn off Alexa notifications to keep her from reading aloud the name of each item.
How do I turn off Alexa package announcements?
Alexa package announcements can be toggled on and off within the Amazon Alexa app, which is free to download on iOS and Android devices. To adjust the settings on this feature, open the Amazon Alexa app and click the three stacked lines in the upper left-hand corner of your phone or tablet's screen.
Select Settings toward the bottom of the menu > Notifications > Amazon Shopping. Find the section called "Say or show item titles." This is where you'll want to turn off notifications for "items in delivery updates" and "including items that might be gifts." Although there is a special toggle button for items that Alexa thinks are gifts, it's best to play it safe and adjust this setting to off just in case she mixes something up.
For an extra layer of protection, turn off package alerts in the Delivery Notifications section. This will prevent Alexa from letting you know when a present is out for delivery or has been delivered. Finally, scroll all the way down and turn off "order updates."
Am I doing this right?
The second best thing you can do to safeguard against Alexa spoiling any surprises this holiday season is to make sure your new settings work as they should. To test it out say, "Alexa, where's my stuff?" Normally she would announce the name of the product you ordered, but if you turned off the above settings, she will only tell you that a shipment is on its way, the date you bought the item, and when it is expected to be delivered.
Under normal non-holiday circumstances, the rim around the top of your Echo speaker would flash yellow, alerting you to a notification that your order is on its way. When you turn off delivery notifications, the light will no longer link yellow after placing an order with Amazon.
Now you can rest easy knowing that your Echo Dot, Echo Show, or another Echo speaker, like our favorite, the Echo (third-generation), won't ruin any gifts you've ordered on Amazon. Just make sure to go back in and adjust the settings after the holidays are over, so you can quickly and easily keep track of your Amazon orders and when they will arrive.