There's plenty to like about the new Google Home Hub, Google's latest smart assistant and their first proprietary smart home device with a screen.
For one, it has all the smarts of the Google Assistant built into its interface, so you can ask it questions, play games, set reminders, broadcast messages, and access smart home controls with your voice.
And with a 7-inch display, it's also much smaller than some of the other smart displays that have come out in recent months, so it fits into tight corners or on narrow countertops much better than its 8- or 10-inch counterparts. But it's the Home Hub's abilities as a digital photo frame that makes it so appealing to me.

If you are already on board with the idea of bringing a smart display into your home, here's a closer look at some of the smart display's photo-centric features. After testing the Home Hub for a couple weeks, I think this feature is compelling enough to make this a digital photo frame that's actually worth bringing home, even if you aren't as interested in its smart features (but it does work with
a LOT of different devices and services
).
It's a great (and easy) way to display your photos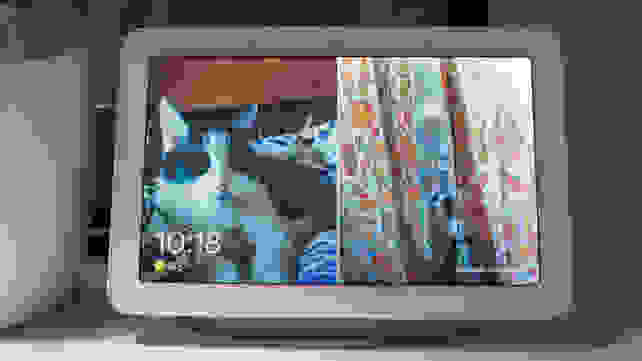 Digital photo frames were all the rage a decade ago, though they were often fussy to set up and maintain. You'd have to either tether it to your computer with a USB cable to transfer over files or load up an SD Card whenever you wanted to add or change the images on display.
We've come a long way since those days, especially with Google's new smart display. The Google Home Hub is much easier to populate with photos than those old digital frames because it's all managed wirelessly. All you need is an active Google Photos account (it's free!) and the app on your smartphone. The app even lets you create albums that only recognize certain faces, making quick work of creating a family photo album to display on your Home Hub. This feature is called Live Albums, and the facial recognition algorithm works quite well.
Once you make an album, the Assistant will continue to update it with any new, relevant images you upload to your Photos account. Live Albums also work for cats and dogs, though you'll want to take a look through the album before pushing it live—in my case, my black-and-white cat was often confused with a friend's similarly marked pet. To that end, you'll want to curate your Live Album before it goes live because the facial recognition algorithm discerns very little and will display every picture, regardless of quality or who else is in it.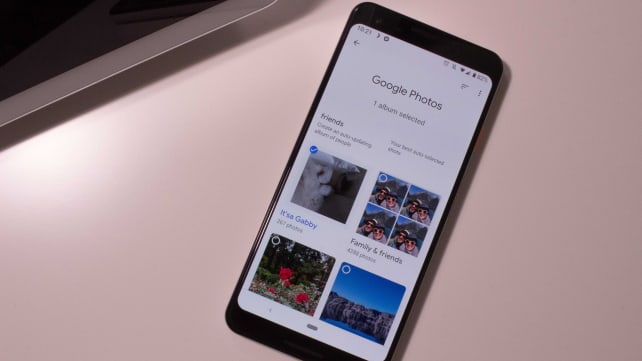 Any Live Album you make can be set to run in Ambient Mode, which is essentially a looping screensaver. The Home Hub will display photos side-by-side in a vertical crop (like in the picture at the top of this page) in addition to the standard horizontal and vertical images. It's an excellent way to add a bit of dynamism to what is just another static slideshow. Unfortunately, the Hub won't display any videos, motion photos, or GIFs that you may have created through the Photos app. There's always potential for Google to add this feature later, so we've got our fingers crossed.
There are other content options to run in Ambient Mode if you don't want your own photos to display, such as if you use this in a guest bedroom or in a professional setting. You can choose to display random photos from Google's massive library of artwork and images, or you can upload other albums to your Photos account. There's even an option to pull pictures from your Flickr and Facebook, though these particular plug-ins are still in their experimental stage.
The screen is brighter, sharper, and smarter
The Google Home Hub's 7-inch screen is actually a bit smaller than your average smart display—about 3 inches smaller than the display on Amazon's revamped Echo Show and 1 inch smaller than the original Show. But despite the Hub's 1024x600 screen resolution, photos always appear lively and vibrant (and that's not the only thing that sets Google apart from the Echo lineup).
Whether you're reminiscing about old memories or using the device's smart features, the Google Home Hub makes ample use of its Ambient EQ light sensor to dim and brighten the display as needed. This ensures that the Hub never blares in your face or is too low to see, regardless of the time of day. It works pretty well, and it's subtle enough that you'll hardly notice when it shifts. At night, when the lights are out, it also displays an appropriately dimmed digital clock face.
It's so much more than a photo frame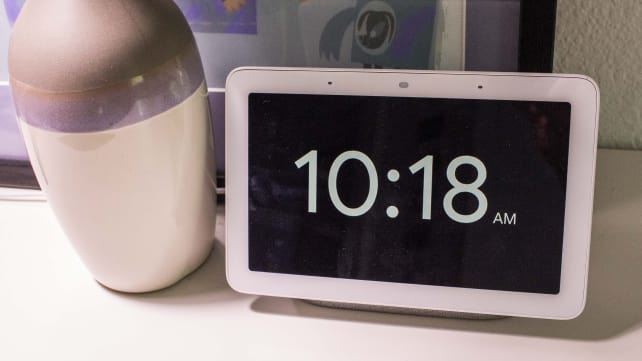 Despite its focus on photo-centric features, the Google Home Hub can do much more than display photos of your favorite people and animals. In addition to offering at-a-glance smart home controls—including a user-friendly interface—you can load up live television through YouTube TV (something the Echo Show and Spot can't do), as well as on-demand video from the likes of Hulu and HBO Now. Note that it doesn't yet support Netflix, though. Google is also offering six months free of YouTube Premium if you buy the Home Hub, which isn't a game changer, but sure is nice.
The only component the Google Home Hub doesn't have that others do is a camera.
The only component the Google Home Hub doesn't have that others do is a camera. So if you don't like the idea of a smart device that can potentially spy on you, the Home Hub might be a great option. But that could be a deterrent for folks looking to buy this device as a way to keep in touch with family on the opposite side of the country. However, you can still use the Home Hub to make Google Duo calls. The Hub just won't display any video from your end.
Should you buy one?
Overall, if you're considering the Google Home Hub as your first smart display and you love the idea of seeing your photos on display, you won't be disappointed. At $150, I think so. It's mostly a Google Home speaker with a 7-inch digital photo frame in tow. In addition to being a fabulous way to display your pictures, it's a great way to control your smart devices and it's not a bad price if you're looking for something to stream music and video. If you're still not sure whether you want to go with Google Assistant, Amazon Alexa, or Apple's Siri, you might want to check out our smart assistant buying guide.
Prices are accurate at the time of publication, but may change over time.
Our editors review and recommend products to help you buy the stuff you need. If you make a purchase by clicking one of our links, we may earn a small share of the revenue. Our picks and opinions are independent from any business incentives.