Smart Home
This Kit Will Turn Any Deadbolt Into a Smart Lock
Kwikset makes dumb locks smart, joins the HomeKit bandwagon.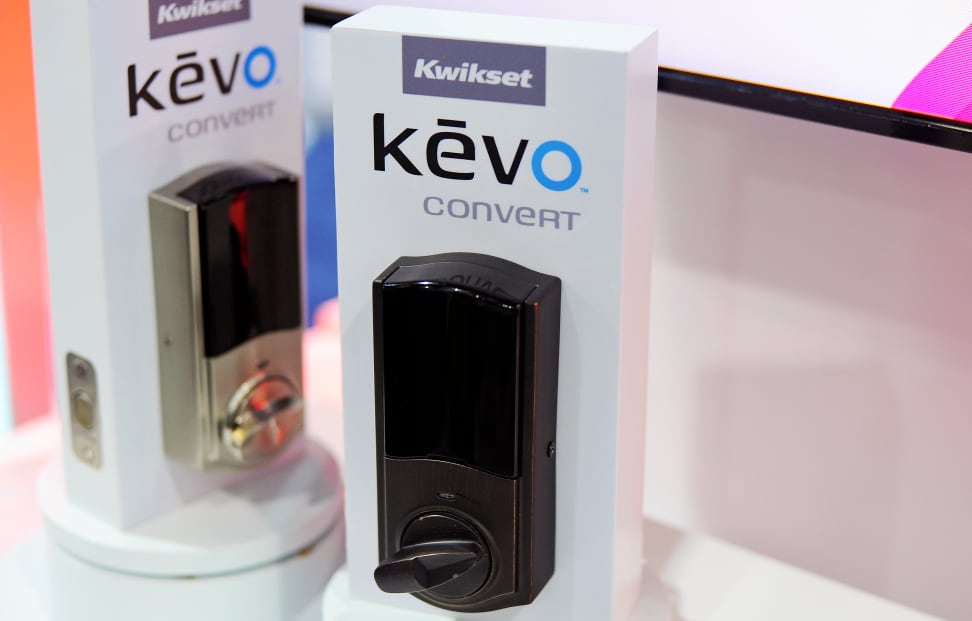 Credit: Reviewed.com / Kyle Looney
August might be the darling of the smart lock market, but traditional lock makers like Kwikset, Schlage, and Yale are hot on its heels with takes of their very own. Here at CES, Kwikset has announced three new products, as well as prototypes for Google Weave and Thread.
Arguably the best of the three is the Kwikset Kevo Convert. This conversion kit can turn any dumb old deadbolt into a smart lock by removing the interior side and attaching smart lock back.
With the Convert installed, you'll be able to give people eKeys, unlock and lock your door with smartphones and wearables using Bluetooth, and check the lock's status.
Kwikset also announced a new Apple HomeKit–compatible lock called the Premis. It features up to 30 simultaneous user codes, Siri voice control, and a touchscreen keypad that deters "smudge attacks" where thieves try to guess your code based on your finger smudges. To prevent these attacks, it requires you to press two random keys before entering your passcode.
×
Kwikset Locks
The Premis can be controlled from the iPhone, iPad, and Apple Watch, but requires a third-generation or newer Apple TV to be controlled remotely. (HomeKit uses the Apple TV as its smart home hub.)
Last but not least is the Kwikset Kevo second generation, which the company updated with a smaller interior box, a simpler app-based installation process, and improved security to prevent tampering and lock-picking. Like the first-generation model, this Kevo's standout feature is its "touch-to-open" feature, which unlocks the deadbolt with just a touch so long as your Bluetooth smartphone or fob is within range.
In addition, the Kevo second generation and Kevo Convert can both be remotely controlled with the $69.99 Kevo Plus app. Both locks also work with Android Wear smartwatches, Honeywell Total Connect Comfort WiFi thermostats, the Nest Learning Thermostat, and the Ring Video Doorbell.
All three of these new locks will be available sometime during 2016. Kwikset is also showing off several prototype models at CES in support of Google Weave and Thread, two new complementary smart home standards that are working to unify the industry. There's no word on when they'll hit shelves, if ever.
Related Video