Smart Home
Microsoft's new smart speaker looks exactly like the Amazon Echo
Harman Kardon teases the newest Amazon Echo competitor
Credit: Harman Kardon
Smart speakers like the Amazon Echo and Google Home have exploded in popularity this past year, but a new competitor has entered the scene. Made by Harman Kardon and powered by Microsoft's smart assistant—known as Cortana—the Invoke was officially announced today after being teased back in December.
First and foremost is the direct integration with Microsoft Cortana. Already built into your Windows 10 devices and Xbox One, Cortana functions very similarly to Alexa, Google Now, or Siri. It can set reminders, make lists, answer questions, and control your smart home enabled devices.
At this point, it's almost rather a personal preference on what smart assistant you prefer, but because Cortana is already in your Windows PC, there's a definite benefit from having it at the heart of your smart speaker as well. Unfortunately, there weren't any design innovations. It's pretty obvious where Harman Kardon got their primary "inspiration" from
But, even if the Echo and Invoke look similar, what matters are the differences in features. The Invoke will be able to make and receive hands-free calls to cell phones, landlines, and any Skype-enabled device through Skype integration. That's something neither the Google Home or Amazon Echo can currently do.
Thanks to Harman Kardon, the Invoke is also pegged to particularly excel in sound quality. With three woofers, three tweeters, and a promise of "true 360-degree sound," it certainly has our hopes up.
While there's no word on pricing or an exact release date (only a promise for Fall 2017), we're expecting to hear more later this week at Microsoft's Build developer conference. But, if you like what you see, you can sign up at Harman Kardon's website for email notifications as more information becomes available. Or, if you hadn't heard, the Amazon's Echo is having its first big discount since the holidays. If you're in the market, you can pick up an Echo for $149.99, a cool $30 off its regular price.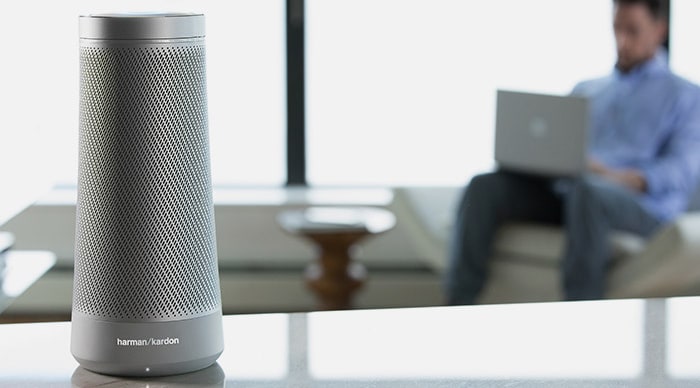 Related Video