Smart Home
Samsung Keynote: Everything We Make Will Be Connected
BK Yoon bets the house on the Internet of Things.
Credit:
In 2014, Samsung delivered more than 665 million products to consumers around the world. That equates to about 20 devices sold per second, according to BK Yoon, President and CEO of Samsung.
Yoon was at the Consumer Electronics Show (CES) in Las Vegas to deliver the event's keynote speech, and he came armed not just with an announcement, but also a challenge to the industry.
"Many people believe that the Internet of Things, or 'IOT' for short, is something that's in the distant future," said Yoon. "It's not!"
"By 2017, 90 percent of all Samsung products will be IOT devices—and that includes all our televisions and mobile devices. And five years from now, every single piece of Samsung hardware will be an IOT device, whether it is an air purifier or an oven."
"Five years from now, every single piece of Samsung hardware will be an IOT device."
That's right: Everything the South Korean manufacturer sells in 2020 will be a potential component of your smart home. And with 665 million devices pouring out of factories every year, Samsung is one of the few companies—perhaps the only company—that could potentially deliver on such a promise.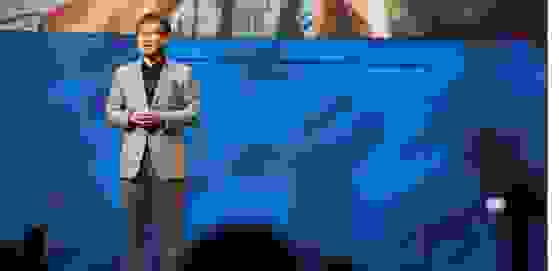 "Each of us will be at the center of our very own technology universe," added Yoon. "An IOT universe that constantly adapts and changes shape as we move through our world. In other words: we are bringing the physical and the digital world together."
"This will revolutionize our lives. It will unlock infinite possibilities."
Yoon provided an example of the potential of IOT by describing a meeting he had. What if the chairs he sat in were connected and equipped with sensors?
"When we sit down the chair knows where I sit and that my microphone and monitor need to be ready. The chair may detect I've just walked in from the outside and that I'm cold, so it warms up."
But there's a wealth of operating systems rushing to compete for the smart home market, and many companies aren't playing nice together. When Samsung acquired SmartThings last August the company promised to keep the platform open. And tonight the CEO challenged the entire industry to aim for an open ecosystem, so that all IOT devices can work together seamlessly.
"We must not have walled IOT gardens," Yoon emphasized. "We can deliver the benefits of IOT only if all sensors and all devices work with each other."
Yoon said Samsung is prepared to play a leading role. The CEO promised Samsung's IOT components and devices will be open, and he assured the audience that other manufacturers will be able to easily connect to Samsung devices.
The CEO promised Samsung's IOT components and devices will be open, and that other manufacturers will be able to easily connect.
Yoon's call for a level playing field was met with a loud round of applause from CES keynote attendees.
As a kind of down payment on his promise, Yoon brought in a few noteworthy guests representing companies that have stepped up as partners with Samsung.
Alex Hawkinson, the co-founder and chief executive of SmartThings, reinforced Samsung's commitment to an open Internet of Things. Since August, he noted, the number of developers working with the SmartThings platform has doubled.
"We're on all platforms," said Hawkinson. "SmartThings works on Android, on iOS, on Windows Phone, on all wearable devices from Samsung, and there's a solution for smart TVs as well." Hawkinson named some of the partners SmartThings has been integrating with, including Netgear for cameras, Philips for lighting, Honeywell for thermostats, and Chamberlain for garage doors.
Next up was Hosain Rahman from Jawbone, the technology company known for wearable devices such as UP wristbands, plus a range of headsets and speakers. Rahman said that, to date, Jawbone has more than 2,500 developers building integrations, from fitness and lifestyle to smart homes and cars.
"Our partnership with SmartThings is a great example of how we can make the Internet of Things work," Rahman explained. "By connecting UP to SmartThings, you can now activate your entire smart home through your UP band."
In promoting cross-industry collaboration, Yoon also brought out Elmar Frickenstein, BMW's Senior Vice President Electrics/Electronics and Driver Environment, who said that most of the fleet is now connected, after the BMW Connected Drive Store launched last year. In addition to connecting to SmartHome, Frickenstein said the newest Samsung tablets are fully integrated into the environment of the car, allowing passengers to control ambient light or air conditioning.
"In the future, connectivity will be the key technology for highly automated driving," Frickenstein added. "Car sensor information will be shared over the cloud with all other cars."
Yoon concluded his keynote presentation looking back on his 30 years in the industry.
"Technology has changed a lot," the CEO reflected. "More importantly, it has changed our lives. Computers, the Internet, mobile devices, white goods of course, televisions... I observed each and every turn since I was a young engineer."
"But the change so far, is nothing compared to what's ahead. What we are holding in our hands are infinite possibilities."