Smart Home
This Home Security Camera Recognizes Family Members
Big Mother is watching you.
Credit:
Smart locks and video-enabled door chimes are pretty cool ways to keep a secure eye on your front door, but they do seem to forget something: Isn't what's happening inside your home more important?
This is the idea behind Welcome, a new product from Netatmo—a European company that did little to impress us last year with its UV-tracking wrist wearable. But this year Netatmo seems to have its head on straight.
The device learns different faces over time and can independently identify family members.
Welcome is a simple 130-degree camera that incorporates facial recognition technology to observe who enters your home. The cucumber-sized device is meant to be placed on a surface by your home's entrance, where it can silently monitor the comings and goings of family members.
More importantly, it can immediately notify users when a stranger enters the home—invited or otherwise.
The device learns different faces over time and can independently identify family members. Users can opt to receive notifications or store footage of individual family members, and video and identification data are stored via SD card in the phone. Netatmo also boasts a "bank-level encryption connection" for smartphone access.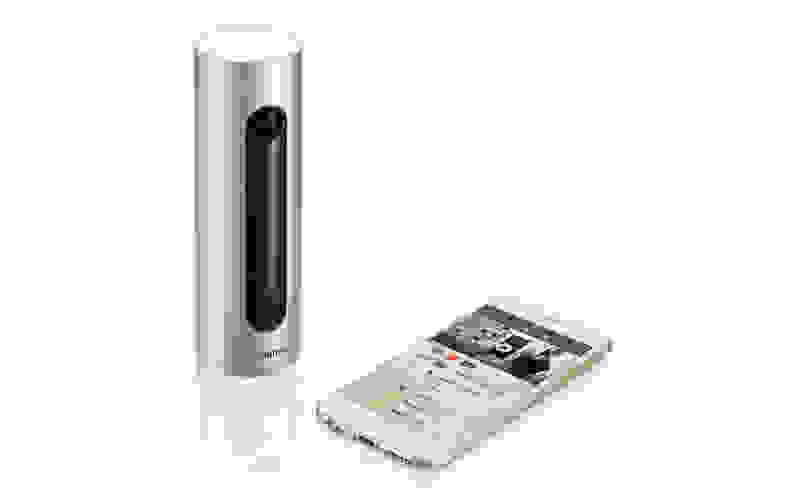 "Welcome addresses two major consumer needs: to know when their loved ones are home, and to be aware if a stranger breaks into their residence," said Fred Potter, founder and CEO of Netatmo.
With the proliferation of smart home gadgets alongside cyber security threats, it's no wonder manufacturers and consumers alike are expressing greater concern about safety and privacy.
Dropcam, the current leader in simple home video monitoring, was recently bought by Google's Nest Labs. Indeed, at this year's CES we've already seen a bevy of smart home products related to home security—including Honeywell's new smart home security system, a smartphone-enabled video door chime from Chamberlain, a smart luggage lock, and too many smart door locks to count.