Smart Home
This Smart Coffee Maker Brews What You Command
Finally, a way to brew coffee from the comfort of your bed—or car
Credit:
The Internet of Things is a pretty difficult concept to explain to the average person, but a lot of experts use this example: Imagine a future where your phone or alarm clock recognizes when you've woken up, and then autonomously directs your coffee maker to begin brewing a cup of joe. That same coffee maker can be remotely controlled, or work with other household objects to determine when and how you prefer your coffee.
It's an admittedly simplistic example, but the coffee angle is something most people can relate to. The problem is, no one has really been able to successfully bring such a product to market.
Sure, there are roundabout solutions that make use of WeMo outlets or SmartThings consoles to, in effect, "smartify" your coffee maker. But what about a simple WiFi-connected machine?
Smarter allows you to quite literally brew coffee from the comfort of your bed.
That's what Smarter is trying to do with its WiFi-connected kettles and coffee brewers. Last year, the British startup launched the iKettle, which allows users to heat water to a predetermined temperature anywhere in your home. Somewhat cheekily, the company explains on its website that its one goal is "to create the perfect start to your day."
This week at CES, Smarter unveiled a WiFi-enabled coffee machine, simply called Smarter Coffee. It allows users to quite literally brew coffee from the comfort of their own bed, or really from wherever they wish. The device features a bean-to-cup grinder that enables users to remotely set the coarseness of each grind, as well as the strength of each brew, and it can notify users when they've run out of beans—all through a mobile app (iOS or Android).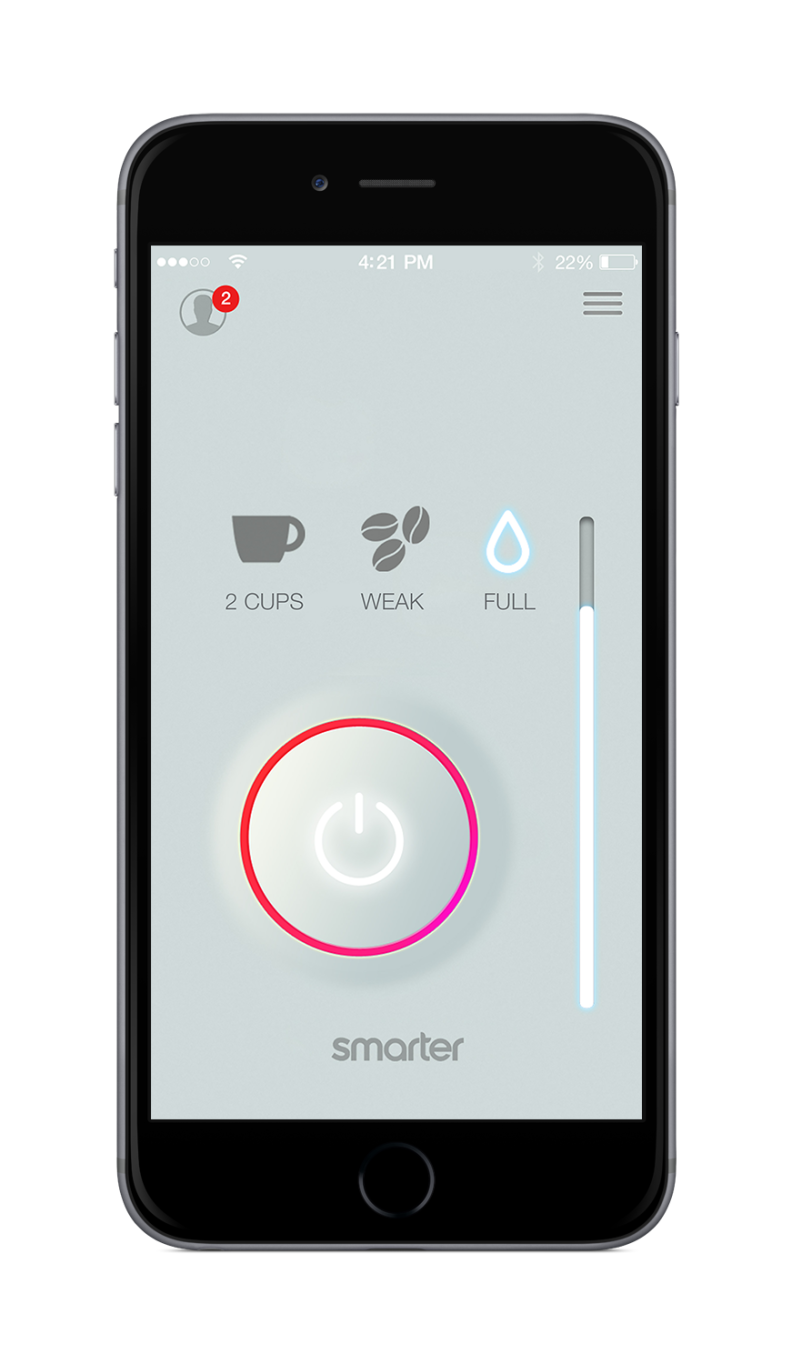 That's all well and good, but the thing that really piqued our interest about the Smarter Coffee brewer is its integration with Apple HomeKit and IFTT (If This Then That). If you're in the dark, IFTT is a rudimentary programming app that allows users to synchronize functions between different apps on their phones, tablets, or other connected devices. It's basically like the Internet of Things in nascent app form, and it's soaring in popularity.
With IFTT, Smarter Coffee awakens a slew of interesting possibilities, the most notable of which is the fulfillment of the coveted "coffee dream" of the Internet of Things: the machine that autonomously begins brewing once you wake up. With IFTT, you can simply program your coffee maker to begin brewing the moment your alarm goes off, or if your garage door opens, or whatever other trigger you wish.
Let's take it a step further: Suppose you have a health/activity tracker and it notices that you had a poor night's sleep. With IFTT, you could program Smarter to brew a stronger coffee when you wake up. No need to add more beans or anything—the machine will do that automatically. If that's not the dream of the 80s then I don't know what is.
Finally, here's the kicker: The Smarter Coffee brewer is expected to retail for $199 when it launches in the U.S. this spring (pre-order). That's pretty expensive for a drip machine, but downright reasonable for the future of coffee.