Wires are annoying, especially speaker wires. Home audio has always been a complicated, somewhat messy enterprise, but it's 2016. We shouldn't have to drape strands of copper and rubber across our ceilings to achieve decent sound—not when things like this innovative concept car exist.
Fortunately, Philips seems poised to address this issue with its new Fidelio E6 cinema speakers—which make up a partially wireless 5.1 surround sound system. I say "partially" because the E6 has a pretty innovative configuration: It comes packaged with a subwoofer and two front stereo speakers, each of which features a detachable, battery-powered rear speaker that can also function as a standalone Bluetooth audio source. This allows you to switch between stereo and surround sound—and you don't have to worry about stringing speaker wire to the back of your living room.
We had a chance to hear the Fidelio E6 in action and came away impressed, but the immersive sound is only one of its many selling points. The E6 is as much a wireless speaker system as it is a home audio solution.
Features
Let's talk about the E6's clever approach to surround sound—_on-demand_ surround sound. The system's two rear speakers can be detached from the two main (left and right) speakers to create an immersive surround sound experience, or they can be left in place for classic stereo sound. The detachable speakers are battery-powered and completely wireless, using proprietary tech that operates on a unique radio frequency to ensure a lossless audio connection. It's a pretty ingenious solution to the problem of speaker wire—and really cords in general.
Equally impressive is the E6's spatial calibration technology, which can be used to compensate for uneven distribution of speakers. The idea is to make sure the sound is as balanced as possible in a given room. When activated, the E6 uses a tonal signal to locate each rear speaker, then adjusts the output to match the best possible balance for listeners. However, even without this tech, the sound is fierce and multi-dimensional—ideal for movies with lots of explosions. (Mad Max would sound great through these speakers, for example.)
It gets better: The detachable speakers, which are already extremely versatile, can also function as independent Bluetooth speakers. Take one with you to do some work on the patio while your significant other brings the other to the bedroom. That still leaves the main speakers available for stereo use. Alternatively, the two detachable speakers can be combined to create a separate stereo system. In effect, this means the E6 is actually three independent Bluetooth speakers.
True to its wireless spirit, the E6 features a variety of connectivity options: Bluetooth, WiFi, and NFC, plus a 90W wireless subwoofer and HDMI 4K2K for full UHD compatibility. You can also stream music directly from the cloud with Google Cast and Spotify Connect, allowing you to cast from Android and iOS, as well as PCs and Chromebooks.
Within the front speakers are two angled three-inch drivers dedicated for the center channel.
Tweet It
You may be thinking, "I count four speakers plus a subwoofer... How exactly is that 5.1 multichannel sound?" Good question. Within the front speakers are two angled three-inch drivers dedicated for the center channel. They direct sound to the center of the room the same way a center speaker would in a traditional 5.1 system.
Design
The Fidelio E6 features sleek, modern design that uses an assortment of materials not often found in home theater systems. The subwoofer and main speakers are wrapped in wool, and each console is crowned in a real wood finish. Each of the detachable speakers is equipped with a leather handle and encased in a metallic grill. The system as a whole is mostly black, with occasional silver embellishments, suggesting it will fit nicely into most home design schemes.
A modest, monochrome LCD on the front-right speaker indicates source channels (HDMI, Bluetooth, etc.), and a set of buttons along the side can be used to manually change the volume and engage the Bluetooth modes. It's a subdued aesthetic for such a versatile, multi-functional home audio system.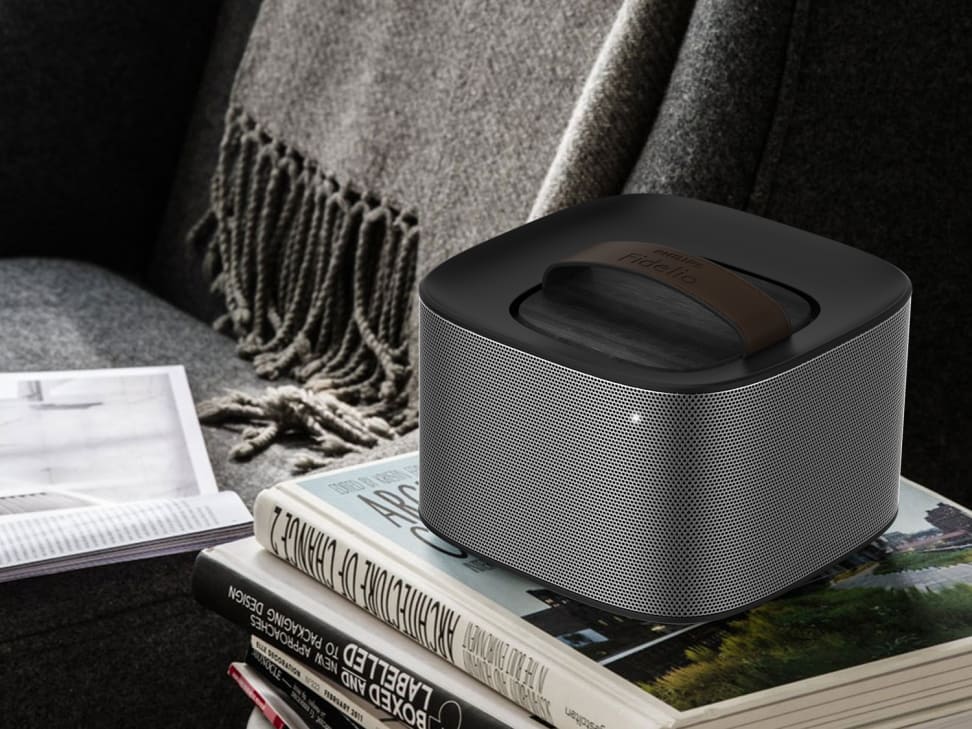 A Modern Home Audio Solution
Philips really thought of everything with the new Fidelio E6. It's an impressive solution for audiophiles and home theater gurus who are sick of living their lives tangled in a web of speaker wire. It's also a convenient three-in-one Bluetooth sound system that allows you to bring wireless audio capabilities wherever you go.
We're interested to see how the home audio space develops in coming years. With more and more companies embracing wireless charging solutions, it's highly likely that we'll see a similar, detachable speaker system powered by an over-the-air energy transmitter, rather than the all-too-familiar lithium-ion battery. The E6's detachable speakers are battery-powered, but they're still about as innovative and cutting-edge as it gets for 2016.
Philips told us they expect the Fidelio E6 to hit U.S. markets this summer. It will most likely retail for $799.
Related Video
Our editors review and recommend products to help you buy the stuff you need. If you make a purchase by clicking one of our links, we may earn a small share of the revenue. Our picks and opinions are independent from any business incentives.