A study in partial measures, the F6300 is smart, but not 3D; has a dual-core processor, but no micro dimming; carries a small price tag, but delivers high-end picture quality.
Really, if you're looking to spend as little as possible, but still want a smart TV, this one is great. Its design is a little on the cheap side, sure, and it doesn't have quite the bells and whistles of Samsung's flagship models—but as a performer and an internet-ready display, it's a very valuable product.
Glassy gray grandeur
The F6300 may straddle the line between Samsung's entry-level and high-end LCDs, but its design is a pleasant imitation of the more expensive series. This TV's panel is broad and thin, with bezels that terminate into semi-transparent, rounded edges. It's really unlike any of the other Samsung LCDs we've reviewed this year, favoring a gray, glassy overtone that emphasizes ambient light, rather than trying to absorb it into a matte black.
The F6300 favors a gray, glassy overtone that emphasizes ambient light, rather than trying to absorb it into a matte black.
The panel is held aloft by four slender gray legs that form an X shape. The legs seem a bit inexpensive, but they do deliver a sophisticated, high-end overall look. The F6300's bulbous-edged sides are by far its most interesting aspect, however, as they tend to capture the essence of whatever hue dominates the room.
Samsung includes extras too. The so-called "Accessory Kit" feels very much like a goodie bag. Inside, you'll find the standard Samsung controller—there's no Smart Touch remote with this series—as well as batteries, a power cable, and this year's newcomer: An IR blaster. The IR blaster is truly Samsung's claim to smart platform fame; this tiny device is what allows Samsung smart TVs to integrate a cable/antenna set-top-box right into the TV's menu. More on that in the next section.
The F6300 may be trying to appear expensive, but the series' video connection options and media ports are the real deal.
The F6300 may be trying to appear expensive, but the series' video connection options and media ports are the real deal. This unit's four HDMI inputs and three USB slots are what set it apart, at least physically, from the lower-end series this year.
Samsung's HDMI ports make use of a display identification data to communicate with connected devices—I plugged in our Panasonic Blu-ray player, and was immediately able to control it with the Samsung remote, thanks to "AnyConnect+," which apparently means the TV can reach out and control a lion's share of your AV system.
A shared component/composite hub for 480i/720p/1080i connections is along for the ride, as well as LAN (ethernet) in, RF in, DVI audio in, digital audio out, a headphone jack, and the IR blaster port. The whole assembled TV only weighs about 28 lbs., and swivels about 20° upon its base, making it easy to move and position for numerous viewing locations.
As smart as they come
One advantage to buying the cheapest smart TV a company manufactures is that you're almost always getting the same features and functionality found on the flagship model. In this case, the F6300's Smart Hub is—truthfully—no worse in functionality or design than the F8000's, Samsung's 2013 flagship LCD. There are a couple of drawbacks—the F6300 does not support a wireless keyboard, and cannot be evolved via the Evolution Kit—but that's nothing to get your cables in a knot over.
Where smart platforms are concerned, Samsung's is probably the best this year—thanks to set-top-box integration.
Where smart platforms are concerned, Samsung's is probably the best this year—thanks to set-top-box integration. The included IR blaster serves as a wired remote extender to allow integration of infrared-based source devices into the Smart Hub. Confused? In other words, the TV wrangles up information from your cable or satellite and herds it in its own menu. This means that you can search for, browse, and check air times for content provided by Comcast or Dish alongside streaming options from Netflix, Hulu Plus, and Amazon Instant Video.
While there's plenty to cover in Samsung's Smart Hub this year (and you can read all about it here), the cable interactivity is by far the most rewarding. Placing the F6300's IR blaster near our Dish box, the TV instantly pulled in and listed the upcoming programs (as well as actors, run times, channel information) as soon as it connected to the wireless source. Such flagship-level functionality works wonderfully on this mid-tier product; the only downside is that the TV doesn't ship with Samsung's smart touch remote, which includes an embedded microphone. Typing things into the search bar using the standard remote is a bad time.
It's easy to get caught up in the glitzy glamor of internet functionality—even without it, the F6300's basic software is quite commendable.
You won't find the full range of possible calibration controls here, but the F6300 still lets you alter its gamma, grayscale, and color temperature.
The sub-menus for Picture and Sound each allow a wide range of customization. Experienced hobbyists won't find the full range of possible calibration controls here, but the F6300 still lets you alter its gamma, grayscale balancing, and color temperature—enough to theoretically get things perfect.
Inserting a USB storage device into one of the F6300's three USB ports will allow playback of photos, music, and videos—assuming they meet the proper file-type requirements. Audio adjustments include multiple sound modes (Movie, Standard, Amplify), an equalizer menu, and two settings—DTS TruSurround and DTS TruVoice—that don't really do anything.
Terrific quality overall
As far as TV performance goes, the Samsung UN46F6300 is just about flawless. It's not a flagship in performance—not quite—but throughout all of our tests and subjective observation, I found very little to complain about. The most common concerns when testing and judging LCDs involve the quality of the panel's build, which can make for severe errors in color quality and motion performance. Fortunately, the F6300 performs admirably—whether under the scrutiny of human eyes, or robotic ones.
Playback of Blu-ray discs and cable programming revealed a very pleasing picture. I watched a number of scenes from The Hobbit: An Unexpected Journey after calibrating the display, and noticed highly-preserved detail, flattering but realistic color saturation, and mostly smooth performance during motion scenes. Testing backed this up: The F6300 adheres to international color standards almost perfectly, though its red and blue are slightly redder and bluer than they should be, resulting in some detail loss. Within Movie mode, with a warm color temperature, the F6300 matches standards for gamma (luminance gradation), and maintains the correct shade of white for most of its grayscale.
Scenes rich with color and detail look terrific; even subtler, darker hues stand out.
Scenes rich with color and detail—such as Dwarven armor and rolling hillsides—look terrific; even subtler, darker hues stand out with a level of detail not often seen on LCD panels. The F6300's black/white differentiation is decent, fostering light levels suitable for sunny rooms or florescent bulbs, and black levels capable of capturing an immersive amount of contrast. You won't find plasma-level contrast performance here—and none of the insanity that OLED TVs are capable of—but this is definitely above average for an LED LCD panel.
This TV's screen uniformity and motion performance could both use a bit of work. Its edge-mounted LEDs tend to bleed into black bars during 16:9 letterbox content, and 4:3 standard definition content. At half or less backlight, it looks fine, but maxing the backlight will result in some light bleed that's a little distracting in a bright room, and is quite annoying in a dim or dark one. Another area of contention is the F6300's motion performance—it's not perfect. However, for film content, the F6300 looks fine, and its Auto Motion Plus mode does away with blurring and trailing during sports or video-based footage. Just don't turn it on during films, lest you want Prometheus to look like Honey Boo Boo.
While it's definitely better off in brighter ambient lighting, the F6300's picture quality is very impressive for its price point and build. We generally withhold our highest praise for plasma panels, but this Samsung LCD can dance with the masters in the right conditions.
The F6300 brings honor back to liquid crystal displays
Within the TV industry, reviewers and hobbyists alike agree on one thing: Plasma TVs produce a better picture than LCDs. And, hand over heart, it's true. However, LCDs like the Samsung F6300 redeem the fickle technology's mass popularity: This TV's picture looks very good, hands down, and its software works with fluid precision.
If you're in the market for a mid-sized TV, and want the bright light levels of LCD over the ink-black shadows produced by plasmas, the 46-inch F6300 is a great option. While it's not as frilly as Samsung's flagship LCD, it performs commendably, and for $850 is priced quite fairly. If you don't need the smart features, we recommend you buy into a cheaper series. If the Smart Hub is calling your name, however, the F6300 is your man.
The UN46F6300 (MSRP $849.99) is a top-notch performer. We tested decent motion performance, with a valuable de-judder processor, deep blacks, bright whites, and very accurate colors. Movies and cable content look smooth, vibrant, and—most importantly—correct. The TV's Movie mode renders very accurate color with little tweaking, and setting proper black/white reference levels was a cinch. Best of all, this mid-range unit allows for ample tweaking of the calibration variety, including options for 2- and 10-point gamma, color temperature, and color space selection.
A commendable range of light
Picture dynamics—or contrast ratio—is the measure of a TV's range in terms of pure light output. The ideal is reached when a TV can get bright enough to approximate real objects that are highly luminous—like a candle in a black room, or the sun through summer leaves—while also growing dark enough to represent shadows, an unlucky cat, or a black hole. TVs with a high contrast ratio are capable of the dynamics required to convince our brains that we're really seeing the night sky, full of stars. TVs without one fall to the bottom of our leaderboards.

Fortunately, this upper middle-class Samsung LCD provides a healthy ratio between its peak white and reference black. LCDs typically struggle to produce acceptable black levels; typically, we like to see 0.1 cd/m2 or less. The F6300 performed admirably, showing off an inky black level of 0.08 cd/m2 , which is quite good for an LCD. It looks especially convincing beside the TV's ample brightness. We measured 318 cd/m2 at 20% APL (average picture level), giving the UN46F6300 a contrast ratio of 3975:1. While it's nowhere near Samsung's flagship plasma, it's plenty enough for most viewers, especially in middling amounts of ambient light.
The Scrooge McDuck of off-angle viewing
Horizontal viewing angle refers to how far from the center of the screen you can watch a display without its dynamics or color production shifting into unwatchable ranges. Due to the way LCD panels are made, the light they produce must travel through a number of strata before it gets to your eyes, and thus these kinds of TVs typically struggle to come anywhere near the 178° ideal (maximum viewing from all angles). For LCDs, we like to see about ±45° (90° total) of viewin' goodness.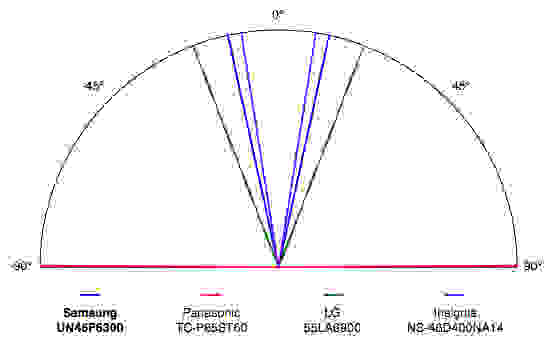 Unfortunately, the F6300 is stingy with its light. Scientifically, its panel type and sub-pixel arrangement make for a rather poor total viewing angle of 25°. That's truly a poor result, giving viewers a touch over 12° from the center of screen to either side before contrast integrity starts to drop off. Expect wider angles to result in graying blacks, dimming whites, and some color shifting; in a word, unwatchability. Consumers with wall-mounting on the brain may want to consider this finding before they go diving into their sea of golden coins and off to the store to buy it.
Sample and Hold is getting old
Plasma TVs excel at displaying moving content—but the F6300 is not a plasma. LCDs (the other white meat) use a process called "sample and hold" to create and then maintain a particular electric charge; the charge acts electromagnetically on the liquid crystals to create the appearance of something moving on-screen. Unfortunately, this process—while instantaneous—tends to take too long to "let go" after holding, and results in trailing and blurring of motion-based images in certain LCD TVs.
The F6300, an LCD television, struggles with this issue. Thankfully Samsung has equipped the F6300 with a motion processor—called Auto Motion Plus—which works to de-blur and de-judder content. Fast-moving content tends to blur a bit on this TV, but for sports, news, and some video games, the interpolated appearance instigated by Auto Motion Plus is actually fine. The mode does what it should. It looks ghastly unnatural during film content, however, so expect faster movie scenes to be a bit blurry. Overall, though, the F6300's motion performance is quite palatable.
High-end color production
When examining the way a TV produces and handles digital color, we look for three key performance aspects: the right color (hue), the right amount of color (saturation), and the right luminance of that color (brightness). Each individual color produced by a TV has set credentials that it is meant to meet. Our test gathers the data to plot the TV's produced colors against the ideal colors in a visual illustration called a color gamut. Compared to the Rec.709 ideal color gamut, the F6300 is very accurate; other than blue, its red, green, and white points are nigh perfect.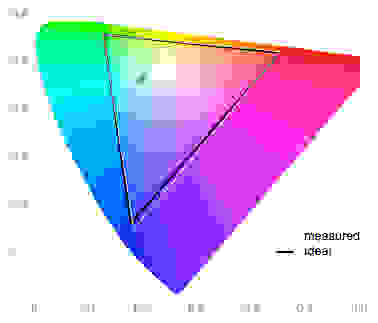 One place where the F6300 struggles a bit—but not too much—is maintaining a consistent color temperature. Color temperature is a measurement in Kelvins of the correlated temperature of light, were it sourced within a blackbody vacuum. Our test checks to see if the TV maintains the same temperature from its brightest white, down through all of its grays, to its darkest black. A consistent color temperature means the same shade of white throughout the grayscale. Shifts in color temperature can cause blue- or orange-tinting (called "cooling" or "warming") to whites and grays on screen. The F6300 errs slightly as it grows darker, raising in temperature into middle gray, and then dropping drastically at the darkest end of the spectrum.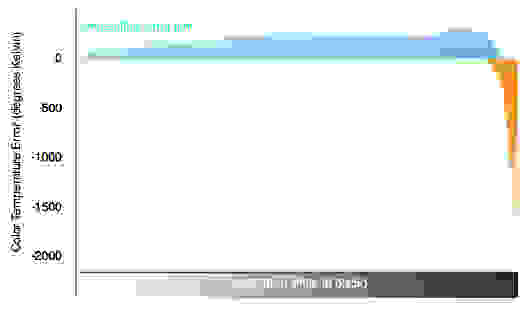 Last, we test the TVs full range of primary colors and its entire grayscale, from step 0 (black) to step 255 (peak). This allows us to measure how smoothly a TV transitions between incremental hues and shades of gray. The ideal result is smooth, slowly sloping lines, which promise detail and continuous additional luminance. The F6300 tested with downright optimal curves, each line describing an obtuse half-circle. This Samsung balances its primary colors evenly, making for a rich, high-quality picture regardless of luminance level.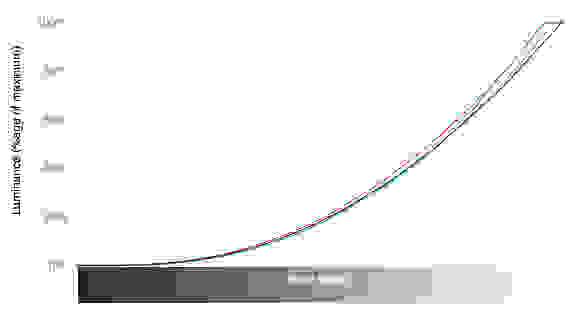 Meet the tester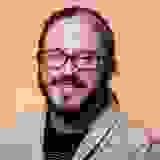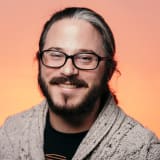 Lee Neikirk
Editor, Home Theater
@Koanshark
Lee has been Reviewed's point person for most television and home theater products since 2012. Lee received Level II certification in TV calibration from the Imaging Science Foundation in 2013. As Editor of the Home Theater vertical, Lee oversees reviews of TVs, monitors, soundbars, and Bluetooth speakers. He also reviews headphones, and has a background in music performance.
Checking our work.
Our team is here for one purpose: to help you buy the best stuff and love what you own. Our writers, editors, and lab technicians obsess over the products we cover to make sure you're confident and satisfied. Have a different opinion about something we recommend? Email us and we'll compare notes.
Shoot us an email