Just recently, we took a trip to Illinois to check out LG's newly announced curved OLED. Never to be outdone, Samsung very quickly announced its own 55-inch TV-of-the-future, the KN55SC9—simultaneously undercutting LG by a whopping six grand.
An invitation to Samsung's QA Labs in Pine Creek, New Jersey saw me hauling about $20,000 worth of testing equipment past suspicious TSA officials and across state lines just to see it.
It was worth it. We've reviewed some incredible televisions this year, but truly, none of them really come close to what Samsung's new OLED is capable of. While some of its performance aspects—audio, motion—are still playing last-gen catch up, the KN55SC9's abilities are going to change the way we watch TV.
The Looks
Do the words external motherboard mean anything to you?
Samsung's done something weird to this TV—its guts have been ripped out, boxed up, and sold alongside it. Well, okay, maybe that's a weird way to describe the new-ish OneConnect box, but it's not that far off the mark. More on that in a moment.
People keep asking: Why the curve? The real question is: Why not?
Tweet It
Like LG's OLED, the KN55SC9 is curved. People keep asking: Why the curve? Is it more immersive? Does it describe the inverse curve of the human eye? Is it more like an IMAX screen? Why? In my experience, the curved design isn't objectionable visually. And OLED is one-of-a-kind due to its its molecular makeup, which can morph into non-flat planes. So the real question is: Why not?
Curve queries aside, the KN55SC9 is very handsome. Suspended within a brushed metal frame stand, the display has a decidedly minimal feel. Notably, this television is nowhere near as thin as LG's OLED offering—but neither is it particularly thick. For connectivity, users will find Samsung's One Connect device, which externalizes all of the ports; the box connects to the TV with a single cable, working as a sort of middle man between the KN55SC9 and its video inputs. With OneConnect, users will enjoy four HDMI inputs, two USB ports and shared component/composite ports, among others.
The Color
One pixel with this color is better than 8.2 million pixels without it.
UHD (Ultra High Resolution) TVs have been the media darling this year, but which would you rather have: 8.2 million pixels of the same flat HDTV color, or a 1080p TV that can display over twice as much?
Did you know that the movies you see in theaters are more colorful than the ones you see on TV, DVDs, or even Blu-ray discs? It's true... or at least it used to be. The KN55SC9 is the first TV that I know of capable of displaying the highly saturated color of the DCI (Digital Cinema Initiative) color gamut. The difference is striking—I'm pretty sure anyone who saw it would be able to tell the new from the old, unlike with UHD.
Did you know that the movies you see in theaters are more colorful than the ones you see on TV?
Tweet It
The KN55SC9's native color is 98% NTSC—a term that refers to all the color humans can see. This means that, save for a few hyper-slime shades of green, the KN55SC9 should be able to display the true uncompressed RGB of any content. For the record, regular HDTV color is about 36% NTSC.
I took The Hobbit for a spin using the KN55SC9's native color gamut. Switching back and forth between 98% and 36% NTSC, it was painfully obvious which was which: The former made the latter look dull and lifeless. Deeply embedded colors sprang to life, like the rusty hair of the dwarves. Gandalf's robe looked slightly blue in the sunlight, where before it had looked only gray.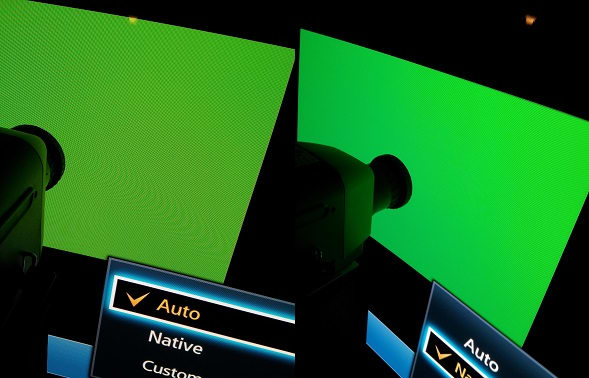 Unfotunately, there is a catch. Like with 4K, there's really not much content available to take advantage of this color space yet. Sometimes referred to as "Mastered in 4K," this xvYCC content using expanded color has not received its due simply because—at least until very recently—commercial displays did not exist en masse to support it. Like higher-resolution content, however, content created for a deeper color space is on the way. It's just going to take time.
Purists will be pleased to know that the KN55SC9 still supports traditional HDTV color, however—in fact, it's extremely accurate, per our test results. This really shouldn't come as a surprise, as a TV capable of 98% NTSC should be able to achieve 36% quite easily.
The Contrast
Discussion of contrast ratio will soon be a thing of the past.
The topic of contrast ratio arose in olden days. Regulations for "minimum acceptable contrast ratio" were first put in place to make sure content was acceptably visible to audiences. Unfortunately, television technology has always struggled to meet minimum requirements.
The KN55SC9 is in an entirely different class than non-OLED TVs.
Tweet It
OLED changes that. Where LCD technology has always struggled to create "true black," and plasma technology has traditionally struggled to be bright enough, OLED TVs are free from this issue entirely. Samsung's KN55SC9, like LG's 55EA9800, has no trouble dishing out deep blacks and brilliant whites.
This TV's initial black level reading yielded such a minuscule amount of light, I knew the result was subject to human error. The KN55SC9's black level is black—true black, 0 IRE—in a word: Nothing. This kind of black level is no longer an imitation of real life black—it is, in fact, a complete lack of light. This is made possible by OLED tech as well, as OLED pixels turn on and off when they need to, in response to the picture's signal request.
The Verdict
The first color TVs were considered luxury items, found only in the homes of the very wealthy; OLED TVs are in a similar state right now. While Samsung's hugely impressive curved OLED is quite a bit cheaper than LG's—$6,000 is nothing to sneeze at—these panels are still very expensive.
Unfortunately, I can't say that the KN55SC9 is worth the price. While its contrast specs are incredible, the content to make full use of its expanded color abilities hasn't exactly saturated the market (pun intended). Further, certain aspects of its performance—namely, its motion ability—lag behind others.
Like LG's 55EA9800, Samsung's KN55SC9 is trapped behind a high price. Eventually, this technology will become affordable, and a revolution of display prowess will be upon us. In the meantime, you can always snoop around your local big box retailer for a glimpse of the KN55SC9.
Our editors review and recommend products to help you buy the stuff you need. If you make a purchase by clicking one of our links, we may earn a small share of the revenue. Our picks and opinions are independent from any business incentives.