Overview
Sony is the latest display maker to enter the fray with a high-end television: the W802A. This new Bravia includes a revamped menu interface, a more streamlined smart platform, and solid picture quality. Also, it has killer good looks. What's not to love? Well, the asking price of $1,999.99 may be a little off-putting to the average consumer, so let's find out if Sony's latest is worth the price (and the wait).
Hands-On Video
Design
A pleasure to look at, although it feels a bit cheap
Sony, you're crazy for this one! Seriously, we love the look of this TV. Thin bezels with a blue border (!) surround the screen, which is attached to a similar circular base that we saw on last year's HX950. The bottom of the screen has a metal bar emblazoned with Sony's logo, just in case you forgot who made this delightfully svelte TV.
Seriously, we love the look of this TV.
We do take issue with some things, though. As much as we like the W802A from the front, the back is a different story. Instead of an all-metal body, Sony crafted this television using a lot of plastic. We loved how light the TV is, especially after lugging around all 120 pounds of Panasonic's VT60, but we can't get over how cheap this product feels. Even the gorgeous circular stand—which appears metal—is actually made of plastic. The $2,000 asking price is starting to feel inappropriate.
Interface & Smart Features
Sony finally gives us a menu and smart platform with form and function.
Sony is capable of crafting a great TV, but runs out of stream when they get around to its menu interface. To be honest, I expected Sony to just recycle the 2012 menus. I was wrong—its new interface is not only a breath of fresh air for the company, but an all-around excellent way to access settings.
The new interface is a breath of fresh air for Sony.
Pressing the Home button brings up the basic menu, which lets you access apps, different inputs, and yes, settings. Each category has large icons and looks very modern. Pressing the Options button gives you a more down-and-dirty menu interface with no pictures, but accessing settings this way is quicker. And settings you will get! Sony lets you change plenty of options on your TV, including an auto-contrast setting and its Reality Creation engine. TV geeks, you'll be in heaven with all these options.
But mister TV reviewer, what about smart features? Sony isn't going to compete with Samsung and LG when it comes to internet features, but this year's showing is much improved over 2012. Gone are the multiple smart interfaces; instead, Sony gives you access to its most popular apps—Netflix, Hulu Plus, Amazon Instant Video, and YouTube—by pressing the Home button.
If you press the SEN button (short for Sony Entertainment Network), you are given a list of all the apps Sony has to offer. Everything is arranged in a grid of pleasant-looking icons, but there is too much to wade through. Accessing the aforementioned "popular" apps is your best choice for finding content.
Alas, one thing Sony must work on is a better way to interface with its internet content. Panasonic, Samsung, and LG all have some kind of smart remote that makes navigation and/or typing easier. Sony only packages its basic remote with the W802A. Also, there is no integration with cable programming, like we saw with Samsung's Smart Hub and LG's Google TV. We hate to sound like a broken record, but for nearly $2,000… you get the picture.
Picture Quality
Solid, not perfect, picture quality
So far, Sony has impressed us with its design sensibilities and revamped interface. But what about our favorite category, good ol' fashioned picture quality? While it won't doing any knocking of socks, the W802A will not disappoint, either.
Whether streaming or watching a Blu-ray, we had no major issues with the W802A's picture quality. Content looks crisp and motion performance is great. We should point out that Sony's motion enhancement options are overkill: enabling the Motionflow setting produces an awful Soap Opera effect. Unless you have a thing for The Young and the Restless, we recommend turning Motionflow off.
Sony's motion enhancement options are overkill.
As far as color accuracy is concerned, the W802A is a bit off, although it's nothing deal-breaking. Reds are completely accurate, and whites also look near-perfect. Blues and greens lose a bit of their luster on this Sony, although you would need a highly trained eye to spot this.
And while the concept of 3D no longer makes us wide-eyed and excited, this TV does produce a pleasing (and crosstalk-free) 3D image. Sony even includes four pairs of passive glasses with the W802A, which is a welcome surprise; last year, its glasses were active and did not come packaged with TVs.
The Finale
It's definitely good, but $2,000 should get you a much better TV.
We may be halfway through 2013, but Sony is just getting started with its TV lineup. If the W802A is any indication, this is going to be a good year for the Japanese electronics giant.
There are many things to like about the W802A: It looks good enough to make your in-laws jealous, it produces a solid picture, and has vastly improved smart features compared to last year. So is this the right TV for you? That depends on how much you're willing to spend. Sony's TVs are usually on the expensive side, and the W802A is no different. $1,999.99 will get you a quality 55-inch television, but with plenty of competition from LG, Panasonic, and Samsung, we'd recommend doing some comparison shopping first.
Behind the Screens
Congratulations, dear reader: You've stumbled upon our science page. You'll be able to see test data and accompanying charts that describe a TV's performance. We test all TVs using the Konica Minolta CS-200 chroma meter and LS-100 luminance meter. Below, we'll take a look at three of the most important areas of the Sony W802A's performance: contrast, viewing angle, and color accuracy.
Contrast
This is not a $2,000 contrast ratio
The Sony W802A's black level of 0.14 cd/m2 isn't terrible, but we've seen the company produce darker TVs in the past. A TV's contrast ratio is dependent on its peak white level, too, so we were surprised that the W802A was only able to achieve a brightness of 194 cd/m2 . This is by no means a poor result, but Sony—who usually makes incredibly bright TVs—disappointed us in this category. Due to the lackluster black level and average brightness, the W802A only achieves a contrast ratio of 1426:1. Anything above 1000:1 is decent, but displays costing almost $2,000 should perform better.

Viewing Angle
An average LED viewing angle, which means "nothing special"
With a total viewing angle of 50°, the Sony W802A only affords users acceptable picture quality up to 25° on each side of the screen. This is actually an average result for LED televisions, which seldom produce wide viewing angles like their plasma cousins.
The way we determine this number is actually quite simple: We measure a TV's contrast ratio, starting from a straight-on position, and then moving in increments of 10° to one side. Typically, Typically, as you approach more obtuse angles, white levels drop, and black levels rise. A TV's viewing angle is determined once its contrast ratio drops below 50% of its original value.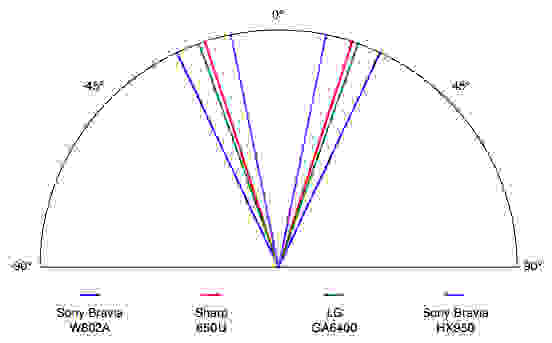 Color Performance
The W802A impresses with its color temperature, but is slightly off with accuracy
Sony's newest LED struggled a bit with color accuracy: Reds and whites are very accurate, but greens and blues are somewhat undersaturated compared to the Rec. 709 color gamut, which is the standard for HDTVs. This means that greens and blues will look slightly less vivid than they should, although it is debatable whether you would notice this. In our experience, this is an acceptable color gamut, and you probably wouldn't notice any inaccuracies unless viewing this TV beside a display with perfect colors.
The way that these colors go from one shade to the next is mostly a smooth transition. Greens and reds flow nicely from black to peak luminance, although blues have trouble: They start off smoothly, but gain luminance too quickly, meaning that transitional shades are lost.
The W802A does make up for some inaccuracies with its near-perfect color temperature. If a TV's color temperature is off, you will notice discolored greys and whites. Fortunately, that isn't the case with this TV. There is no noticeable shift its color temperature, which is surprisingly rare in many TVs. Nice job, Sony.
Meet the tester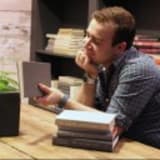 Josh Fields
Staff Writer
@reviewedtech
An enthusiast of all things tech, Josh is one of Reviewed.com's resident television experts. When he's not looking at bright TV screens in a dark room, he's probably reviewing a laptop or finding a new snack at 7-11.
Checking our work.
Our team is here for one purpose: to help you buy the best stuff and love what you own. Our writers, editors, and lab technicians obsess over the products we cover to make sure you're confident and satisfied. Have a different opinion about something we recommend? Email us and we'll compare notes.
Shoot us an email