Televisions
LG A1 vs Vizio OLED: Which affordable OLED shines brightest?
OLED TVs are getting cheaper, but which is right for your TV room?
Credit:
OLED TVs are among the best in the industry, but their best-in-class contrast, unparalleled viewing angles, and futuristically thin profiles don't typically come cheap. This is starting to change, however, and two OLED TVs have recently hit the scene with relatively low price tags—at least compared to some of the best OLED TVs you can buy.
The LG A1 and the Vizio OLED offer the benefits of OLED displays at competitive price points. They're not, strictly speaking, affordable TVs, but they offer you an opportunity to bask in the glory of OLED without crossing into the tippy-top price tier. But despite their similarities, there are a fair few differences to note. If you're in the market for a competitively priced OLED TV, it's worth taking a closer look at both models. Here's what you need to know.
Buy the Vizio OLED at Amazon now
Price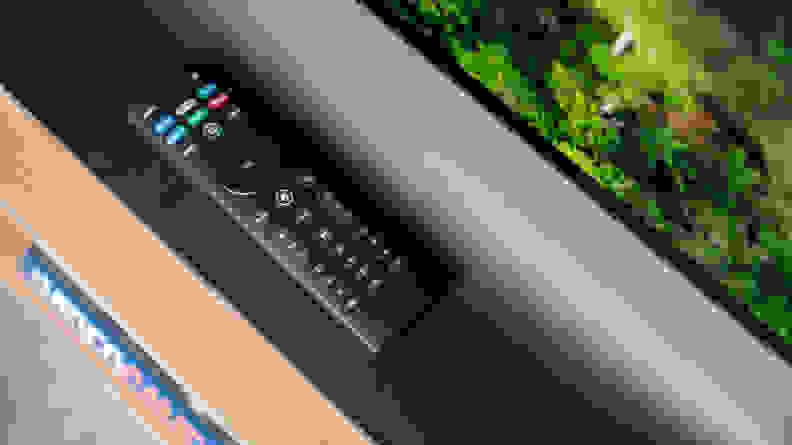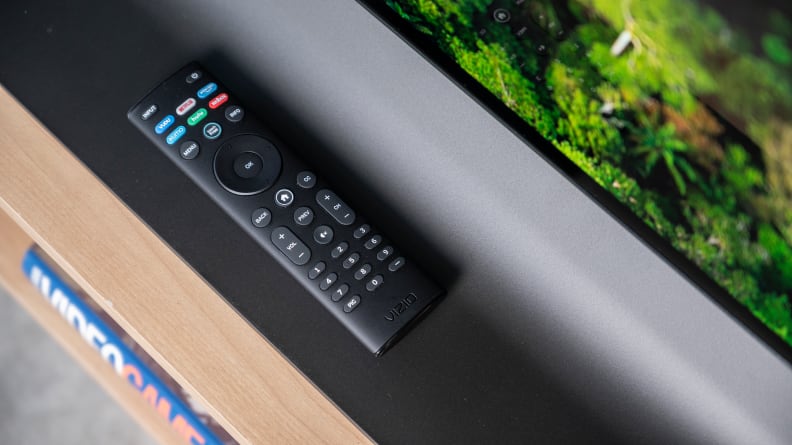 For the sake of clarity, we'll look at both the MSRP of each series lineup as well as their current sale price. Although there's no guarantee that the sale prices will still be the same by the time you read this, the price of these TVs will probably be closer to their current sale price than their original MSRPs moving forward.
LG A1:
The LG A1 is available in four sizes. The largest of these models is a room-dominating 77 inches, while the smallest option is a mere 48 inches. As far as OLED TVs go, the LG A1 series was already competitively priced when it initially launched. Since then, the prices have dropped even lower—at the time of publishing, the 65-inch A1 can be had for around $1,350.
Next, let's take a closer look at the Vizio OLED.
Vizio OLED:
The Vizio OLED is only available in two sizes, with a 65-inch model representing the biggest option. Although the 55-inch Vizio OLED is currently on sale for a cheaper price than the 55-inch LG A1, the 65-inch A1 is currently cheaper than the 65-inch Vizio OLED.
Given the sale price and size flexibility of the A1 series, this category goes to LG.
Our pick: LG A1
Design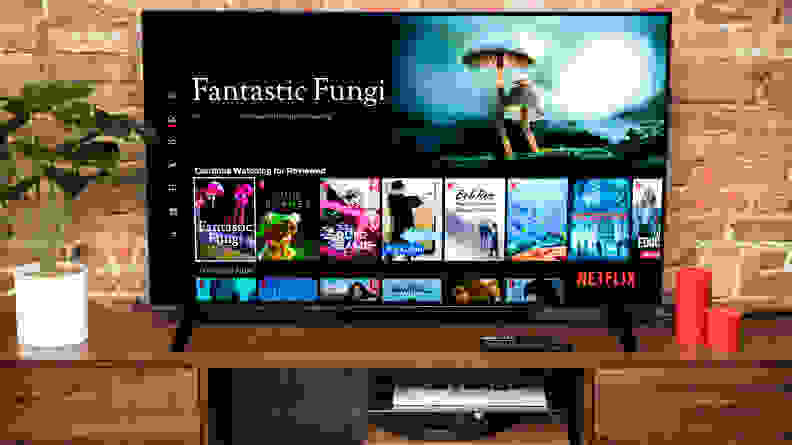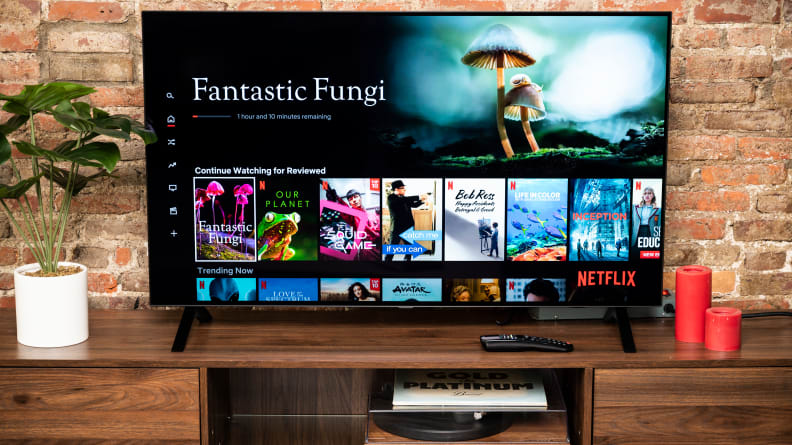 The A1 is as thin as an iPhone from the side, only gaining bulk around the midsection to accommodate for internals. The panel itself is sure to turn the occasional head, but the rest of the A1's design is ho-hum compared to higher-end OLEDs like the LG C1.
On that note, we're used to seeing OLED TVs with stands that give off a somewhat quirky air of sophistication, but the A1's two boomerang-shaped feet are garden variety. It's a familiar look for mid-range TVs, but one that doesn't quite match the allure of the TV's technology.
The Vizio OLED, on the other hand, takes a different approach. Like the A1, the Vizio OLED features a super-svelte panel that's narrower than most smartphones at its thinnest points, with similar bulk at the base for internals.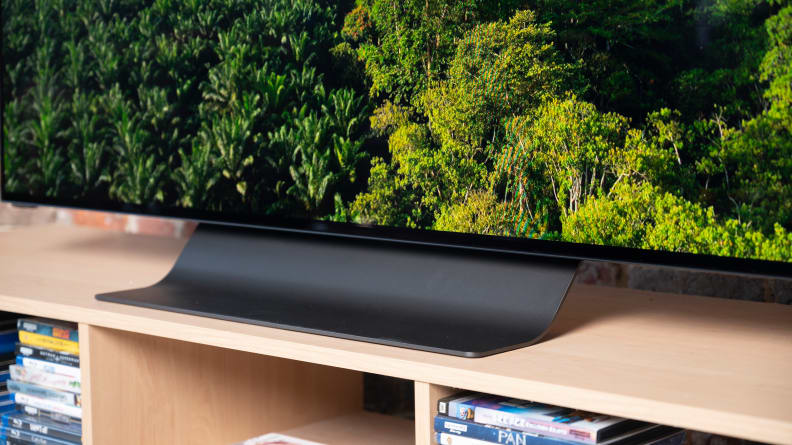 The difference-maker here is what's below the TV's panel. The Vizio OLED's display is propped up by a metallic, eye-catching stand whose shape resembles a cresting wave. It's unique, attractive, and demonstrates restraint—easily one of the best-looking TV designs we've seen in recent years. The stand also acts as a landing pad for a soundbar, such as Vizio's impressive Elevate soundbar. Simply put, it's a refreshing design that's both functional and visually appealing.
Our pick: Vizio OLED
Features and smart platform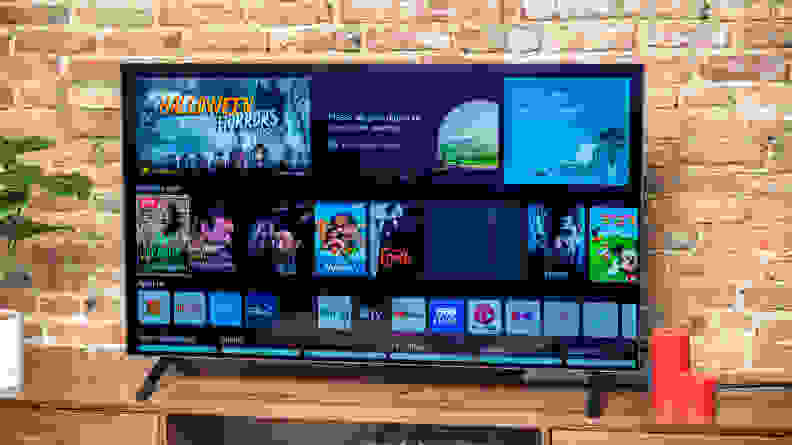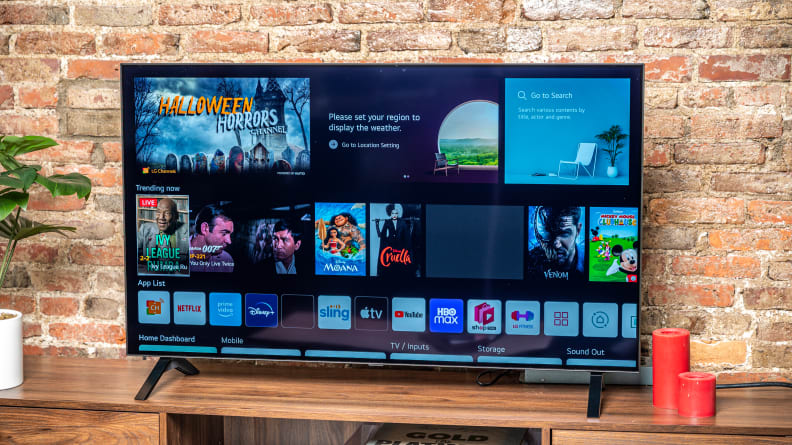 Before we get into out what sets these TVs apart, let's take a look at the hardware and software features shared by both models:
Resolution: 4K (3,840 x 2,160)
Color depth: DCI-P3 color space/10-bit chroma resolution
HDR compatibility: HDR10, HLG, Dolby Vision
Dolby Atmos: Yes (native decoding and over eARC)
eARC support: Yes
Other features: Google Assistant, Amazon Alexa, Apple AirPlay 2, Apple HomeKit
Cinephiles and home theater hobbyists will be pleased to learn that both of these TVs support Dolby Vision HDR—considered by many to be the best version of the format. In addition, both TVs offer onboard Dolby Atmos decoding and high-resolution Dolby Atmos passthrough via HDMI eARC, matching well in basic A/V features.
If you take a closer look at their gaming-related features, however, these TVs begin to diverge. The Vizio OLED supports both Auto Low Latency Mode (ALLM) and Variable Refresh Rate (VRR), while the LG A1 only supports ALLM.
While both smart TVs offer a host of streaming options, their overall experiences are worlds apart.
This means that both TVs are capable of automatically optimizing the picture for gaming whenever a console is detected, but only the Vizio OLED prevents screen tearing and artifacting as a result of changes in frame rate. VRR is a nice perk if you own or plan on owning an Xbox Series X or PlayStation 5. But perhaps the biggest difference between the two lies in their software; while both smart TVs offer a host of streaming options, their overall experiences are worlds apart.
The A1 is equipped with the newest version of LG's webOS smart platform. While older versions of webOS mostly isolated its user interface to a bubbly, animated menu on the bottom-third of the screen, the new iteration offers a home screen with customizable app icons, the A1's input selection, and some sponsored content. The new webOS dedicated home screen will feel familiar to anyone who's used a smart TV in recent years.
If there are any apps you're missing out of the box, LG's app store offers plenty of content, so there's a very good chance that the software you're looking for is downloadable. The webOS platform hustles along without any lag time, too, which goes a long way in making the overall experience a pleasant one.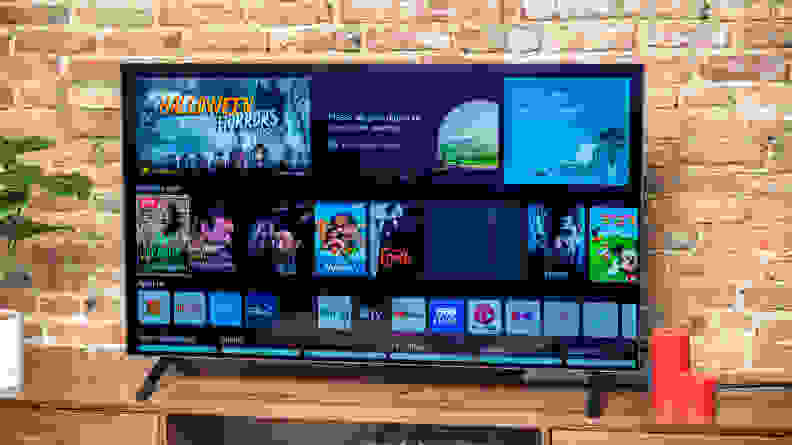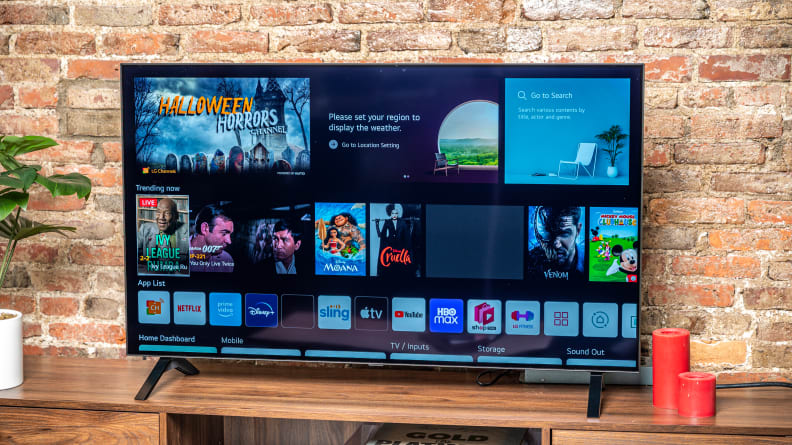 The Vizio OLED comes with Vizio's SmartCast platform pre-installed, and while Vizio has taken steps in recent years to improve both the speed and overall navigational experience of SmartCast, it might still leave you needing an external streaming device.
The main issue has to do with SmartCast's lack of customization. High-profile streaming apps like Disney+, Netflix, Hulu, and Amazon Prime Video are pre-installed, but the platform doesn't offer a way to add more apps to the stable of pre-installed software. You can "cast" content from your smartphone via Vizio's Chromecast feature to get around this limitation, in a way, but we imagine most people will end up pairing the Vizio OLED with a streaming box or stick.
Unless you're an avid gamer who's after VRR, the LG A1 offers a more flexible, well-rounded software experience.
Our pick: LG A1
Picture performance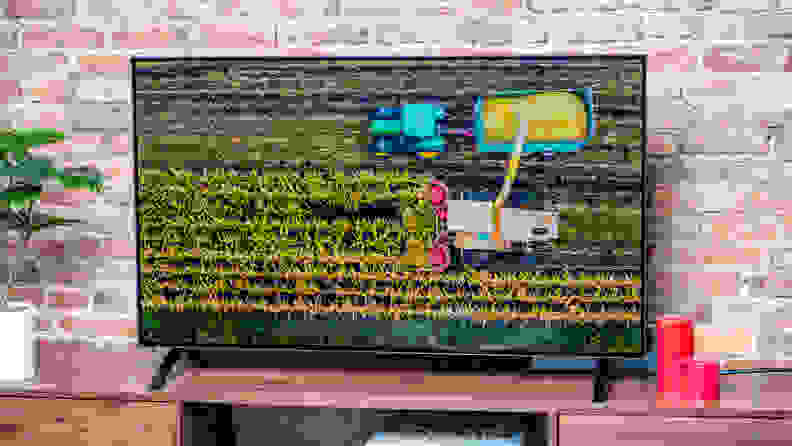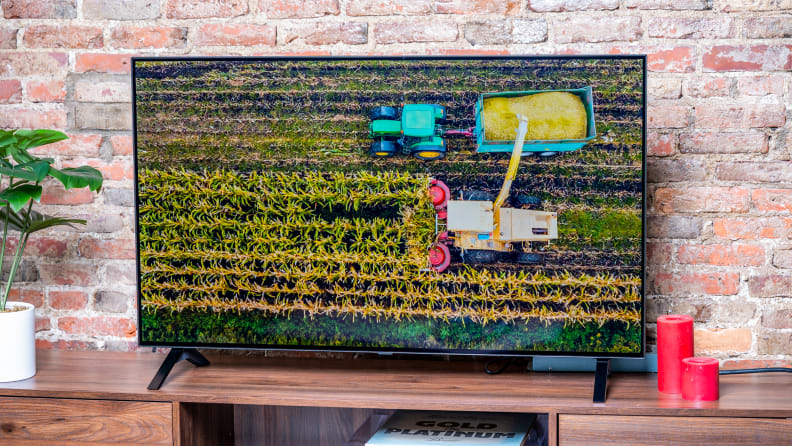 Contrast is the bread and butter of both the LG A1 and the Vizio OLED. Since OLEDs don't rely on a backlight like traditional LED TVs, the self-illuminating pixels are able to shut off independently of one another, producing perfect black levels. This has cascading, positive impacts on several other areas of performance, including color, clarity, and off-angle viewing. As a result, the LG A1 and the Vizio OLED look fantastic regardless of content type, and it's all thanks to the impressive nature of OLED technology.
But traditional OLED displays aren't yet capable of the stratospheric brightness of a premium LED TV loaded with quantum dots. While rivals like the Samsung QN90A Neo QLED and the Hisense U8G are capable of pumping out up to 1,500 nits of brightness in HDR, the brightest OLED we've ever tested is lucky to crack the 800-nit mark. (If your living room is bathed in sunlight—or if you're chasing the brightest possible experience—you might think about skipping OLED altogether for QLED.)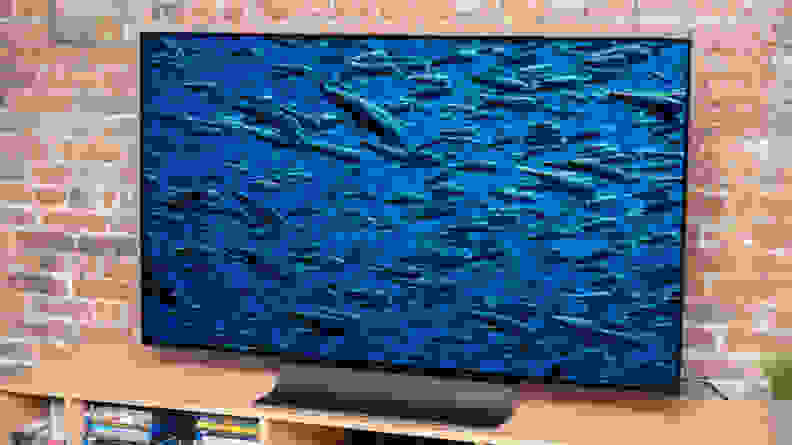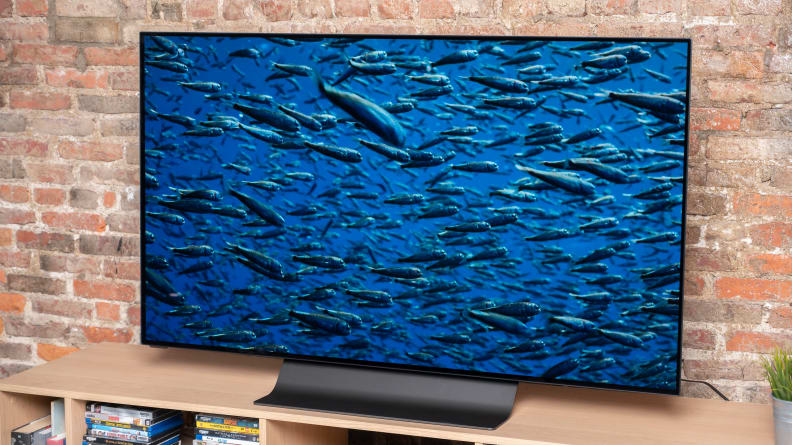 Being lower-end OLED TVs, the LG A1 and the Vizio OLED feature a brightness ceiling that's far lower than the pricier models in their class. The A1, for instance, tops out at around 400 to 500 nits of peak brightness while receiving an HDR signal. The Vizio OLED gets a bit brighter, but not by much: Its ceiling is in the 500- to 600-nit range. That said, it's worth noting that these readings were taken when each TV was in its most-accurate picture mode. You'll undoubtedly be able to coax a brighter picture out of both the LG A1 and the Vizio OLED, but you'll be doing so at the expense of color accuracy.
Brightness isn't everything, however, and a picture anchored by perfect black levels holds up better under the same conditions than an LED TV with similar brightness limitations. When it comes to color reproduction, both TVs are neck and neck yet again. Colors are rich and mostly accurate during SDR content (most cable and streaming options), with HDR content looking even better. If you're planning on buying a 65- or 77-inch TV, you'll be pleased to note that both the A1 and the Vizio OLED offer some of the widest viewing angles available today thanks to the self-emissive nature of OLED technology.
The Vizio OLED showcases games at 120fps, but the LG A1 can't get there.
So are there any major performance differences between the two models? If you're the type of person who plans on enjoying 4K, 120fps gaming in the not-so-distant future, the Vizio OLED's native 120Hz refresh rate should play a major role in your decision-making, since the LG A1's refresh rate is limited to 60Hz.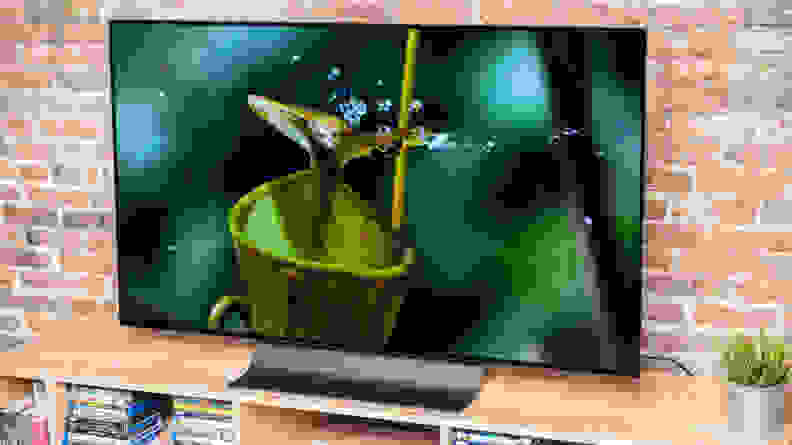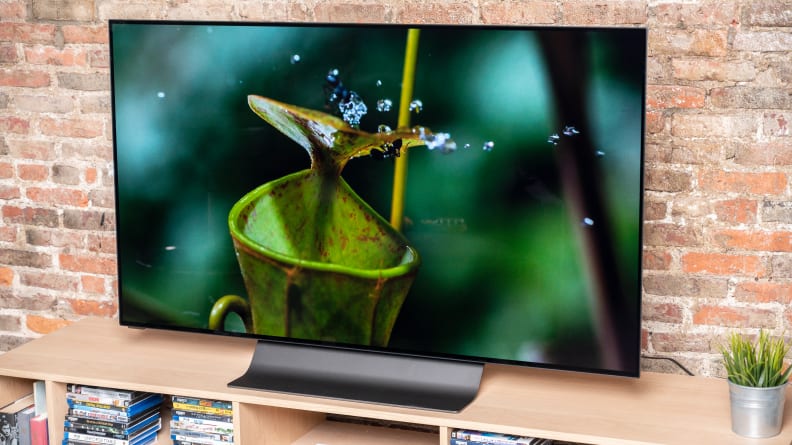 Currently, the Xbox Series X, the Xbox Series S, and the PlayStation 5 are capable of displaying games at 120fps, and while there aren't very many games yet that hit this benchmark, you can expect to see more of them in the coming years. The Vizio OLED is ready to showcase content like this, but the LG A1 won't be able to get there.
Both of these TVs offer terrific performance thanks to their impressive display technology, and in nearly all cases, their picture quality is roughly the same. The Vizio OLED's 120Hz refresh rate gives it an edge here, however, as does its ever-so-brighter picture in HDR.
Our pick: Vizio OLED
And the winner is…
This one's a draw.
While the LG A1 offers friendlier pricing, more versatile sizing, and a better smart platform, the Vizio OLED offers slightly better performance, in addition to being the more gamer-friendly option thanks to the inclusion of VRR and its 120Hz refresh rate. Since their picture performance is quite similar, it all comes down to what's more important to you: the added gaming benefits of Vizio's OLED or the smart platform flexibility of the LG A1.
Of course, if you intend to buy a TV that's smaller than 55 inches or bigger than 65 inches, the A1 offers that possibility while the Vizio OLED does not.
Whichever you decide to go with, you'll end up getting one of the most affordable OLED TVs on the market today. Both the LG A1 and the Vizio OLED are some of the best-looking TVs you can buy—even if they're not as kitted out as a flagship TV.
Buy the Vizio OLED at Amazon now
---
The product experts at Reviewed have all your shopping needs covered. Follow Reviewed on Facebook, Twitter, Instagram, TikTok, or Flipboard for the latest deals, product reviews, and more.
Prices were accurate at the time this article was published but may change over time.