Televisions
LG Announces Gallery OLED TV
Can LG bring the price of OLED sets down to earth?
Credit:
Just a month ago, LG claimed a double-exclusive product launch. Not only were its OLED televisions the first to go on sale in the US, but they were curved, too. (We went hands-on with those sets and liked what we saw, but cringed at the pricing.) Not wasting any time pushing its OLED agenda forward, LG is back already with a new OLED set, premiering here in Berlin at the IFA show.
This time, LG is crowing over a different industry first. The LG Gallery OLED 55EA8800 TV (official press release) is the first flat, wall-mountable OLED television set in the world. The new model aims for a high-art concept, with the panel itself coming wrapped in a frame. The intention, as LG states it, is to mount the TV on your wall and display famous paintings on the screen when you're not actively watching TV. Scans of Gauguin and van Gogh paintings are included. The frame itself conceals 2.2-channel speakers.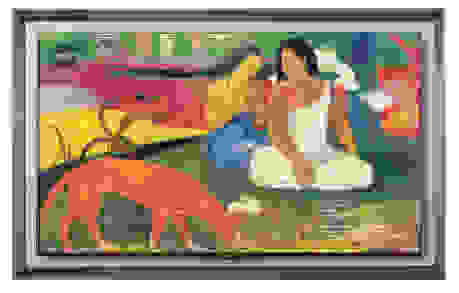 Our tests of the LG OLED and Samsung OLED sets proved to us that OLED's potential is incredible—the black levels and color performance from those TVs were simply outstanding. But that performance comes at a high price, and until these companies manage to hit a friendlier price point than $9,000, don't expect to see this technology in too many homes.